Partition Recovery – Recover Formatted/Deleted/Damaged/RAW/Encrypted Partitions
Partition recovery is an important part of data recovery, as partition often gets formatted, deleted, damaged, etc. The process of partition recovery is restoring lost partitions that were accidentally deleted or wiped, or retrieve data from damaged or corrupted volumes. Situations that need recovering partition can be many, and this page will discuss approaches to partition recovery in different scenarios. You can click links below to reach topics you are interested in.
About hard drive partition recovery
It is common to divide a hard drive into one or multiple partitions for the sake of managing and storing data more orderly. Each partition works like separate disk sections, so that operating system and personal data can be stored with no interference to or from all the others. However, sometimes partition on your hard disk can just disappear and become inaccessible. When such issue occurs, you will be anxious about the possibility of partition recovery. Fortunately, in many cases you can use disk partition recovery software to salvage data and partitions without hiring an expert.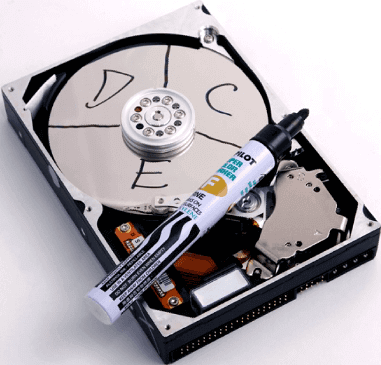 Common partition recovery scenarios you may encounter:
Disk formatting / reformatting: formatting is the basic operation you can do on hard drive, which is very easy and fast. Everyone can format/ reformat a partition or hard disk easily. Formatting is a good choice if you just want to wipe data or partition.
Partition deletion: Disk management and many third-party partition manager programs provide the feature to delete volumes with simple steps. Thus you may delete a partition which contains essential data by mistake.
Partition gets damaged: partition may get damaged or corrupt due to many reasons such as improper actions, virus, bad sectors, failed partition resizing, etc. You are no longer able to access a damaged volume unless it gets repaired.
RAW partition: RAW partition is inaccessible due to incorrect file system, but in most cases files in RAW drive is recoverable.
Bad partition table: partition table stores information about partitions on the disk. Once it is destroyed, operating system may lose control of partitions.
Windows failure: the dreaded blue screen problem together with other system error can lead to severe consequences, one of which is data loss.
Disk physical damage: hard drive has a lifespan and it fails overs certain years; besides, it can get physical damages and stops working. If files on that disk do not have a backup, you should send the disk to a professional recovery center to do file recovery and partition recovery.
Which disk partition recovery solution is better?
If you are among one of those scenarios mentioned above, you should consider a method to recover partitions. What options are available to solve this problem? In general, you can either send your hard drive to a local data recovery center or download hard drive partition recovery software to deal with it on your own.
Are you hesitant to make a choice? Services provided by data recovery center are highly priced, which might be $200 at least and you have to drive long time to get there. Downloading recovery software takes several seconds and recovery process finishes within hours. Moreover, hard drive recovery software is mainly priced between 30 USD and 70 USD, and some is even freeware. As to recovery result, hard drive partition recovery software works the same as experts as long as the hard drive is not physically damaged. Therefore, recovering partition or files on your own is more convenient and preferred by most users.
Guide 1: Lost partition recovery – how to recover deleted or partitions

?

How do you know if your partitions are lost? Symptoms of partition loss are: you cannot see the drive letter in File Explorer; if you check partition in Disk Management, you can see unallocated space on the disk instead of proper partitions; or you've repartitioned the hard drive, after which original partition are nowhere to locate.

Lost partition recovery works a little bit different from lost data recovery, and it is much more complex to many users. Once a partition gets lost or deleted, all data in that partition will be lost. If there are not important files in missing partition, you can solve the problem by creating new volume on unallocated space. Unfortunately, it is not always the case. Most often, lost partition stores essential files which have been backed up yet. The following part discusses causes of partition loss, notices you should pay attention to and step-by-step guide to restore deleted partitions.
Common causes of lost / deleted partitions
Why partition is lost? This is one of the questions you would ask. Causes of partition loss verify from people to people, and this section summarizes reasons behind this issue:
Accidental deletion: unexpectedly deletion of partition is common to both average users and experts. Deletion of a partition means all data in that partition is lost, and the disk space occupied by the partition becomes unallocated or free where you can create a new partition.
Master boot record error: master boot record is a hidden area on hard disk and it stores information for partitions. If it gets errors or deleted, you may lose access to partition.
Virus attack / system crash: virus can go to every corner of network without being noticed by firewall or anti-virus software. Some virus is designed to steal private data, while some is to delete personal data or destroy system. It happens that partition gets deleted by virus and system crashes due to virus or malware.Ÿ
Bad sectors: bad sectors are areas that cannot be accessed by operating system. A hard drive that contains bad sectors may turn to unallocated, losing everything on the disk.
Disk repartition: repartition hard drive is a process of wiping all old volumes and creating new partitions on same disk. Thus you should make sure all data have been backed up before repartitioning a disk.
What should be noticed after partition loss?
If you've confirmed partitions are lost and they contains significant files, what you should do first is finding solutions to get back lost partition and try your best to avoid data overwrite at the same time. You should pay attention to following points when encountering partition loss issue:
Do not try any unreliable solutions whose safety hasn't been measured. It is understandable that ordinary users are likely to be panic facing data loss problem. In that case, they tend to try any possible methods found online to recover data; however, some methods are not secure or effective.
Do not reformat or repartition hard drive. Disk reformatting or repartitioning may destroy information which is required by partition recovery and thus reduce success rate.
Do not create new partition or store data. It is available for creating new partition on free disk space and then store new data on it; whereas these actions will overwrite and totally destroy recoverable files.
How to restore lost / deleted hard drive partitions?
Lost partitions cannot be restored by themselves, but we can get them back with the help of hard disk partition recovery program. Here, we strongly recommend Eassos DiskGenius to recover lost and deleted partitions. This recovery tool provides partition recovery feature which is able to search for lost partitions on specified area, and then restore lost partitions to partition table. Therefore, lost partition can be restored to the state when it got lost. Besides, you can use this tool under Windows, DOS or WinPE environment so that you can carry out partition recovery even Windows cannot boot normally.
Now we're going to present the recovery process step by step. In this example, we choose a disk whose partitions have been deleted and it is full of unallocated space.
Step 1 Launch Eassos DiskGenius and you can see the disk that loses partitions. Select the disk and click "Partition Recovery" button.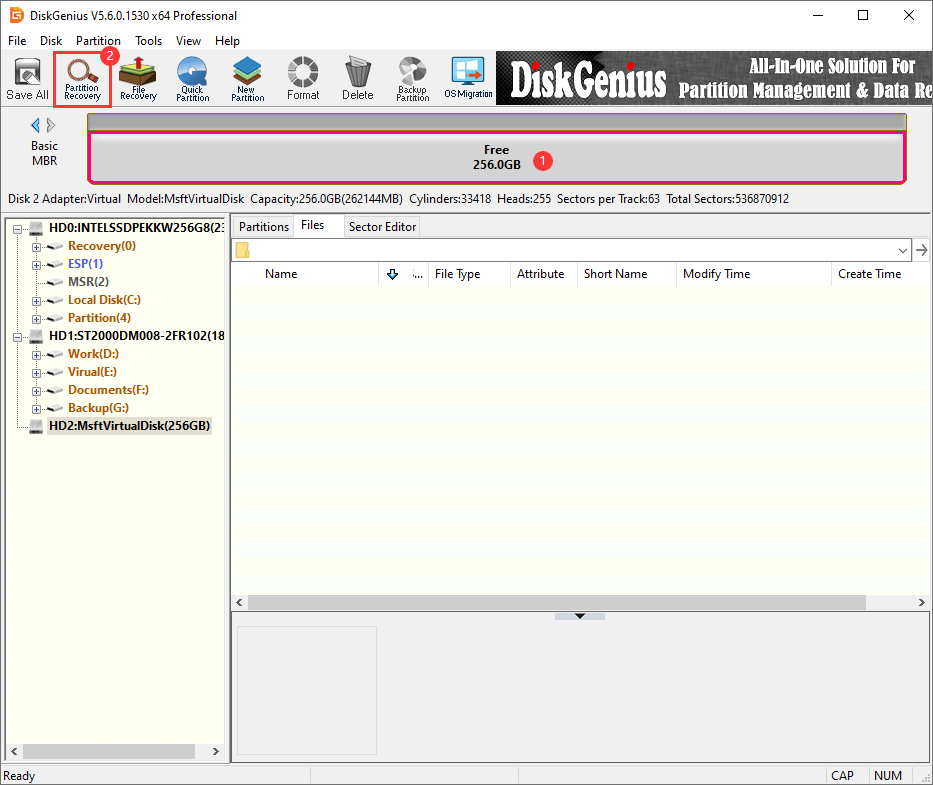 Step 2 Click "Start" button and DiskGenius starts searching for recoverable partitions. Searching process is read-only and does NOT write any data to disk.
Step 3 Reserve partition you want to restore and ignore wrong partition.
Once a partition is found, you'll be asked to choose "Reserve" or "Ignore". How to make the choice? You can preview files in the partition, as the program allows to preview photos, videos, audios and documents. Thus you can easily make sure whether it is the lost partition you want to recover.
Select "Reserve" button if the partition is correct, and choose "Ignore" if the partition is wrong or contains no data. Selecting "Reserve" here does not mean writing the partition to partition table, for the action is still read-only to hard drive.
In the picture below, DiskGenius discovers a 5GB partition with FAT32 file system, and we can see files and folders in this partition. It is just one of the deleted partitions we are trying to restore, and we should click "Reserve" here. Then partition searching continues.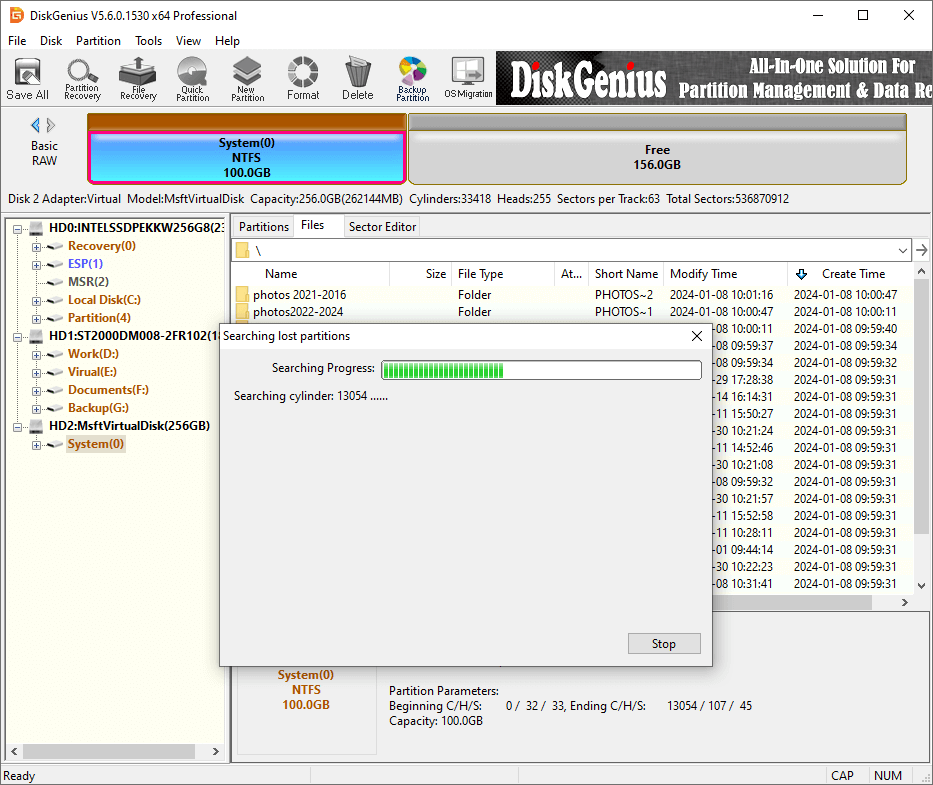 Now another partition is found and it is 9.4 GB in EXT4 file system. Still we need to preview files to decide if it is the one we need restore. All files in this partition are correct, and we should click "Reserve", as well.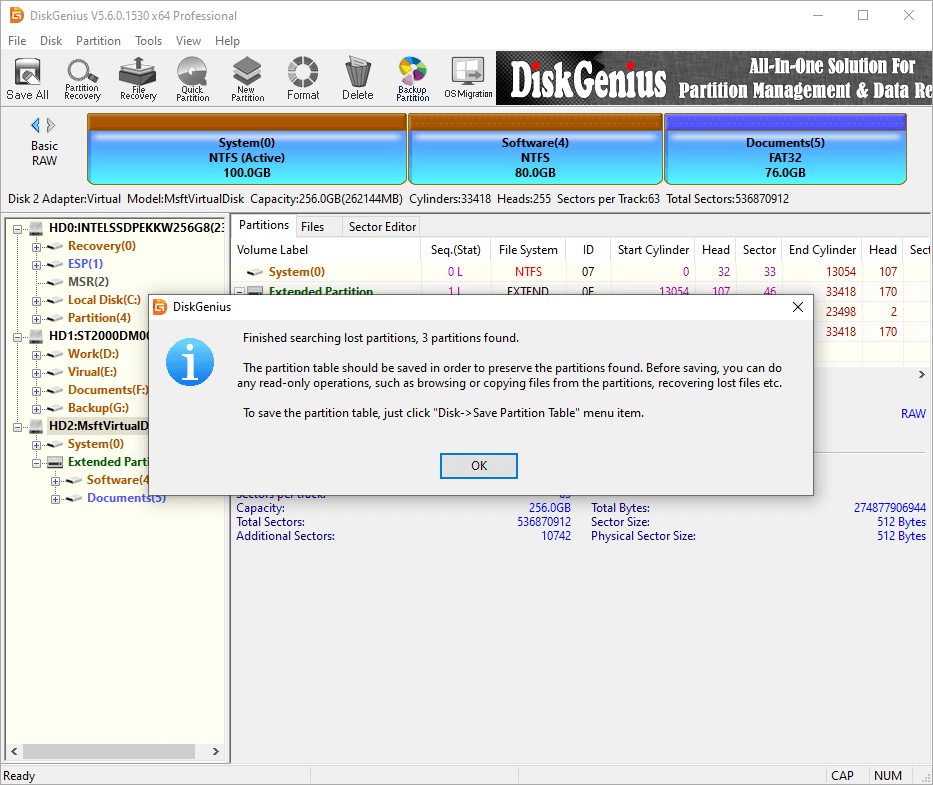 Step 4 Click "Save All" to save partition table, so that lost partitions can be restored.
Since all lost partitions have been found, we can save them to current partition table, after which they will be restored successfully. Saving partition table changes information in partition table, which does not affect data on the hard drive. If you save wrong partition to partition table, you can search for partitions once again and then save correct partitions.
Guide 2: How to recover files from formatted partition?
Partition formatting wipes data and frees up disk space so that you can store new data. In other words formatting is the process to erase or delete data. In most cases, formatting partition is done on purpose to free up disk space, fix partition errors or change file system, but formatting a wrong partition by accident also happens.
Can files be recovered from formatted partition?
Formatting causes data loss issue, but formatted partition is still recoverable as long as files are not overwritten. Why formatted data is recoverable? When a partition is formatted, only file information such as name in the root directory and file allocation table is deleted; all file data is not wiped, which can be overwritten by new data. Hence, we should not do any writing actions to the formatted partition in case of destroying recoverable data.
Note: Windows provides two methods to format partition: quick format and full format. Full format wipes all data sector by sector and lost files are not recoverable. Fortunately, in most cases, we format partition or disk via quick format, thus lost data can be recovered from formatted partition. What's more, data recovery software can do formatted partition recovery.
How to recover files from formatted partition?
DiskGenius is still recommended here to recover data from formatted partition, hard drive, external hard drive, USB flash drive, memory card, virtual disk, etc. You can download the software and follow the guide below to recover lost data.
Step 1 Launch Eassos DiskGenius Pro and select the formatted partition where you lost data and click "File Recovery" button.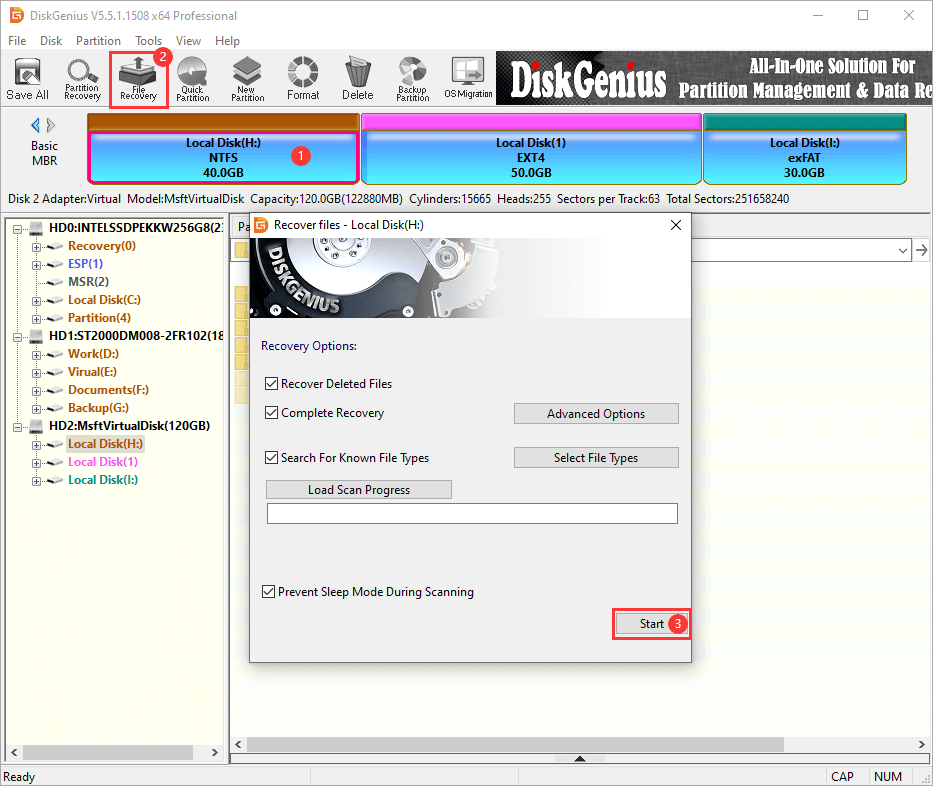 Step 2 Select "Complete Recovery" mode and click Start button. Then DiskGenius will run full scan on the selected partition.
Step 3 After a scan you can preview and filter recoverable files. which helps to locate those you want to restore.
Step 4 Select files and folders you want to recover and right-click them and choose "Copy To". Then you'll be asked to set a location in order to save recovered data.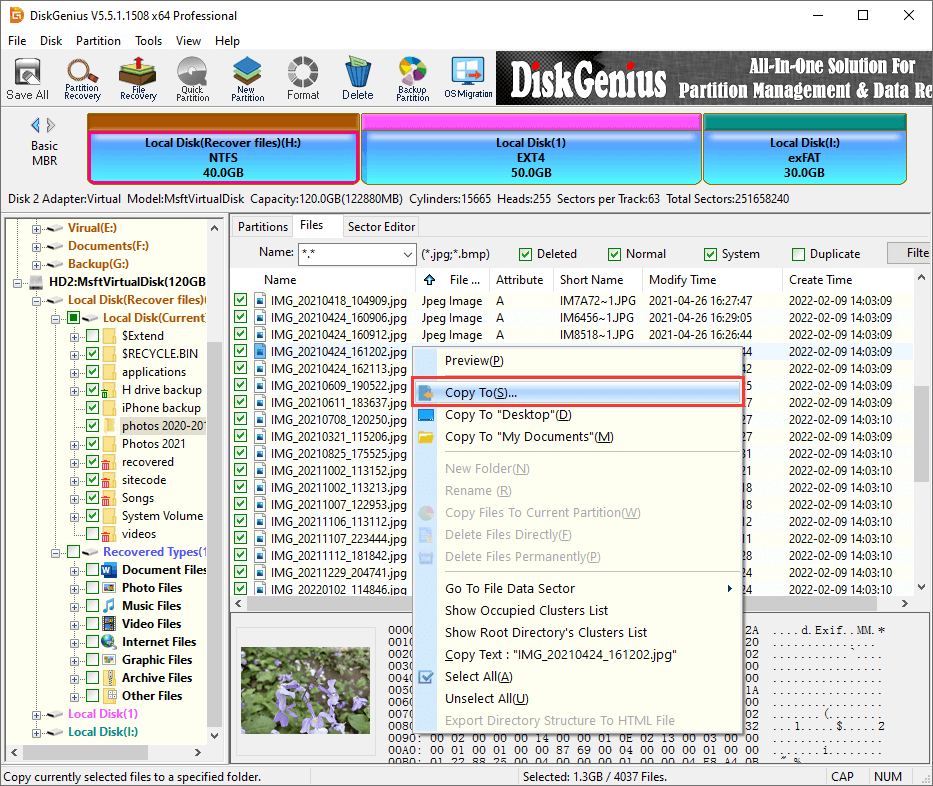 Guide 3: RAW / damaged partition recovery
Have you ever encountered the situation that you are not able to access a partition and get certain error message? If you check the partition in Disk Management or partition manager software, the file system is displayed as RAW or unformatted. If that is the case, the partition is damaged or corrupted and what you should do is RAW / damaged partition recovery.
Symptoms of RAW and damaged partition
When partition turns to RAW or gets damaged, the drive cannot be opened and its file system in Disk Management is displayed as RAW. If you try to open damaged drive, you may see following error messages:
The drive in G:\ is not formatted. Do you want to format it now?
H:\ is not accessible. The file or directory is corrupted and unreadable
Location is not available. H:\ is not accessible. The parameter is incorrect.
You need to format the disk in drive F:\ before you can use it. Do you want to format it?
D:\ is not accessible. The volume does not contain a recognized file system. . Please make sure that all required file system drivers are loaded ant that the volume is not corrupted.
While running CHKDSK, you'll get the error message saying" The type of file system is RAW. CHKDSK is not available for RAW drives "
Please do not format the RW or damaged partition although it asks to do so and there is no need to be that anxious when such errors appear. Formatting is likely to destroy information which is of great importance to successful recovery. You can retrieve data from damaged partition easily all by yourself, and the follow part presents the recovery procedure step by step.
How to recover data from RAW or damaged partition?
Step 1 Launch DiskGenius from your computer and select the RAW or damaged partition in the software.
In many cases, you can see files in the RAW NTFS partition directly without any scanning or searching. If you can see files, then save them to a secure location. If not, try following steps.
Step 2 Click "Tools" and choose "Load Current Partition Intelligently" option, as follows:
Note: this feature is specifically designed for corrupt NTFS partition recovery and it is able to list files in damaged NTFS drive immediately. For example, when NTFS partition cannot be opened in File Explorer and prompts "The file or directory is corrupted and unreadable", you can use this feature to do NTFS recovery without scanning the partition.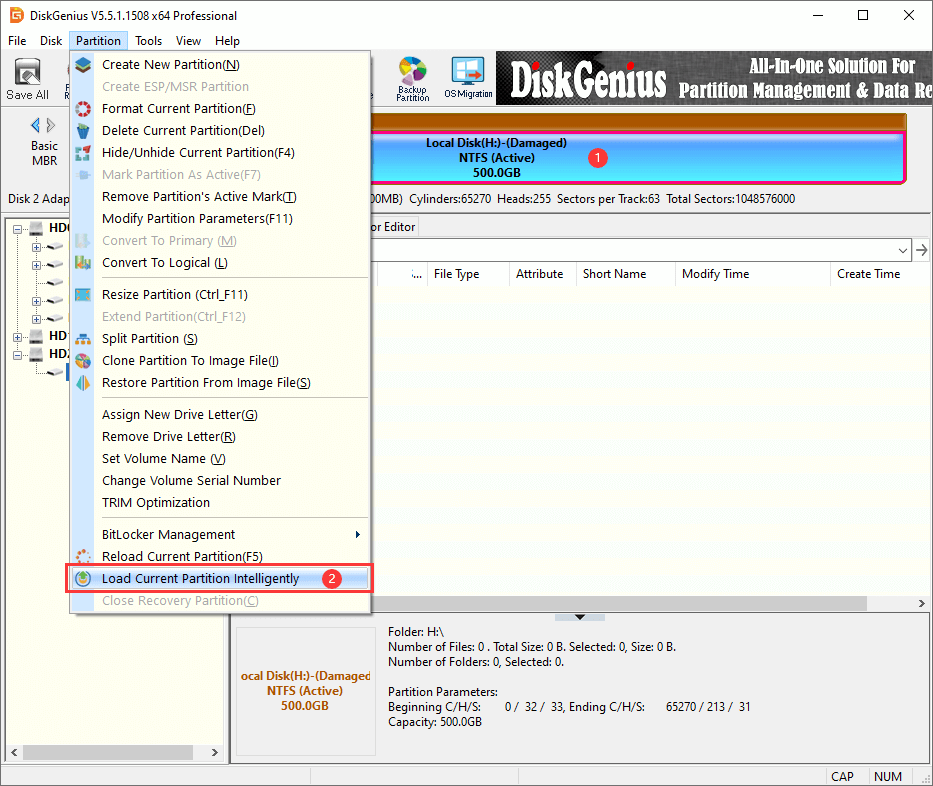 Step 3 DiskGenius displays data with original directory structure quickly. Then you can check if files are complete and correct.
If the partition is badly damaged, files cannot be listed in this way, you'll have to scan the partition using "File Recovery" feature.
Step 4 Copy and recover data. Select files you want to restore and choose "Copy To", then you can specify a path to save recovered data.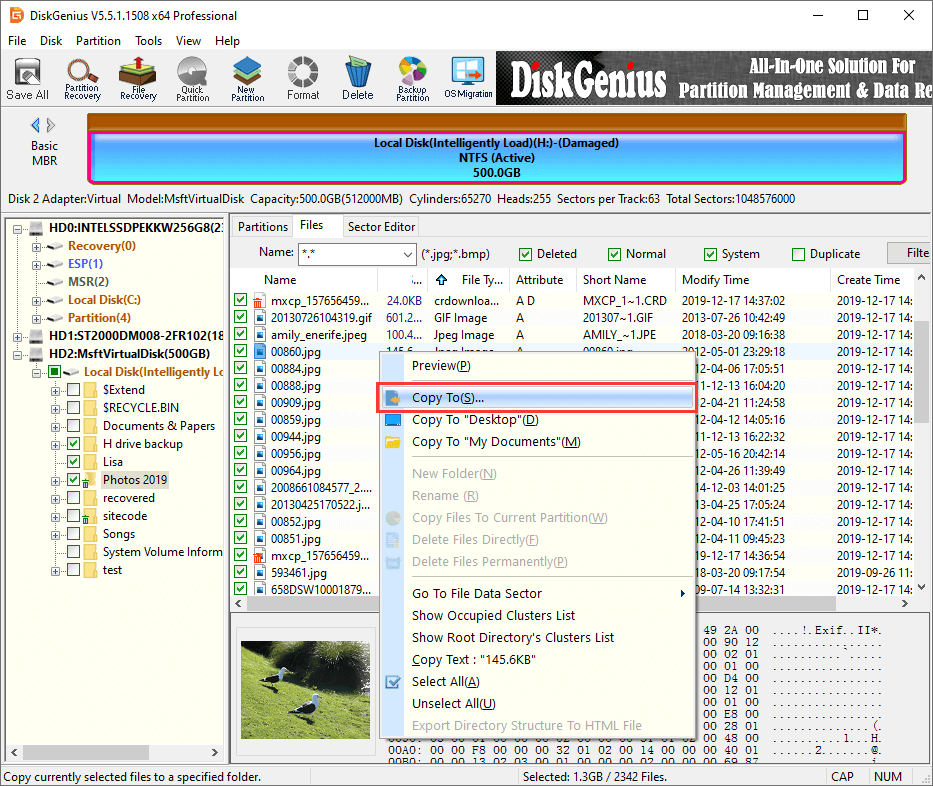 Step 5 Check recovered files.
You can open target folder to view recovered files and check if all your files have been recovered successfully. If yes, you can format the damaged or RAW drive and then copy recovered file back to that drive.
Case 4: Encrypted partition recovery
Many users are fond of protecting their private data by encrypting the partition that contains sensitive files. Other users cannot access the partition without correct password or secret key. Partition encryption is a double-edged sword. It protects personal with guaranteed safety, but you'll lose your data if password is lost. What's more frustrating, if the encrypted is formatted, damaged or gets lost such as deleted by mistake, do you know how to restore lost encrypted partition?
Since files in encrypted partition are private and sensitive, it is not appropriate to ask others to recover data in case of data leakage. The best choice is recovering lost or deleted encrypted partition on your own using partition recovery software.
Eassos DiskGenius is equipped with advanced partition scanning algorithm which is able to search for lost encrypted drives. You can refer to recovery process in previous part. This tool supports restore lost FAT32, NTFS, exFAT, ext3 and ext4 partitions under Windows or WinPE environment. The trial version is provided with same scanning ability, and you can check if encrypted partition recovery works on your case before placing an order.
Summary
This guide explains different solutions to partition recovery, which helps to do formatted partition recovery, damaged partition recovery, RAW data recovery, lost partition recovery as well as encrypted drive recovery. If you feel this guide useful, we hope you can share it to your friend and help more users to rescue data. Should you have any questions or need further help, please do not hesitate to contact our technical support.