How to fix - external hard drive not showing up?
Invalid partition table causes problems like partition loss and system boot issue. Do you have any ideas on fixing invalid partition table on Windows 10/8/7? This instruction will help you solve this problem through an easy method.
External hard drives are used all over the world as a common medium to store data. Main reason of using these external hard drives to exchange and store data is their portability. These external drives are used mainly for three functions- storing important data privately, back up of valuable data or system and exchanging files between different devices and computers. In this way, external hard drives have become very important and essential for many users.
External hard drive not showing up issue
External hard drive provides convenience, and yet some users are suffering from external hard drive not showing up issue. Sometimes external hard drive does not show up in your computer's File Explorer though it has been well connected to your PC. If you open Disk Management, you can see the external HDD there, but it becomes unallocated, uninitialized or RAW disk.
Causes of the issue can vary from people to people: the external hard drive is not connected correctly, for example, USB port is damaged; partition on the external disk is corrupt, and thus it cannot be accessed by Windows; the external HDD gets physical damages, like bad sectors, heads damage; drivers for external disk is corrupt or outdated; insufficient power supply; drive letter is missing.
Though it is a very common issue still it is important to resolve it as soon as possible otherwise there can be risk of losing your data permanently.
How to fix external hard drive not showing up error?
This section gives a couple of solutions to help fix the external not showing up error. If you get same problem, you can try these solution one after another to solve it. Note: if the external disk contains important data, you should recover files first before repairing it, for some approaches destroys data. To recover data, please skip to next part which explains how to recover data from not-detecting external HDD.
Solution 1: Check if USB port or power supply works
Try a different USB port, computer or a new power supply, which helps to see if this issue is caused by connection problem. You should make sure the external hard drive is well connected to computer. If this does not work, then try next solution.
Solution 2: Assign a drive letter for the external drive
If a partition's drive letter is missing or deleted, it does not show up in Windows Explorer. Moreover, external HDD's driver letter conflicts with local drives, it will not appear on computer as, well.
In this case, you can make your drive show up by assigning a drive letter. Drive letter can be changed or assigned in Disk Management or Windows partition manager such as Eassos DiskGenius.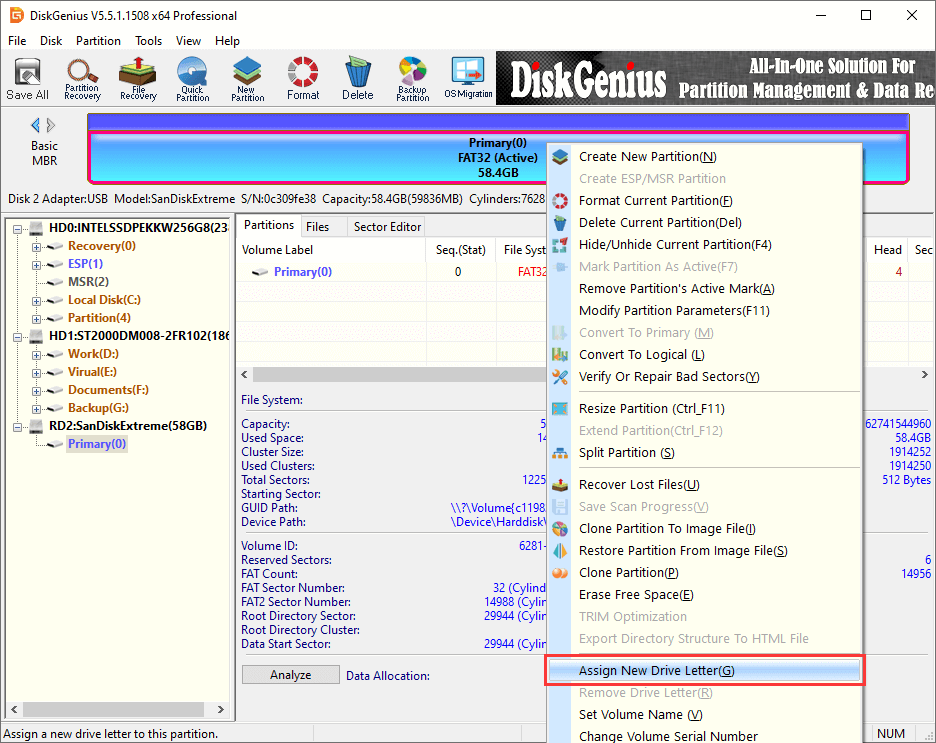 Solution 3: Format the external hard drive to fix corrupt partition
If volume on the external hard drive is corrupt or become RAW, the partition cannot be seen in Windows. Damaged partition usually can be repaired by formatting as long as there are not physical bad sectors on the disk.
Both Windows built-in Disk Management and partition manager can format external device for you. However, you should make sure all files on the disk have been backed up; otherwise, you'll suffer from data loss issue after formatting.
Solution 4: Create a new partition on the removable HDD
If the removable HDD that does not show up in computer is marked as unallocated in Disk Management, you may need to create a new volume on your own. As we all know, unallocated space is free disk area which cannot be used to store data by system. If you create a new partition on it, then system will be able to access it again.
You can right-click unallocated space in Disk Management and select New Simple Volume, and then follow the on-screen steps to complete the task. In DiskGenius, the process is easier: select free disk space and click New Partition button and then click OK.
Solution 5: Uninstall / reinstall the disk
In some cases, the error can be solved after uninstalling and reinstalling the USB driver. In Device Manager, expand Disk drives to find the external disk in question; right-click it to select Uninstall from the context menu; click OK to confirm the action; restart computer and the disk will be reinstalled automatically, then you can check if the issue is fixed.
How to recover data when external hard drive doesn't appear?
The external hard drive not showing up issue can be classified into two types:
Logical issue: the external hard drive which is not detected by the explorer of the Windows may appear on its Disk Management option.
Physical issue: In some cases the external hard drive does not appear in Disk Management
Methods to recover data to these two situations are different. Logical issues can be fixed by data recovery software, while physical causes of the problem cannot be handled by recovery software, and the disk should to send to recovery center where disk will be opened so that files can be retrieved from platters. In this section, we will present how to retrieve data from external hard drive which is not showing up in Windows and does not contain severe physical damages.
External hard drive data recovery software
Eassos DiskGenius is a great choice to recover files from inaccessible, corrupt, damaged and RAW external hard drive. DiskGenius is a software developed by EASSOS and used by professionals as an all-round partition management tool to help in recovering the data and backup files lost, resizing the partition, checking bad sectors, editing hexa data, erasing data and managing virtual disks etc.
As to data recovery features, DiskGenius can recover lost and deleted files from hard disk drive, virtual disk and external hard drives. It also recovers data from inaccessible, damaged or reformatted external hard drive or partitions. DiskGenius helps in restoring the partitions lost due to failure of hard drive, crashing of system or deletion etc. It also helps in recovering data and recreating virtual RAID as easily as recovering from a local disk. As a full features editor of hexadecimal it serves as an advanced level data recovery tool.
More features of Eassos DiskGenius:
Efficient partition manager: As Partition Manager DiskGenius looks after management of partitions to create, format, hide, delete and activate partitions easily in few simple steps. It resizes, splits and extendsFAT32, exFAT and NTFS partitions safely without any data loss. It also helps in merging unallocated space of the disk to a partition existing already. It also helps in converting certain functions, disk between GPT and MBR disks, Logical partition to primary partition and vice versa. It also converts the format of virtual disk along with dynamic disk to basic disk without losing any data.
System and data backup: DiskGenius can provide backup to any portion of an image file and when partition is corrupted it can restore data. It supports both, incremental backup and full backup. It also helps in creating virtual disk, cone partition or HDD in sector or file level. It also provided backup at boot sectors and partition table of all partitions on the disk to file.
Disk utilities: It detects and repair bad sectors of all types of storage devices. It deletes lost or existing files permanently so that you cannot recover them. It also helps in viewing information of S.M.A.R.T. status of your hard drives. It also checks whether the partitions on your computer are 4k compatible or not. It can also format several USB drives simultaneously.
Steps to recover files from external hard drive
Note: actions like disk formatting, partition recreating and disk repairs are of no help to data recovery or partition recovery. If files on the external disk are important to you, you should perform data recovery first before try any repairing actions. The recovery process is quite easy to follow:
Step 1 Connect the disk to your PC so that it can be recognized. Though you cannot see it in File Explorer, you can view it in Disk Management or DiskGenius.
Step 2 Launch DiskGenius from your computer. Select the disk or partition from which you want to retrieve data, and click File Recovery button from toolbar.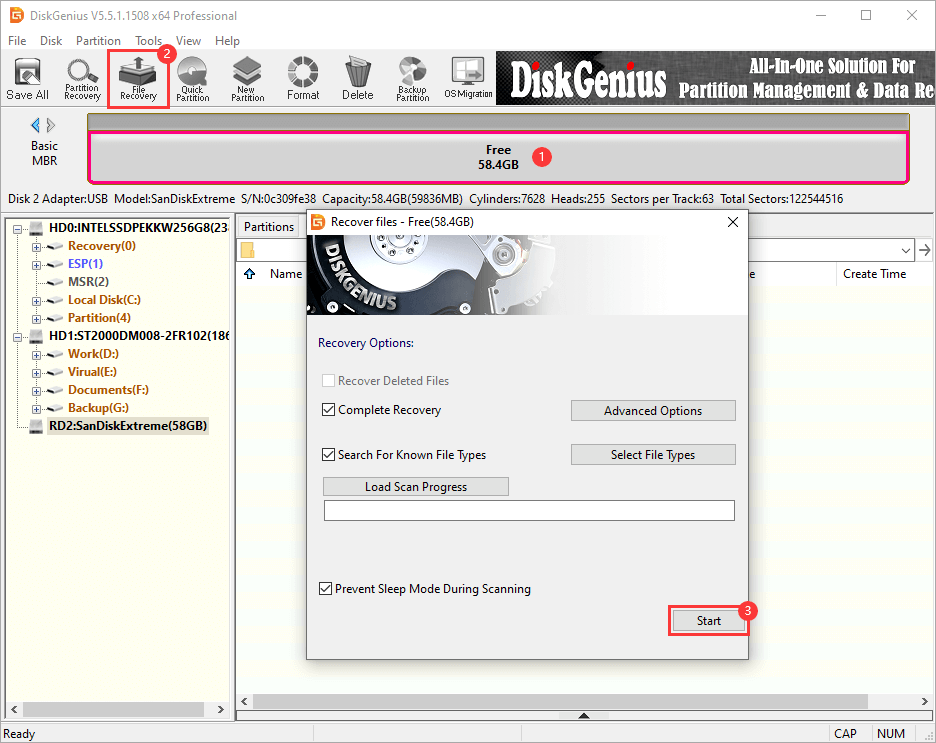 Step 3 Select recovery mode as Complete Recovery and click Start to scan the select disk.
Step 4 Preview and locate files you want to recover. File preview helps to identify whether files are correct or damaged..
Step 5 Recover data. Select files you need and right-click them to choose "Copy to". Then you can choose a secure location to save them.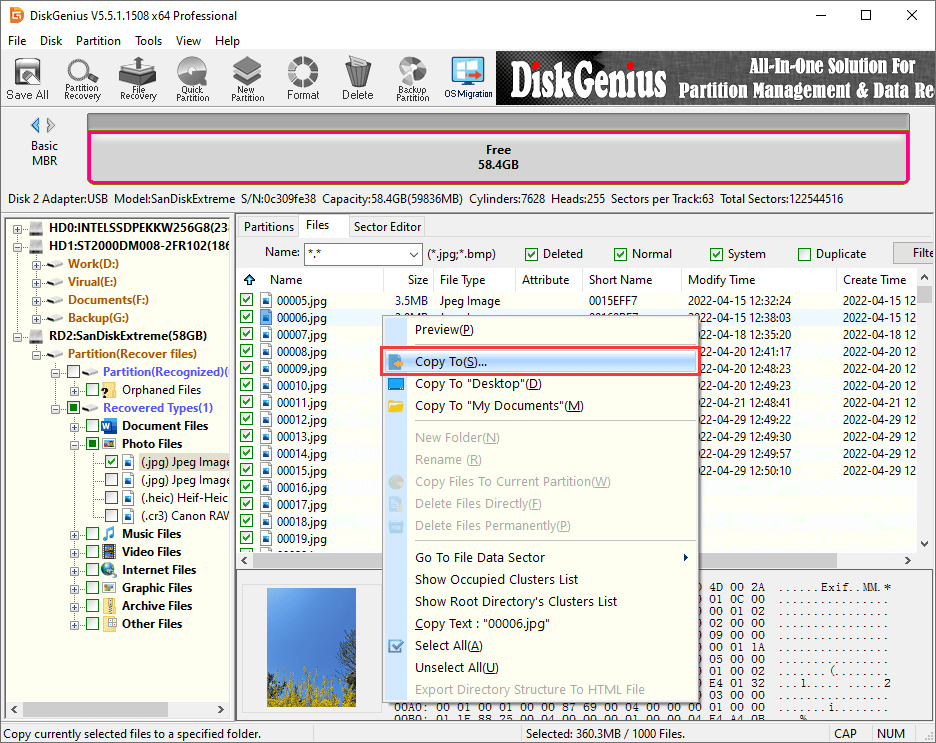 Customer reviews
Most of the users have rated DiskGenius as a basic tool to manage partitions as it mainly focuses of recovering data. It can be useful for you if you system requires recovery function of any kind. Some of them found it useful for protecting your system by backing up a partition table of the drive and remaining ready for restoring it easily when options to cloning entire hard drive or its individual partitions is available. Some of the users who use DiskGenius free found it easily useable manager for your hard drive that can be used to resize, create, clone, recover or extend partitions. For some others DiskGenius can be used not only for managing partitions but also for formatting and recovering data along with deleting and creating partitions.
Summary
So, after going through the information provided in this write-up it can be concluded that DiskGenius is the best data recovery software for awesome features. Most of its users thank the provider of this exceptionally brilliant data recovery tool as it can recover your data even if your external hard drive is not showing up on your computer screen due to any reason.