CuteRecovery Help - Deleted File Recovery
The function "Recover Deleted Files" supports to recover files deleted by Shift + Delete or emptied from Recycle Bin and recover lost data due to Cut_Paste or unknown reasons. When a file is deleted, actually its data isn't erased from disk. Normally, it is only marked as "Deleted" and file data and file name are still kept on the disk. Thus, as long as no new data is written in (i.e. deleted file is not overwritten by new data), the deleted file can be recovered through certain techniques. The deletion is usually caused by improper operations, virus and software (except file crushing software).
1. To recover deleted files, please click the button "Recover Deleted Files" on the main interface as follows: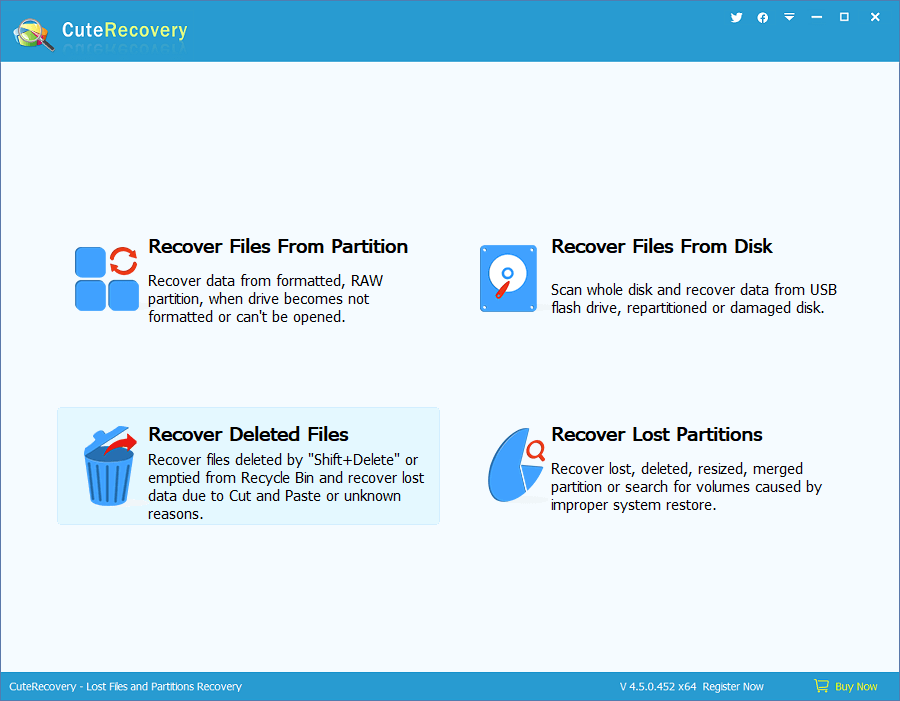 This function is carried out in 3 steps: select partition, select files to recover, and save recovered files.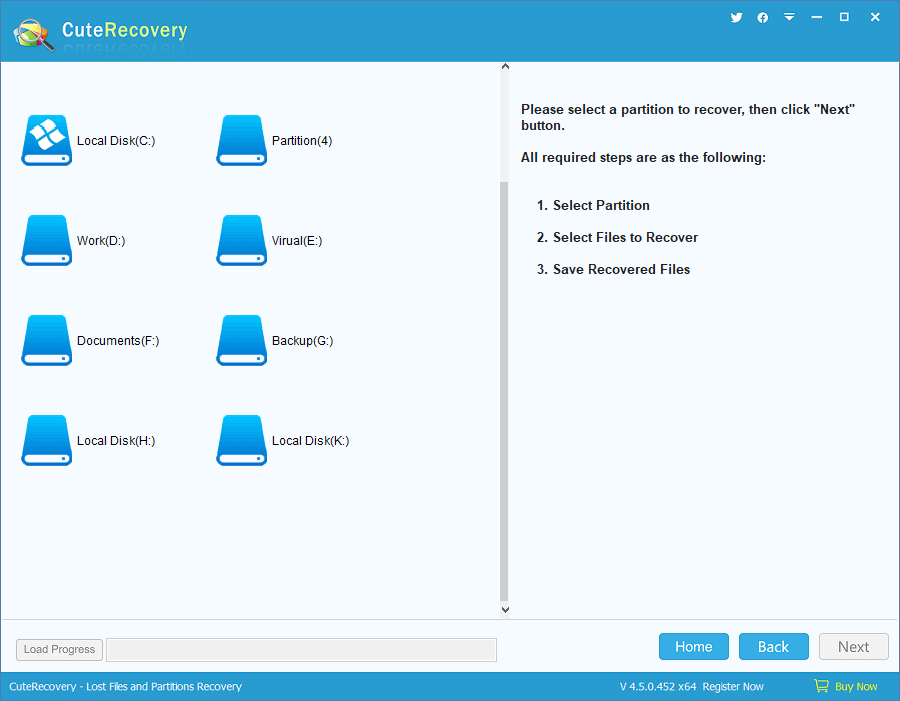 2. Select the partition where deleted files were stored and its information is displayed on the right panel, as shown in the following picture:
If file system of the partition you selected is FAT32 or FAT 16, there'll be a check box "Search for earlier deleted files" on the lower right corner. If you want to recover earlier deleted files, you can check it.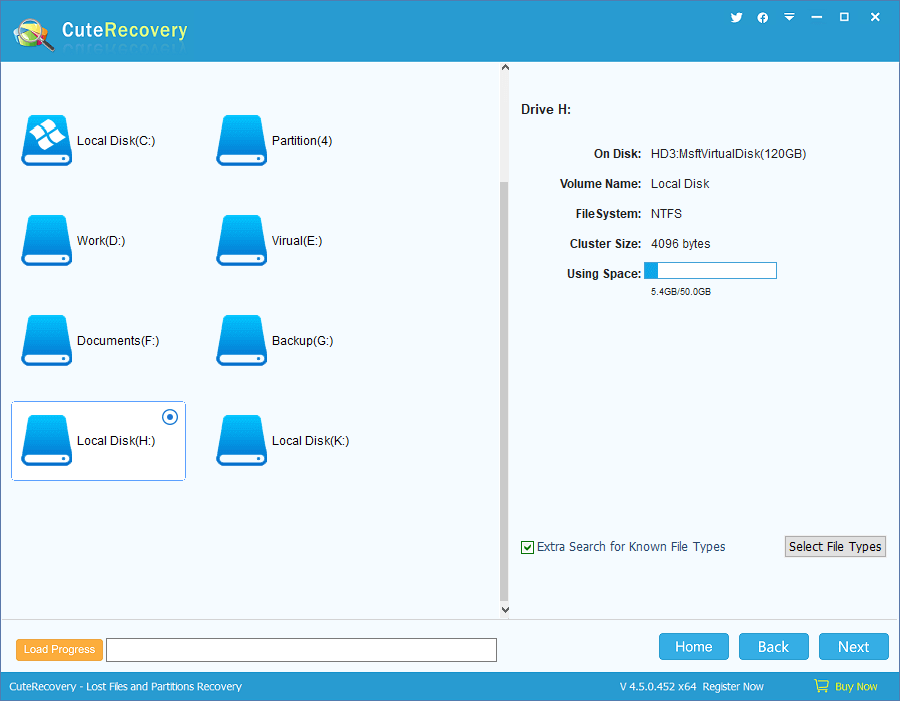 Make sure that the selected partition is the one you want to recover files and then click "Next". CuteRecovery starts to scan the partition and enter next step "scan files to recover".
3. During scanning, CuteRecovery displays deleted files it finds out and the way it displays files is similar to Windows Explore: file directory is on the left and file list is on the right part. There is a check box before every file or folder. Check all files and folders you want to recover and click "Recover" to prepare for copying files. If you click a file, there'll be a preview thumbnail of the file on the lower right part. CuteRecovery supports previewing pictures, text, video, audio files, PDF, and Microsoft Office documents, by which you can judge whether files can be successfully recovered in advance.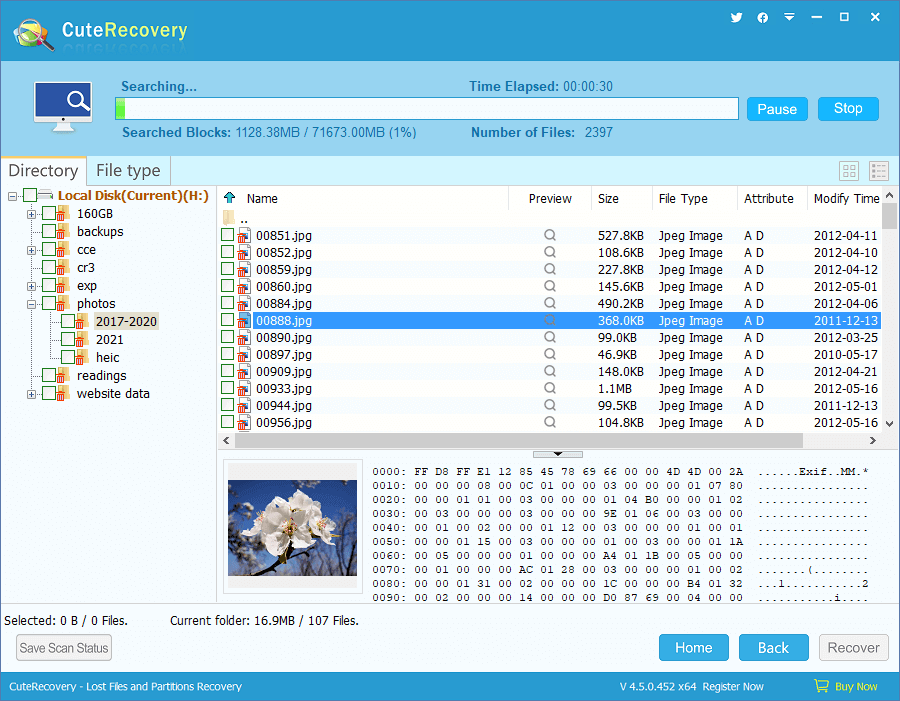 Filter Files: If you just want to recover part of files, you can filter files by setting options for example, "Name" (supports name extension), size and modify time, and then click "Filter". By default, only deleted files are displayed. If you want it to display all normal files, you can select the option "Normal" and click "Filter" button. But normal files don't have check boxes, so they cannot be selected.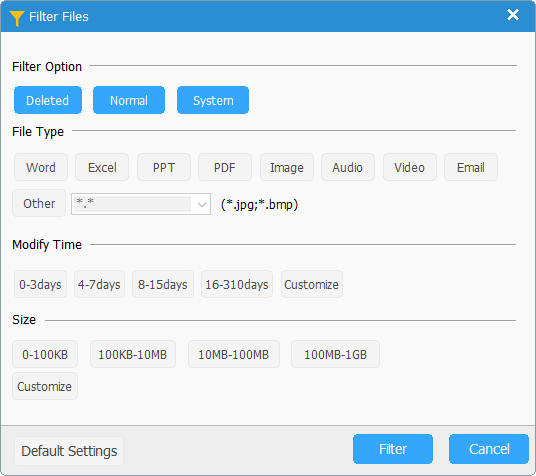 4. Copy files to get them reocvered: select needed files and click the "Recover" button.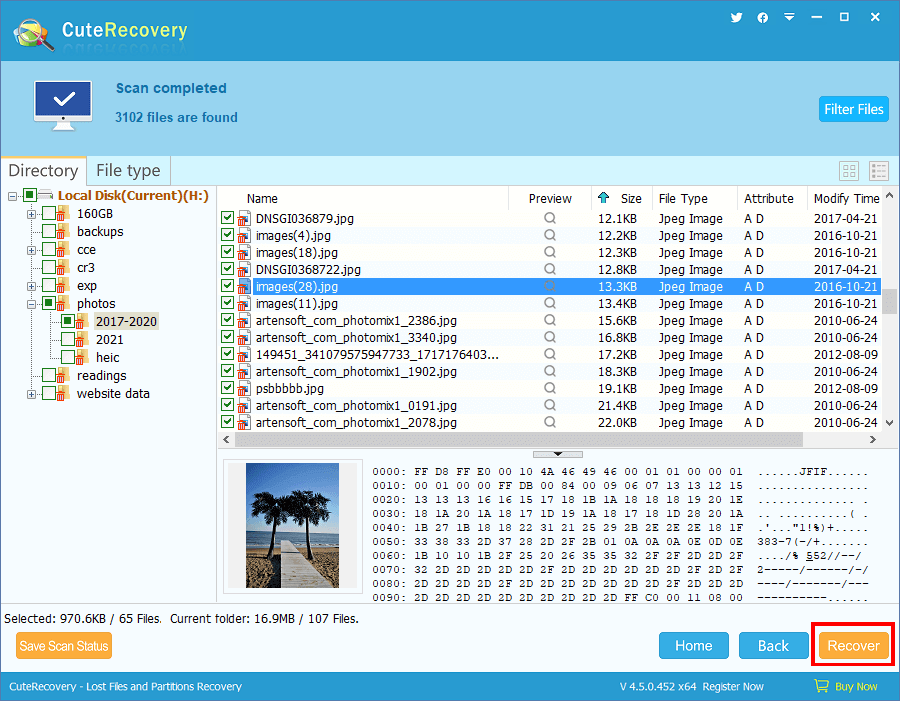 Another way to copy files is using the context menu. Select files that you want to recover and right click mouse button and on the popup menu select the item "Copy to", and then select a target folder. For detailed operations, please refer to "Copy Files by Context Menu".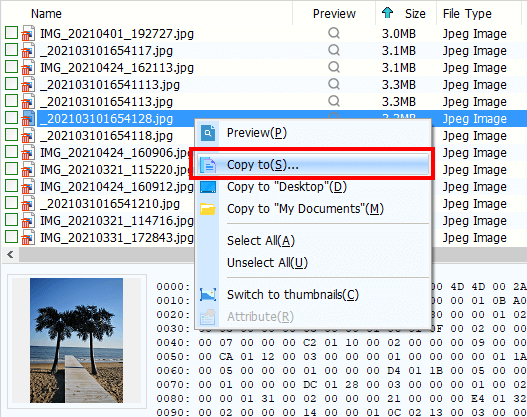 Then you need to specifiy a location to save recovered data. To avoid secondary data destruction, please do not set the target folder to the partition which is recovering data.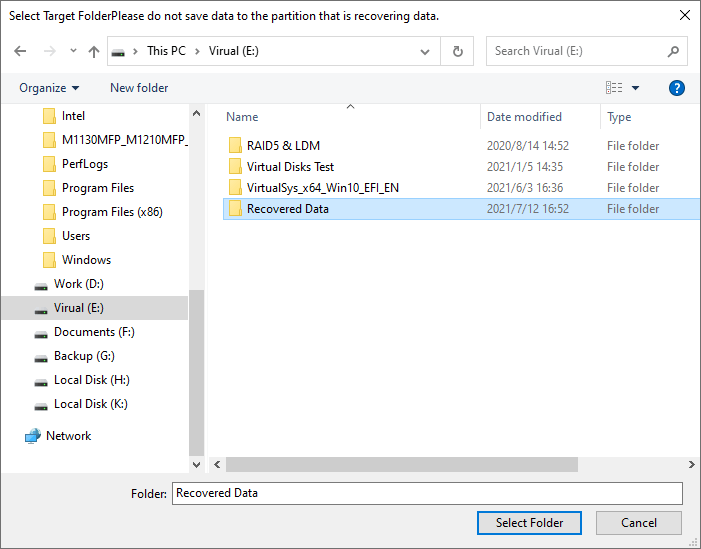 If you set the target folder to the partition which is recovering data, CuteRecovery will pop up the following warning message. You need to select another target folder.

Please select another target folder.
CuteRecovery is copying recovered data to the specified location.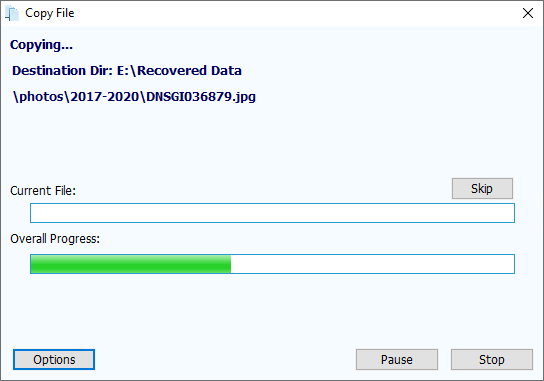 File copy is completed: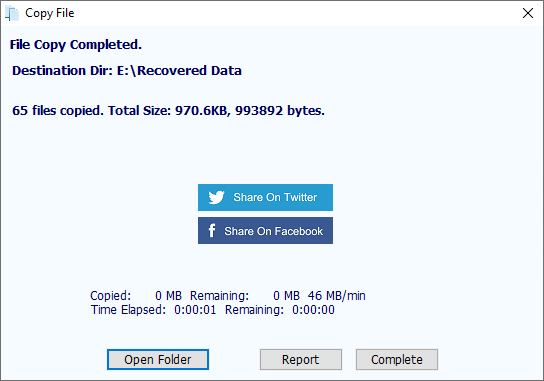 You can click the button "Details" to see the "File Copy Report"; on the following dialog box click "Save" to save the report to a text file.