DiskGenius is professional partition manager and data recovery software. It provides overall features and helps users to create, delete, hide, format, backup and clone partitions, check bad sectors, edit sectors, resize partition as well as perform file recovery and partition recovery. Besides, it supports all storage devices such as IDE, SCSI and SATA hard drive, USB drive, flash drive, memory card, cell phone, digital camera and supports FAT12/FAT16/FAT32/NTFS/EXT3 file systems. It has a simple interface and even inexperienced users have no difficult in working with this software.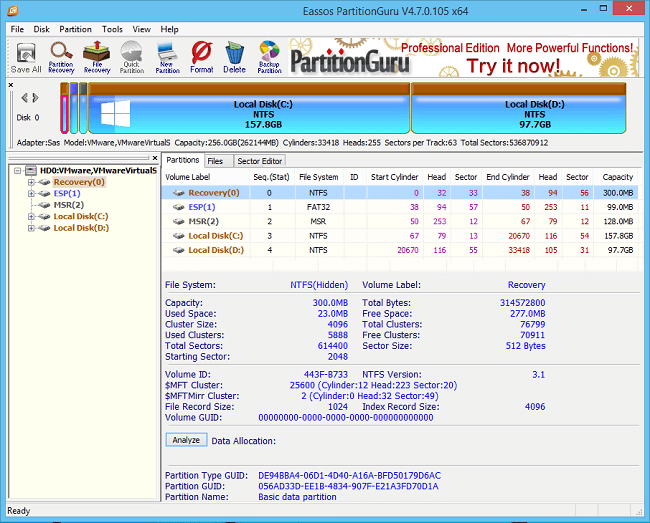 Its main features and functions are as follows:
1. Support traditional MBR partition table, GUID partition table of GPT disk.
2. Support many types of fixed disks such as IDE, SCSI and SATA etc. It also support USB flash Disk, USB hard disk, memory card.
3. Support FAT12/FAT16/FAT32/NTFS file system. Inner files operation such as copying, delete, create folder, etc.
4. Can read files on EXT2/EXT3 file system. Support Linux Logical Volume Management (LVM2).
5. Support lossless conversion between GUID partition table style and MBR style.
6. Provide basic partition operation include create new partition, delete partition, hide partition. You can specify the detail parameters of partitions.
7. Provide lossless conversion between logical partition type and primary partition type.
8. Can quickly format FAT12/FAT16/FAT32/NTFS partitions. You can specify cluster size or select the option to compress the NTFS partition while formatting.
9. Can browse any files in any supported partitions including hidden partitions, and also including the files that can not be accessed by the normal way. Even you can forcibly delete the files in supported partitions.
10. Support assign or remove drive letters. Can set and change volume name and the BPB label of FAT file system.
11. Support deleted files recovery and recover files from formatted or other inaccessible FAT12/FAT16/FAT32/NTFS partitions. Retrieve your lost files.
12. Enhanced lost partition recovery (rebuild partition table). During the recovery operation, you can immediately see the files in the lost partitions. This is the best way to determine whether the partition found by DiskGenius is just you are looking for. Even you can recover files from the lost partition while the partition table is not saved to disk.
13. Can backup partition table to a file and restore it from the file.
14. Can backup whole partition to image file and restore partition from backed up image file.
15. Support copying partitions. Provide three copying mode include "Copy all sectors", "Copy all valid sectors" and "Copy all files".
16. Support copying disks. Also provide three copying mode like partitions copying.
17. Support VMware virtual disk file (".vmdk" file), Virtual PC disk file (".vhd" file) and VirtualBox disk file (".vdi" file). Operate it like ordinary disks. All operations supported on ordinary disk are also supported on virtual disks.
18. Can copy file (from or to the virtual disk), recover lost files from the virtual disk file while the VMware virtual machine is not running.
19. Support ".img", ".ima" image file format.
20. Support make USB-FDD and USB-ZIP mode bootable disk.
21. Provide bad sectors verify and repair functions.
22. Provide quick partition and quick format function. Partition or re-partition a disk in one step.
23. Provide correct and check partition table error functions.