This post discusses "Problem ejecting USB mass storage device" error and provides several solutions to help you safely remove USB drives. If you cannot eject USB drive in use, try following methods to remove USB devices easily.
Symptom of "Problem ejecting USB mass storage device"
USB mass storage devices are useful tool to store or transfer bulky data between computers. The "problem ejecting USB mass storage device" issue occurs to USB drives (USB flash drive, external hard drive, thumb drive, pen drive, etc.) on Windows computer when you click the "Safely remove the hardware" icon at the right-bottom corner. The error message will be different on different systems:

This device is currently in use. Close any programs or windows that might be using the device and then try again.
Windows can't stop your 'Generic volume' device because it is in use. Close any program or windows that might be using the device, and then try again later.
The device 'Generic volume' cannot be stopped right now. Try stopping the device again later.
Windows is unable to stop the device 'USB Attached SCSI (UAS) Mass Storage Device'. Don't remove this device while it is still in use. Close any programs using this device and then remove it.
When you encounter this error, do not force to remove USB drive. If you unplug USB drive without dealing with the error message, partition on the USB drive may be corrupted and files are not accessible. In severe cases, the USB drive might be broken.
Why system can't eject USB disks?
The most common reason behind this problem is that certain files in the USB drive may not be closed when you attempt to eject the external disk.
Files stored on the USB mass storage device are used by other programs on computer, such as Microsoft Office.
Some other third party software on your computer is accessing the disk which can't eject, such as security software, anti-spyware application, backup tools, etc.
If the external hard disk has a NTFS partition whose indexing is enabled, the error is likely to appear.
How to fix "Problem ejecting USB mass storage device"?
If your computer can't eject USB flash drive or external hard drive, you can follow solutions here to safely remove devices, so that you won't end up with corrupted partition and losing data.
Before trying following methods to eject USB or external hard drive, you should make certain which one to remove. If that is the case, you can open Windows Explorer (which is called File Explorer in Windows 8.1 and 10), and to go computer section where you can see all partitions. Browse content in each device and identify the one you want to remove. Then remember the name, size and drive letter.
Besides, you need to check whether you have closed all files in the USB drive and application accessing the disk.
Method 1: Safely unplug a removable device
Unplugging or removal USB device without using Safe Removal is likely to cause data loss or system unstable. If you remove a device which is transferring data, data loss tends to happen. Safe Removal can warn operating system you are going to unplug a device to prevent possible data loss issue.
Step 1 Click the Safe Removal icon from the notification area of the taskbar. A menu will pop up displaying a list of plug and play devices which support safe removal and attached to your computer.
Step 2 Select the device you want to eject. If the USB drive you want to eject is not listed here, your device doesn't support safe removal. In that case, you should try rest methods.
Step 3 Unplug the USB disk when you see a notification saying it is now safe to unplug the device.
Method 2: Eject USB drive in Device Manager
Step 1 Open Device Manager. Click Start button and select Control Panel. Then click Hardware and Sound -> Device Manager.
Step 2 Click "Disk Drives" and you can see all storage devices on your computer. Right click the one can can't eject and select Uninstall.
Step 3 Click "OK" button on the Confirm Device Uninstall message box which warns you are about to uninstall this device from your system. If you select the option "Delete the driver software for this device", the process will remove the device driver package from driver store.
Step 4 When the uninstall process completes, remove the device.
Method 3: Remove USB mass storage device in Disk Management
Step 1 Open Disk Management. Right click My Computer and click Manage. Then select Disk Management under Storage from the left panel.
Step 2 Locate and right click the drive that you want to remove safely and click Eject.
If you want to eject external hard drive, you would see the option Offline instead of Eject. Then go to task bar to eject device. When you plug the external hard disk back to computer, you have to open Disk Management and turn it into Online.
Method 4: Eject USB drive using free partition manager
You can use free partition manager DiskGenius to safely eject USB devices. It is quick, flexible and functional tool to manage disk and partitions. DiskGenius is able to format USB drive in batch automatically, during which it eject USB flash drives after formatting is completed. Let's see how to eject USB devices using DiskGenius.
Step 1 Launch DiskGenius and you can see the device you want to remove.
Step 2 Select that disk and click menu "Disk" to choose "Safely Eject Disk".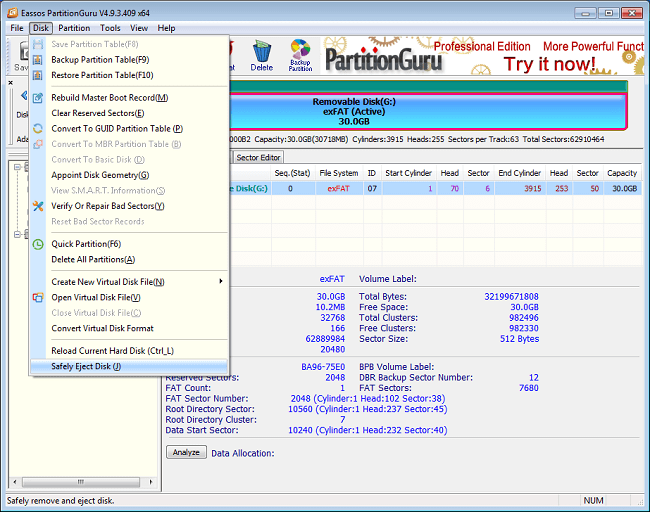 Step 3 Unplug the disk after DiskGenius ejects it.
Conclusion
As you can see from this article, there are 4 methods to safely remove USB devices and you can try these solutions to solve problem ejecting USB mass storage device. If you are bothered to do so, you should backup all data before unplugging device directly.