How to increase chances of successful data recovery?
This article lists some data recovery tips for users who want to carry out data recovery on their own. As we all know, incorrect moves lead to unrecoverable situation. If you want to increase the chances of successful recovery of lost data, please keep reading.
Overview on data recovery
Data recovery is the process to get back lost or missing data from storage media. Data recovery can deal with various scenarios such as accidental deleting, disk formatting, system reinstallation, partition loss, RAW drive, virus attack, system failure, etc. Besides, it also includes the recovery of data from hard drive which has physical damages and cannot be detected by computer.
Recovery of lost data supports a variety of storage devices, such as hard drive, external hard drive, SSD, USB flash drive, memory card, virtual disk, RAID, etc. All these storage devices hold important files for users. Once these devices fail to work or get damaged, files are likely to get lost.
Modern data recovery technology has made it possible to retrieve lost data from all kinds of data loss situations. What's more, average users are able to perform data recovery on their own. Due to recovery of lost data cannot be done at 100% successful rate; we should pay attention to some points to increase chances of successful data recovery. First, we should try to avoid further data damage when realizing data loss issue occurs; then you can follow advised steps to recover deleted or lost data by yourself.
How to avoid further damage after data loss incident?
When a file gets deleted, many users will feel it is not recoverable. However, in fact, the deleted data still stays on the device as long as it does not get further damage, such as data overwrite. In order to get best data recovery result, we should try to avoid further data damage. There are some dos and don'ts on data recovery issue:
Firstly, stop all the "write" operations immediately. This is very important, as write action causes the further expansion of data loss. There are a lot of operations involved in "writing", such as saving files, building new files, and deleting files. Even the normal operations done by operating system also generate "write" operations. For example, temporary files are generated when the system is running, view web pages, edit document s, etc. At this time, if lost files were store on system partition, the best action is turning off the power of computer immediately (not a normal shutdown, normal shutdown may be the "writing" operation), and then moving the hard disk to other computers for file recovery. After connected to other computers, you should also pay attention to disable system restore feature, and do not open files on the hard disk at will, because it is likely to produce some temporary files and cause secondary damage.
Secondly, do not do anything with the disk on which the lost data is located. This includes the followings:
Do not access data on this disk, such as edit files, view files or folders
Do not save any data or create files to the disk
Do not format or reformat the disk. Though files lost due to formatting are recoverable, in some cases formatting affects data recovery result. Formatting may clear up the important area of the partition and reset. This will result in the loss of important information needed to recover the file, reducing the chance of successful data recovery.
Do not try rebuilding partition table. Although the function is powerful, it also has its specific scope of application, which is only applicable to the case of partition loss. If the partition is not lost, only files get lost, or partition prompts formatting, it is useless to use this function. Instead, if the "Save Partition Table" command is executed without searching for the correct partition, it will cause further data damage.
Finally, do not worry if you've accidentally made one of the above mistakes, just stop all other operations you are doing and check if the data is still recoverable. If it can't be detected, then your best choice should be to consulting professional data recovery service providers.
Things you can follow when recovering data on your own
If you encounter a data loss situation, you can download Eassos Data Recovery software to get back lost files. Its operation is very simple, and does not require any professional skills.
Usage of Eassos Recovery
Firstly, Download Eassos Recovery and install it on computer or other devices. Do NOT install the recovery software on the device that needs recovering data.
Secondly, Start Eassos Recovery and scan storage device with proper recovery mode. After opening the software as follows.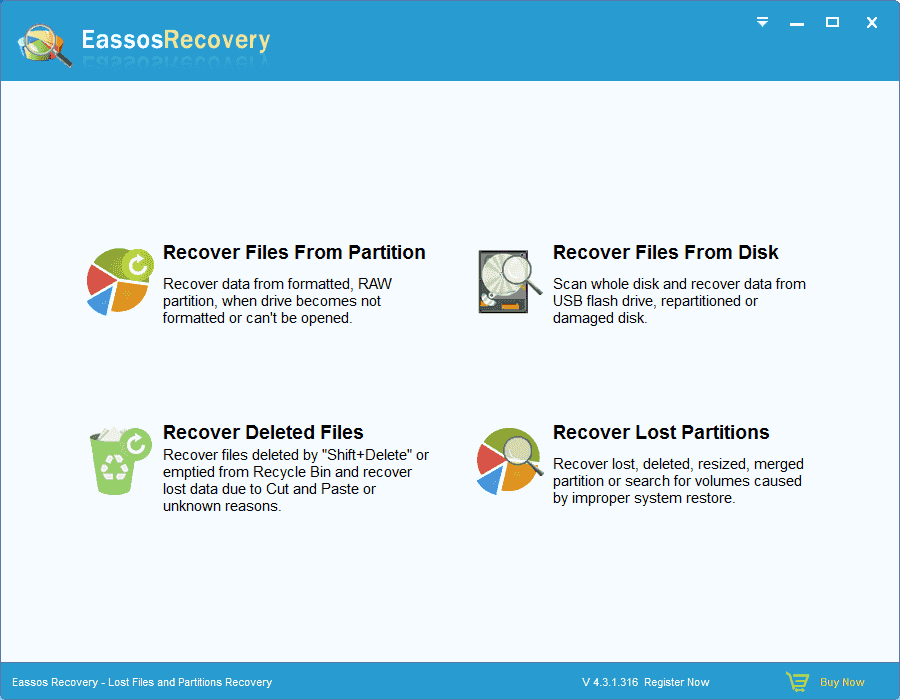 You can see four modes, "Recover Files From Partition", "Recover Files From Disk", "Recover Deleted Files" and "Recover Lost Partition". Choose the appropriate mode according to your own situation.
Thirdly, preview files and recover them to a safe location.
Note:
If you want to get back deleted files, choose "Recover Deleted Files" mode. When a file is deleted, actually its data isn't erased from disk. Thus, as long as no new data is written in (i.e. deleted file is not overwritten by new data), the deleted file can be recovered through certain techniques.
"Recover Files From Partition" mode can be used to retrieve lost data from formatted, corrupted or RAW partition. In many cases, partition (it has a drive letter) may become inaccessible, Main reasons are as follows: USB flash disk is pulled out directly without clicking Safely Remove, virus attack, system halt or sudden power failure, etc. Besides, if a partition is formatted by accident, its files can't be seen or accessed. The common feature of these situations is that the partition becomes inaccessible but the partition is not lost. When these happen, you can use Eassos Recovery to recover files from partition.
When a partition is deleted, partition information mentioned above will be deleted from the partition table, but data in the partition won't be deleted. Therefore, when a partition is lost, choose "Recover Lost Partitions" to search for lost / deleted volumes and restore partition table.
When the entire disk becomes inaccessible, choose "Recover Files From Disk".
Data recovery detailed steps ("Recover Deleted Files" as an example)
Step 1 Click the button "Recover Deleted Files" on the main interface.
Step 2 Select the partition where deleted files were stored and its information is displayed on the right panel, as shown in the following picture.
Make sure that the selected partition is the one you want to recover files and then click "Next" button. Eassos Recovery starts to scan the partition and enter next step "scan files to recover".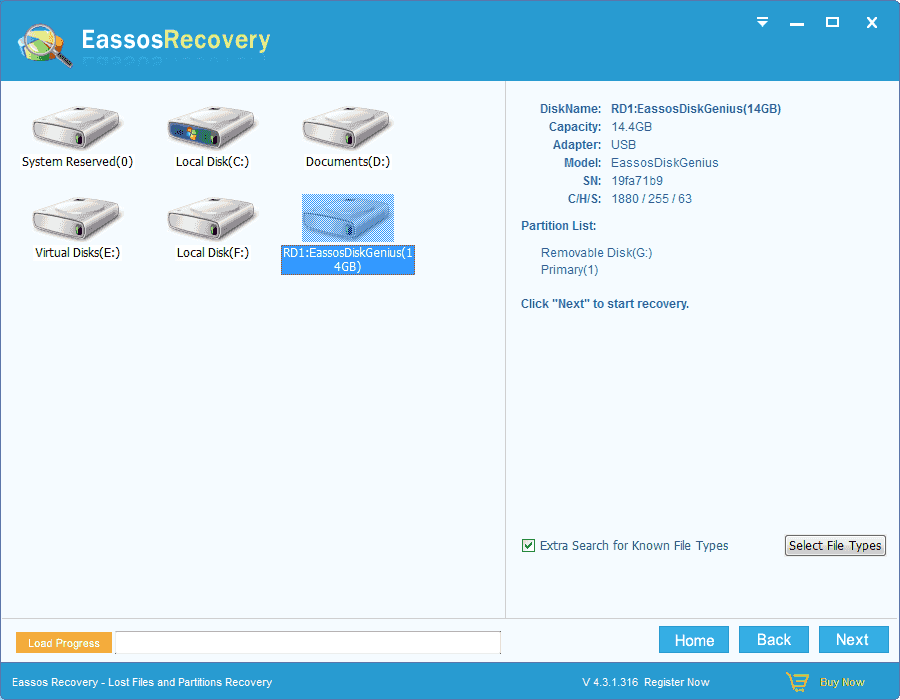 During scanning, Eassos Recovery displays deleted files it finds out. There is a check box before every file or folder. Files lost due to deletion will be tagged with a little red recycle bin.
If you click Preview, there'll be a preview window opening the file and showing file content in its original size. Eassos Recovery supports previewing pictures, text, video, audio files and documents, by which you can judge whether files can be successfully recovered.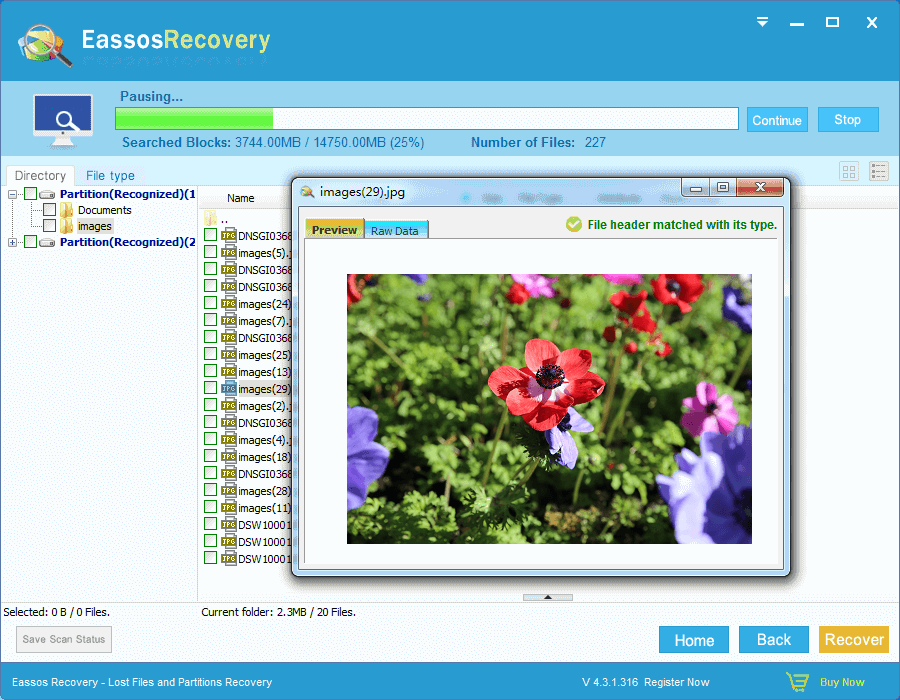 Step 3 Copy and save recovered files. Select files that need recovering and click "Recover" button, and you can set a location to save recovered data.
Also you can use context menu to copy files. Right-click mouse button and select the item "Copy to" on the popup menu and then select a target folder.
Step 3 Select recovery mode. Complete Recovery should be selected here in order to restore orphaned files.
Also you can use context menu to copy files. Right-click mouse button and select the item "Copy to" on the popup menu and then select a target folder.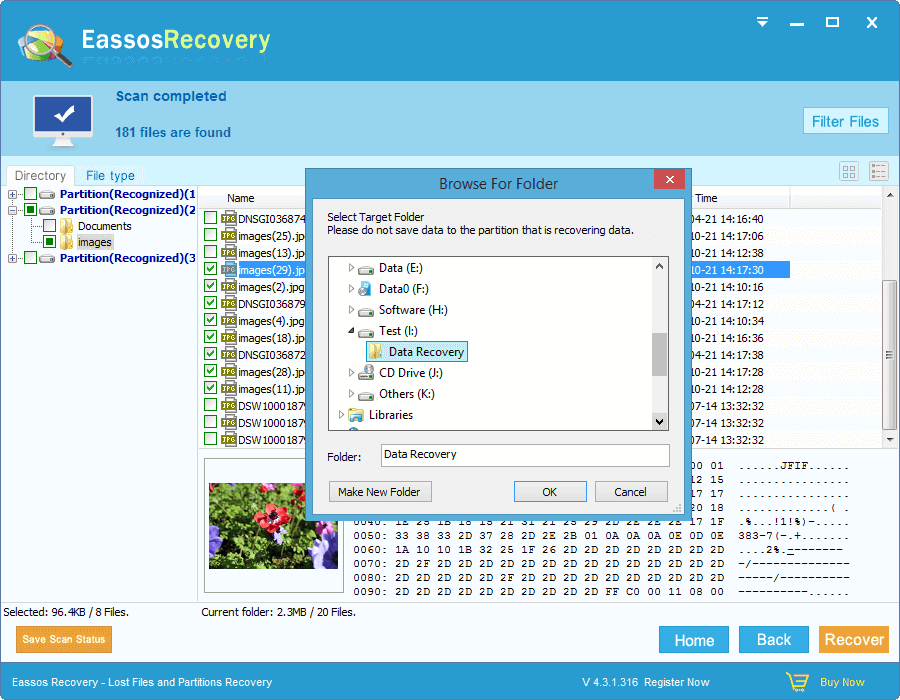 Summary
In the case of data loss, correct operations before recovery and the correct recovery steps are the decisive factors of whether the data can be successfully recovered. If you encounter such a thing, please bear in mind principles mentioned above.