Free Partition Recovery For Windows
Free partition recovery for Windows step by step, simple and easy!
Why partition recovery is sometimes needed?
Partition goes wrong or disappeared for various reasons, including but not limited to the following scenarios:
- Some partitions just disappear. Disk Management may show either unallocated space or something weird where the partitions are supposed to be;
- The deletion of a wrong partition. The partition can't be seen in My Computer and there is no way for the operating system to reach its data;
- There's only one big C partition after the system reinstallation and all the original partitions together their files are disappeared; besides the repartitioning may also get origin partition lost;
- Partition gets corrupted due to virus attack, improper system shutdown, power outages, etc.
How to do the free partition recovery for Windows?
First and foremost, choose the best free partition recovery software, Eassos Recovery or DiskGenius, before you actually do the partition recovery.
Eassos Recovery is a piece of powerful and easy-to use data recovery software, which can recover lost files and partitions quickly and easily. Eassos Recovery Free is the Free version of Eassos Recovery and the data it can recover is up to 1 GB!
DiskGenius is a data recovery partition management and backup & restore tool. It is widely praised and loved by numerous users all over the world, besides, it is an essential tool for data recovery and computer maintenance professionals! DiskGenius Free is the Free version of DiskGenius. Although some functions are limited, it is still an excellent tool and powerful enough to daily use.
The follow part, taking Eassos Recovery as an example, shows how to do free partition recovery for Windows:
Free Partition Recovery Step 1: Select an appropriate partition recovery mode.
Start Eassos Recovery and you'll get its main interface as follows: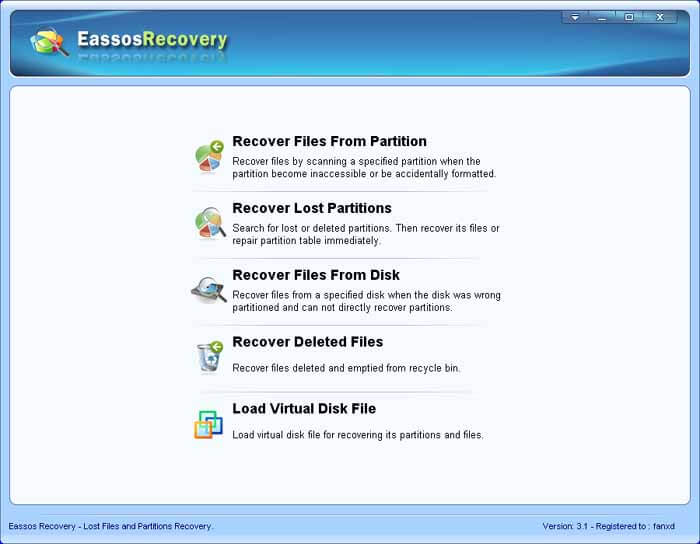 There are five data recovery modes, and the first two modes, Recover Files From Partition and Recover Lost Partitions, are usually used to do the partition recovery. The first function deals with occasions that partition becomes RAW or inaccessible, while the second copes with partition recovery situation that partition gets lost.
Here come the detailed steps of partition recovery for Windows, using the data recovery mode Recover Lost Partitions. If you want to know more about Recover Files From Partition, please visit here.
Free Partition Recovery Step 2: Select the disk that needs partition recovery and search for partitions.
To make a clear explanation, the author deleted the F partition, and the following picture shows the current partitions in DiskGenius.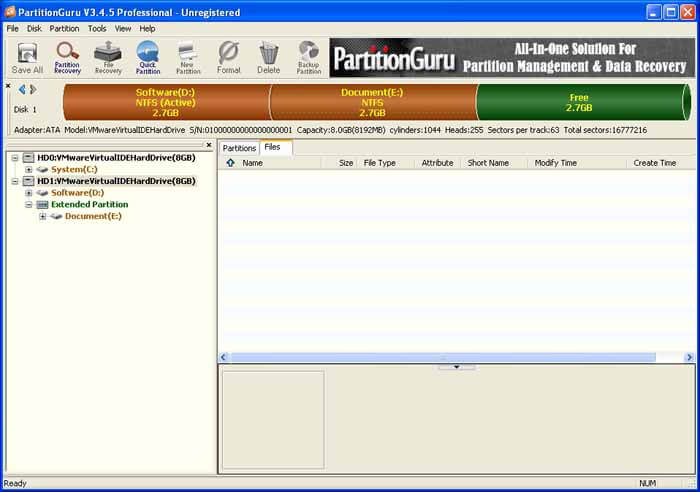 On the main interface of Eassos Recovery click the button "Recover Lost Partitions", as follows: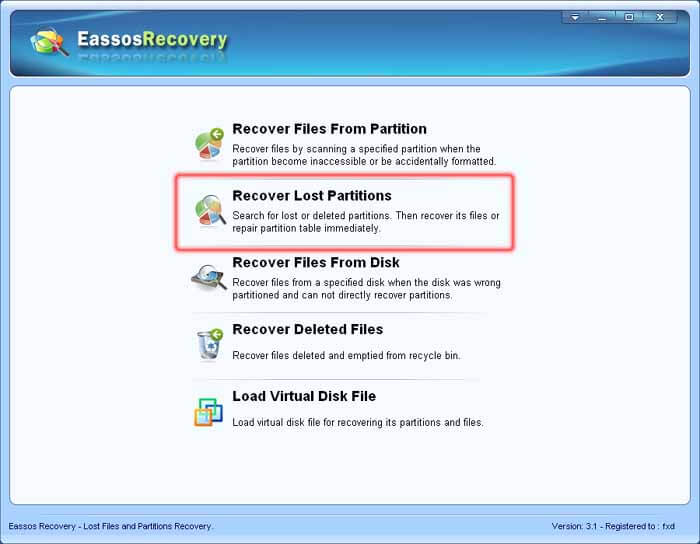 Eassos Recovery enters next interface where you can select the disk that needs doing partition recovery, and click the "Next" button: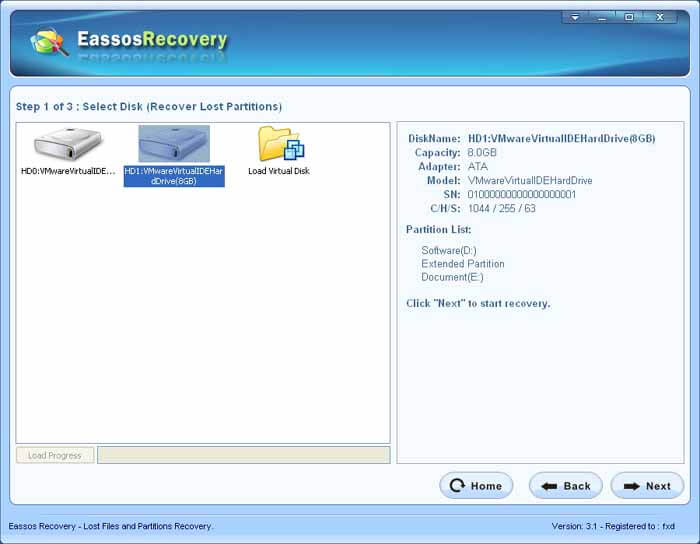 The software starts searching for lost partitions.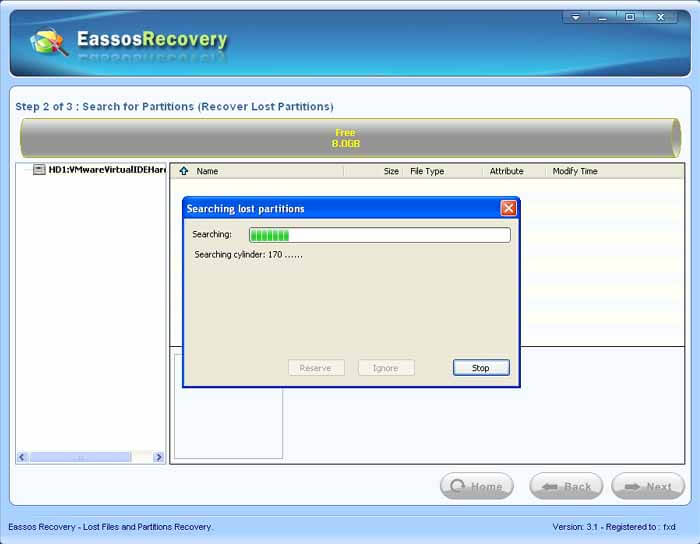 Free Partition Recovery Step 3: Identify partitions just found and decide whether to keep the partition or not.
When a partition is found out, you need to judge whether to reserve it or not. Partition's location, size, volume label, etc. can be the c lue to make the decision;also you can just preview files. Click "Reserve" to keep partition, otherwise click "Ignore", then Eassos Recovery continues searching for lost partitions.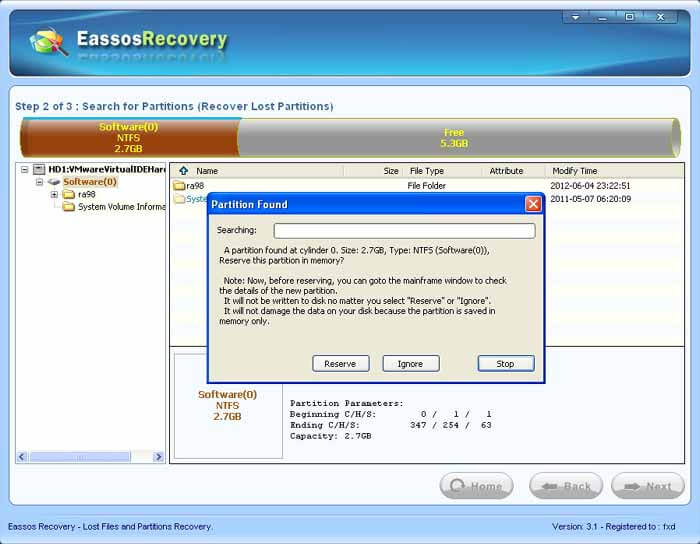 Free Partition Recovery Step 4: Save files from the recovered partition.
When all partitions are found out, the software will remind the user as follows: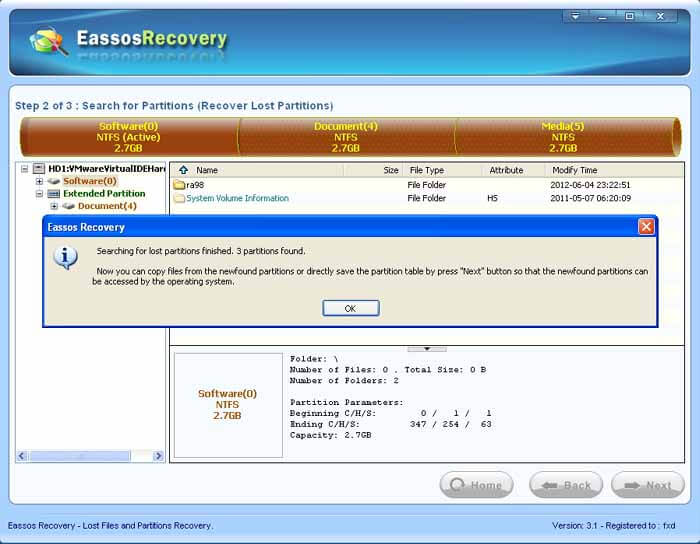 Click "OK", and then you can either click "Next" button to save partition table or just copy files and folders from the recovered partition.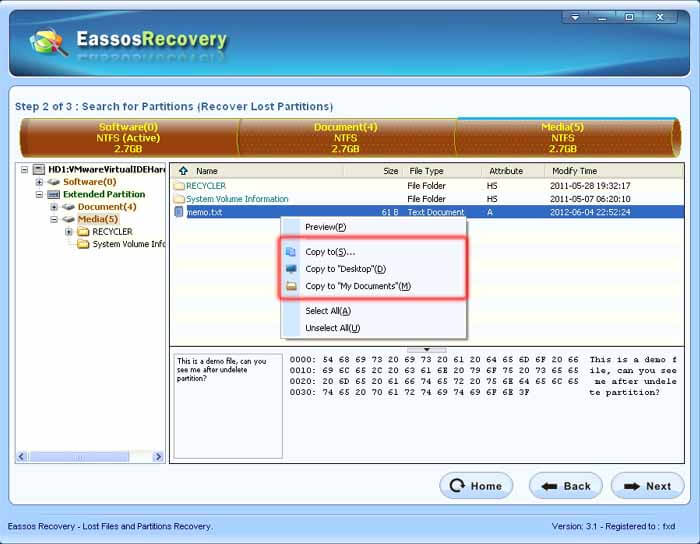 As in the picture above, select files and right click the mouse, and then on the context menu select an item to copy files out.
Free Partition Recovery Step 5: Save recovered partitions.
As the following picture shows, click "Next" button to recover partition in-situ, which is much more convenient!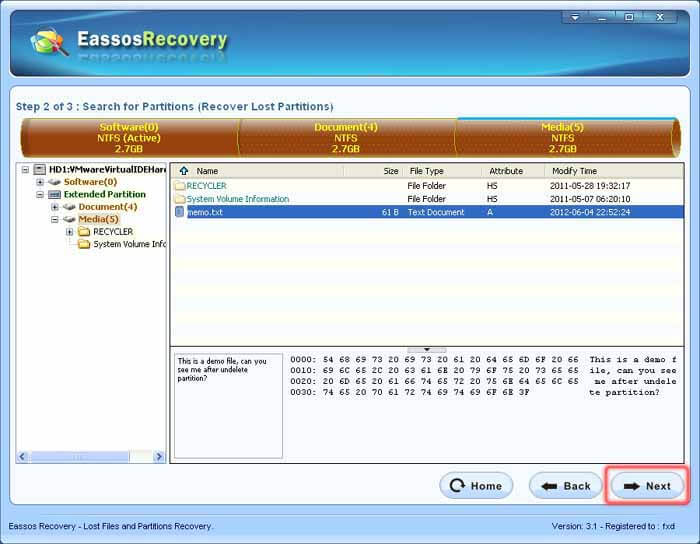 Tips on partition recovery for Windows:
- Always make a backup so that you can restore files when you come across data loss problems;
- Use antivirus programs to protect your data against viruses;
- Always turn off your system properly to avoid data loss;
- When you meet with data loss, you can use either Eassos Recovery or DiskGenius to recovery data and partitions.