Updated on November 6th, 2020
Lost data after formatting hard drive, external hard drive, flash drive or memory card? Are you looking for solutions to recover files from formatted drive? This is a tutorial to recover data and files from formatted disk with hard drive recovery software. With this guide, you can perform format recovery from any storage device which is formatted intentionally or accidentally or becomes RAW. Free download this program and restore lost data now.
Overview on recovering data from formatted hard drive
Hard drive is the major storage device on computer and it can be used for storing all kinds of data such as system files, video, music, image, documents, applications, photos, emails and other important data. Hard drive comes in several types like SATA, SCSI, PATA, SATA, etc. and it is produced with various capacities to need users' demands.
A hard drive should be formatted before it can be used to store data and recognized by computer. Formatting a hard drive evolves creating a new directory structure and file system. Besides, the process of partitioning a hard drive or creating partition also performs formatting on the disk.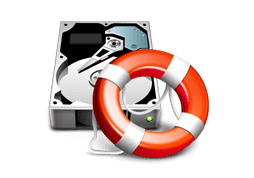 There are many other cases that you may format a hard drive, for instance, hard drive get corrupt due to virus attack and you can format the disk to get rid of virus; operating system is crashed and cannot be repaired by system installing CDs. You can format the drive and get system reinstalled; partition on hard drive is corrupted and you are asked to format it and you choose to do the formatting; you want to change file system format and formatting might be the only method.
When you format a hard drive, the operating system deletes all data on the disk to make sure all disk space are available for storing new data. If you do not have a backup for formatted drive, you'll have to face data loss issue. Losing crucial files after formatting storage device is one of the common data loss scenarios.
Fortunately, most formatting does complete wipe data on the disk, which means you have chance to get back files lost due to formatting. The rest part of this tutorial will explain why you can recover data from formatted disk and how to do that.
Is it possible to recover data after formatting hard drive?
The answer should be yes. Chances of recovering lost data and files after formatting hard drive are great. To understand why data recovery is possible after formatting, you need to know what happens when you format a disk.
Put simply, the formatting process is the practice of create new file system on the device so that files can be store, organized and accessed by operating system. All storage devices including hard drive, SD card, USB flash drive and other devices are also formatted to certain file system format.
When you format a device, a new file system will be created and it is responsible for manage new data you store after formatting. Since the old file system is deleted, and operating system gets nowhere to locate previous files and data. Fortunately, the formatting performed by system is Quick Format which only changes file system without erasing file data on the disk. Therefore, files lost due to formatting are not completely wiped and they are recoverable as long as they are not overwritten or damaged.
Format recovery software to recover files from formatted hard drive
DiskGenius (old name PartitionGuru) is advanced hard drive format recovery software to get back lost data from formatted hard drive. It is an effective and 100% safe data recovery program, which recovers data in read-only mode and does not affect original data or device. It is designed with a user friendly interface but packed with advanced features:
Recover data from formatted, reformatted or re-partitioned hard drives and other devices.
Retrieve data from RAW, corrupted or damaged disks effectively
Recover data from hard drives formatted as exFAT, FAT12, Fat16, FAT32, NTFS, Ext2, Ext3 and Ext4.
Support to recover lost files from all types of devices such as hard drive, external hard disk, USB flash drive, SSD, SD card, RAID, virtual disk, etc.
Recover lost files including photos, audio, music, emails, etc. from any data loss situations safely and quickly.
Able to recover 550+ different file types from all sorts from storage devices
How to recover files from formatted hard drive?
Step 1: Install and launch DiskGenius (old name PartitionGuru) from your computer. Select the formatted hard drive you want to recover data, and click Recover Lost Files from Tools menu.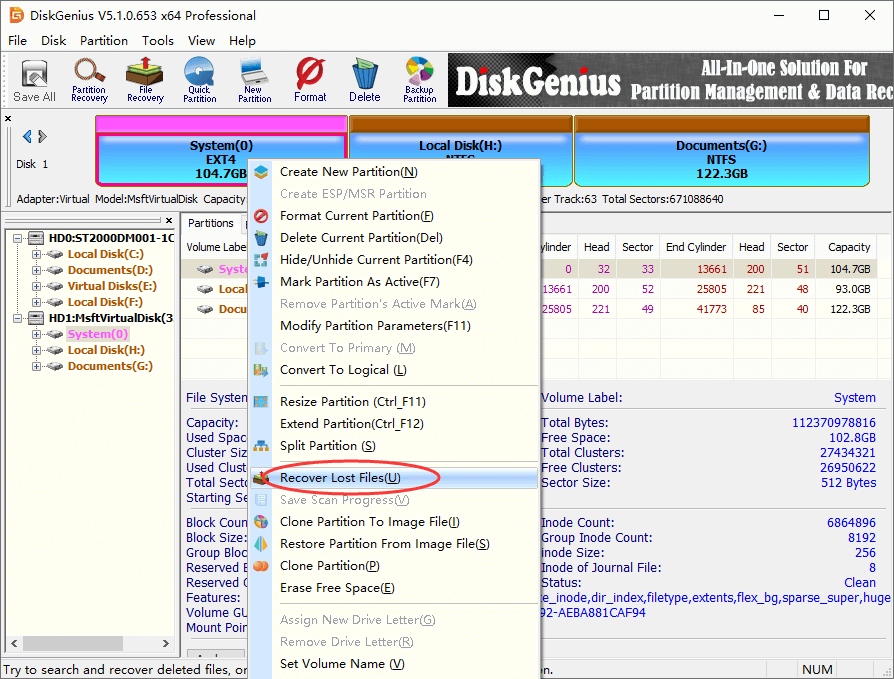 Step 2: Select "Complete Recovery" and "Search for Known File Types" and click Start button. Then the software will carry out a full and deep scanning from the formatted hard drive and display recoverable during scanning.
DiskGenius (old name PartitionGuru) provides file preview feature which helps users to find out desired files quickly and check if file can be recovered correctly.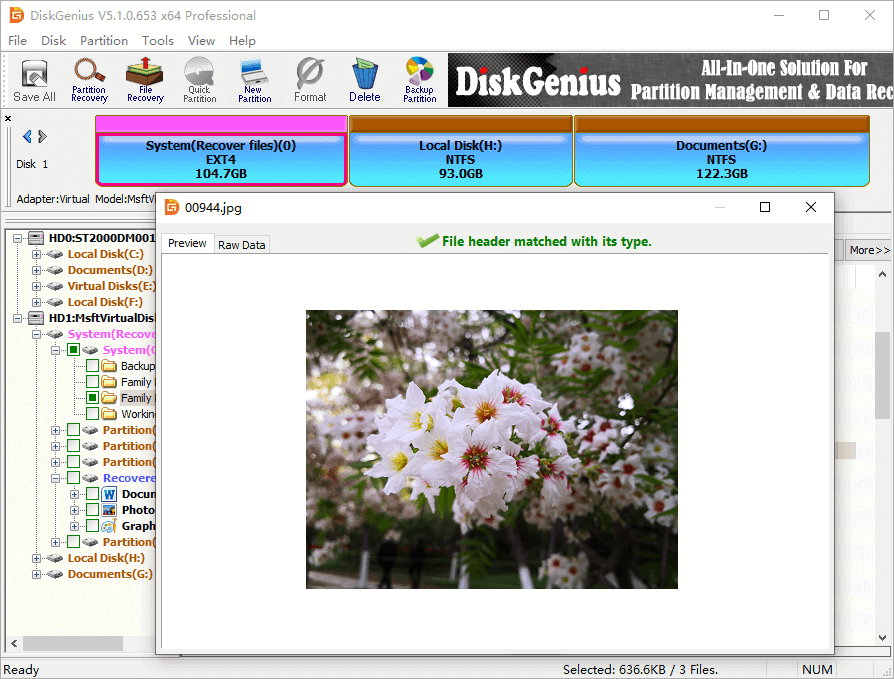 Step 3: Select files you and to recover from scanning result, right-click files and select Copy To. Then you can save these files to desired location.
Things should be noted about recovering files from formatted hard disk
There are some things that should be paid attention if you want to recover files from formatted hard drive or other storage devices.
The first and foremost rule you should follow is to avoid writing data to the hard drive. Try to minimize or eliminate the use of computer or hard drive until all files are recovered.
If the drive you are trying to recover data is internal disk where operating system is installed, you may need to consider connecting the hard drive to another computer or boot to WinPE so that you can avoid data overwrite as much as possible.
Choose professional hard drive recovery software. There are many recovery programs available on the Internet but we recommend using professional data recovery software which has better compatibility with devices and supports more file types.
The hard drive format recovery software shouldn't be installed to the drive which is suffering from data loss, or lost files might be overwritten.
Related Articles:
How to recover files after formatting hard drive?
How to unformat a hard drive in Windows 10/8/7?