Updated on May 13th, 2021
Want to unformat SD card? In this tutorial, you can find easy and effective solution to unformat SD card and recover lost photos, videos and files from memory card in Windows 10/8/7/XP. Undo format for SD won't be a problem with Eassos SD card data recovery freeware, a one-stop solution for SD card recovery.
About formatting SD card
"Hi, guys. I formatted my SD card by mistake, as the SD card prompts to format and click the Yes accidentally. Is there any free tool I can use to unformat it? I did not save any data to the memory card since formatting in case of data overwritten. I'm a student and do not have extra money to afford paid software. There are about 500MB photos needing recovery. Please help!"
It is very easy to format a SD card either on computer or other digital devices. You can format any partition except system partition in Windows Explorer by right-clicking the drive and selecting Format option. Besides, there is usually a Format option on digital device, which allows users to format memory card if necessary.
The formatting process turns SD card to blank status, as it deletes everything stored on the memory card. After formatting, you can store new data on the drive. Many users formats memory card intentionally in order to free up space.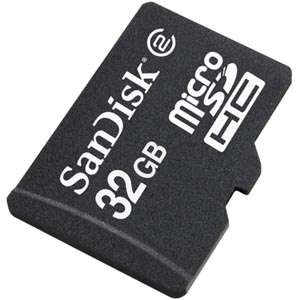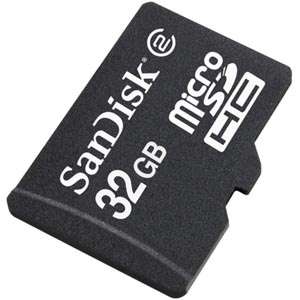 If you format SD card in Windows, you have two options: quick format and full format. Though the "Quick Format" option is selected by default when you format any partition or disk, you may still wonder which one to choose and what the difference is.
A quick format of SD card writes boot sector and empty filesystem to a partition, thus the memory card will be full of free space for new data. If you format an SD card in this way, files on the card are not completely erased until they get overwritten. That means you can unformat SD card and recover formatted data from SD card. However, a full format does extra action which wipes data permanently so that removed files can never be recovered.
Is it possible to unformat SD card?
The answer is YES. You can unformat SD card and recover lost files from formatted memory card. As long as lost files are not overwritten or destroyed, you can correctly recover them via very easy steps.
In theory, formatting does not permanently erase data stored on memory card, because in most cases the formatting done to SD card is quick format. The process removes file header information from file system only instead of clear sectors that stores file content. File content still stays on the SD card, waiting to be overwritten by newly stored data.
If you continue using the card to store new data, such as install new apps, take photos, record videos, you are likely to overwrite lost data by occupying area which stored formatted data. In a word, you have chance to recover formatted SD card before files get overwritten. The following part will show you how to undo format and retrieve lost data from SD card.
Freeware to unformat SD card
There are quite a few programs available on the Internet for unformatting hard drive, SD card, flash drive, etc. However, not all of them are free of charge. Most freeware supports undeleting files only without supporting complicated data loss issue. Thus many users have to use paid software to recover formatted SD card. In this part, we recommend you Eassos SD card data recovery freeware – Eassos Recovery Free. This recovery tool can not only recover deleted files from SD card, but also retrieve lost files and folders from formatted, corrupted, damaged, empty or RAW memory cards.
Supports recovery of more 500 types of files such as photos, apps, documents, videos, audios and more
Supports unformatting files from various memory cards, like SDHC, SDXC, Mini SD, CF, XD, MMC, XQD and Smart/Multimedia cards, flash drive as well as memory Stick
Fully compatible with all versions of Windows system such as Windows 10/8/7/Vista/XP and supports NTFS, FAT, exFAT and Ext file systems
Steps to unformat SD card with Eassos Recovery Free
First, insert the formatted SD card to your laptop or connect it via a card reader to computer, so that it can be recognized by Windows. Then download and install Eassos Recovery Free on computer instead of the SD card. Now you can follow steps below to unformat data.
Step 1: Launch Eassos Recovery Free and select "Recover Files From Partition" option.
There are four recovery modes on the main interface, both "Recover Files From Partition" and "Recover Files From Disk" can be used to unformat memory card. The former one scans a partition, while the latter one is able to scan the entire disk.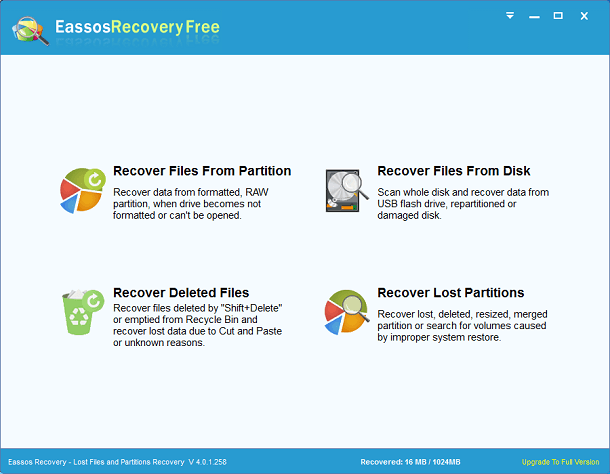 Step 2: Select the formatted SD card and click Next to search for lost data.
All partitions on your computer are display in this interface and you should select SD card instead of other partitions before clicking Next button. If you choose wrong partition, the software cannot find out correct data for you.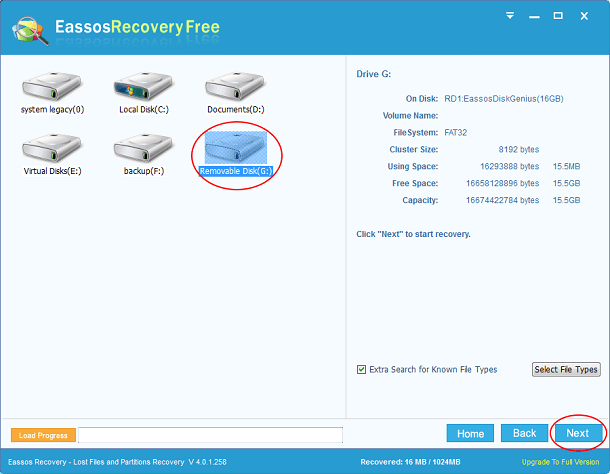 Step 3: Preview files and selectively recover data.
You can preview all files listed under Directory and File Types so that you can locate what to recover easily. To get files recovered, you should select files and click Recover button. Then a window will pop up to ask you select a path and location to save recovered data.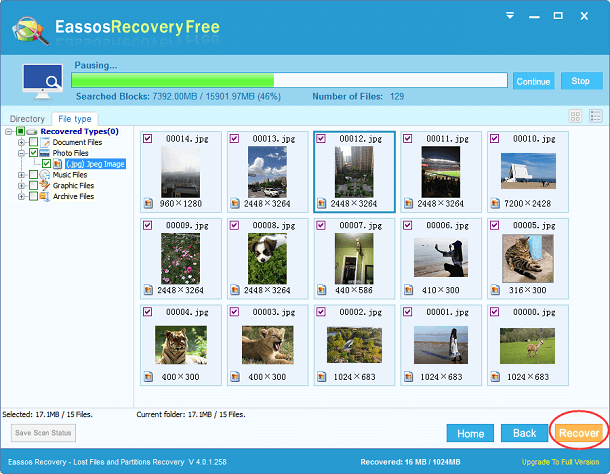 Occasions that users format an SD card
People format an SD card for a variety of reasons and some are listed here:
Format SD card due to mistake: many users have encountered such a situation that when SD card is connected to computer and get a message saying it should be formatted before you can use it. Then many users choose to format it mistakenly.
Format SD card on purpose: sometimes you want to clear all data on memory card quick in order to get free space. In this case formatting is a good choice
To remove virus: SD card and other USB drives tend to infect virus, for they might be connected to many devices. Users often formats SD card to remove malware or virus.
Conclusion
Although unformatting SD process is simple and easy to learn with correct recovery software, no one can achieve 100% recovery of formatted data all the time. The best method to avoid SD card recovery is to backup files on a regular basis. If you do not back up files, you should at least install free data recovery software on your computer in case of any data loss issue.