Updated on May 13th, 2021
Don't know how to recover files from corrupted hard drive? Don't be panic if you lost data due to corrupted hard drive. This is a complete guide to recover data from corrupted hard disk and you'll be able to recover data from damaged, bad, corrupted or formatted hard drives and USB drives after reading this tutorial.
Recover data from corrupted hard drive
As computer user, you should know that hard drive failure is inevitable. Chances are that sooner or later your hard drive will get corrupt due to certain reasons, as hard drives are vulnerable to corruption or damage. Hard drive may get corrupted when operating system cannot finish writing data to sections; it can also become inaccessible without any signs. Hard drive is the device responsible for storing and managing data for us. Corrupted hard drive means you are losing files on the drive. Here are the common symptoms of corrupted hard disks:
Windows prompts error messages when you try to open the disk to access data "The disk in drive X is not formatted. Do you want to format it now?"
Receive "X:\ is not accessible. The file or directory is corrupted and unreadable" error message when you attempt to open it.
The file system of hard drive is displayed as RAW. Chkdsk is not available for RAW drives.
Hard drive not showing up in File Explorer when it is connected to computer
Hard drive responds to actions slowly or even freezes computer
"There are two local hard drives on my computer, one is 120GB SSD and the other is 1TB hard drive. The 1TB hard drive got corrupted recently. More specifically, the second partition on the hard drive is corrupt. The drive letter is E and it is showing as unformatted (corrupt). The file system is RAW in Disk Management. I tried imaging this partition and then restoring it, but that does not fix the drive. Do I have to format it as Windows prompts to me? I ran chkdsk on the drive, but got error "Chkdsk is not available for RAW drives". I googled this issue online, and some suggest to use recovery software. I'm not sure whether that works. What's your idea?"
The good news is that you have a good chance to get back lost files from corrupted hard drive, as there are lots of hard drive recovery programs and methods that can deal with this issue. You can keep reading and see how to restore data from corrupted hard drive and removable devices.
Software to recover files form corrupted hard disk
If you are looking for software to recover files from corrupted hard drive, then DiskGenius (old name PartitionGuru) is the best choice. It is efficient to do RAW partition recovery. This hard drive recovery software is able to recover lost data from various storage devices including hard drive, USB drives, flash drives, SSD, virtual disks, memory cards, RAID, encrypted drives, etc. It supports hard drives in SCSI, SATA, IDE, SSD, etc. produced by various brands like Western Digital, Seagate, Transcend, Samsung, Hitachi, etc.
How to recover data from corrupted hard drive?
Here is the step-by-step guide to recover lost data from corrupted, damaged or RAW hard drive using DiskGenius (old name PartitionGuru) data recovery software.
Step 1: Connect the corrupt hard drive to your computer and launch the hard drive data recovery software, and you can see the drive in the software. Select the corrupte hard drive > Tools > Load Current Partition Intelligently.
If function has the ability to rapidly load files from corrupted drives, and lost files are displayed in the software with origianl names. If this function does not work on your hard drive, then move to Step 2.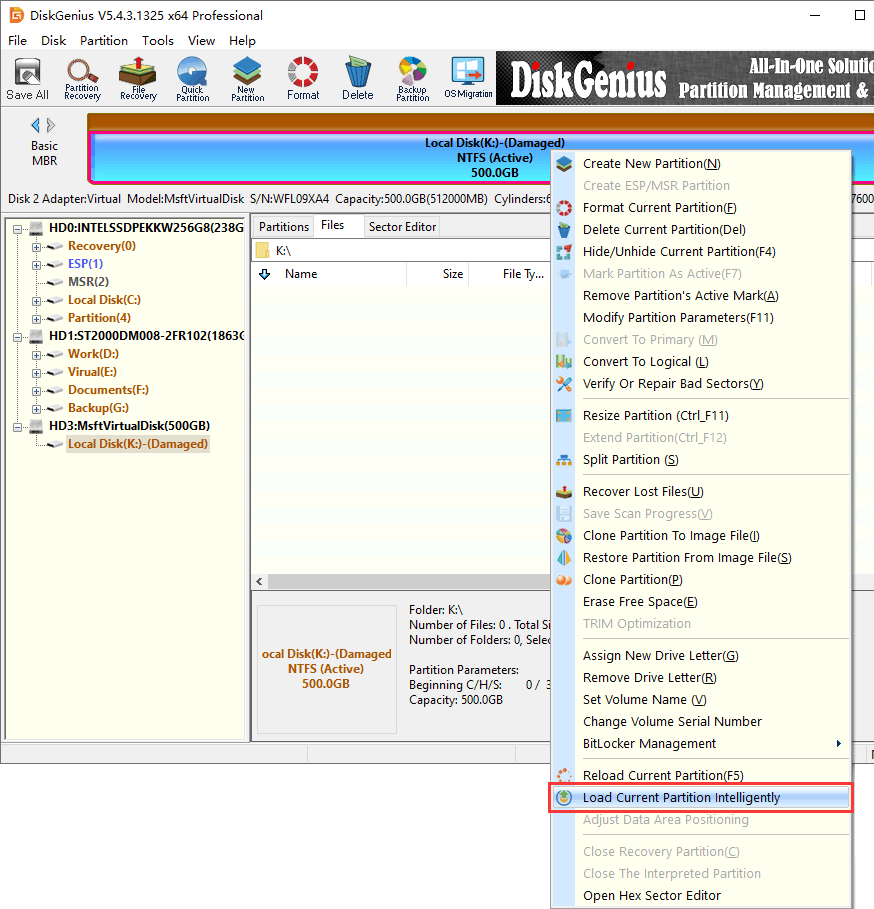 Step 2: Select the drive and click File Recovery button from the toolbar to open the Recover Files window.
Step 3: Select Complete Recovery option and Search For Known File Types, and click Start button to let the software search for lost data from the corrupted drive.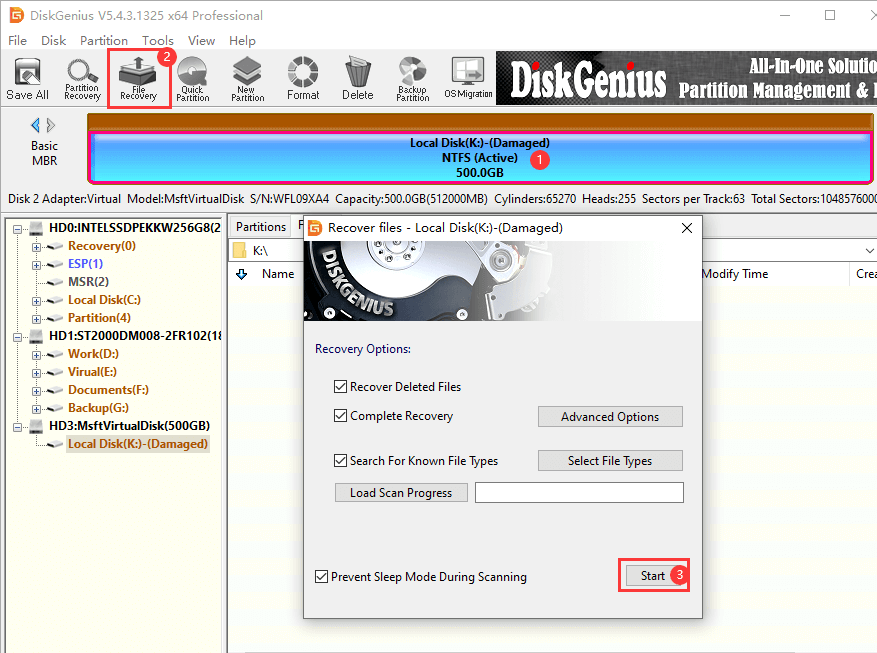 Step 4: Preview files during or after scanning to check if files are correct.
Scanning the entire drive may take long time, but you can pause or stop scanning in advance if your files have been displayed by the software.
Step 5: Select files and folders you want to restore from the corrupted drive, right-click on them and select Copy To. Then you can set a location to save these files and get them recovered.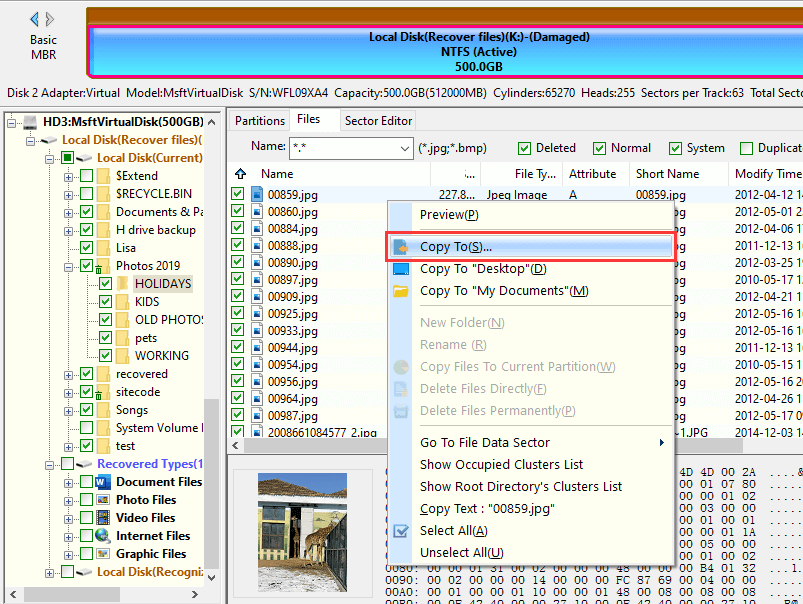 What causes a corrupted hard drive?
Before we start to recovering corrupted hard drive, it is necessary to understand why a hard drive gets corrupted. The following are some of the common reasons:
File system damage: File system plays an important part when operating system defines and organizes data on storage devices. Operating system relies on file system to locate and mange data on hard drive. If file system on hard drive gets damaged somehow, the disk will be inaccessible and corrupted to system Thus, we cannot access data on the drive. A corrupted drive with damaged file system may reports error messages like "disk not formatted. Do you want to format now?"
Hard drive bad sectors: Hard drive bad sector is one of the major causes of corrupted hard drive. You are likely to find bad sectors if you have a check on corrupted hard drive. Bad sectors can corrupt hard drive and turns drive to RAW or even freezes computers.
Improper operation: There are many operations that may corrupt hard drive but not noticed by users, such as sudden power failure, improper shut down system, installing unreliable third-party apps, disk dropping, etc.
Conclusion
As has mentioned above, recovering data from corrupted or damaged drive is not that difficult as imaged. In most cases, you can retrieve data from corrupted hard drives, USB drives, SD cards, etc. If you have any question or need any help, please do not hesitate to contact us.
Related articles:
How to recover files after formatting hard drive?
How to unformat a hard drive in Windows 10/8/7?