Updated on March 2nd, 2022
This post discusses HDD recovery software and explains how to recover deleted, lost or formatted data from hard drive, USB disk, memory card, etc. via simple and effective guides. Free download the best HDD data recovery software to recover all your lost data now.
HDD data recovery
Hard disk drive is the major data storage device on computers, and it usually contains large amount of important data, for example, photos, email, documents, videos, backups, etc. However, mistakes are bound to occur, which ends up losing data. For instance, you may accidentally files or partitions, format wrong drive. Besides, you may encounter other data loss issue like partition gets corrupted, hard disk contains bad sectors, system cannot boot, etc.
Is it possible to recover lost or deleted files? How does hard disk recovery software work? In many cases, you have good chance to get back deleted or lost data via simple steps. When a file gets deleted from computer, it will be put into the Recycle Bin, and you can easily restore it before Recycle Bin gets emptied. If the file is deleted by Shift + Delete or Recycle Bin gets emptied, the file still remains on hard drive. You cannot see it in Windows, for the disk space now is tagged as free and available for new data. If operating system does not write data to that disk area, the delete file keeps remaining on your disk. Therefore, it is possible to recover lost data before it gets overwritten.
The best HDD data recovery software free download
If you are facing data loss issue, an HDD data recovery tool can be the proper choice. In most cases, you can deal with data loss issue on hard disk or other media by yourself with the help of recovery software. Free download HDD recovery freeware and you can start the recovery.
Eassos Recovery Free is free HDD data recovery software and it is able to recover lost or deleted files & partitions from hard drive and other devices easily and quick. It offers free hard disk data recovery up to 1GB. If you want to recover extra data, you can upgrade it to the full edition which does not has limitation on the amount of data it can recover. This free HDD recovery tool allows users to recover all data lost due to deletion, formatting, virus attach, RAW drive, partition loss, system crash, etc. The recovery process only takes a few clicks and does not require users be experienced in data recovery task.
DiskGenius is advanced hard disk data recovery software. It is designed with unique data recovery technologies and covers the most comprehensive data recovery functions. Data recovery is supported for all major file system, including FAT12/16/32/exFAT, NTFS, EXT2, EXT3 and EXT4. Both file recovery and partition recovery are available for hard disk, external HDD, USB flash drive, memory card, pen drive, virtual disk, RAID, etc.
How to recover deleted files using HDD recovery software free?
In this example, you can find an effective solution to recover deleted files from hard drive using HDD recovery freeware – Eassos Recovery Free. This recovery program comes with user-friendly interface which makes recovery job quick easy.
Step 1: Download, install and run Eassos Recovery on your computer. Then select a proper recovery mode from the main interface.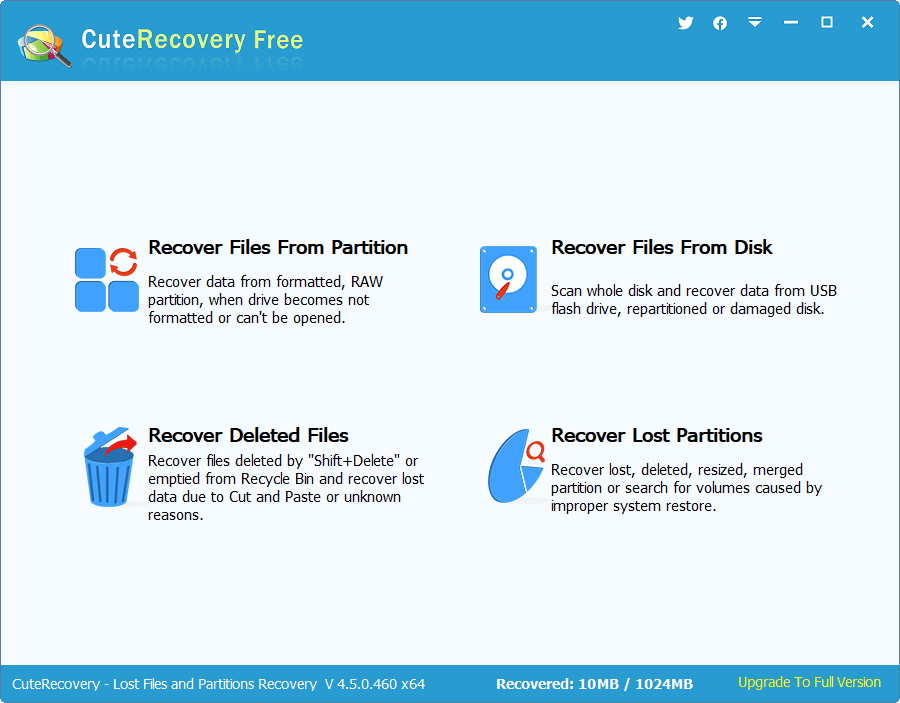 If you want to undelete files, then select Recover Deleted Files option, and it enter next interface.
Step 2: Select the drive where you lost files and click Next button. Then Eassos Recovery Free starts to scan the drive to find lost data.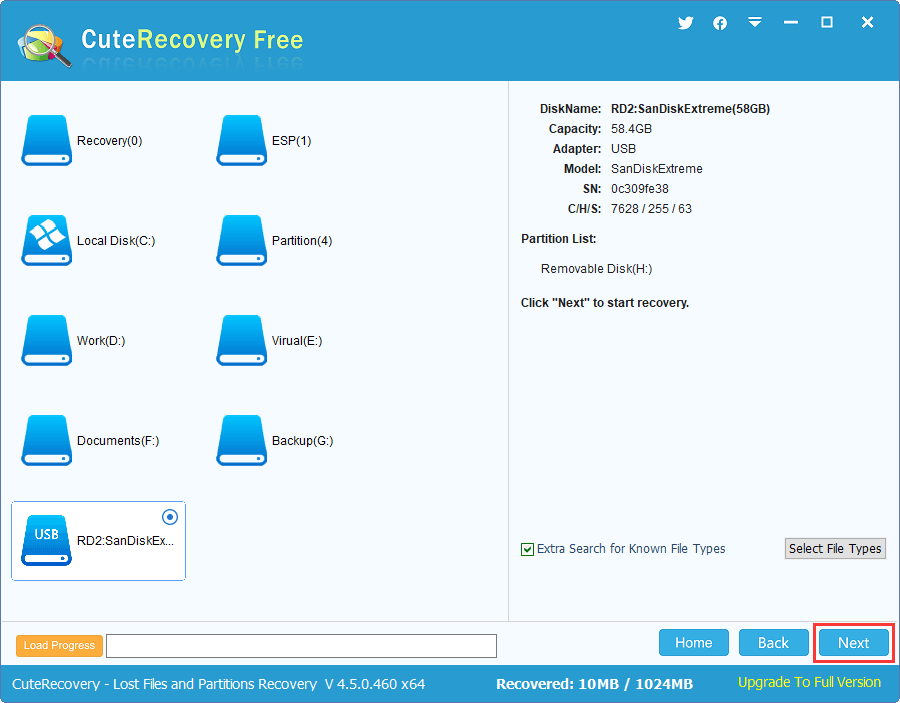 Step 3: Preview and recover data.
You can double-click data to preview it and check if it is correct. After preview, you can select what you want to restore, and click Recover button to save data to a different location. Once files are saved and copied successfully, they are back and read to use again.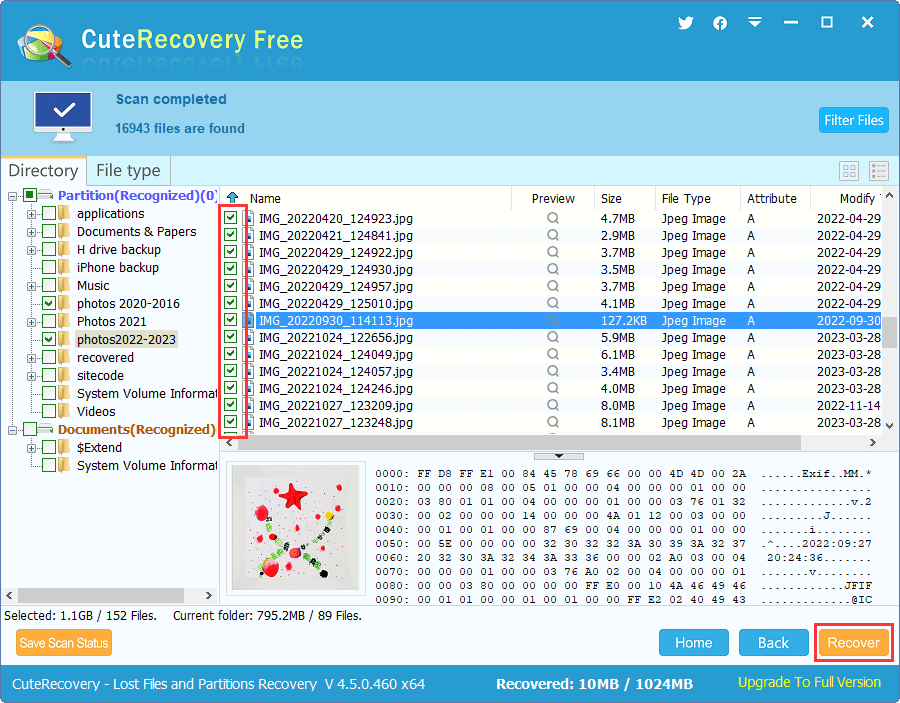 Video tutorial on recovering lost data using Eassos hard drive recovery software
How to recover lost data with advanced HDD data recovery software?
DiskGenius works efficient on partition recovery, including RAW drive recovery, retrieving data from formatted partition and recovering lost or deleted partitions from all sorts of storage devices. Here, we'll show you how to recover lost data from corrupted / inaccessible hard drive partitions.
Step 1: In DiskGenius, select and right-click the corrupted partition and choose Load Current Partition Intelligently, as pictures below:
This function is designed to recover corrupted NTFS partition, and most times, it is able to load lost files and folders from the inaccessible drive directly without doing any scanning. If this function works on your drive, you can save files to a different location and finish recovery. If the drive is damaged too badly, then move to next step.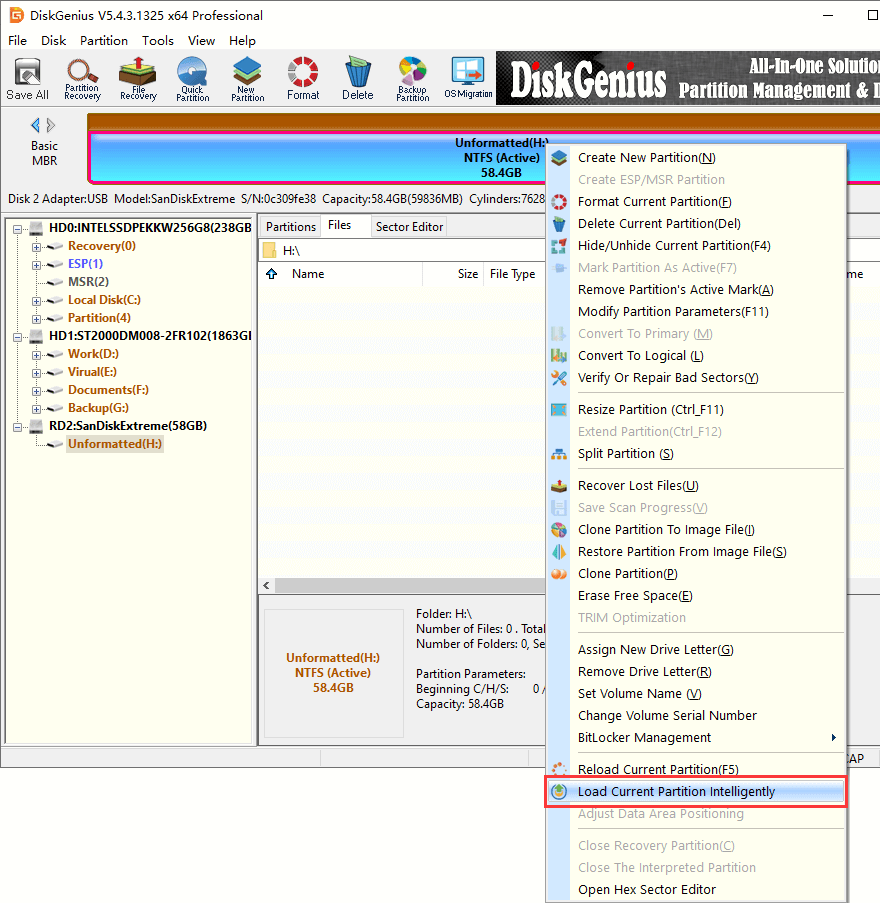 Step 2: Right-click on the damaged partition and choose Recover Lost Files from context menu.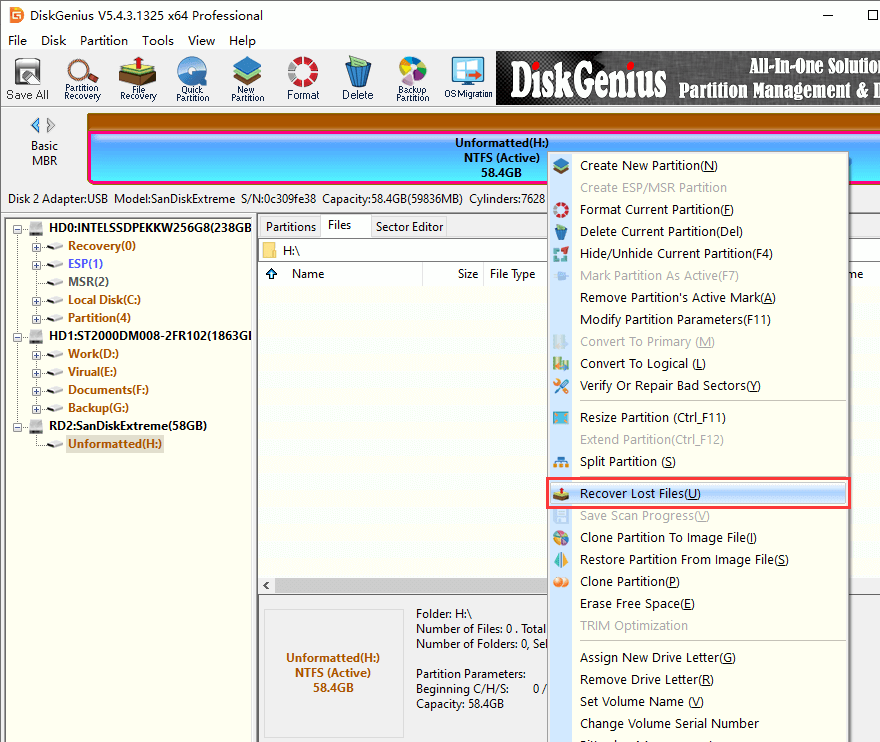 Step 3: Select recovery options and click Start button to search for lost data.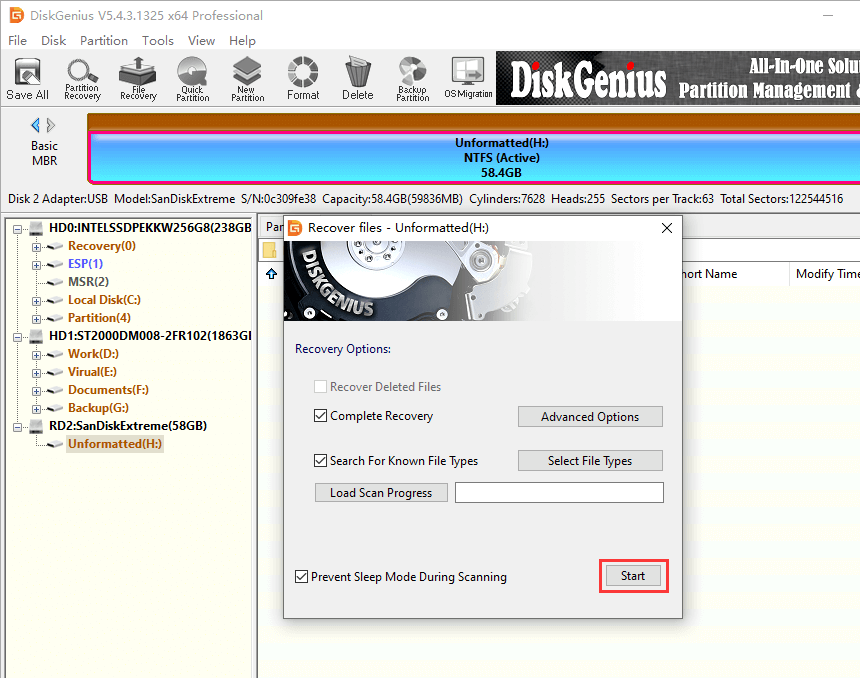 Step 4: Preview files and locate what you want to recover.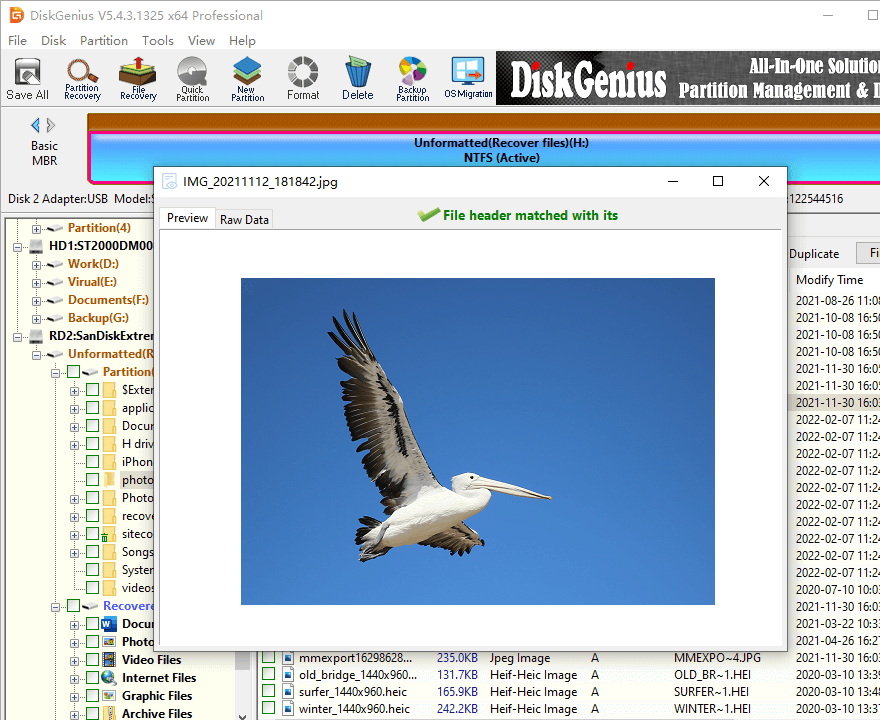 Step 5: Recover files by saving them to another location.
Select files and folders you want to restore, right-click on selected data and choose Copy To.
You can preview files found by the software so that you can easily find what you need.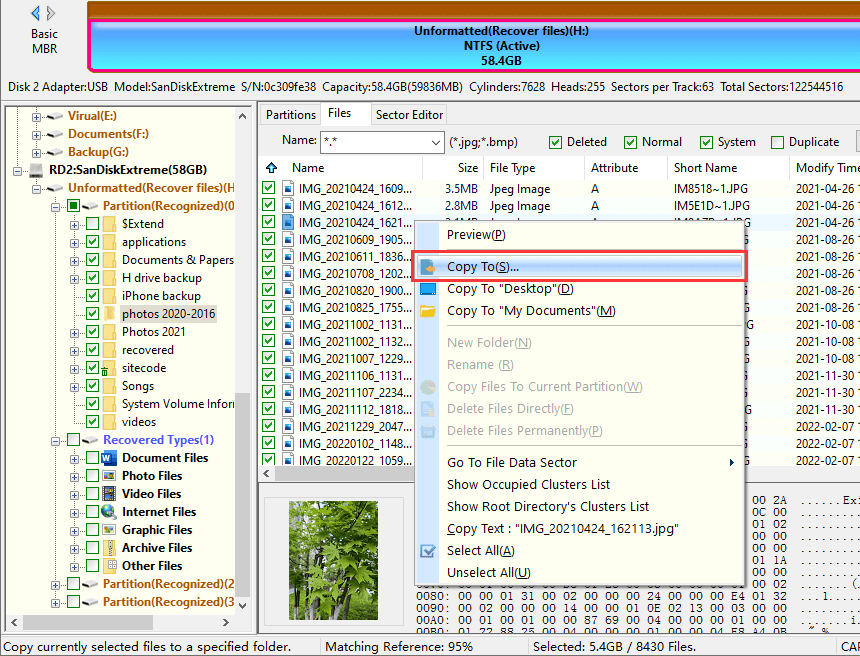 Final words
Now you've learnt ways to do HDD data recovery. HDD recovery software is useful and effective to help us solve all kinds of data loss issues. Should you have any questions or need help regarding recovering files & partitions, please feel free to contact our support team to get instant and professional guidance and suggestions.
Related articles
Recover data from external hard drive
How to recover lost files from external hard drive (Free)?
How to recover deleted or lost data from external hard drive?
Download HDD data recovery tool to recover lost data
How to recover formatted hard drive?
How to retrieve data from hard drive (free)?
How to recover data from corrupted hard drive?
How to recover deleted files from hard drive in Windows (free)?
How to recover files after formatting hard drive (Free)?