Updated on November 23rd, 2020
In this tutorial, you can find two guides on HDD partition recovery, i.e. recover lost data from formatted partition and lost partition recovery. With the help of effective partition recovery software, you can solve data or partition loss issue in couple of clicks.
About HDD partition recovery
Generally, a hard drive is divided into one or multiple partitions before we can store files on it. Partitions are separated sections on hard disk and they help users store and manage data in a smart way. We can install operating system on one partition and store personal files on other partitions.
All of us can encounter the problem of partition deletion, formatting, corruption or damage, which results in data loss. If partitions in question are filled with important files which have not been backed up, you should know an efficient way to get back lost data or partition.
Luckily, partition recovery is no longer a difficult task in these days, there is partition recovery software available for all users. Some partition recovery tool is easy to use and provides great recovery result. Next we will talk about partition recovery tools and how to perform the recovery.
HDD partition recovery tool free download
DiskGenius is excellent HDD partition recovery tool which supports to recover deleted, lost, formatted, corrupted and damaged partition from hard drive, external HDD, memory card, USB flash drive, virtual disk, RAID, etc. It supports FAT12, FAT16, FAT32, exFAT, NTFS, EXT2, EXT3 and EXT4 file system. Apart from partition recovery, DiskGenius also provides complete function on file recovery which enables users to recover deleted or lost files, photos, documents, email, music, video and other files.
You can download the HDD partition recovery tool free edition to search for lost data or partition, so that you can evaluate if it works on your case. The free edition works the same as the paid edition when searching for lost data or previewing files.
HDD partition recovery guide 1: recover formatted partition
Partition formatting is the process to remove data from a specific volume, after which all files and folders are missing. Many users would like to format partition to wipe data, free up disk space, repair corrupted partition, clear virus, change file system type, etc. In some cases, users just format partition by mistake, and thus have to face data loss issue.
Fortunately, in most cases, we have a good chance to recover data from formatted partition. That's because Windows performs quick format by default, which does not permanently erase data. Once a partition gets formatted, files will be removed without being wiped completely, and data stays untouched even though you cannot see it in system. As long as there is not data overwrite, you can get back formatted files with the help of data formatted partition recovery software. Download and install DiskGenius on your computer, and you can try HDD partition recovery and getting back lost data from formatted partition in Windows 10/8/7.
Step 1: Launch DiskGenius and right-click on the formatted partition to choose Recover Lost Files.
You should make sure the selected location is the partition you want to recover data, or the software cannot find correct data for you.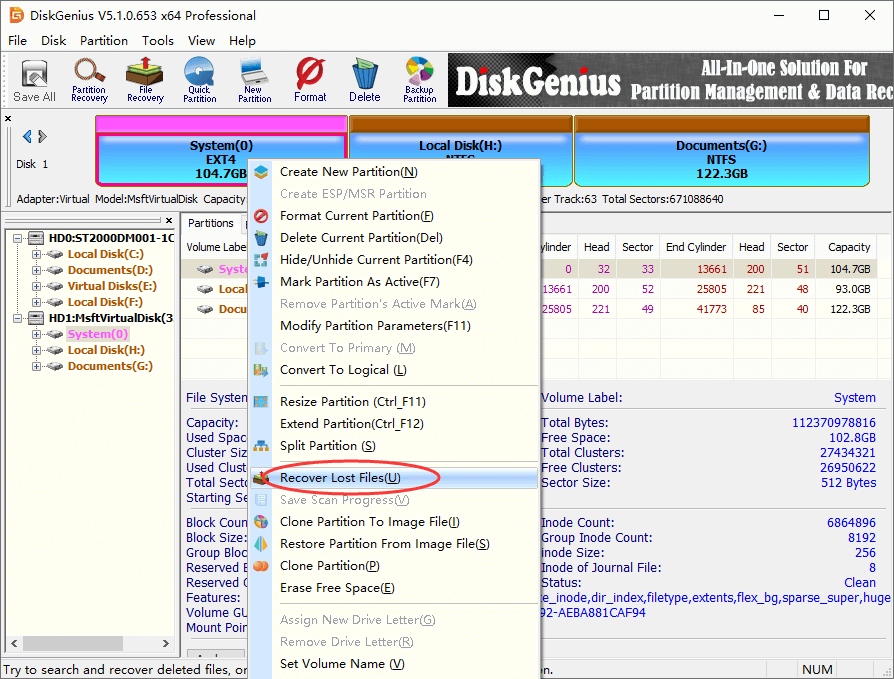 Step 2: Select recovery mode and click Start button to let the software search for recoverable data.
To retrieve data from formatted partition, you need to select Complete Recovery and Search For Know File Types.
Step 3: Preview and recover data.
Preview files listed in scanning result to check if your files can be recovered correctly. Then choose what you want to restore, right-click on selected data and choose Copy To.
HDD partition recovery guide 2: recover lost/deleted partitions
Partitions may get lost due to reasons like accidental deletion, disk formatting, repartitioning, system crash, virus, partition table corruption, etc. Once a partition is missing, you cannot access as well as files in the partition. Recovering lost or deleted partition from HDD is kind of different from file recovery, for lost partition recovery actions scans disk and searches for entire partition instead of any single file. Thus, HDD lost partition recovery requires the recovery software be able to effective enough to fulfill the work.
In this section, we use DiskGenius to restore lost or deleted partitions back to the working state. Let's take a look at how the recovery work.
Step 1: Download, install and launch DiskGenius from your computer. Select the disk from which you want to restore lost partitions and click Partition Recovery button from toolbar.
Then click Start button from the pop-up window and DiskGenius starts to search for lost partition from selected space.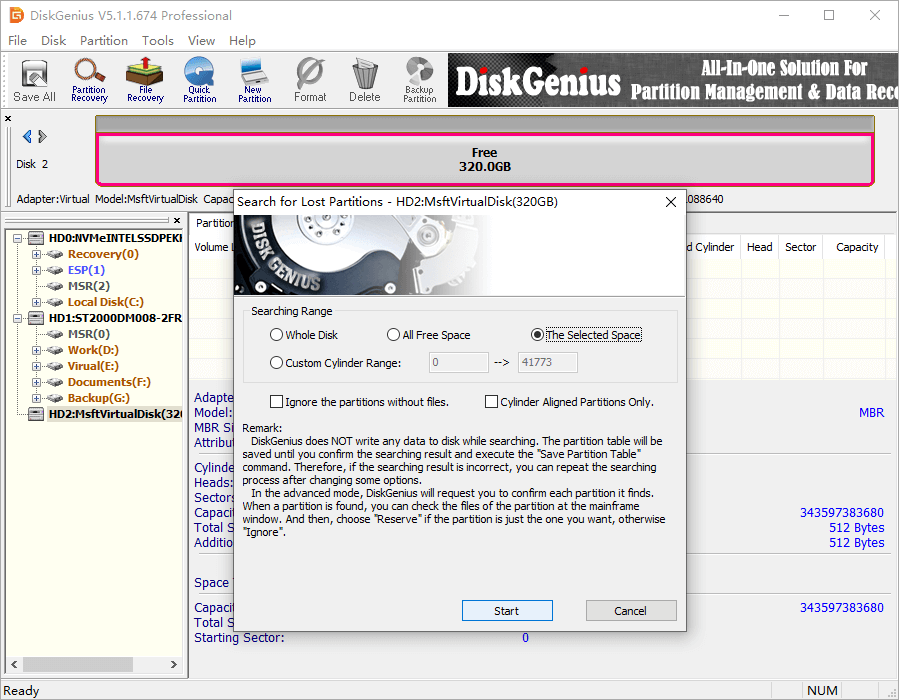 Step 2: Reserve partitions you want to restore and Ignore undesired partition.
You need to make the selection for each partition found by the software until scanning is done. It's safe to reserve any partition here, as such action is saved to memory only without writing to the disk.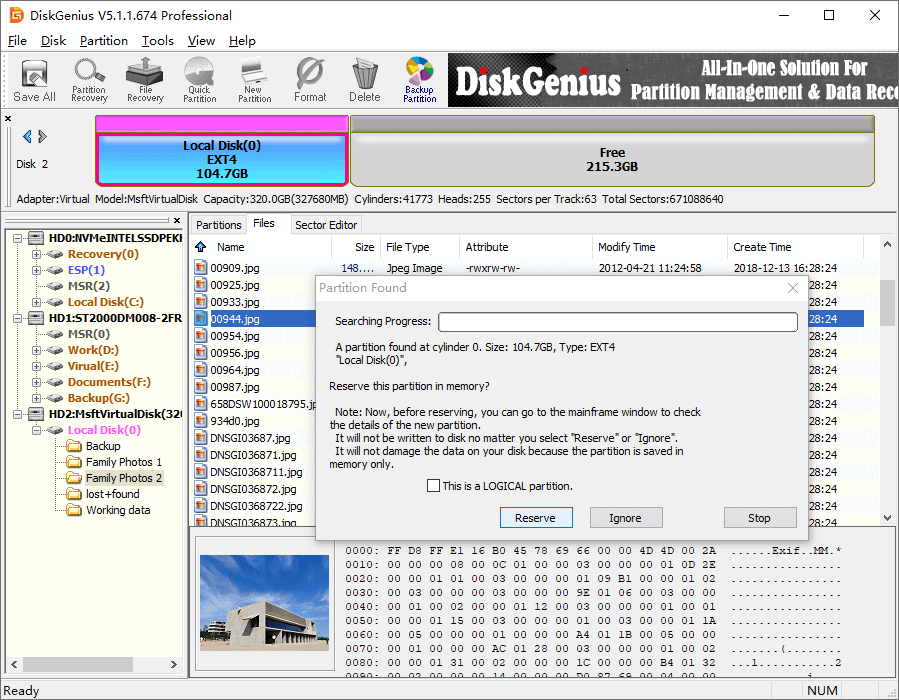 Step 3: Click OK when DiskGenius finishes scanning.

Step 4: Click Save All button to save changes on partition table and complete lost partition recovery.
Video guide to recover lost or deleted partitions:
Conclusion
So much about HDD partition recovery, and now you should able to recover lost data from formatted partition and recover lost/deleted partition from hard disk and other storage devices. With the help of effective partition recovery software, you can easily deal with data loss issue in Windows. Should you have any question regarding using DiskGenius, please feel free to contacting our technical team.
Related articles
How to recover deleted partitions in Windows 10/8/7?
Linux partition recovery – recover deleted, lost and formatted Linux partition
EXT4 partition recovery – recover lost/deleted EXT4 partition on Windows