Updated on May 13th, 2021
This instruction explains how to recover lost or deleted files from external hard drive using free hard drive recovery software. If your files get deleted or lost due to formatting, RAW drive, virus attack and so on, keep reading this page to get back lost files now!
Recover data from external hard drive
External hard drives are important storage devices for users who use computer for everything. It's easy to get one external hard disk with large capacity. Users would like to store all kinds of files on it as backup or extra storage space.
However, there are many causes that can lead to data loss issue to external disks. One of the most common one is file deleting and formatting by accident. Many users lose data due to unintentionally operations. The good news is that no matter what the cause, most lost files are recoverable. You can follow steps talked about in this page to do external hard drive recovery.
Why recovering lost data from external hard drive is possible?
When you delete a file or format a disk, data is not really erase. To make clear reason, you should know what happens when you delete data or format hard drive.
Operating system keeps tracks of file location on hard drive via pointers and each file or folder has a pointer which is responsible for telling system where and how your file is stored on disk. When a file gets deleted, operating system only removes the pointer and tags sectors which contain the file as Free. Thus, the deleted file is no longer displayed in Windows Explorer and you get more free disk space to store new data. When system stores new data to those sectors containing the deleted file, the file will be permanently overwritten and no longer recoverable. File recovery software can scan free disk space on the disk and restore deleted files.
Disk formatting works similarly. When you quick format an external hard drive or other device, files and partitions are not immediately erased. The formatting process only clear the index of the items stored on the disk without removing read data. Therefore, your files remain intact on the disk until they get overwritten. That is to say, you have good chance to get formatted files back as long as no data overwriting occurs.
Free external hard drive recovery software
If you want to recover lost files from external hard drive, you can use free external hard drive recovery software – Eassos Recovery Free. It is a free and effective external hard drive recovery program which can help recover lost or deleted files from SD card, USB flash drive, hard disk, Recycle Bin, etc. as well as recover lost or corrupted partition from all these devices. It supports recovery of more than 550 data formats, including photos, audio, music, emails, documents (word, PPT, excel, PDF, text, etc.), apps, etc. The recovery wizard guides you through the recovery process, which requires no skills.
How to recover lost / deleted files from external hard drive free?
Free download Eassos data recovery software on your computer, launch it and connect the external hard drive to your PC. Then you can follow these steps to get back lost files easily and quickly.
Step 1: Select a recovery option to start. To retrieve lost data from RAW drive, you should select "Recover Files From Partition"; if you want to undelete files, you should choose "Recover Deleted Files".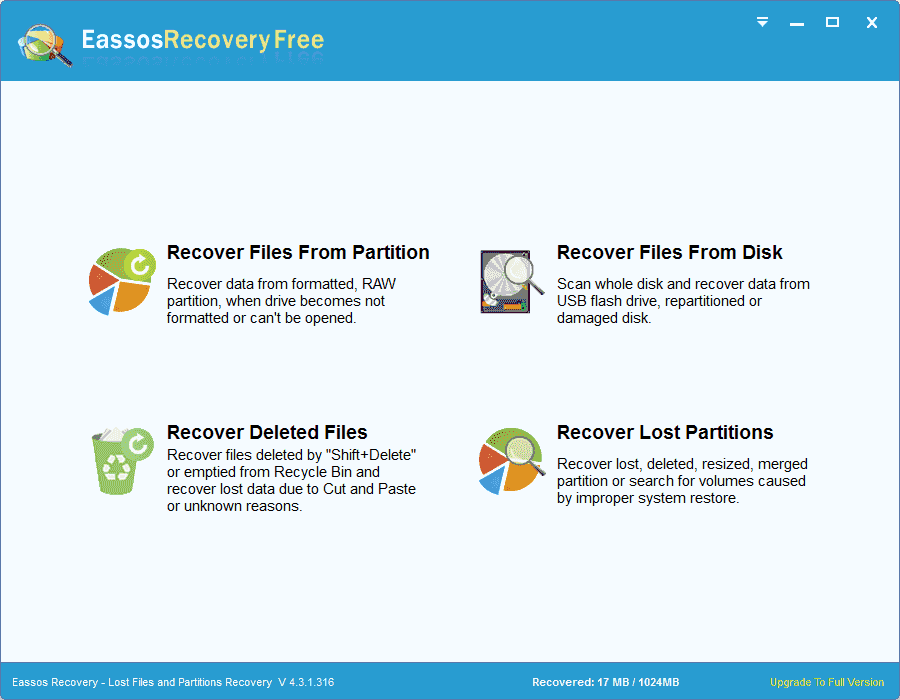 Step 2: Select the icon that represents the external hard drive and click Next button to search for lost data.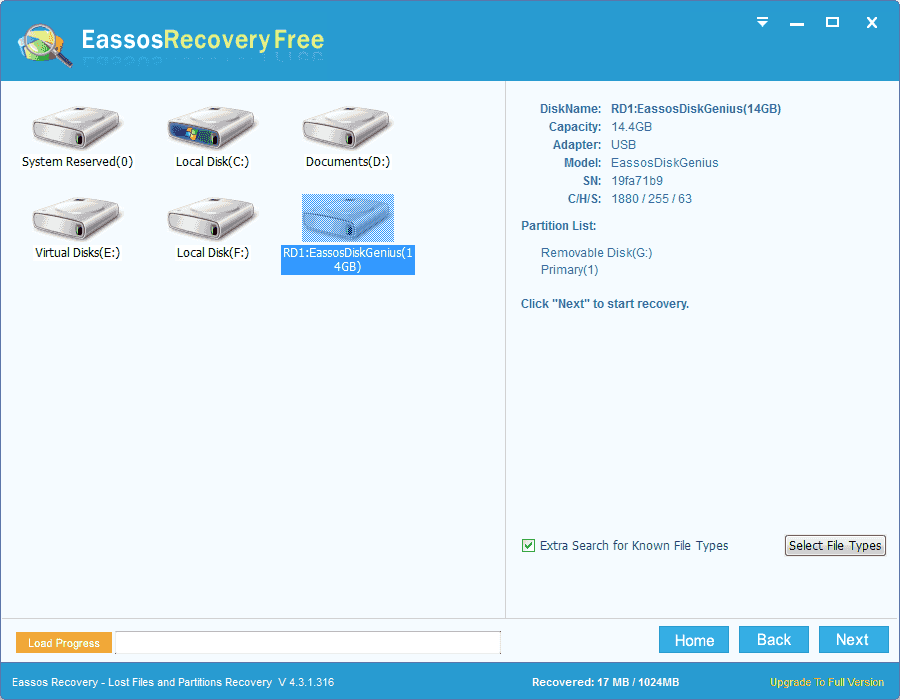 Step 3: Preview recoverable files to find out what you want to recover.
Step 4: Select files you want to restore and click Recover button. After that, you can select a folder on other disks to save recovered data.
How to protect external hard drive from data loss?
Prevention is always better than cure, thus it is necessary to protect data on external hard drive in the first place. Here are some tips you can follow to avoid data loss when using external hard disk.
Choose qualified external hard disk. Make sure it is produced by a legitimate manufacturer and purchase at a trusted shops or online platforms
Place your external hard drive in a safe place which keeps away from potential damages.
Use the USB plug properly. Insert or pull USB cable gently when you use it on your computer; what's more, use the remove device option before unplugging the disk.
Backup your external hard drive to another device and keep more than one backup copies. You can consider uploading backups to cloud storage.
Avoid dropping the external hard drive, and treat it like it's made out of glass. When you take or move it, you should act gently.
Use anti-virus software. If you often use external hard drive on different PC, you may need to scan the disk with anti-virus software now and then.
Related Links: