Updated on November 9th, 2020
This guide talks about NTFS partition recovery and shows how to recover formatted NTFS partition and perform lost NTFS partition recovery with the help of partition recovery software in Windows 10/8/7/XP. Want to recover from NTFS partition? Finish reading this guide, and you'll be able to effectively deal with partition recovery issue.
NTFS partition recovery
NTFS (New Technology File System) is a type of file system and it was initially introduced by Microsoft in 1993 with the release of Windows NT3.1. Now NTFS has become the primary file system used in most Windows systems. Volumes on hard drives and external hard drives are formatted as NTFS by default if you partition the disk in Windows. Disks with NTFS partition improves security and stability for data storage and brings about great convenience. However, no disk can survive from data loss issue. NTFS partition may get lost, deleted, formatted or damaged, and files on the disk may get lost due to deletion, virus, bad sectors, etc. Here is one of the NTFS data loss issues you may encounter:
"These days, one of my WD external hard drive malfunctioned for no reason. I cannot open it and files on the drive are not accessible. I've tried connecting it on different machines via internally and USB. The partition just cannot be accessed and shows as RAW in Disk Management. Windows is able to recognize it. Files are on the drive, as I haven't formatted it yet. I've tried two recovery tools and it takes too long to scan the disk. The disk is 500GB, but the scanning has taken around 30 hours. Do you have any better solution to retrieve data from the drive quickly? The drive was formatted in NTFS file system before it got corrupted."
Fortunately, NTFS data recovery is available in most cases and it is quite easy to restore all data from NTFS drive as long as lost files or partitions are not overwritten. NTFS partition recovery software is designed to retrieve lost data from NTFS drives as well as restore deleted partitions or restore partition table. We've learned that deleted data is recoverable before it gets overwritten, which is also true of deleted partition. Thus, you should make sure there is not any writing action to the disk once data loss issue appears.
Partition recovery software
DiskGenius is top-ranking data recovery software which can help you recover lost files or partitions efficiently. It is able to deal with data loss issue caused by deletion, formatting, partition corruption, disk damage, system crash, virus, bad sector, disk repartitioning, etc. It supports data recovery from NTFS, exFAT, FAT32, EXT2, EXT3 and EXT4 partitions. Here are features on partition recovery:
Lost partition recovery: partition may get lost due to various causes such as deletion, disk partitioning, system restore, partition table corruption. DiskGenius can search for lost volumes together with files in the partition so that they can be restored directly.
Recover formatted/RAW partition: Recover files and folders from partition which is formatted, accessible, corrupted, RAW or unformatted. In some cases, RAW drive recovery by using the function Load Partition Intelligently.
Recover deleted files: DiskGenius enables you to recover deleted files from partition or recover lost data from deleted partition.
EXT4 partition recovery: restore lost ext4/3/2 Linux partition or retrieve deleted/formatted files from EXT4 drives.
Supported device: hard drive, external HDD, SSD, USB flash drive, SD card, pen drive, virtual disk, RAID, memory card, etc.
Guide 1: Recover formatted NTFS partition
In this example, we'll show you how to recover lost files from formatted NTFS partition using DiskGenius. This guide can also be used to retrieve data from corrupted, RAW or unformatted drives. One thing should be noted that the partition to be recovered should not be written any data before all files are successfully recovered.
Step 1: Install and launch DiskGenius from your computer. Then you can view the NTFS partition where lost files were stored.
If your computer cannot boot to Windows, you can perform partition recover with DiskGenisu WinPE Edition. This application supports create WinPE-based bootable USB disk with which you can boot computer to DiskGenius WinPE edition.
Step 2: Right-click on the NTFS partition from which you want to recover data and choose "Recover Lost Files" option. This opens Recover Files window.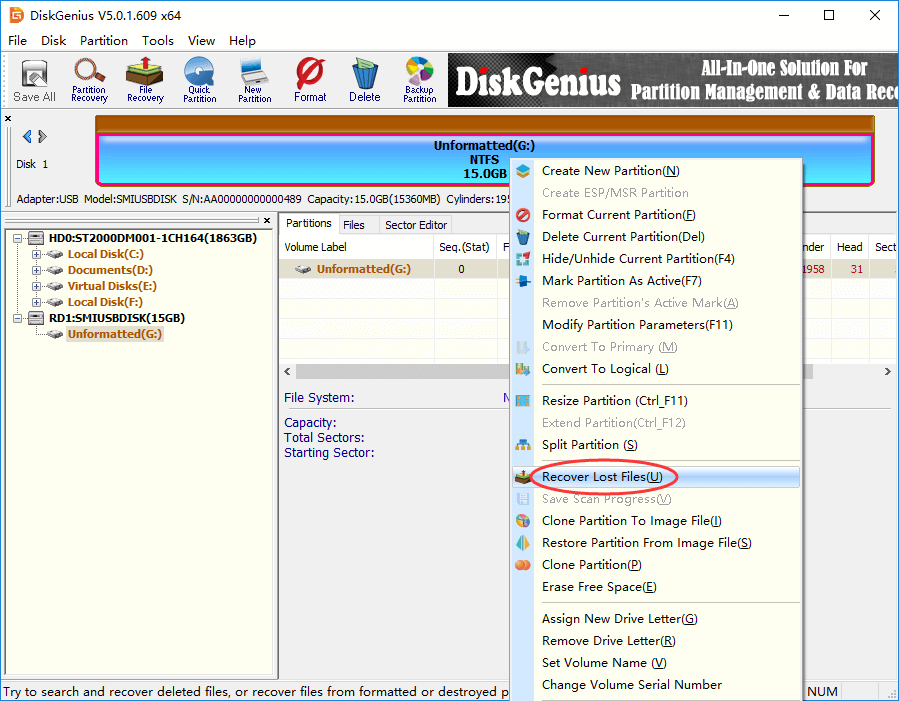 Step 3: Select Complete Recovery and Search For Known File Type, and click Start button. The DiskGenius starts to search for lost files from the partition.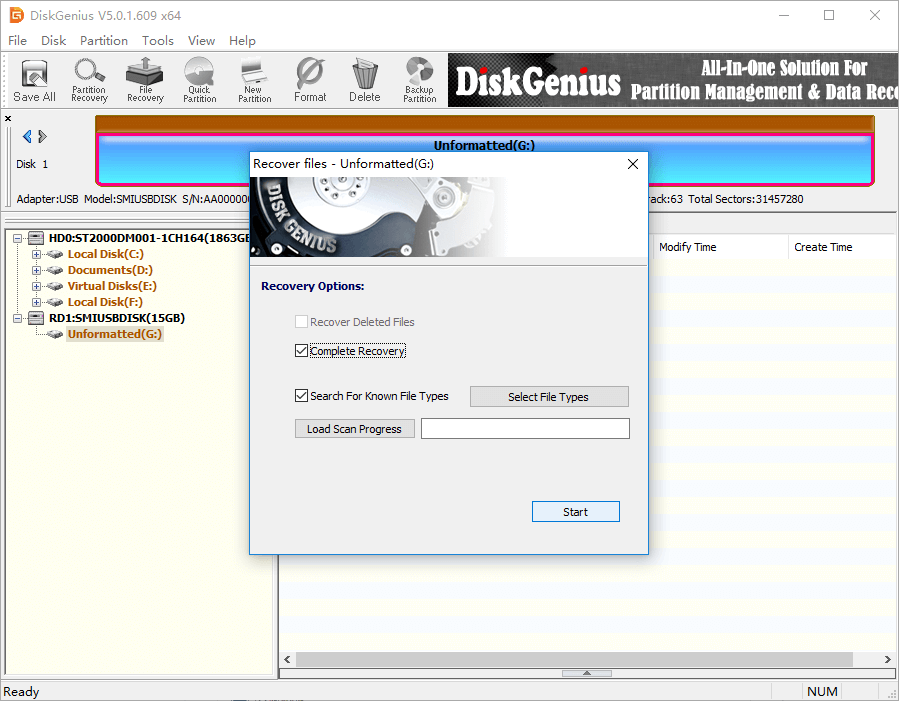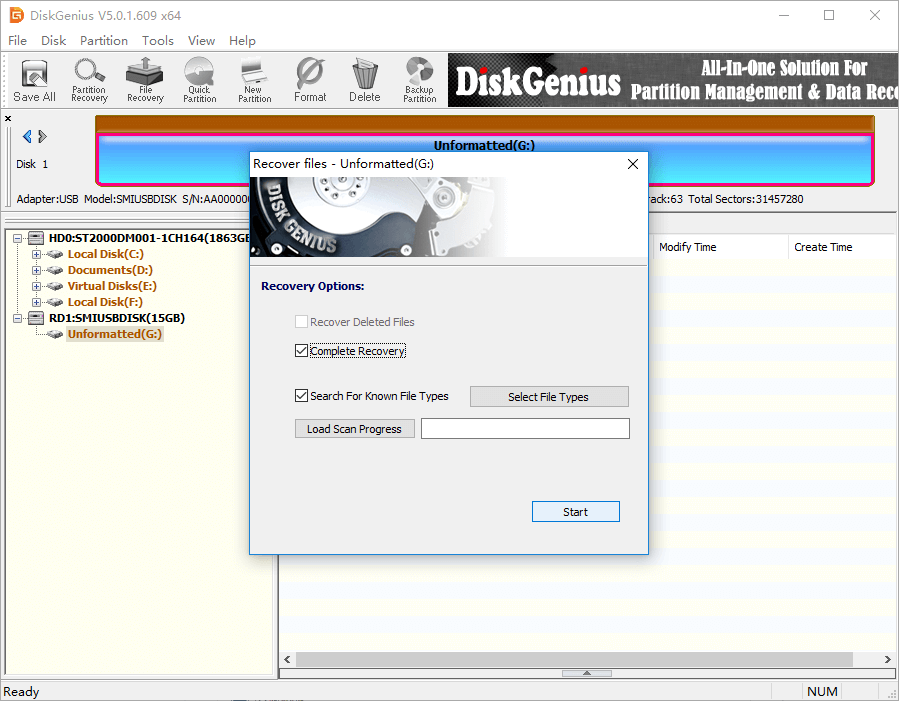 Step 4: Preview and recover data. Once your files are listed, you can preview files to find out want you need and then copy them to a different partition.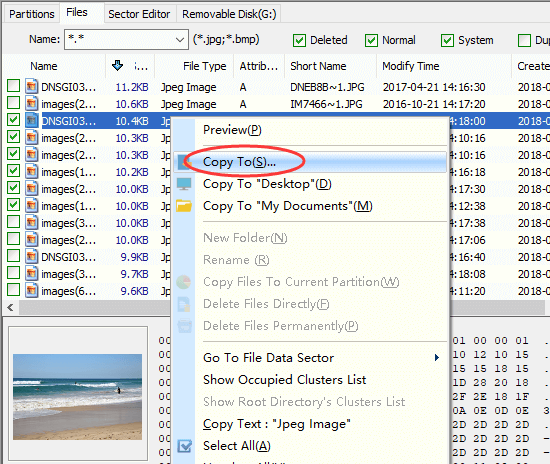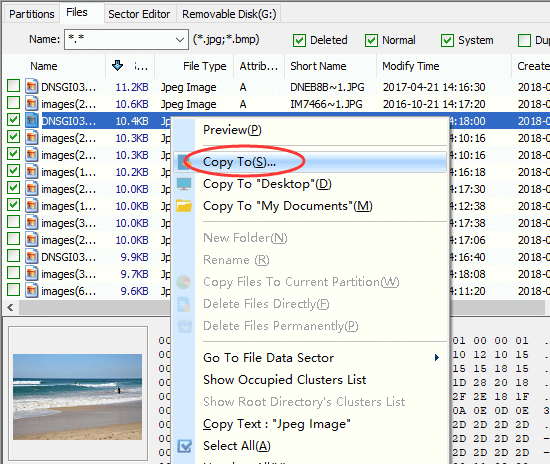 Guide 2: Lost NTFS partition recovery
Hard drives or external hard drive might be divided into several partitions so that files can be stored in separated sections. Likewise files, partitions on the disk can also get lost, for example, you may delete a volume by mistake, a disk get repartitioned, partition table gets corrupted, etc. In this case, you may need to recover data from deleted partition, restore partition table or get back lost partitions. Now, we'll show you how to recover lost or deleted partitions and restore them to partition table.
Step 1: Connect the disk from which you want to recover lost NTFS partitions, and launch DiskGenius.
If partitions on the disk have been deleted, you can see unallocated disk space in DiskGenius. If you repartitioned the disk, then current partitions are displayed in the software.
Step 2: Select the disk or unallocated disk space in DiskGenius and click Partition Recovery button. This open partition recovery window.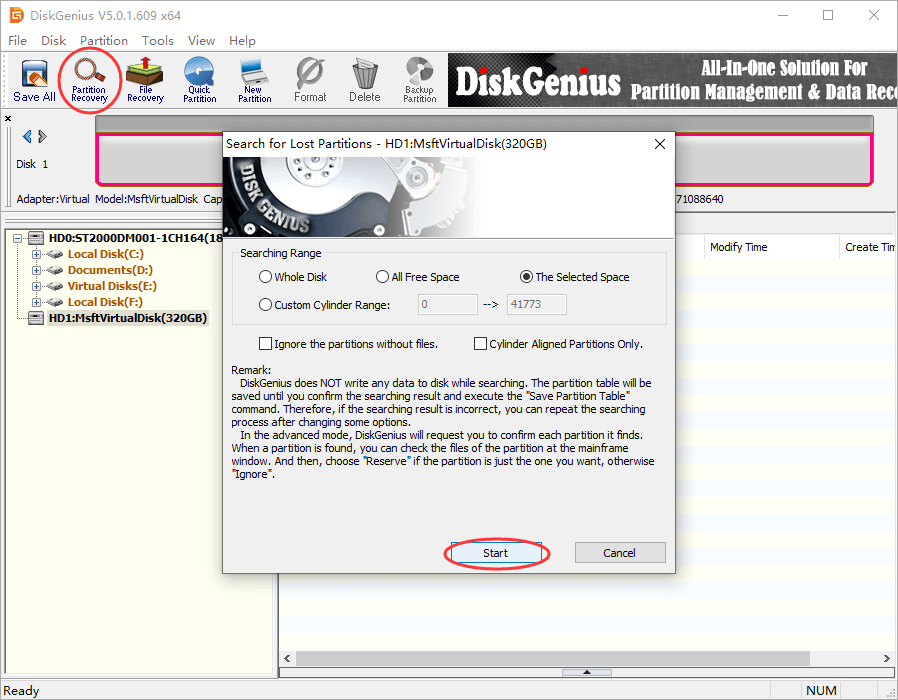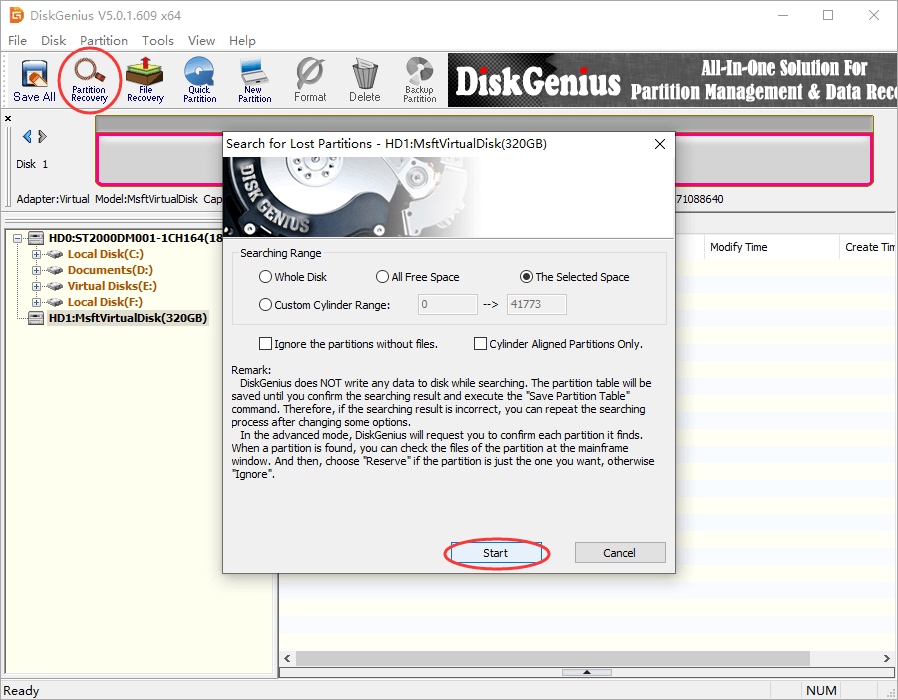 Step 3: Set searching range and click Start button. Then DiskGenius starts to look for lost partitions. During scanning, you need to choose Reserve button when DiskGenius finds out a partition you want to restore; otherwise click Ignore.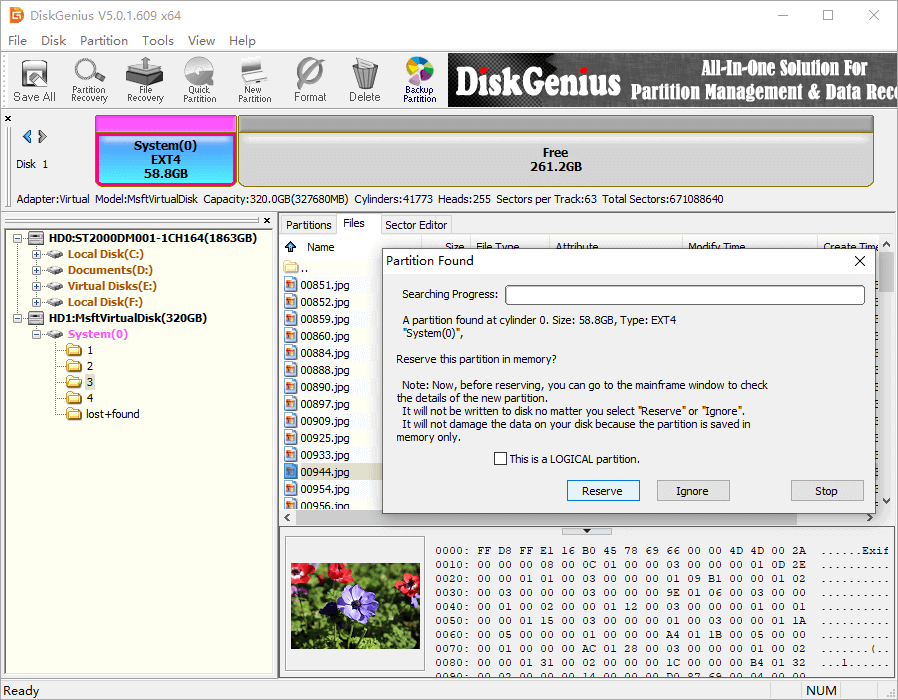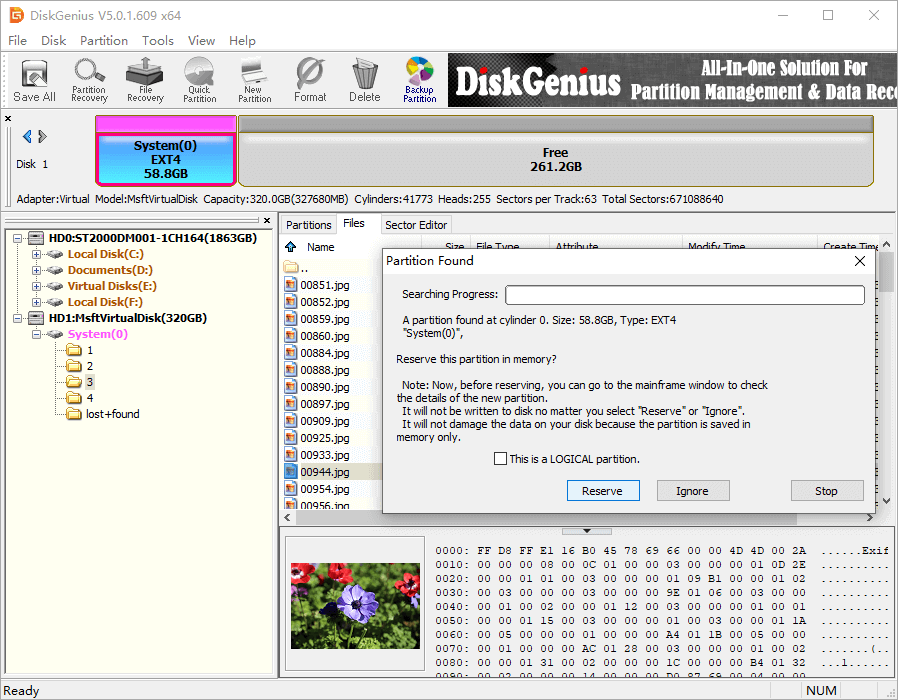 Step 4: Save lost partition to partition table by clicking Save All button.
Video tutorial on lost partition recovery: How to Recover Deleted Or Lost EXT4 & NTFS Partitions?
Conclusion
We've shown you how to do NTFS partition recovery, including recover lost files from formatted NTFS drive and restore lost NTFS volumes. You can easily get back lost data from damaged, formatted or lost NTFS partitions with the help of DiskGenius. Apart from data recovery, DiskGenius can also help you resize partition, extend C drive, format partition, check bad sectors, etc. Should you need any help regarding NTFS partition recovery, please feel free to contact us.