Updated on May 8th, 2021
Ext 4 partition gets deleted or lost? Want to perform lost ext4 partition recovery? Do you know how to perform partition recovery or file recovery from lost partitions? This post will show you the process of recovering lost / deleted ext4 partitions under Windows 10/8/7/Vista/XP.
Ext4 partition loss issue
Partition loss is a common issue to computer users, as many reasons can lead to this issue. Here are some common causes of partition loss:
Partition deletion: mistakenly delete a partition in Disk Management or partition manager software
Disk formatting: you may format or reformat an entire hard disk, after which all partitions and files on that disk will be lost.
Repartition disk: repartitioning hard drive wipes hard disk first so that new partitions can be created on the disk.
Partition table error: once partition table gets damaged or become invalid, partition information may get lost or corrupt, and the consequence is partition loss.
Bad sectors: in some cases, hard drive with bad sectors may become unallocated or empty in Disk Management. If you open partition manager DiskGenius, you can see there is no partition on the disk.
System reinstallation: when you reinstall operating system, you may be asked to make choices between many options which may include the one that is able to wipe everything on the disk. If you select wrong option, you'll suffer partition loss after system reinstallation.
Factory reset your PC: many brand PC provides the feature which enables users to reset the device to factory setting. This process restores computer or tablet to the state it came out of the factory. Thus you'll lose all data on the local disk.
Here is a real case about Ext4 partition loss issue:
"I have a removable hard drive which contains two Linux partitions using ext3 and ext4. This morning all partitions on the disk are lost, I mean the disk is raw and had no partitioning and no partitions. I assume the partition table got damaged since last time I used it on my laptop. My laptop had problem ejecting USB mass storage device, and I had to unplug it directly. I haven't recreated any partition on the disk for fear of overwrite the data. My laptop is running with Windows 10, and I hope lost Linux partitions can be restored under Windows."
Lost Ext4 partition recovery software free download
Partition recovery for NTFS, exFAT, FAT32, FAT16, FAT12, Ext2, Ext3 or Ext4 partitions are available on DiskGenius software. Deleted or lost partitions can be restored and saved to partition table, so that the entire partition can be recovered on the disk directly without copying recoverable data to a different location.
DiskGenius (old name PartitionGuru) is a handy and versatile tool that runs under any version of Windows. It is designed to perform multiple tasks about disk manager, data recovery, data backup, disk repair, etc. It supports NTFS, exFAT, FAT32, FAT16, FAT12, Ext2, Ext3 and Ext4 file system. You can get back lost Ext4 partitions by searching storage devices and then saving recovered partition to partition table, after which you can access the ext4 partition as before. Apart from recovering lost partitions and deleted files, DiskGenius is able to do these for you:
Fully access to Ext4, Ext3 and Ext2 partition under Windows 10/8/7XP, such as write & delete files, format partition to Ext4 format, rename files, create folders, resize partition, clone or backup Linux partition.
Check and repair disk errors: view hard drive S.M.A.R.T. information; check and repair disk bad sectors
Verify partition table errors: verify and correct partition table errors for hard drives, removable disks as well as virtual disks.
Manage partitions and disks for virtual disks: support virtual disk used on Virtual Box, Virtual PC and VMWare
Data backup: it allows to backup operating system to image file or migrate OS to a different disk, create image for an entire disk or specific sectors, clone disk or partition byte by byte, backup partition table, etc.
Disk converting: DiskGeniuscan convert dynamic disk to basic disk without damaging data, convert disk between GPT and MBR without data loss etc.
Bootable disk: create bootable disk so that you can recover data or manage disks even when system cannot boot properly.
How to recover deleted / lost ext4 partition on Windows 10/8/7?
The following part is a step-by-step guide representing Ext4 partition recovery process. You can download DiskGenius (old name PartitionGuru) and follow this guide to recover deleted partitions easily.
Step 1: Connect the storage media for which you want to do lost partition recovery. Then launch DiskGenius. Select the disk where lost Ext4 partition was located and click the button Partition Recovery from the toolbar.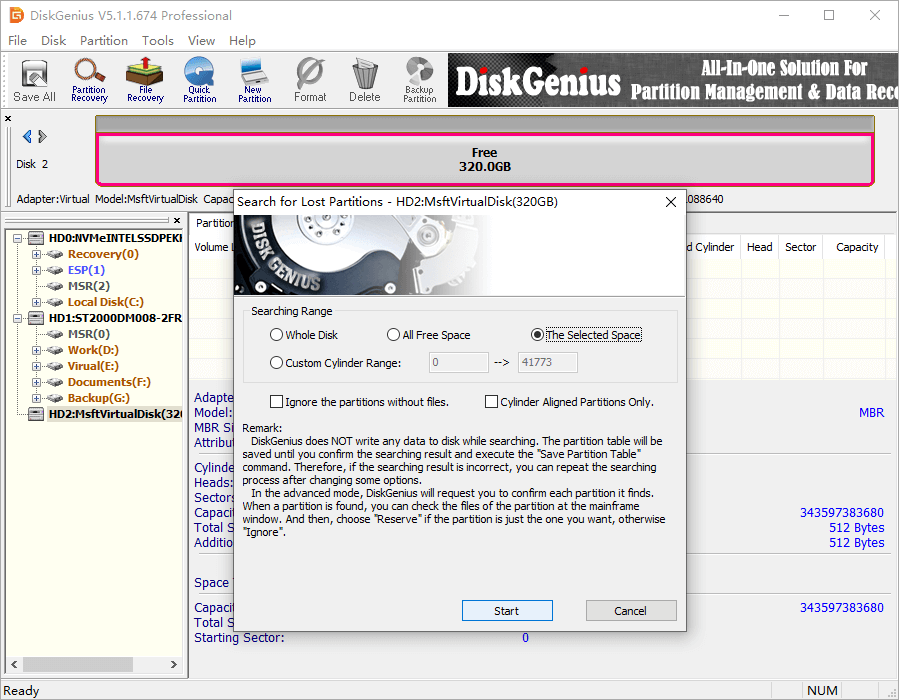 Step 2: Click Start button on the "Search for Lost Partition" window, and DiskGenius starts to search for lost partitions.
Step 3:  Reserve or ignore partition. Once a partition is found out, DiskGenius will ask you whether reserve it or not. You can preview files in the partition to judge if it is one the partitions you want to restore. If it is correct, click Reserve; if not, click Ignore.
In the picture, DiskGenius finds out a 104.7GB Ext4 partition and prompts to Reserve or Ignore it. Now you can preview files in this partition which contains several folders for different data. After preview all these files, you realize it is one the lost partitions that needs recovering. Thus you should click Reserve.
Note: the selection Reserve does not mean the partition is restored successfully, as this action is temporarily. To get it finally recovered, you should save the partition to current partition table after the searching process finishes.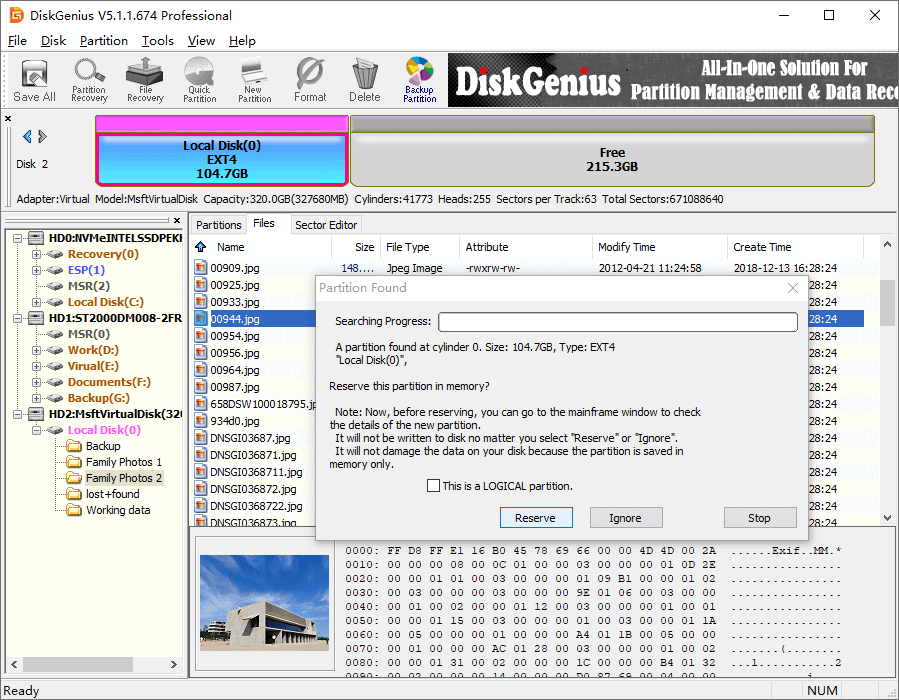 Click OK when DiskGenius finishes partition scanning.

Step 4: Save partition table.
If DiskGenius successfully finds out all lost or deleted partition you want to restore, you can click "Save All" button to save new partition table. After that, lost partitions will be saved to partition table again and you can access them in File Explorer.
Video tutorial: How to Recover Deleted or Lost EXT4 & NTFS Partitions?
Related Articles
Linux Data Recovery: Recover Lost EXT4/3/2 Files and Partitions
How to access ext4 partition in Windows 10/8/7?
How to clone ext4/ext3/ext2 partition in Windows 10/8/7?