Need to perform digital camera deleted photo recovery? Free download deleted photo recovery freeware – Eassos Recovery Free to recover deleted, lost or formatted photos from digital cameras of any brands like Canon, Nikon, Sony, Olympus, Casio, Panasonic, etc.
Overview on digital camera deleted photo recovery
"Hey there! I am looking for a solution to recover deleted pictures from Canon digital camera memory card. The digital camera was connected to my laptop so as to transfer photos and backup. Whereas, I hit the delete button by mistake and a couple of photos got deleted. I checked the Recycle Bin and found no files there. Honestly, deleted photos are mainly for my family, and I do not to lose them in this way since I learnt photo recovery is possible. Do you have any effective method to get back deleted photos from Canon digital cameras?"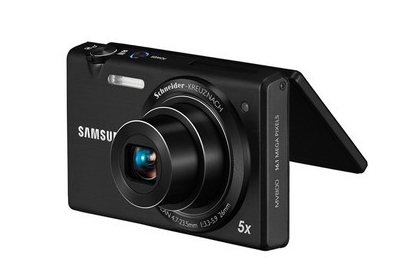 Memory card provides ample storage space for digital cameras, which enables users to take very large number of photos and videos. Digital cameras allow users to view just captured photos, and users can delete dissatisfied ones. When viewing and deleting files, users may delete important photos by mistake, for example, click Delete All accidentally. It is frustrating to lose important photos which have not been backed up.
Fortunately, in most situations, deleted photos can be recovered from Digital camera memory cards. Why is digital camera deleted photo recovery possible? When a photo gets deleted from a memory card or other storage devices, it is not completely erased! Only the file entry gets deleted from file system, and data content still stays on memory card. Since file entry is removed, file content will be invisible and disk space occupied by the file will be marked as free space. The deleted photo is recoverable before its disk space is overwritten by new data.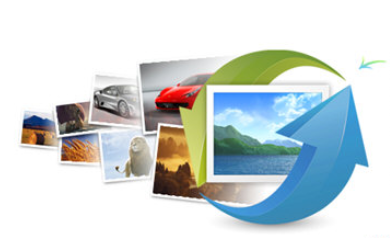 How to carry out deleted photo recovery for digital camera memory card? The most recommended way is using deleted photo recovery freeware provided that there is not backup for lost data. Next we'll touch upon deleted photo recovery freeware and how to retrieve deleted pictures, photos, images, videos and audios from memory cards.
Digital camera deleted photo recovery freeware free download
Are you looking for freeware to recover deleted photos from digital camera? Here I'd like to recommend Eassos Recovery Free. It is a free recovery tool designed for home and non-commercial users to recover lost photos, documents, music, videos, email, archives and so on from various data loss situations. Here are some features: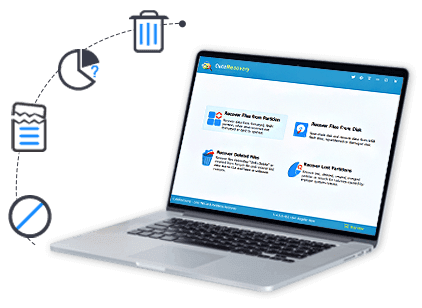 Easy-to-use & safe: Eassos Recovery Free is created with user-friendly wizard, all you need to do is clicking mouse button for several times. The entire recovery process is read-only to memory card and lost data, and thus it does not modify or damage lost files.
Support multiple data loss issues: with this free recovery software, you can easily perform deleted file recovery, format recovery, RAW drive recovery, lost partition recovery, etc.
Supported devices: it is compatible with all major storage devices including hard disk, external hard drive, USB flash drive, memory card, digital camera, pen drive and more.
Digital camera deleted photo recovery guide: how to recover deleted / lost photos from camera memory card?
Important
Stop using the digital camera after data loss, such as take photos or videos on the same memory card. Otherwise lost files will be overwritten and turn to unrecoverable.
If your memory card cannot be recognized by computer via connecting the digital camera, you may need to prepare a card reader. Use USB 3.0 connection if possible, by which the recovery process is faster than USB 2.0.
Turn off the digital camera before taking out the memory card, or the memory card may turn to inaccessible.
Step-by-step guide to recover deleted photos from digital camera memory card
Step 1: Connect device to computer.
You can use a USB cable to connect the digital camera to computer and see if it can be recognized by computer. If it does not show up in File Explorer, you can take out the memory card and connect via a card reader.
Step 2: Download, install and launch Eassos Recovery Free from computer.
Free download the recovery software from Eassos site and get it installed on your computer instead of the memory card. This recovery software works on all versions of Windows systems.
Step 3: Select proper recovery mode.
After launch Eassos Recovery Free, you will be presented with 4 recovery options on the home interface. Select the proper one according to data loss causes.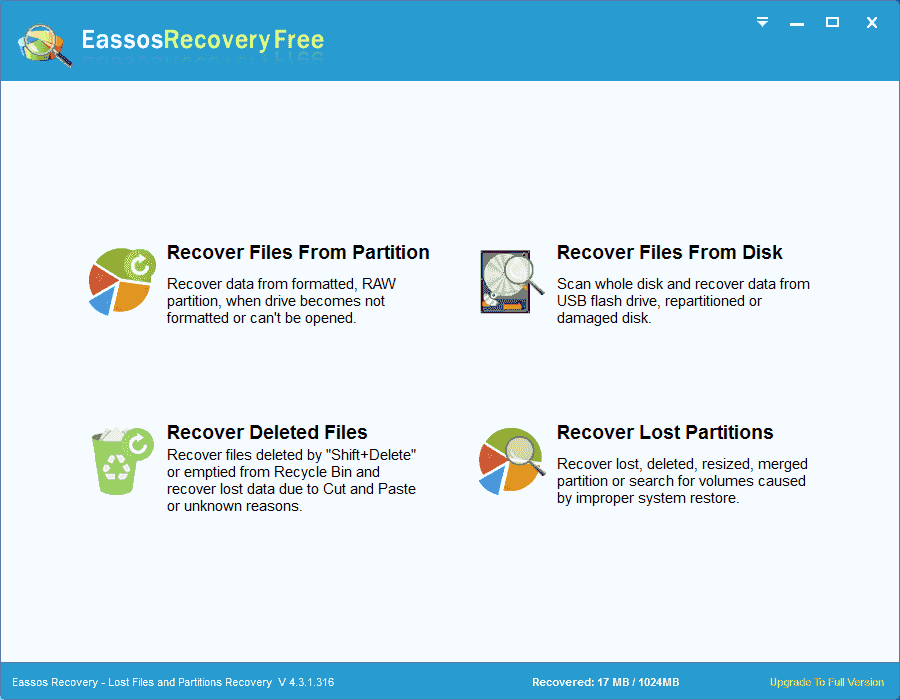 Step 4: Choose the memory card where lost photos were stored and click Next button.
Eassos Recovery Free enters file scanning process after you hit the Next button. By default, the software executes complete and deep scanning at the same time. Lost files will be kept adding to scanning result.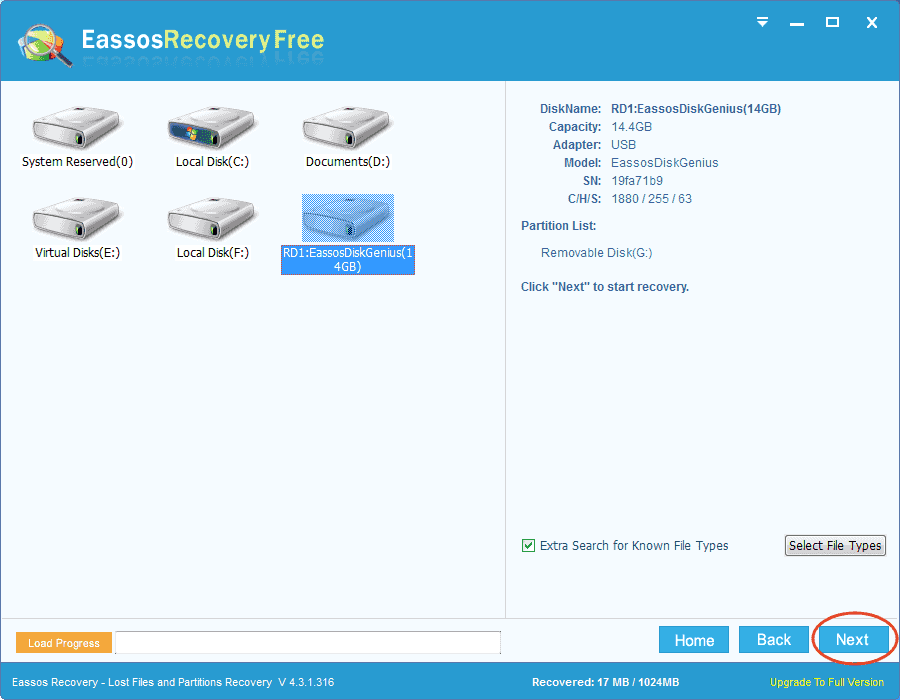 Step 5: Preview and recover deleted photos from camera memory card.
All recoverable files will be displayed after scanning, and you can preview listed files to find out wanted photos.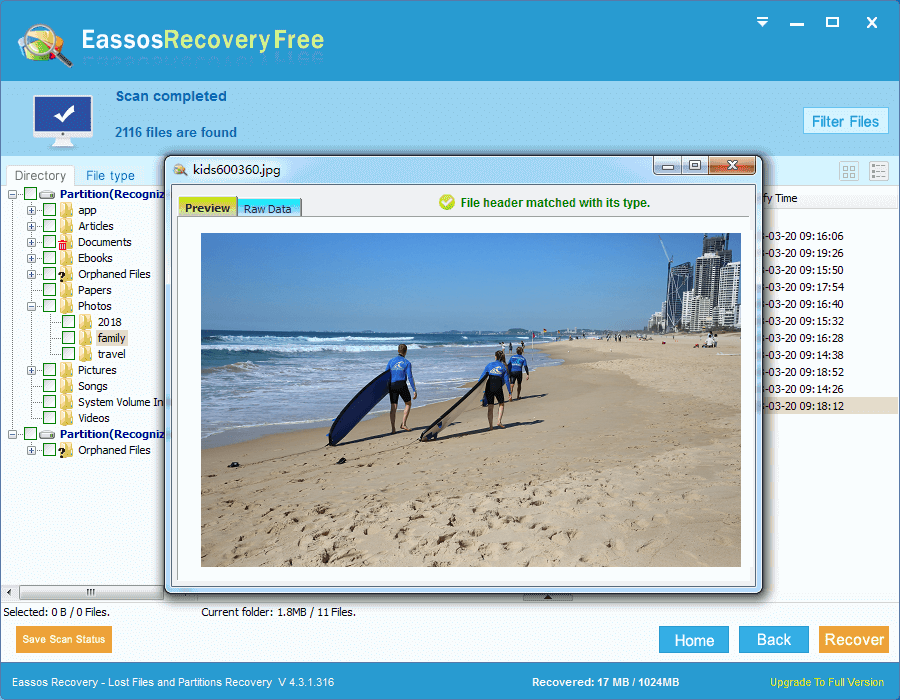 Choose files and folders you want to recover and click Recover button so that you can save data to a preferred location. Note: do not save recovered photos to the original memory card or any other drive that needs data recovery.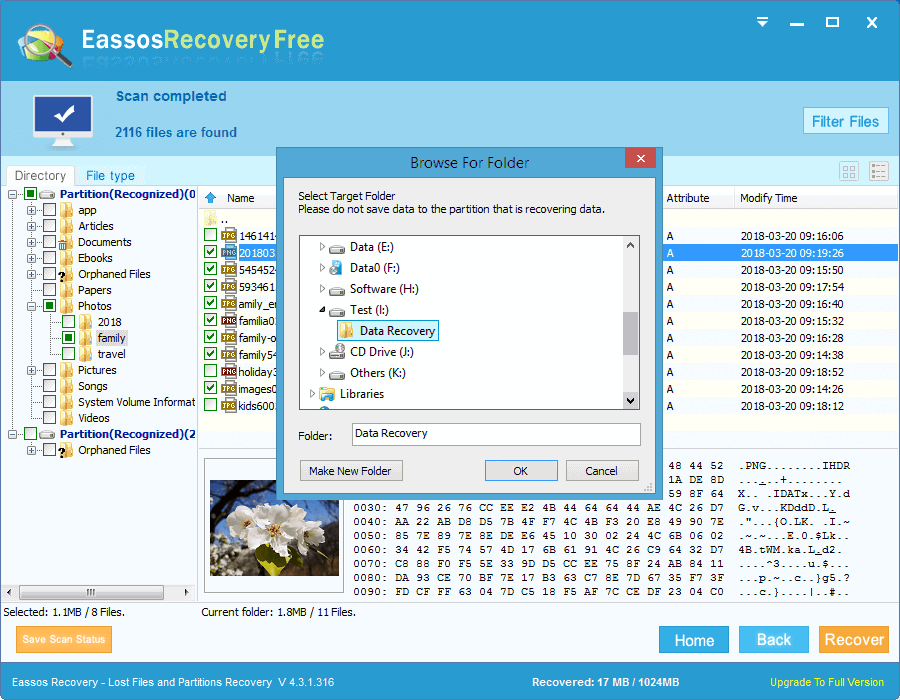 You may also be interested in
FAQs on digital camera deleted photo recovery
How to do mobile camera photo recovery?
If your mobile phone has a memory card, you can just follow steps above to get back lost photos; if you want to retrieve lost or deleted photos from internal memory of your mobile, you can try Eassos Android Data Recovery.
How to recover lost photos from corrupted digital camera memory card?
To recover lost files and photos from corrupted memory card, you can try these steps: Launch Eassos Recovery Free and choose Recover Files From Partition > Scan the memory card for recoverable data > Preview and recover photos to a secure location.
How to recover deleted or lost videos from digital camera?
Eassos Recovery Free supports video file recovery and you can follow steps in this guide to retrieve lost videos easily.
Conclusion
This article discusses an easy and free solution to get back deleted or lost photos from digital camera. Photo loss is one the of command and inevitable issues in daily lives, and yet we can try recovery methods in this page to retrieve lost data with the help of free photo recovery software. If you feel this guide helpful, please go not forget to share it on social media.