This page will show you how to recover deleted photos and pictures from SD card using effective SD card photo recovery freeware. SD cards are widely used in digital devices and it's hard to avoid photo loss issue. If you just accidentally deleted photos from SD card and do not have a backup, you can refer to the guide below to retrieve deleted photos via simple clicks.
Recover deleted photos from SD card free
"Hello everyone. I'm trapped in an awful problem! Hundreds of photos were deleted from digital camera's SD card by mistake. In fact, I had intended to transfer phots from memory card to computer so that I could free up disk space on this SD card for the coming vocation. Those deleted photos were taken in the past 6 months recording family daily. It seems that they are of no importance, and yet I really do not want to lose them. Is it still possible to restore those deleted pictures from the SD card? What's your suggestion? "
SD card provides a great solution for digital devices which needs extended storage space, for example, the SD card in your digital camera and it stores many photos and videos for you. Removing photos and files on SD card enables you to get free space for new data, and thus many users often clear insignificant data for SD card. However, in many cases, important photos get deleted during the data clearing process. You must have experienced photo loss issue on your memory card, and it is quite a problematic situation.
Fortunately, in many cases you are able to get deleted photos back from SD card. If deleted photos are not totally overwritten, the deleted photo recovery process will be very easy. The only tool you need is free photo recovery software which can be free downloaded online. Next, we are going to discuss free photo recovery software and how to recover deleted photos from memory cards with it.
What to do before recovering deleted photos from SD card?
It has been proved that there is great possibility to recover deleted pictures, photos, videos, music and other files from memory card, and yet lost files may turn to unrecoverable due to data overwrite. To get the best recovery result, we should take following points into consideration once data loss issue is spotted.
Stop using the SD card at once. When a file gets deleted, it won't be wiped immediately from memory card, but system will regard them free space and store data there. Thus, lost files will be overwritten if you continue to use the SD card, such as take photos.
Do not format the SD card. Formatting or reformatting SD card is not helpful for deleted photo recovery, and it may even damage lost data.
Find a reliable card reader. You need to connect the SD card to computer before recovering files, and the SD card should be attached to your computer. Thus, a card reader will be useful.
Free download photo recovery freeware for PC. Freeware or free trial version of paid software is recommended if this is your first time to recover photos. If freeware works on your case, you can get back deleted photos from SD card free of charge.
Recovery software to recover deleted photos from SD card free download
Eassos Recovery Free is one of the best free SD card photo recovery software in the market. It is designed with intuitive interface with powerful data recovery functions. It is very useful when you want to recover deleted, lost or formatted photos from hard disk, memory card, external HDD, USB flash drive, RAW drive, corrupted partition, etc. Apart from photo recovery, it also supports to recover documents, emails, videos, music easily.
Free download photos recovery software to recover deleted photos from SD card
Now is the step-by-step guide to recover deleted, lost or formatted photos from SD card using free photo recovery software – Eassos Recovery Free. The follow guide also works on recovering lost photos from computer, Recycle Bin, external hard drive, USB flash drive, etc.
Step 1: Connect your SD card to computer.
Turn off the digital camera or cell phone and remove the SD card from it. Then you can connect SD card to computer with the help of a card reader.
Step 2: Install and launch Eassos Recovery Free.
Free download this SD card photo recovery software from Eassos website and then get it install on your computer (do not install software on the SD card).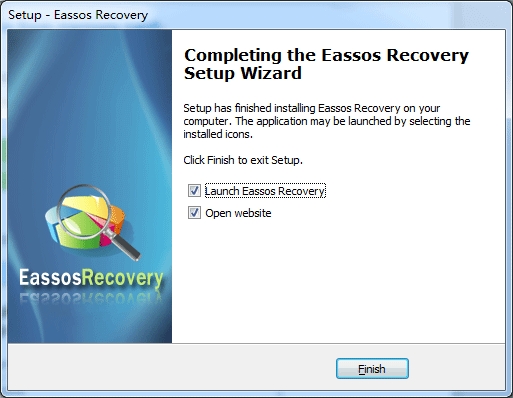 Step 3: Choose recovery mode according to actual data loss causes.
To recover deleted photos, you should click Recover Deleted Files; if you want to recover formatted or RAW drive, then choose Recover Files From Partition.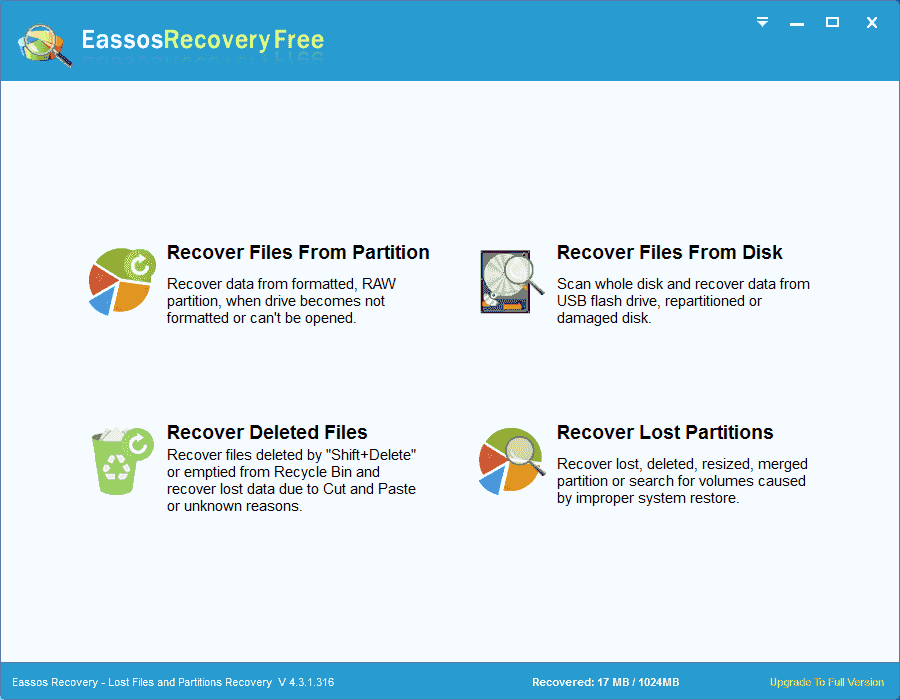 Step 4: Select the SD card which contains deleted photos and click Next button to start scanning process.
If you do not see the SD card here, check if it is correctly connected to computer. The scanning process is fast, and you can wait it to complete.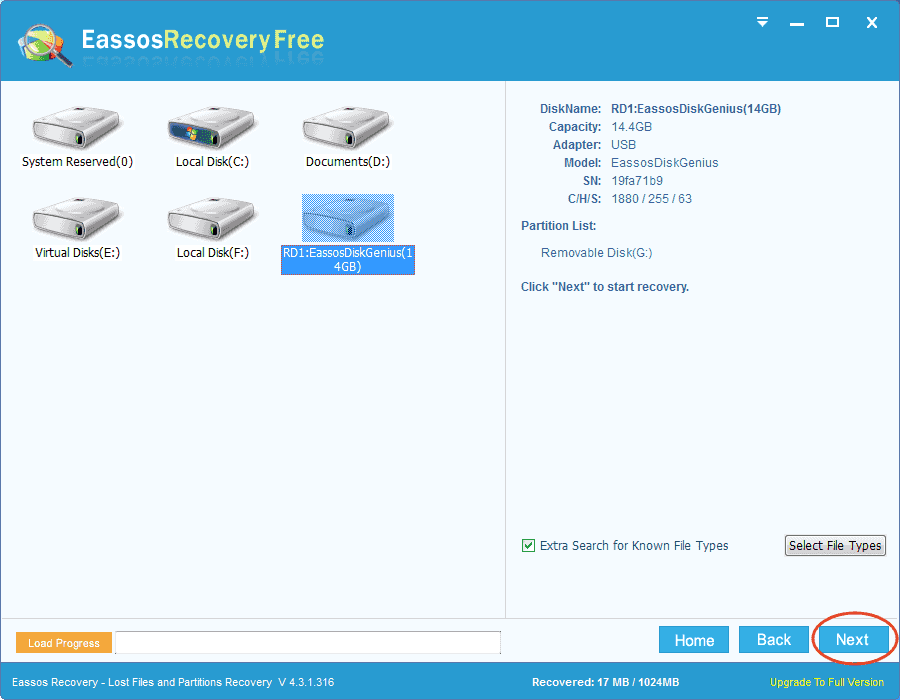 Step 5: Preview recoverable photos in scanning result.
Once the scanning process is done, you can view and preview listed files to check if needed photos have been found. Double-click on a file from the right pane and view file content on a pop-up window.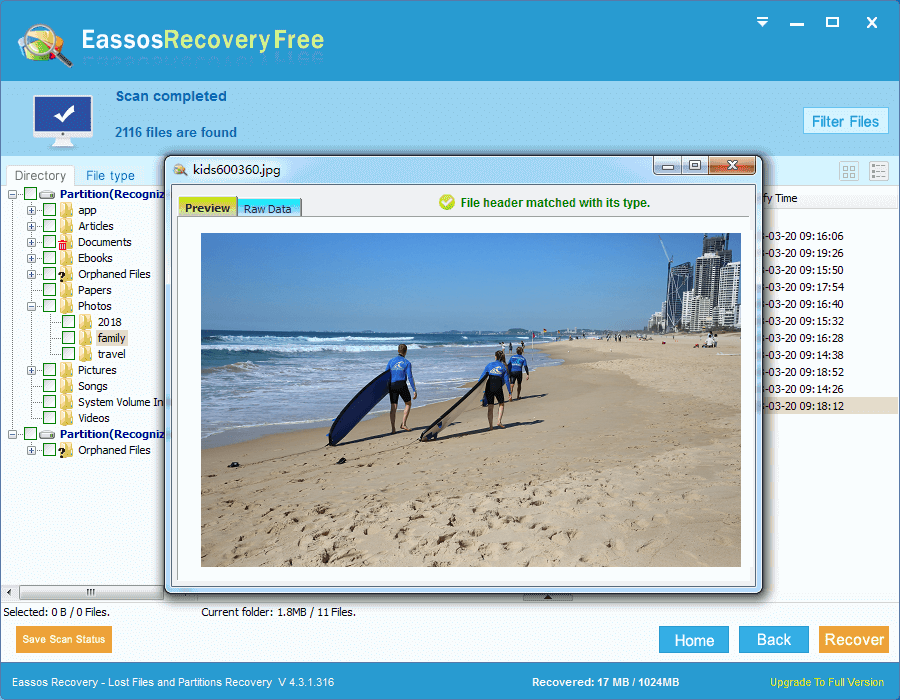 Step 6: Copy and recover photos.
Choose photos and other files you want to recover in scanning result and click Recover button. Then you will be prompted to set a location to save recovered photos. Once all needed files are saved to specified location, deleted photo recovery is completed.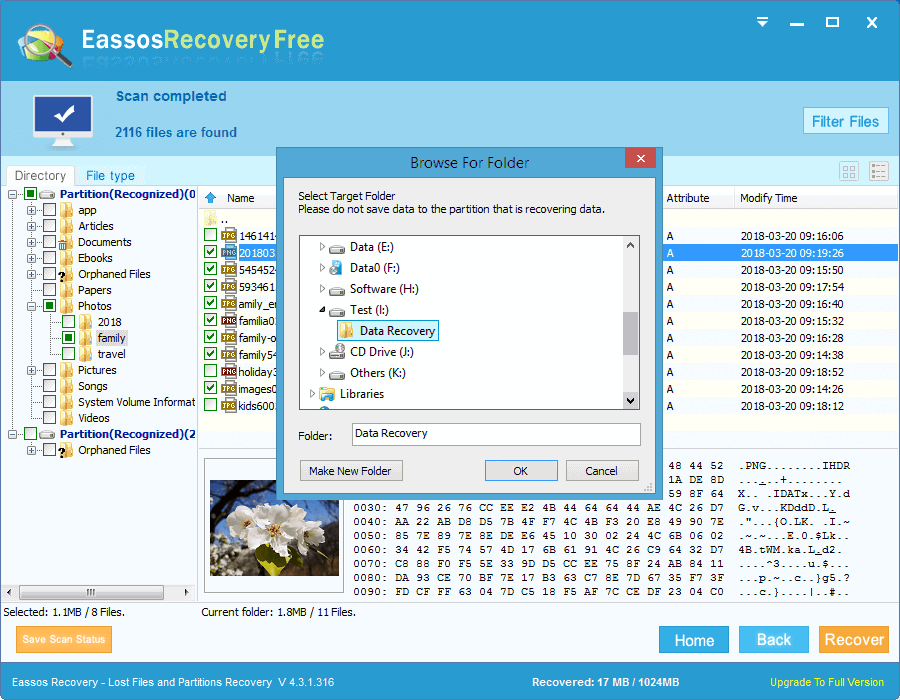 You may also be interested in:
Frequently asked question regarding recovering deleted photos from SD card free download
How to recover lost photos from formatted or corrupted SD card?
It is recommended to check if there are any backups for lost photos; also you can try scanning SD using Eassos Recovery Free's "Recover Files From Partition" function. Just follow on-screen steps to complete recovery
Why cannot I save found files to SD card directly?
The recovery process is read-only and does not allow users to store files to the device being scanned. If you store found files to SD card, lost files will be damaged and overwritten. Thus, you should save data to a different location.
Can I recover deleted photos and videos from SD card of my Android phone?
Yes, lost files are recoverable as long as they are not overwritten. You can connect the SD card to computer via a card reader and then start recovery with Eassos Recovery Free.
Conclusion
So much about the process of recovering deleted or lost photos from SD card free download and you can go ahead to try this solution to get back lost photos, videos, music, document and other files now. One important to be noted that just stop using your device and SD card as soon as data loss issue happens, otherwise you won't be able to get a satisfied recovery result. Please let us know if you have any suggestion, questions or doubts regarding this topic.