Updated on November 6th, 2020
This guide talks about photo and video recovery solutions which helps to recover deleted photos, pictures, video, audio and other media files from digital camera memory card, smartphone and computer hard disk. If you deleted photos or videos by accident, just free download the photo video recovery freeware to get back deleted or lost files now.
About photo and video recovery
Nowadays, digital camera and smartphone enables users to take high-quality photos and videos and most users are obsessed with capturing photos and video. It is common to keep hundreds of multi-media files on hard disks, removable devices, SD cards, etc. Those files are general of great importance, for they might be vocation photos of family members, videos recording kid's childhood, working materials, etc.
However, not all of us have formed a habit of backing up in regular. That way, we have to deal with data loss issue. There is the likelihood that most of us have experienced the trouble of losing important photos or videos. Some may delete files by mistake, some may format device unintentionally, and still some gets a corrupted / RAW drive. Whatever the reason, lost photos or videos are probably not gone for good.
If you have not tried recovering any lost data, deleted photos and video recovery might sound complicated and difficult, and yet as a matter of fact photo and video recovery is quite easy. Free photo and video recovery software can help you recover deleted or lost photos and video via simple steps.
Free Video and photo deleted recovery software free download full version
Eassos Recovery Free, free photos and video recovery software from Eassos, can recover deleted photos, videos, music, images, pictures, documents, emails and more from PC/laptop, RAW drive, USB flash drive, digital camera, SD card, thumb drive, pen drive, etc.
Main features:
Deleted photo recovery: recover deleted or lost photos, pictures, images from SD card, flash drive, HDD, external disk, etc.
Deleted video & audio recovery: it is capable of retrieving deleted video and audio files from computer and removable devices.
Format recovery: restore lost files from accidentally formatted NTFS/FAT/exFAT partitions with original directory and file names.
RAW drive recovery: scan RAW/corrupted drives to find out recoverable files without affecting device and lost data.
Preview scan result: View media files to check if files are recoverable before final recovery.
Intuitive user interface: The interface is user-friendly, which only requires several simple clicks of mouse.
Photo and video recovery guide: how to recover deleted photos and video?
Below is the step-by-step guide of recovering deleted photos and videos using Eassos photo and video recovery freeware – Eassos Recovery Free.
Step 1: Download and install Eassos Recovery Free on computer.
Download the software from Eassos official site and you can install it on your computer. It is compatible with Windows 10/8/7/vista/XP 32 bit and 64 bit.
One thing should be noted that the recovery software should not be installed to the drive where you are going to recover data.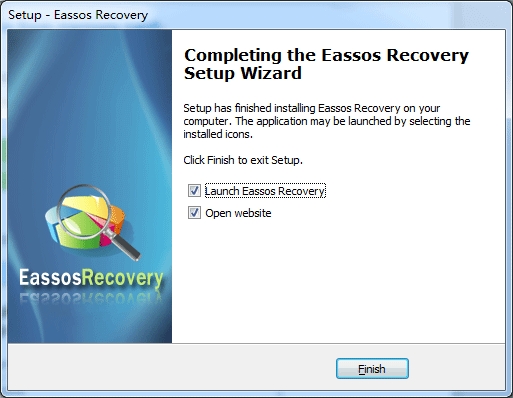 Step 2: Connect device to computer.
If photo video recovery is about to be performed on camera, flash drive or other removable device, you need to get them properly connected to computer. Be sure these devices can be correctly recognized by computer.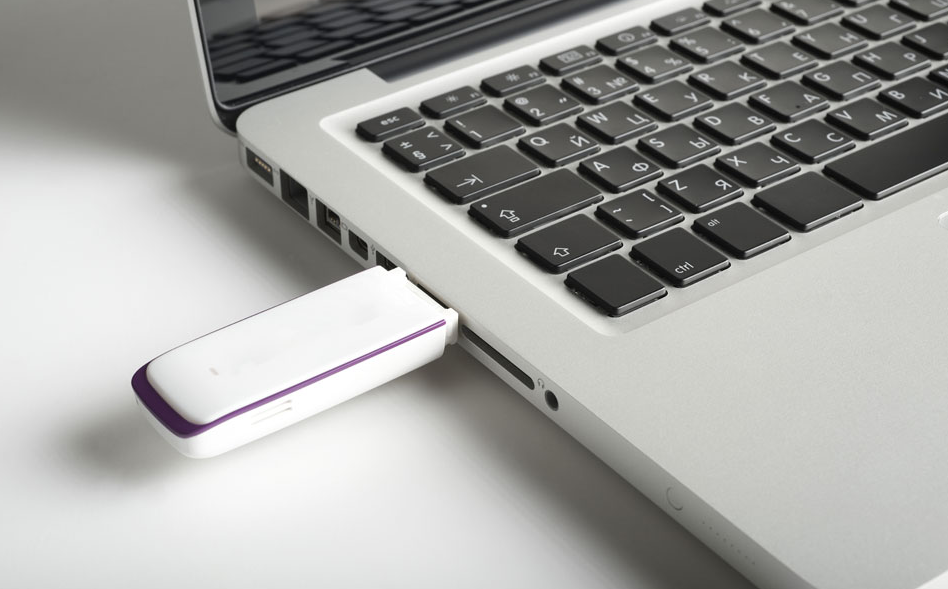 Step 3: Launch Eassos Recovery Free and choose recovery function.
The home interface shows 4 recovery modes and you can pick one depending on data loss reason. In this example, we click on Recover Deleted Files, for this option supports to recover deleted photos and videos.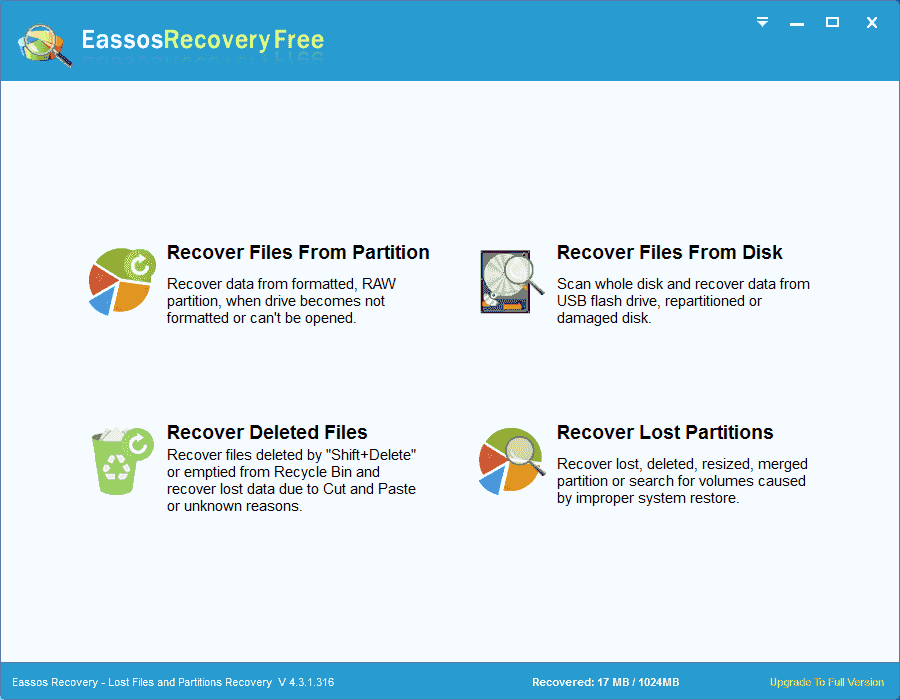 Step 4: Select device to scan.
In this window, you can see all drives attached to your computer. Just highlight the one where deleted photos and videos were stored. Then click Next button to let the software search for lost data.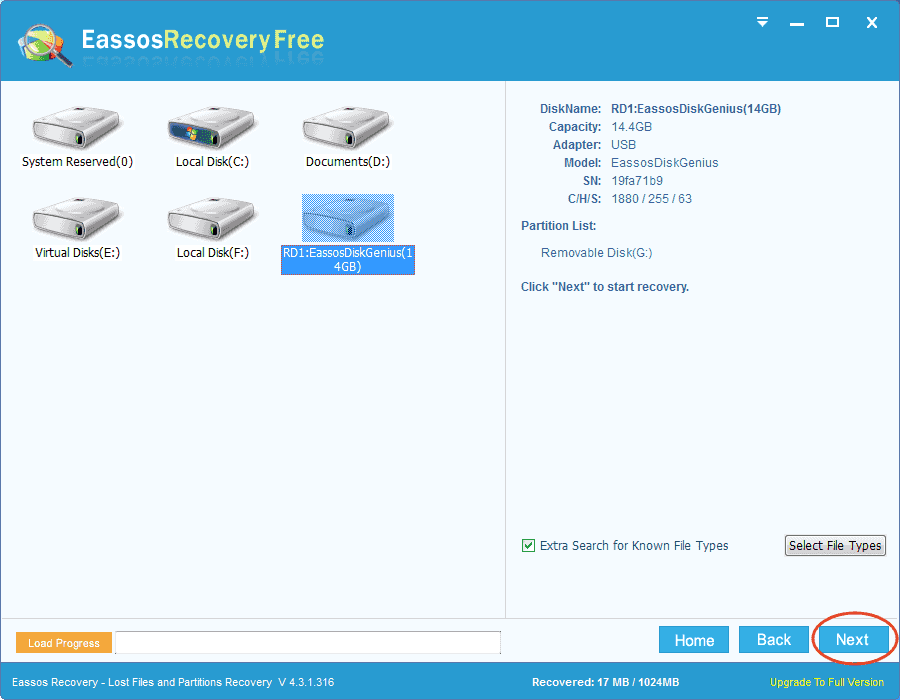 Step 5: Preview photos and videos in scanning result.
Eassos Recovery Free supports previewing of photos, videos and audio files: double-click a file and you can view full-sized content on a pop-up window.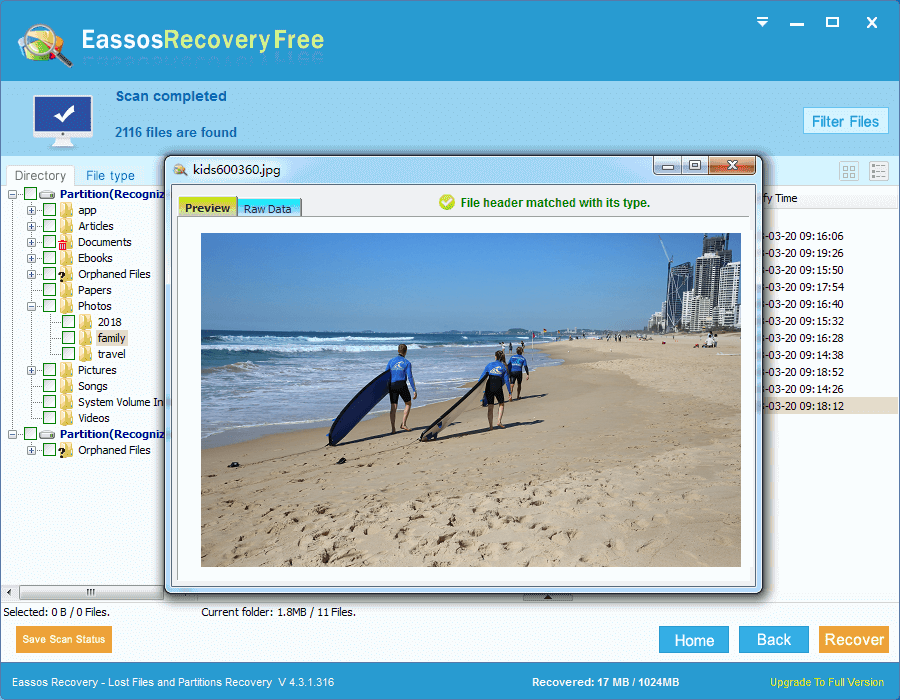 Choose those files you want and click Recover button to save them onto a secure location.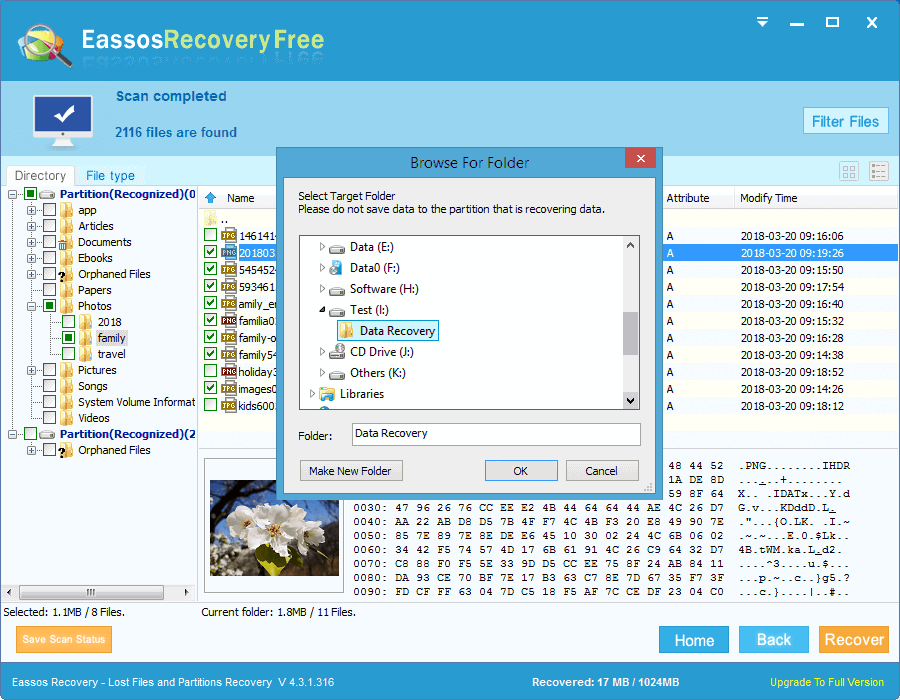 FAQs on photo and video recovery
1. The camera does not show in the software. How to proceed the recovery?
This might be because camera is not properly detected by system, you can try connecting the memory card via a card reader.
2. How to verify whether deleted videos are recoverable?
The file preview of video files can help you check if the file is damaged. It is recommended to let the preview play continuously from start to end.
3. Can I save recovered files on the same drive?
No. Please set a location on a different drive to save found photos or videos. The software does not allow users to save files on same drive in case of data overwrite.
4. Do I need to rescan the drive after upgrading to the full version?
No. If you've bought a license code, you can enter it on the free edition, after which it turns to Full edition without restarting.
Conclusion
All in all, deleted photo and video recovery is an easy task when you can actually get Eassos Recovery Free to work. Since data loss issue happens every now and then, the recovery skill should be learnt. If you are in a similar situation, you can follow the guide stated above to undelete and retrieve lost files. If you find this article helpful, please feel free to share it.
Related Articles:
Video File Recovery: How To Recover Deleted Videos?
Photo Deleted Recovery Software Free Download
Best Free Video Data Recovery Software Free Download