Updated on October 22nd, 2020
Want to recover deleted data? Free download deleted data recovery freeware – Eassos Recovery Free to recover deleted data, photos, files, documents, music, video, email from computer, hard disk, external hard drive, pen drive, SD card, USB flash drive and more in Windows 10/8/7.
Overview on deleted data recovery
"How do you recover recently deleted data from emptied Recycle Bin? The system drive was running out of space and computer turned slowly, and I had to delete some data to get free space. I accidentally deleted a folder from desktop and I though it had been backed up, however, the backup is nowhere to be found. Now the Recycle Bin has been emptied. The deleted folder contains 5 Word documents which were prepared for the monthly meeting. I don't want to take my laptop to anyone else, for most data is sensitive. Do you know any secure deleted data recovery freeware that will work on my case?"
When you delete a file from computer's internal hard drive, it will go to Recycle Bin from which you can restore the deleted file to original location. What if Recycle bin gets emptied or the file is deleted by Shift + Delete? Or what if you delete files from external disks? Does that mean you are going to lose data for good?
In many cases, deleted data is recoverable with the help of effective data recovery software. You may wonder how does deleted data recovery work? To answer that question, you may need to understand what happens when a file gets deleted. When a file is deleted from hard drive or any other devices, the file system updated itself by marking space occupied the deleted file as Free so that the space can be reused for new data. In fact, the deleted file remain on the drive before the space gets occupied again. If you continue using the storage device after deletion, you are likely to overwrite lost files. Data recovery software is designed with specialized algorithms, and it is capable of scanning the drive sector by sector to analyze and identify those lost files.
The best deleted data recovery software free download full version
To recover deleted data, you can either send your computer to data recovery center or use free deleted data recovery software. Due to the cost of manual recovery services, the recovery freeware is more recommended. Eassos Recovery Free supports to handle all kinds of data loss problems for example, deleted file recovery, formatted recovery, RAW drive recovery, lost partition recovery, and it is comparable with various devices such as PCs, hard disks, external hard drives, USB drives, pen drives, SD card, etc. More features of Eassos Recovery Free:
Recover all types of data: Hundreds of file types are supported by the recovery tool, like photos, videos, documents (Word, Excel, PowerPoint, PDF, etc.), archives, music, email, database, compressed folders and so on.
Preview prior to recovery: Preview files during and after scanning to check recovery quality easily.
Easy-to-use: The entire recovery process can be simply divided into 3 parts: Select recovery mode > scan the device > preview and recover data.
Supported file system: NTFS, FAT12, FAT16, FAT32, exFAT.
You may also be interested in:
How to recover deleted data using deleted data recovery freeware?
You may need to check the Recycle Bin in the first place when you are aware some files get deleted from computer hard disk. If deleted data is not there, you can follow the step-by-step guide below to recover deleted data using Eassos Recovery Free.
Step 1: Launch Eassos Recovery Free and choose a recovery mode.
You should see 4 options after Eassos data recovery software is launched, choose Recover Deleted Files; if you want to recover formatted data or RAW drive, you can try Recover Files From Partition.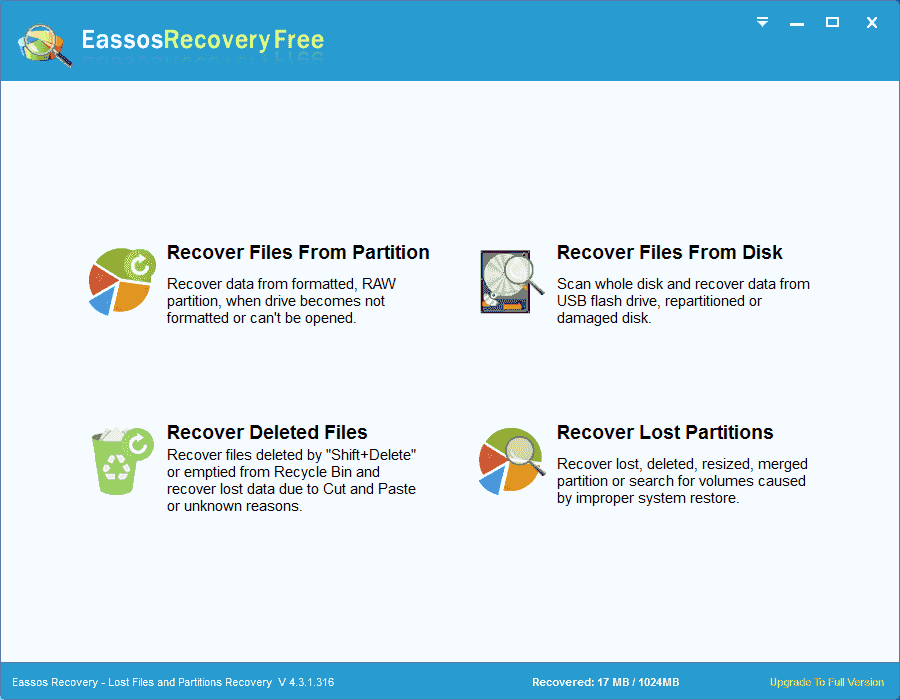 Step 2: Choose the drive to scan.
In this interface, you can see a list of partitions on your computer and choose the drive where deleted data is located. Then click Next button to scan the drive for lost data.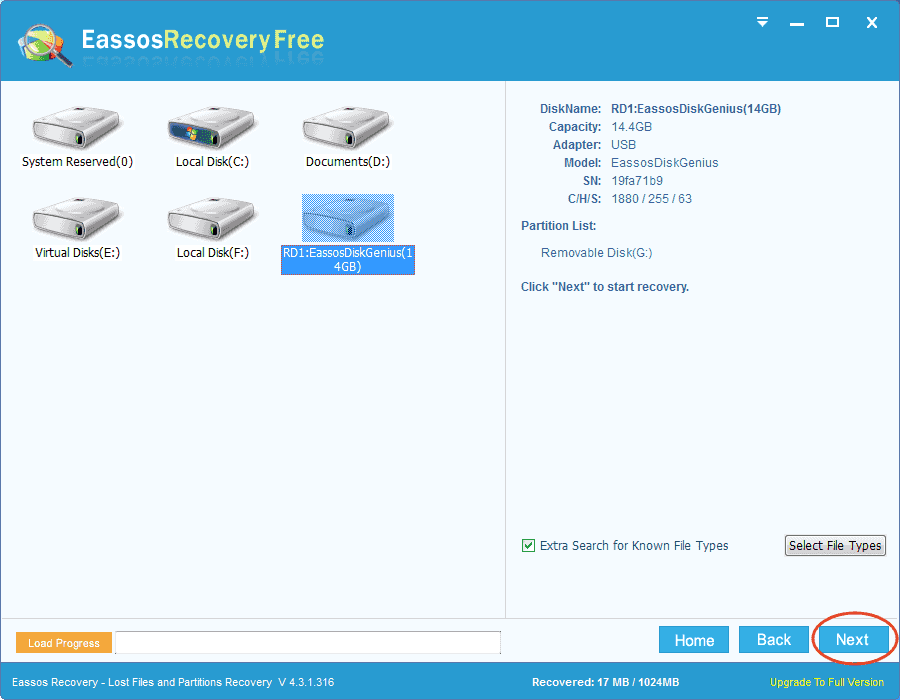 Step 3: Preview and recover deleted data.
After scanning completes, you can check and preview listed files: check if needed files are found and whether files are damaged.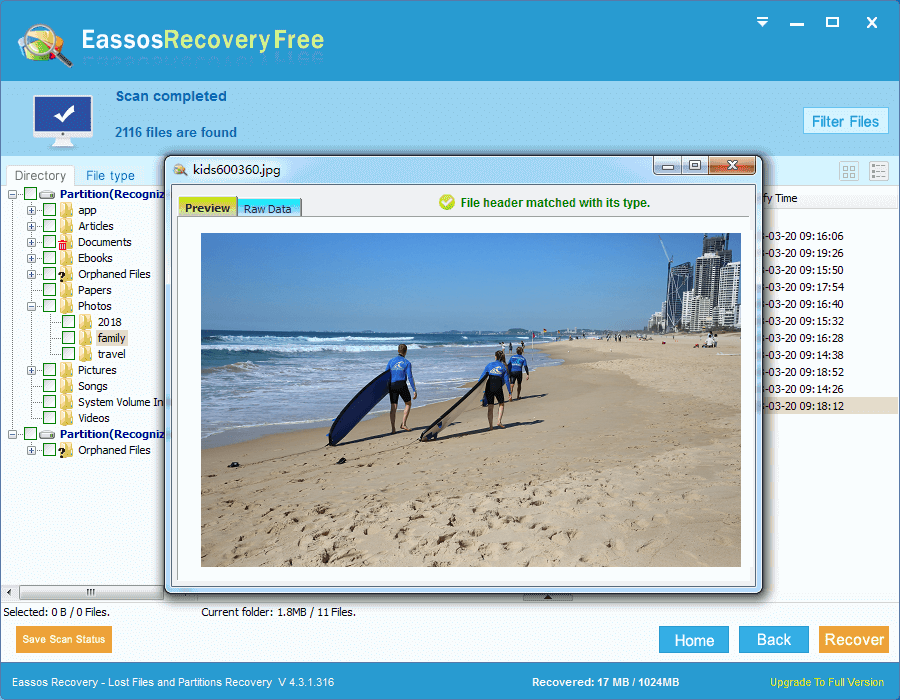 To finish deleted data recovery, you need to copy wanted files to another drive: choose files to be recovered and click Recover button.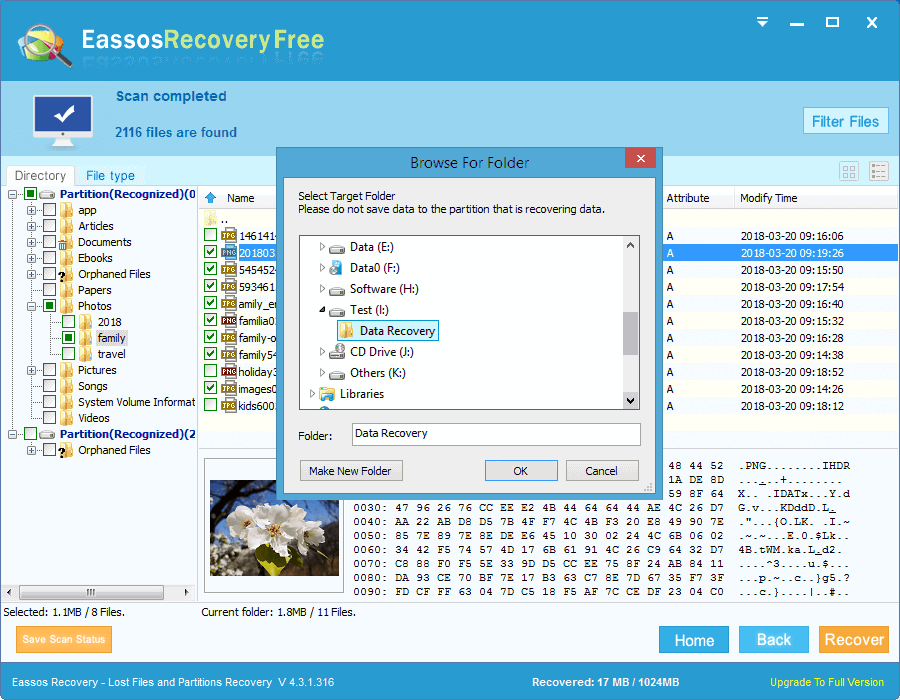 Frequently asked question on recovering deleted data
1. Can deleted data be recovered from SSD?
No. Nowadays, almost all SSDs uses TRIM technology which ensures fast speed and high performance, and yet TRIM will permanently files during deletion. Thus, it is hard to recover deleted data from SSDs.
2. How to recover lost data from a deleted partition?
You can use "Recover Lost Partitions" to search for the deleted partition and get it restored.
3. How can I avoid data loss issue in the future?
The most effective method is regular backup. You can create backups on daily or weekly basis or back up files after making important changes. Backup files can be stored on different devices, such as external hard disk, cloud storage.
Tips on using deleted data recovery software
Do not save or install data recovery software to the partition that contains deleted data. It is important to stop using the device after file deletion happens, otherwise lost files will be overwritten. If you continue to use the device such as store data, edit or view existing files, reformat the partition, resize partition, etc. you will end up with overwrite lost files.
Act fast and follow user guide: the sooner you start recovery, the better result you may get. When you notice file deletion, you should start the recovery as soon as possible. Remember to follow recovery steps advised by the recovery software.
Use the free or trial version. It is ideal that deleted data recovery freeware can fix the issue for you; if you want to try paid software, you can start with the trial edition to test recovery quality before placing an order.
Conclusion
Frankly speaking, the feature of recovering deleted data is provided by almost all data recovery software, and yet you can test and compare before choosing one. Although the recovery is simple, you should always keep backups for important data. Should you have any questions regarding this topic, please feel free to leave a comment or contact support team.