Are you looking for a solution on how to recover deleted video files from PC & removable devices? You can try Eassos video recovery software supports to recover deleted or lost videos from any device. Free download the best free video data recovery software from Eassos to get back lost video files from deletion, formatting, RAW drive, virus attack, partition missing, OS crash and other data loss situations.
About video recovery
Video recovery provides the solution to get back deleted of lost video files on computer internal hard drive or removable disks like SD card, USB flash drive, digital camera, external HDD, etc. after accidental deletion, formatting, system corruption, RAW drive, virus attach, etc. In general, there are three ways you can try when recovering deleted videos: restore deleted videos from Recycle Bin, retrieve lost video files from backup and recover deleted/lost video files using video recovery software.
Video recovery from Recycle Bin: when we delete a file from internal hard disk of PC, operating system puts it to Recycle Bin, thus we have a chance to restore the deleted file before emptying Recycle Bin. Recycle Bin is very helpful in most cases, and yet it cannot always help us get back deleted data, for example, files deleted from external device won't be moved to Recycle Bin.
Video recovery from backup: If you've backed up video files and other data, such as upload them to a network drive, you can easily retrieve lost files from backup. Also, you can keep backup copies on physical disks like external hard disk, which can also help restore lost data as long as backup is up to date.
Video recovery software: if the first two solutions do not work such as Recycle Bin gets deleted, you want to restore deleted videos from SD card, etc. what will you do? The recommended method is to use video recovery software. Video recovery software can be free downloaded to get back lost data safely and quickly.
Video recovery software free download full version
Free video recovery software: Eassos Recovery Free is the best free software to delete videos and other data. This recovery software comes with a delightful simple wizard and it does not require any complicated operations. You can use this recovery software to scan either internal or external disks to look for lost files due to deletion, formatting, corrupted drive, partition loss, and more. Lost files will be presented with original names and file types, and you can preview files to check quality in advance.
Professional video recovery software: DiskGenius is a wonderful tool for computer users, for it covers many users features in disk management, data recovery, data backup and disk utilities. As to data recovery, it includes both basic and advanced functions, for example, file recovery, partition recovery, RAW drive recovery, encrypted partition recovery, virtual disk data recovery, RAID recovery, image disk, hex editing, etc. The interface is informative and yet the actual data recovery process is nice and simple. In the next part, we are going to show you how to recover deleted videos from hard drive, memory card, or other device with this recovery software.
Video recovery software guide: how to recover deleted video files?
Download and install DiskGenius on your Windows computer and you can follow steps below to get back deleted videos. Note: do NOT install the software to the drive where lost files were stored. If you want to recover deleted or lost videos files from removable devices such as external hard disk, SD card, USB flash drive and so on, please connect it to your computer and make sure it can be recognized.
Step 1: In DiskGenius, right-click on the drive from which you need to do video recovery and choose Recover Lost Files from context menu.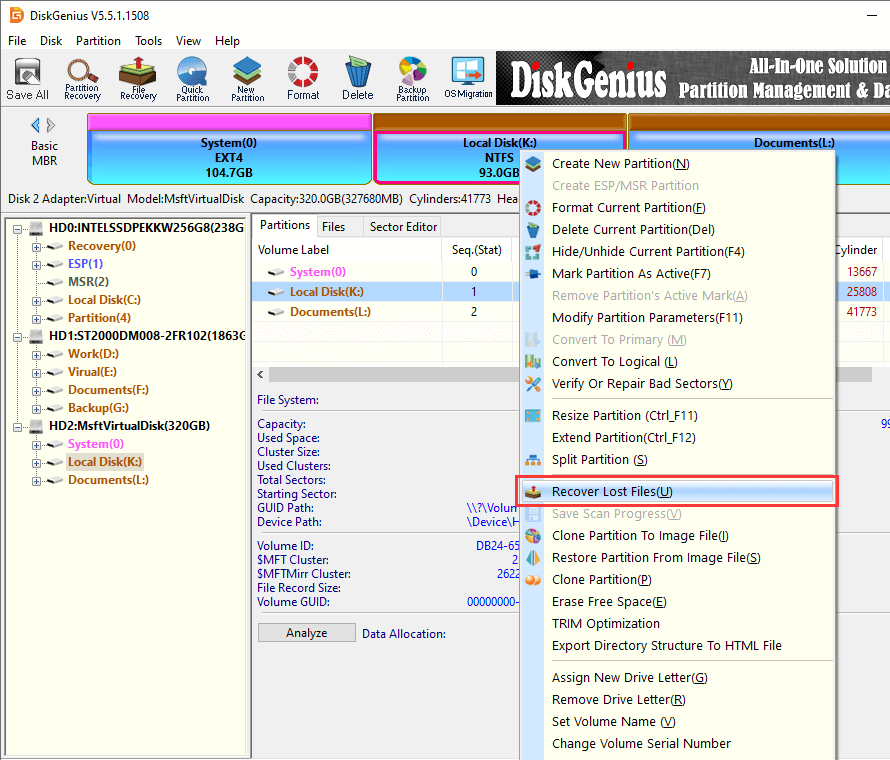 Step 2: Click Start button to scan the drive.
Actually, there are several recovery options on the Recover Files window, and you can select according to data loss situation. Also, you can just follow the default settings to let to software search for lost data.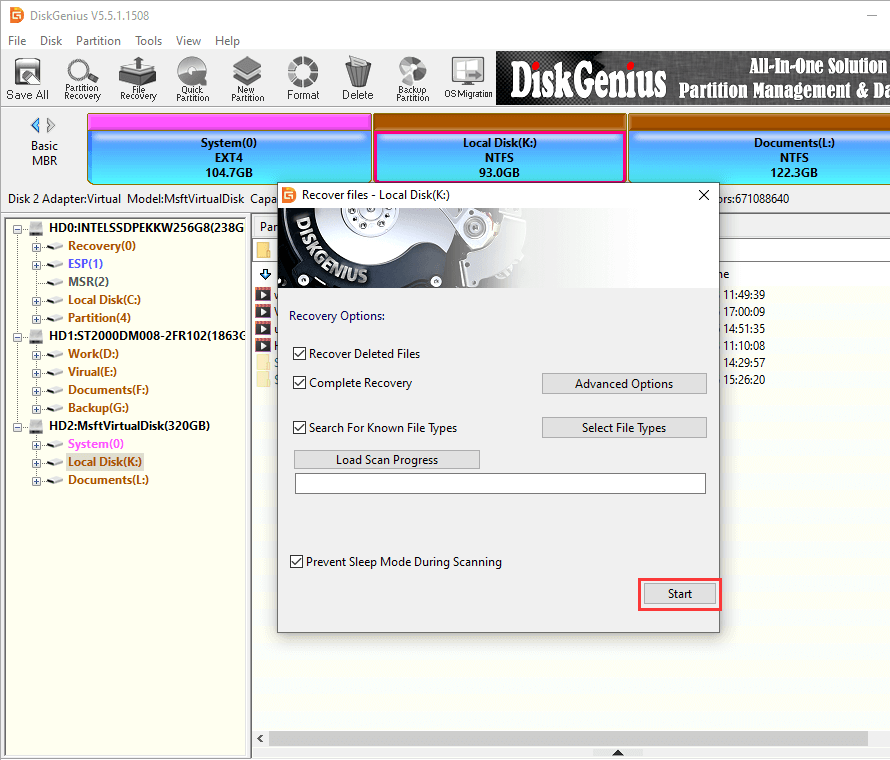 Step 3: Preview recoverable video files.
You can double click a video to let the software play the file, as follows. It is recommended to preview the video file from beginning to end continuously in order to make sure whether it is damaged.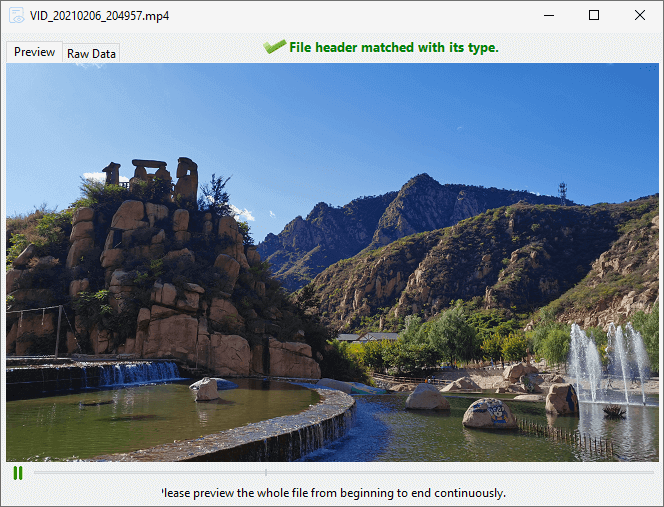 Step 4: Recover lost video files.
Choose files and folders you want to restore, right-click on selected data and choose Copy To.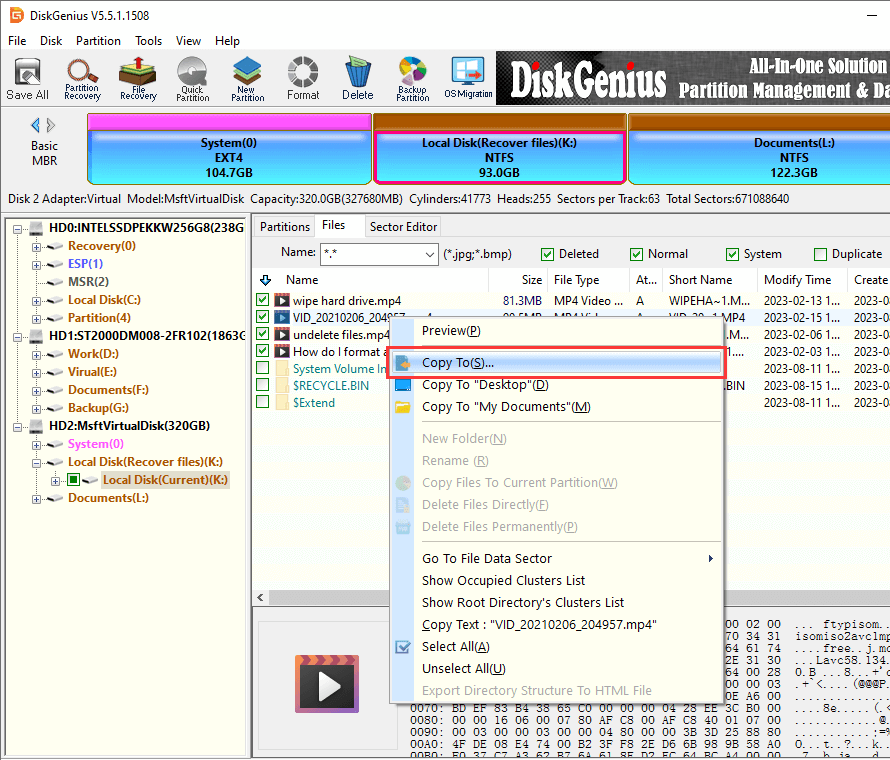 Video file loss scenarios
Why and how does video file get lost? Here are some of the common situations of video file loss issue.
Deletion: deleting files by mistake might be one of the most common causes of video file loss. Many users would like to delete files to free up disk space and improve performance, but the deletion might remove some important data.
Formatting: Formatting process removes all data of the entire partition.
RAW drive: partition cannot be accessed and opened and reports errors like 'You need to format the disk in drive before you can use it.'
Virus attack: Files can be deleted or destroyed by virus. There is a threat of virus attack as long as the device is used on a computer which does not install anti-virus software.
Low battery: Digital camera or mobile phone has low battery when recording videos.
Improper actions: abruptly remove data storage devices from computer without clicking safely removal of media or taking out of memory card from digital camera without turning off device in advance.
Conclusion
Video files are taken for the purpose of recording important moments and video data loss will be great loss. It is necessary for learn how to recover deleted or lost videos on your own. The video recovery software can help you get back lost videos, photos, music and other files quickly and easily. If you are troubled by video loss issue you can try either free recovery tool or professional recovery software to fix it.
Related guides
How to recover deleted videos?