Look for the best free deleted photo recovery software? This article provides free photo recovery software full version which can help you recover deleted, lost or formatted photos from PC, hard disk, SD card, pen drive, USB disk, digital camera, etc. in Windows 10/8/7. You can free download this free deleted photo recovery software and get back deleted photos now.
About deleted photo recovery
Accidentally deletion of important photos is a sad thing to happen and many users must have experienced data loss issue. The result is ending up with losing files stored on your PC or removable device if you do not try recovering them. Windows provides Recycle Bin to help us restore deleted data, which however is no available for other devices. Hence, deleted photo data recovery skills should be learned.
An easy way to get back deleted photos is restoring them from backup file. Backup is regarded as an effective solution to fight against data loss, and yet sometimes it is not able to recover lost data for us because it has not updated with new data. Therefore, it is important to create backup and keep updating it in regularly. When a backup is not available, you can try free photo recovery software to recover deleted data. Photo data recovery software is developed for the purpose of recovering deleted or lost photos and other data via scanning your drives. It is designed with special scanning techniques to analyze lost data on your device and then restore them.
Best free deleted photo recovery software free download full version
Eassos Recovery Free is photo recovery freeware and you can free download it to recover lost data. This free recovery software supports to recover deleted photos, images, pictures and other multimedia data quickly and safely. It has good compatibility with various storage devices such as emptied Recycle Bin, hard disk, digital camera, memory card, USB flash drive, SD card and so on.
All-in-one data recovery: recover lost photos from any data loss scenarios for example, deletion, formatting, hard disk crash, RAW drive, partition missing, bad attack, etc.
Photo recovery supports all types of image files like PNG, JPG, PSD, ICO, GIF, ORF, RAW, SR2, NEF, WMF, etc.
Video & audio recovery: apart from recovering deleted photos, it also works for video & music file recovery.
Safe recovery: it is 100% safe to do deleted photo recovery, for it is read-only process and does not affect original device.
Free download photo recovery software to recover my deleted or lost photos from PC & USB drives
It is completely free to download and install Eassos Recovery Free on your PC. You can follow the step-by-step guide below to recover your deleted photos and pictures and the recovery only needs several clicks.
Step 1: Launch Eassos Recovery Free and choose a recovery option.
Eassos Recovery Free provides 4 data recovery options to handle different data loss problem. Here you can easily choose the one if you know how your photos got lost. In this example, we need to recover deleted photos, thus "Recover Deleted Files" is selected.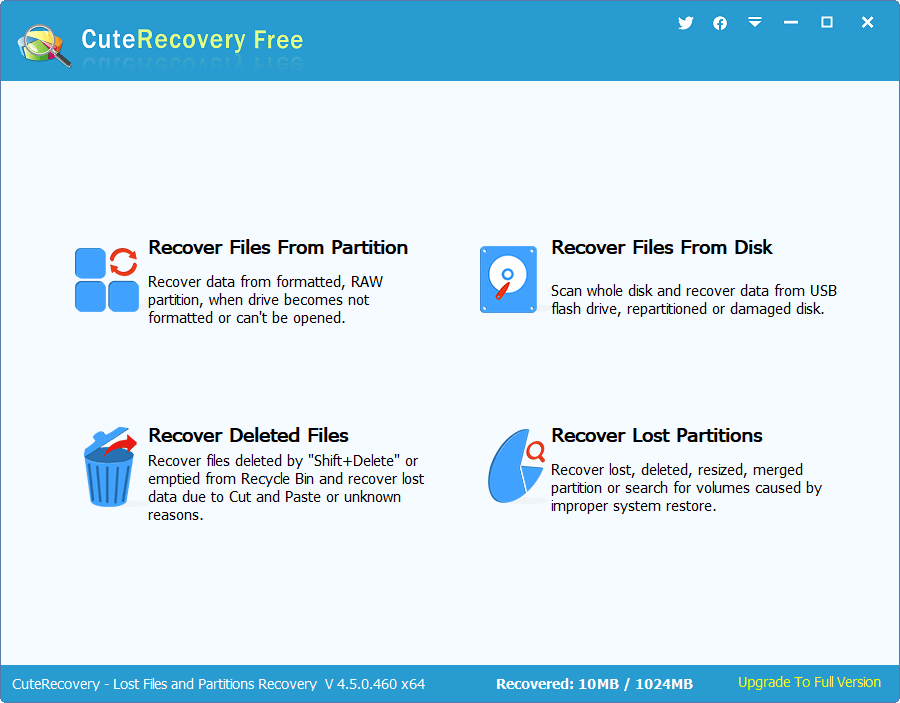 Step 2: Choose the drive where lost photos were stored and click Next button.
Partitions on your PC, including partitions of removable disks, will be listed in this step and you choose the one that needs recovering photos. Click on the Next button to start scanning the drive.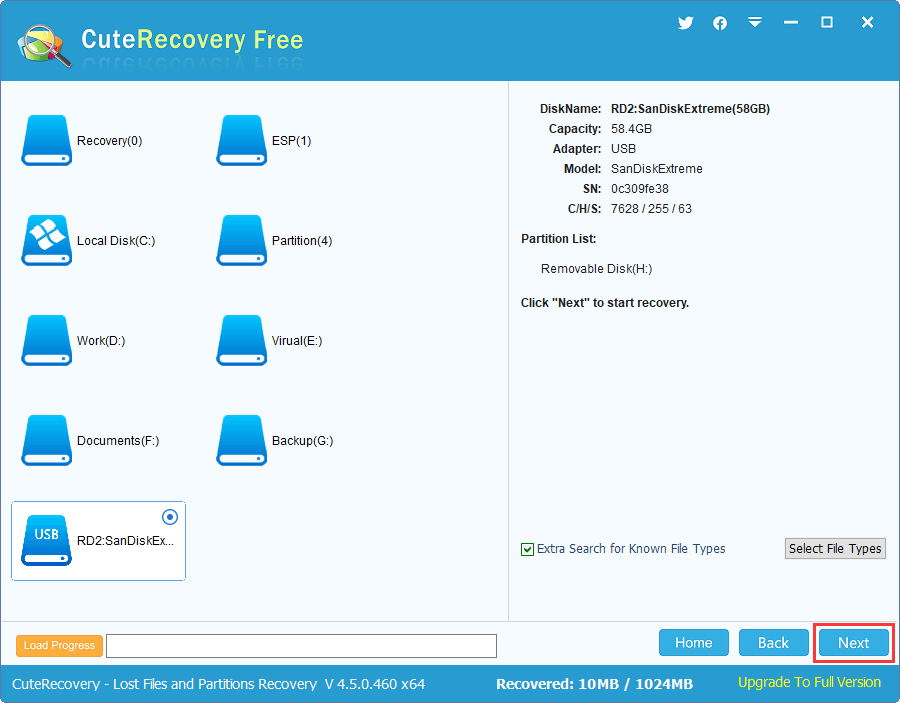 Step 3: Preview found files to check recovery quality before recovery.
File preview function is available on Eassos Recovery Free, and it supports to preview a wide rang if file types, such as photos, documents, videos, music, etc. Selected file is displayed in a thumbnail, and you can check original content in preview window by double clicking the file.
Step 4: Recover lost photos.
If you've found desired photos, you can easily recover them to a safe location: choose recoverable files and click Recover button.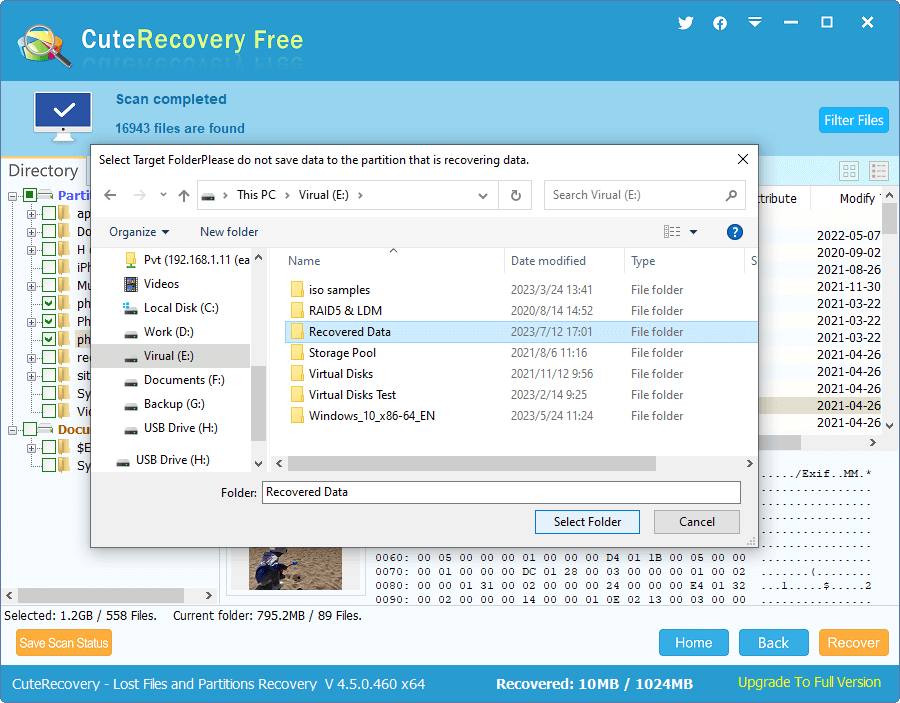 Tips for deleted photo recovery software full version
Here are some tips on Eassos Recovery Free to help you work better in photo recovery.
When you view files after scanning, you should check files listed under both Directory and File Type, for files of these two parts seldom overlap.
When you save found data, do not set the target location on the drive which needs recovering files. If you save data to the drive, rest lost files will become unrecoverable.
With Eassos Recovery Free, you can save 1GB recoverable data, which helps to verify recovery quality. If you need to save extra data, you can upgrade it to full version. This free photo recovery software has a full version Eassos Recovery which helps to save unlimited data.
Why is deleted photo recovery software full version able to recover deleted photos?
It is often asked on the Internet that "why is it possible to recover deleted photos?" "Why does photo recovery software support photo recovery" "How to recover my deleted photos?" Here is a simple explanation.
When you delete a photo from your PC hard drive and empty the Recycle Bin, operating system removes it from directory without wipe disk sectors of the photo. Windows records the disk space as free and allows new data to be stored on there. The deleted photo stays on hard drive even though it is not visible to users, thus it is recoverable as long as it is not overwritten by other data. This shows, we need to be carful to avoid data overwriting once data loss issue happens; otherwise, lost photos will be destroyed. Photo recovery software is designed based on this principle and it scans hard disk to identify recoverable data for you.
If you are going to deal with deleted photo recovery issue, then you can continue reading to find more about free photo recovery software full version. Now let's have a close look at the best free deleted photo recovery software free download full version.
Related articles
How to recover photos from SD card?