Updated on November 23rd, 2020
Want to undelete SD memory card? Important files are deleted from your SD memory card accidentally? Will you be panic or mad at your carelessness? Be easy, you don't need to be anxious about lost data, because they can be undeleted from SD card. You can get the whole thing done and undelete SD card easily and quickly with undelete freeware.
Situations to undelete SD memory cards
There are many cases that you need to undelete data from SD memory card on account that SD card is widely used by many digital devices.
Undelete valuable images and photos from digital camera
Undelete videos and pictures from mobile phones
Undelete songs from MP3
Undelete sound clips from recorder pen
Undelete lost documents from memory card
Undelete lost game files from game console
Undelete data from navigation device
Do you really know dos and don'ts before undeleting SD card successfully?
Be sure that the SD memory card is well protected. Keep is away from any possible physical damages, for that will make your data extremely difficult to be retrieved with SD card recovery software. And you might have to send it to recovery center where offers file recovery services. But the price of such service is quite high, which can't promise complete recovery of all deleted files and folders.
Stop storing more data on the card. If the card is placed in digital camera, then you should not capture more photos. If you are using cell phone, do not download new app to the memory card nor taking pictures. The reason for this is avoiding data overwriting.
Do not format the SD card, nor try any defragmentation programs. The defragmentation of memory card will damage important data which makes some files no longer recoverable.
How to undelete SD card with best undelete freeware?
The quality of undelete freeware is decided by many factors. And it is hard to tell which one is the best, as each freeware has its own advantages to undelete SD card. But we can easily find out which one is the most proper program for a specific occasion. When you are selecting recovery program to undelete files from memory card, you can consider the following aspects:
It has a specialized function to undelete files
No writing actions to the SD card and lost data
Be capable of handling various data loss scenarios
Easy steps for the entire recovery process
Fast speed for the file scanning procedure
Eassos Recovery Free is qualified and free SD card recovery software and undelete freeware. Its major functions are listed on the main interface, which enables users easily to choose correct feature for their actual data loss issue. The process of undeleting files are split into three steps: Select, scan and save. After installing Eassos Recovery, you can follow the guide below:
Step 1: Select recovery mode for lost files.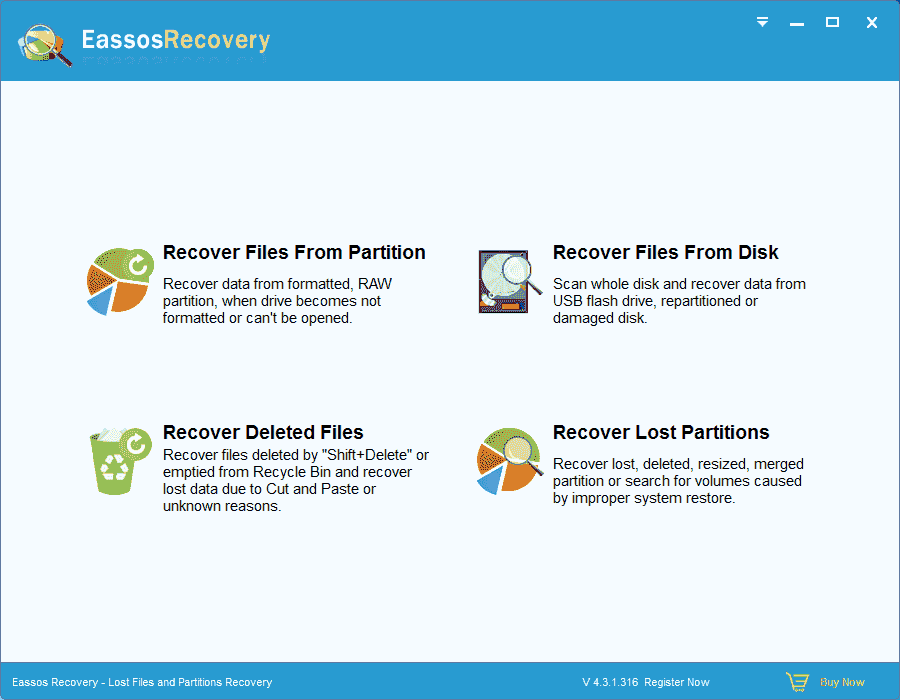 Step 2: Select the SD memory card and click "Next" to scan it for lost files.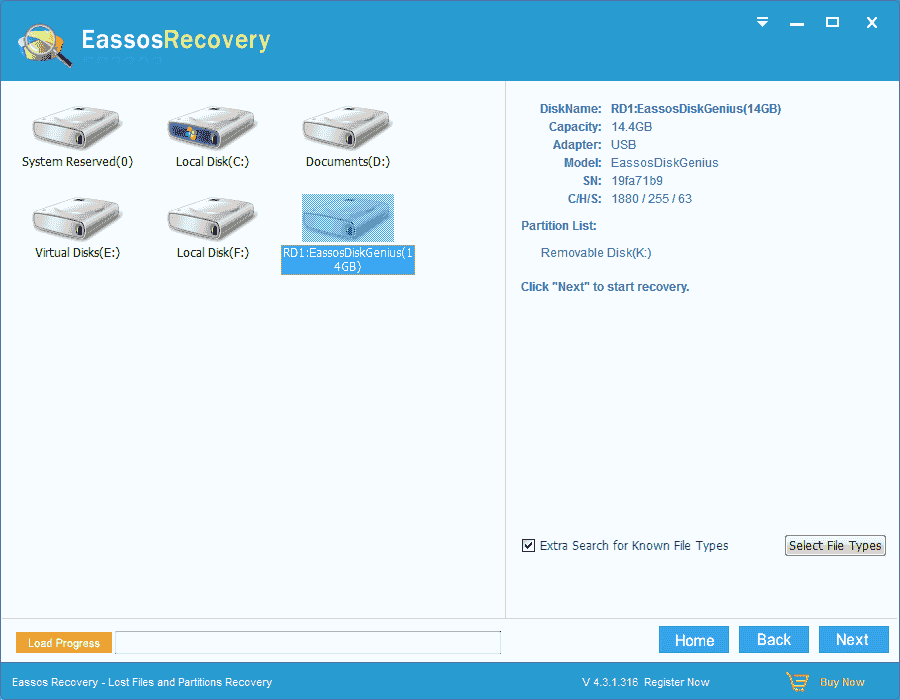 Step 3: Preivew wanted files and check recovery quality.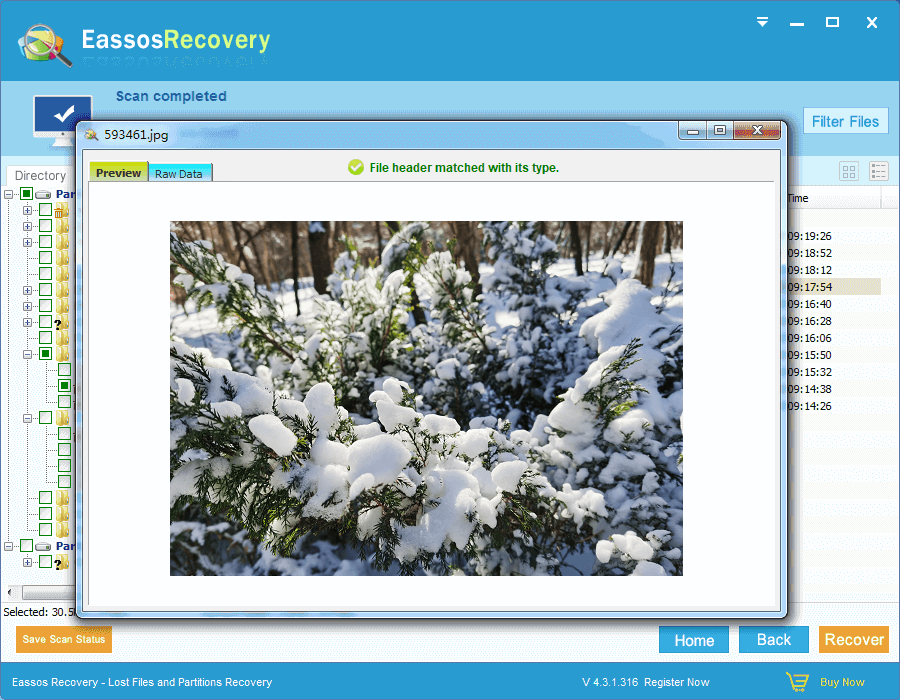 Step 4: Save found files to a safe location.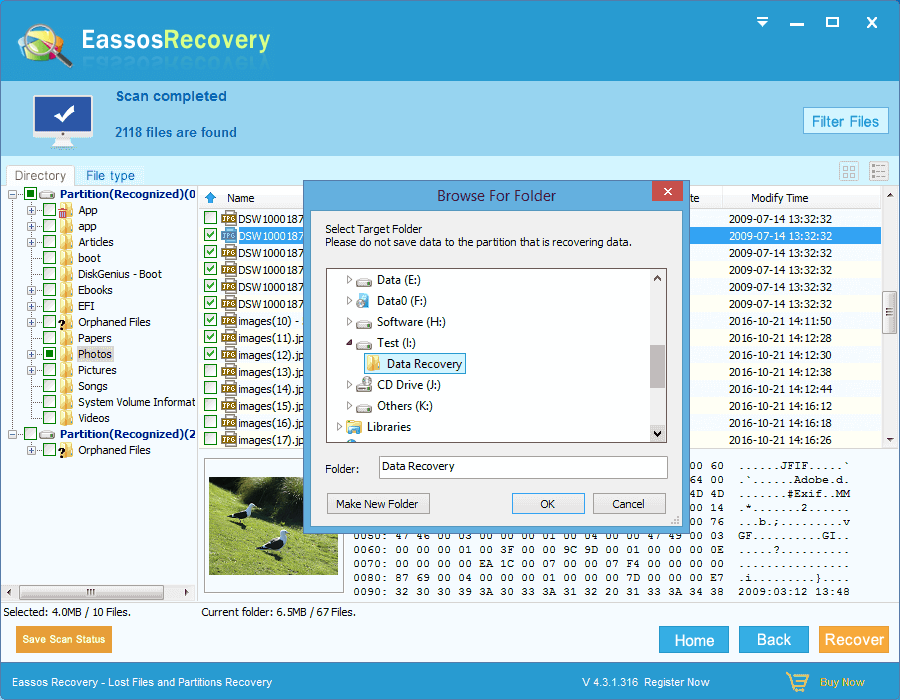 You may also be interested in