Updated on November 24th, 2020
Summary of ZIP files
A great number of users tend to use 7-zip or WinZip to compress large files or package files. Compressing of files can save storage space, speeds up email transmission, protect sensitive files and saving time.
Extension name zip represents a kind of file compression and archive format. In general, one ZIP file holds at least one file which is compressed to decrease file size or facilitate transfer. ZIP files usually utilizes ".zip" or ".ZIP" and the MIME media type application/zip, although the format has been adopted by many other applications too, often with a different name.
Causes of ZIP file loss
Compressed files are one of the most popular file format for data storage and transferring. Furthermore, zip file is widely accepted due to its compression and safety. However, zip file may get lost after formatting hard drive or other storage media. Main reasons of zip file loss are listed here:
Delete ZIP files by mistake
File gets replaced by newly saved file when they use same name
Hard drive of partition formatting
Virus infection
File system failure
System corruption gives black screen
Methods of ZIP file recovery after formatting hard drive
What's your first reaction after hard drive gets formatted accidentally? Some people may send their hard drive or computer to repair or recovery center. This may cost a long time and a large sum of money. While some choose zip file recovery tools to restore lost zip files. It has been proved by many that the second solution is the easiest and fastest way. All you need is a free file recovery tool which is workable for zip file recovery and able to help you restore lost data by yourself.
Eassos Recovery Free is the best free file recovery software which can recover ZIP files from all kinds of formatted hard drives including Western Digital, Seagate, Maxtor, LaCie, Plextor, IBM, etc. Also it supports SATA, IDE, SCSI, SAS, etc. interfaces with 2.0, 3.0, and 3.1. Let's see and follow the recovery procedure.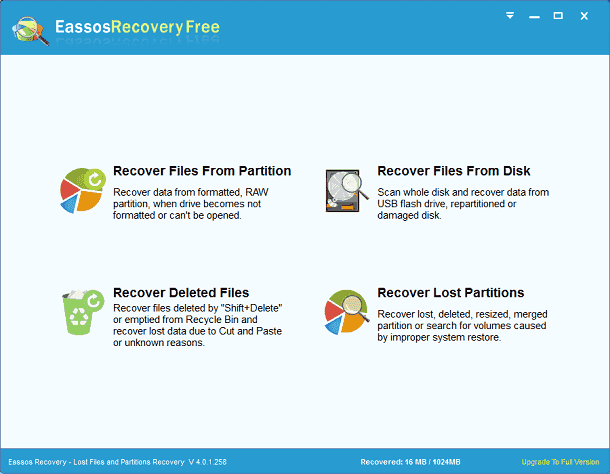 Step 1: Install Eassos Recovery to computer hard drive which doesn't wait for zip file recovery. Start the recovery software and select the first recovery mode.
Step 2: Select the formatted drive and click "Next" button to start file scanning.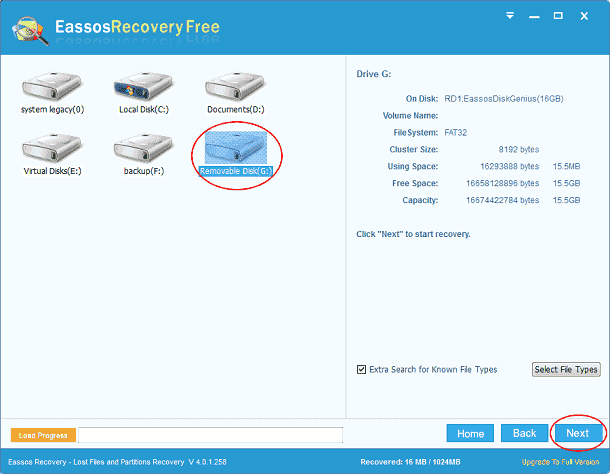 Step 3: After scanning, select desired ZIP files and save them to another drive which is different the formatted drive.