Photos get deleted? No panic! Photo recovery can help you get back recently or permanently deleted photos from SD card, PC, hard disk, digital camera, phone, USB flash drive, etc. Let's take a look at how to perform deleted photo recovery with the help of free photo recovery software.
Recently deleted photo recovery
Benefiting from the advancement of technology, no matter whether you are a photographer or an average user, anyone of us can capture a high-quality photo with the help of a digital camera or smart phone. We'd like to record important event or moments via taking photos or videos. Nowadays, photos have become an important of our assets. Under such circumstance, it is hard to accept photo loss issue.
However, photos may get lost due to all kinds of reasons, such as deletion, formatting, partition missing, RAW drive, virus and so on. Have you ever experienced photo loss issue? Do you know how to get back deleted photos? In this article, we are going to recommend a free photo recovery program and a step-by-step guide of recently deleted photo recovery.
What to do when photos get deleted or lost? To ensure a satisfied recently deleted photo recovery, you should be aware:
Stop using the device from which you want to recover deleted or lost photos. For example, do not continue taking photos. If new data is saved to the device, lost photos might get overwritten.
Choose an easy and effective method to deal with photo recovery task, such as free photo recovery software. Also, read the photo recovery guide prior to executing the recovery work.
Do not format or try repairing the device when photo loss is caused by RAW file system, partition corruption, virus, bad sectors, etc.
Best free photo recovery software download
Eassos Recovery Free is a free and popular deleted photo recovery program. It supports to recover lost photos from deletion, formatting, RAW drive, partition loss and many other photo loss situations. It is designed with a wizard interface which makes data recovery quite easy, thus even beginner users find no difficulty in data recovery. Eassos photo recovery freeware features:
Pre-recovery file preview: File preview allows users to view photos in thumbnail and full size, making is easy to choose needed files.
Safe recovery: Photo recovery process is read-only access to original device and loss data; thus, it is safe to work with it.
Flexible scanning: You can pause, continue, stop or resume scanning progress.
Supported file system types: NTFS, exFAT, FAT32, FAT16, FAT12.
Photo recovery guide: how to recover recently deleted photos?
Before we start the recently deleted photo recovery guide of recovering deleted photos, you need to get device ready. For example, if you are going to recover photos from camera SD card, you need to connect it to computer and make sure it can be recognized properly. A camera SD card can be easily connected to PC via a card reader.
Now is the step-y-step guide to recover recently deleted photos.
Step 1: Download and install Eassos Recovery Free photo recovery software on your computer.
You can free download this photo deleted recovery software from Eassos website. Double-click the installer and you can follow the onscreen wizard to get it installed.
Note: do NOT install the software to the device where lost photos were stored.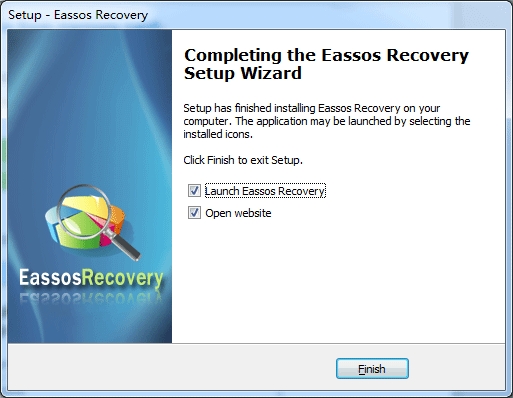 Step 2: Choose a recovery mode.
As you can see, there are 4 options on the home interface, and you need to choose the one according to data loss cause. For example, if you want to recover deleted picture, photos, videos or other data, you can choose Recover Deleted Files.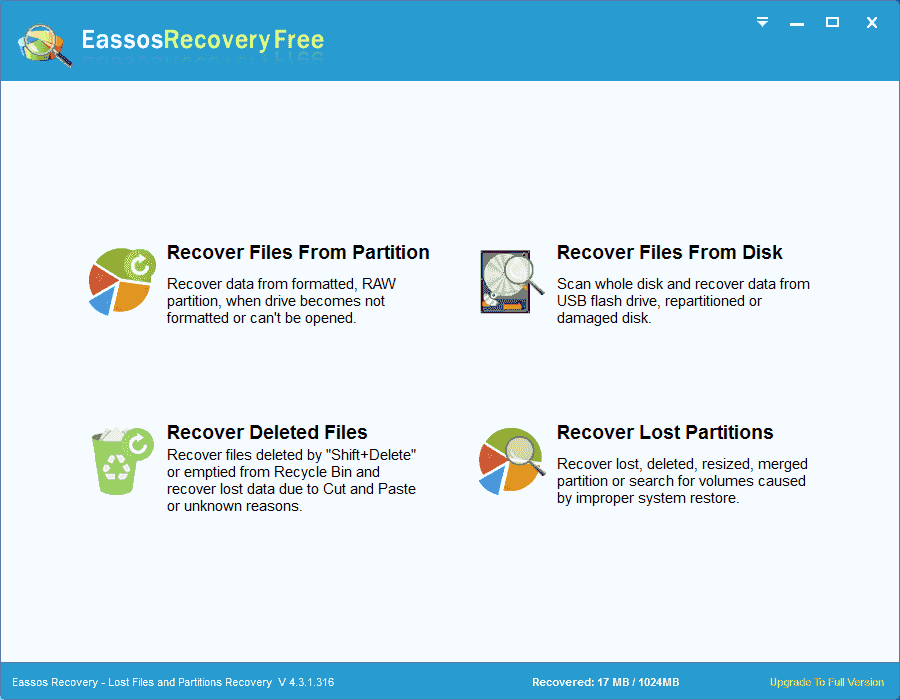 Step 3: Choose a location and click Next button.
In this step, you should choose the drive where you lost data and Eassos Recovery Free starts to scan the drive after clicking Next button.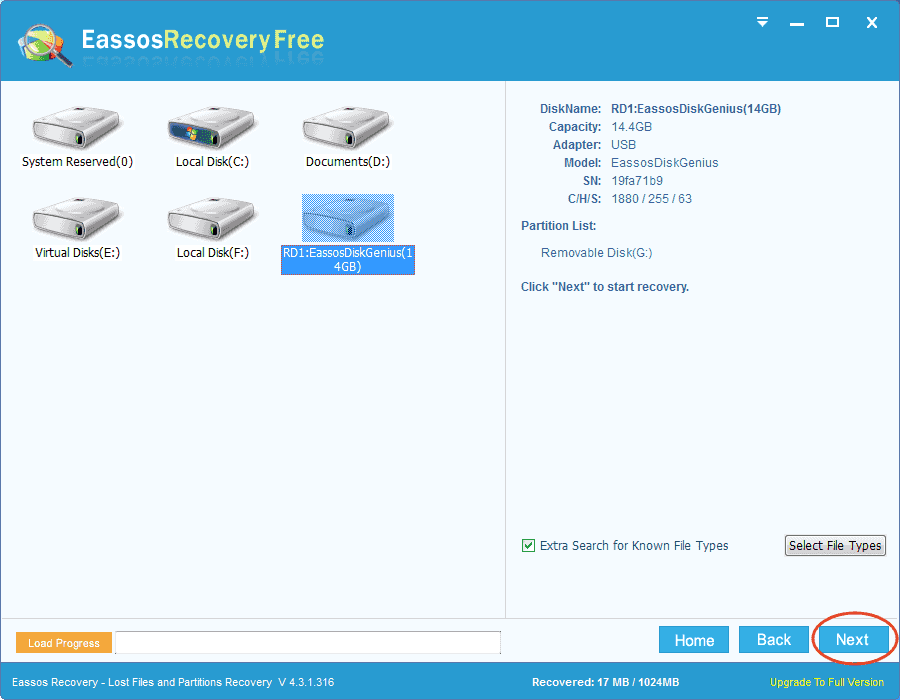 Step 4: Preview lost photos and pictures.
By way of preview listed files, you can find needed data easily and verify if these files are can be recovered correctly. If the preview prompts to failed due to file corruption, then the file cannot be opened after recovery.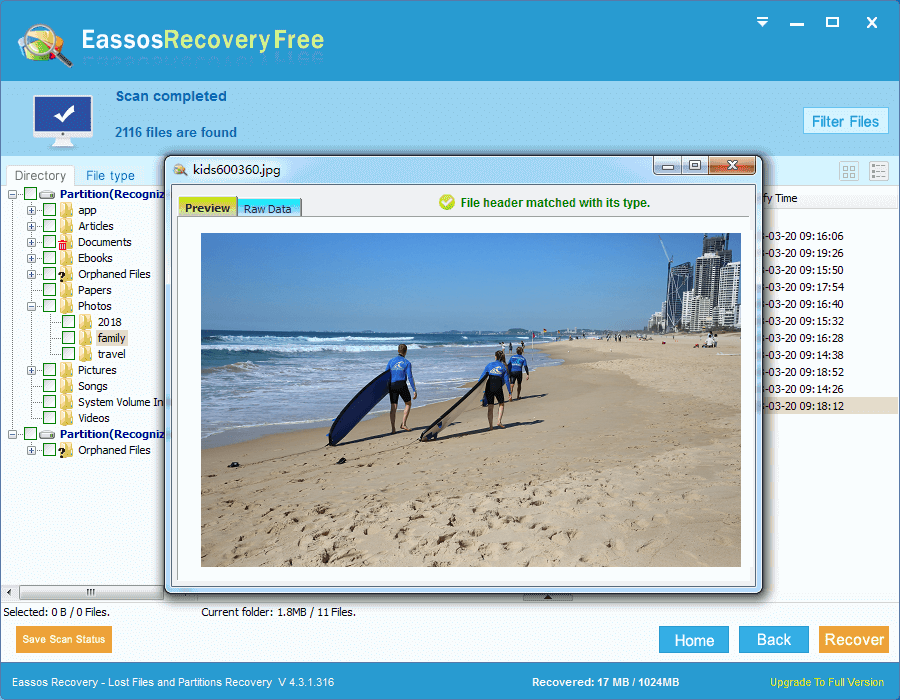 Step 5: Recover deleted or lost photos to a secure location.
Choose wanted photos and pictures and click the Recover button. Then you can select a location to save recovered data.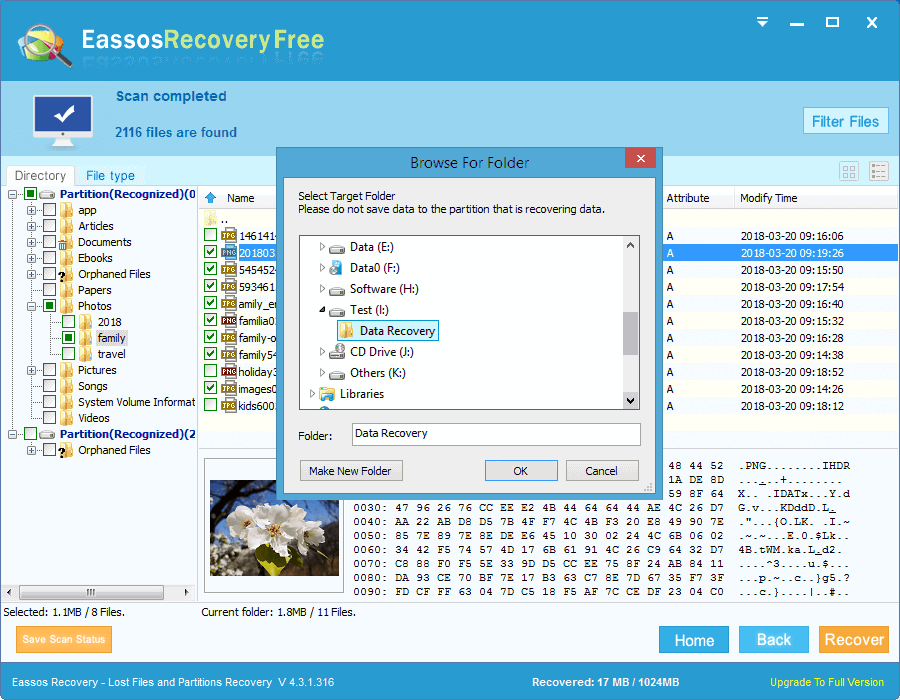 Notice:
Eassos Recovery Free is the Free edition of Eassos Recovery, this free edition works the same as the full version when searching for lost data and previewing files.
The free version can save 1GB found files. If you want to save extra data, you can upgrade it to the full version which removes the limitation.
Tips for avoiding photo loss issue
There is not guarantee that recently deleted photo recovery always works as expected, for instance, lost data gets destroyed due to data overwrite, storage device gets severe physical damage, etc. Therefore, it is equally important to pay attention to avoid data loss. Here are some suggestions you can follow:
Invest in reliable data storage device: do not buy storage devices like hard disk, USB flash drive, SD card, etc. from unknown brands.
Backup your photos regularly: it is easy to get files backed to local disk or cloud drives; thus, you can perform backup on daily or weekly basis.
Use storage device properly: if you are using an external disk, you should always click Safely removal media before disconnecting it. Also, do not let the device expose extreme environment.
Install antivirus software to make sure your computer and external device get well protection.
Conclusion
Losing important photos and other files can be a nightmare to users, and it is necessary to learn the kill of recovering lost photos. There is no doubt that a regular backup can help us get rig of many data loss issues, and effective photo recovery software can help us recuse lost data. Hence, we should keep backups as well as photo recovery software. With Eassos Recovery Free, you can easily find and recover recently or permanently deleted photos from various storage devices.
Should you need any help regarding recently deleted photo recovery, please check other online guides or contact our costumers support team vis email.
Related articles
How to recover my deleted photos?
Photo deleted recovery software free download
How to recover deleted photos from SD card?
How to recover deleted images / photos from memory card free?
How to recover deleted pictures/photos from SD card, PC, Android and iPhone?