Memory card recovery software free download full version for PC can be found here to help you easily and safely recover deleted, formatted, or lost data from memory cards, hard disk, flash drive, external HDD and other devices. Free download memory card data recovery freeware from Eassos and follow tutorials below to get back lost files now!
About memory card data recovery
"Hello, anyone here know how to recover formatted photos from memory card? I have an old memory card and it has been working well on the Canon digital camera until yesterday. I wanted to transfer photos from the memory card to laptop to make a backup. However, Windows prompts I need to format disk in drive before using it! I was so panic that click the Format button by mistake. Quickly all photos disappeared! I need freeware to recover lost photos and I do not want to invest on such software, for there are only around 50 photos lost. Any suggestion?"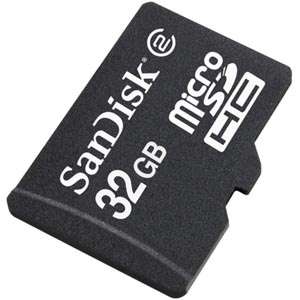 Are you prepared to memory card data recovery? Memory cards are important data storage devices for digital cameras and phones, and they usually store important data for us, such as family photos, music, videos and so on. If you do not backup data frequently, you are likely to face data loss issue, for those files on memory cards may get lost due to various reasons like virus, improper action, device error, etc. Here are some common memory card data loss situations:
Deletion: Accidentally delete files from memory cards or files get missing during Cut & Paste.
Formatting: Formatting or reformatting memory card removes all data.
RAW drive: memory card cannot be accessed, file system turns to RAW, prompts to format, etc. All this might be the result of unplugging drive without safely eject, virus, power outage, corrupted file system, etc.
Partition loss: Partition gets lost due to deletion, repartitioning, partition table error, bad sectors, etc.
If you are one of those users who haven't got ready for memory card data recovery, you can learn how to carry out the task now. Memory card recovery software free download full version for PC is introduced below and you can continue read to learn how to get back lost data from memory cards.
Memory card recovery software free download full version for PC
Eassos Recovery Free is easy-to-use and free memory card recovery software which can effectively recover lost, deleted, formatted data from all types of memory cards such as SD card, micro SD card, SDHC card, micro SDHC card, SDXC card, CF card and XD card.
Main features of Eassos memory card recovery freeware:
Deleted file recovery: Recover permanently deleted files after emptying Recycle Bin, deleted by Shift + Delete, or deleted from removable drives.
Recover deleted partition: Completely scan formatted partitions to retrieve files and folders.
RAW drive recovery: recover all kinds of files from RAW, inaccessible, unformatted, corrupted or damaged partitions.
Lost partition recovery: Restore deleted or lost partitions from hard drive or USB disks.
This free memory card data recovery software supports to scan and preview lost files and recover 1GB data. You can upgrade it to Full Edition to copy extra data if you are satisfied with free edition. Now free download memory card recovery freeware for PC and start recovering lost data now.
Memory card data recovery software guide: How to recover deleted or lost photos & videos from memory cards?
Eassos Recovery Free is easy-to-use memory card recovery freeware and it completes memory card data recovery via very simple steps. Let's take a close look at the recovery process.
Step 1: Connect your memory card to PC.
Before proceeding with the memory card recovery, you need to connect the memory card to computer properly. You can simply put it into a card reader and insert the card reader to computer's USB port. Then make sure the memory card can be detected by your PC.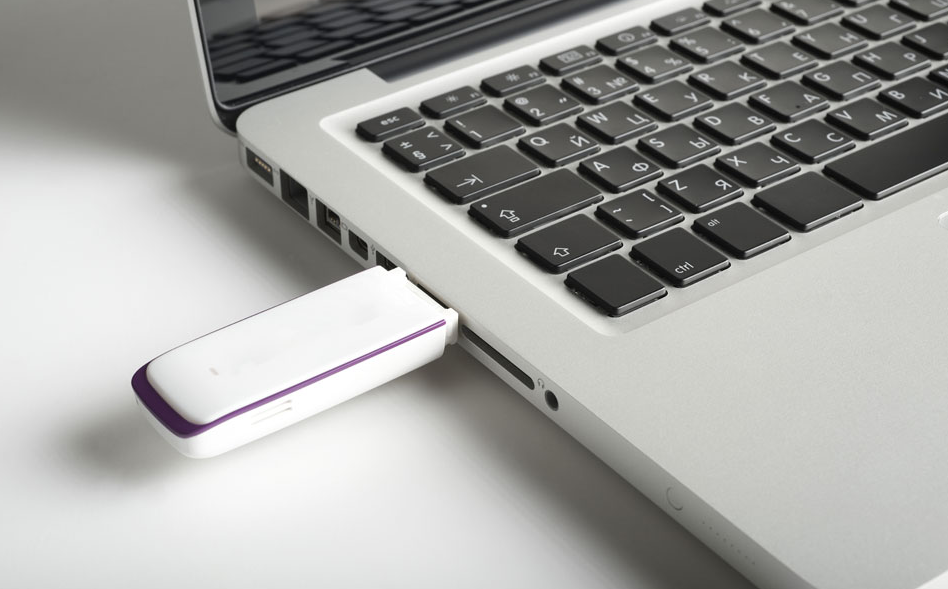 Step 2 Install and run memory card data recovery software Easoss Recovery Free on your PC.
Eassos Recovery Free application comes with a wizard-style installer which guides through the installation step by step. Just remember do not install the software to the memory card which is wait for data recovery. Click Finish button and Eassos Recovery Free will be launched.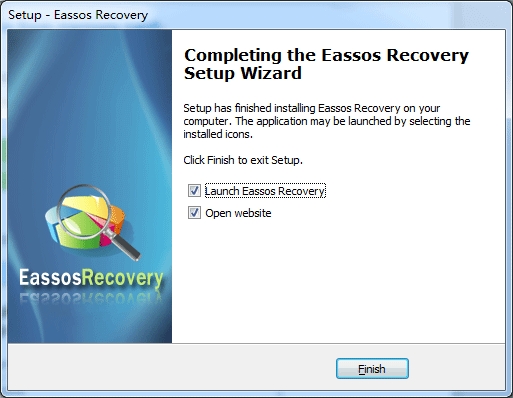 Step 3: Choose recovery mode from home interface.
Eassos Recovery provides 4 recovery options: Recover Files From Partition, Recover Deleted Files, Recover Lost Partitions and Recover Files From Disk, and all of them states clearly what kind of data loss issue can be handled.
You should choose the most proper one according to the data loss causes, then enter next step.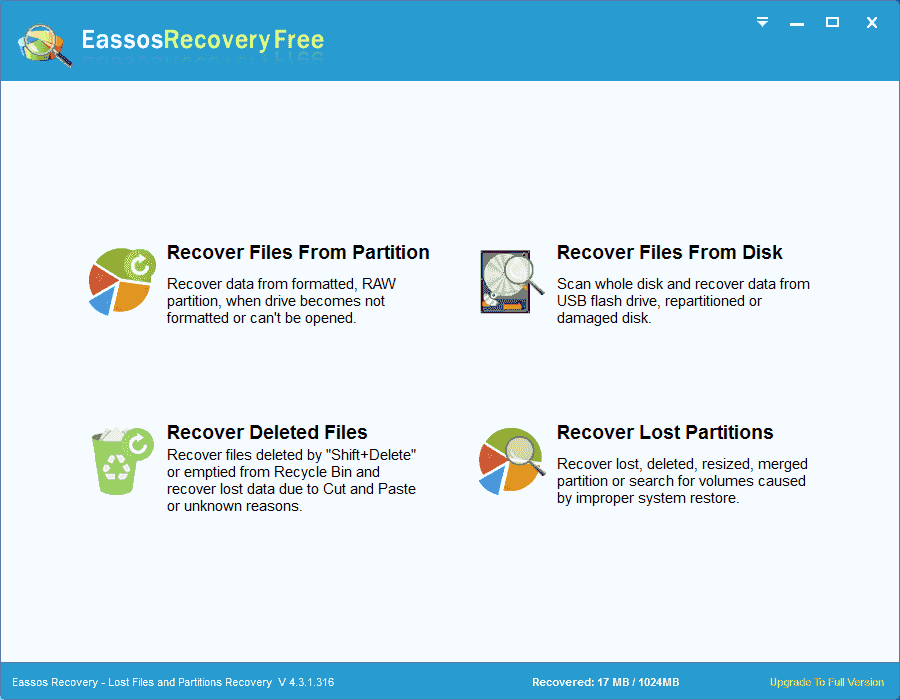 Step 4: Choose the memory card and click Next button scan it and look for lost files.
In this step you can see all drives connected to your computer, just choose the memory card where you deleted or lost files.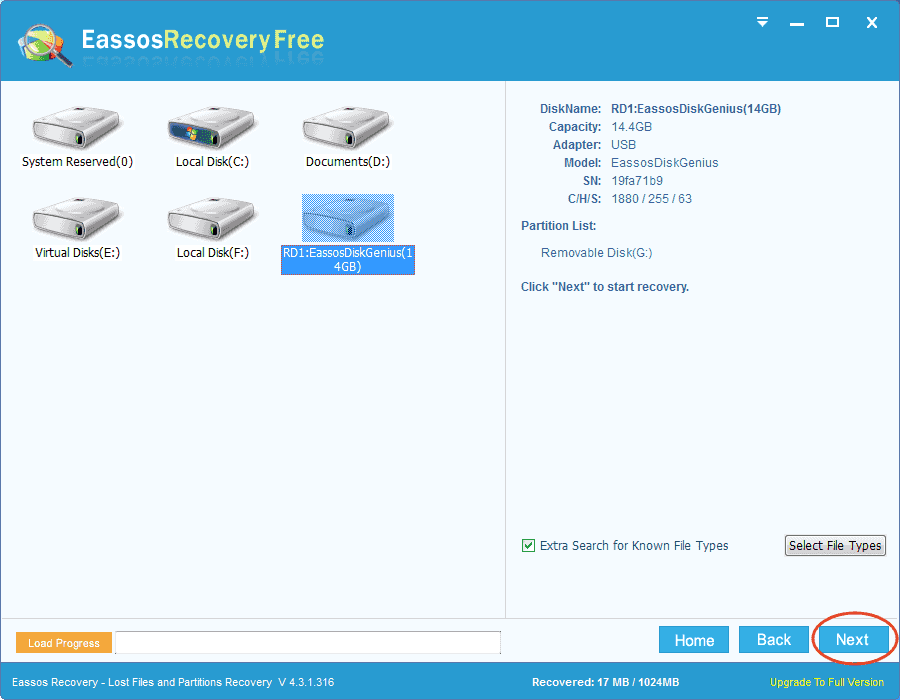 Step 5: Preview lost files and check recovery quality.
You can browse and preview files displayed in scanning result, so that you can located needed files and decide if files are corrupted.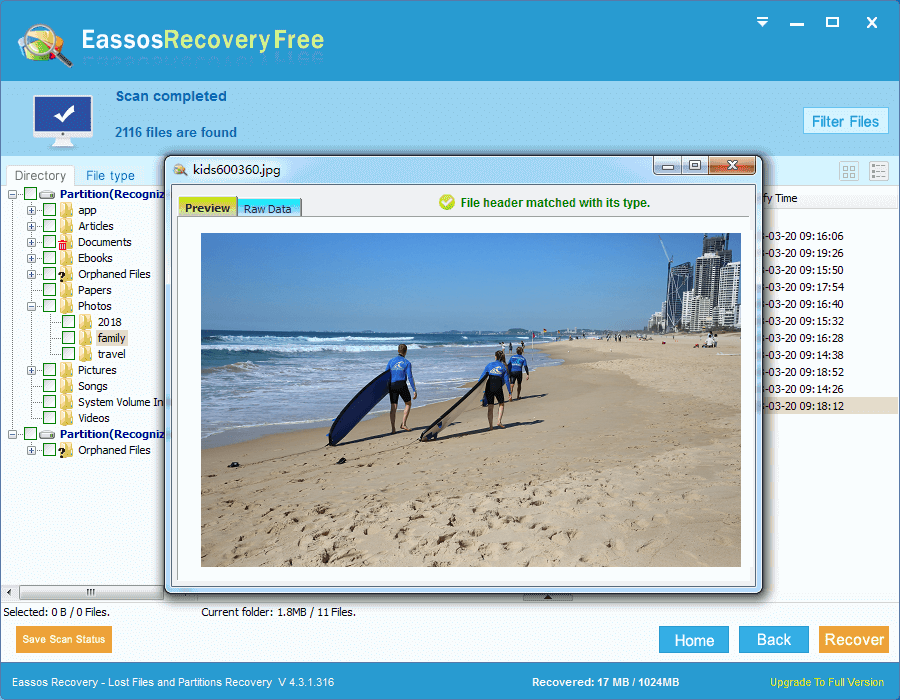 Step 6: Save and recover lost files from memory card.
Once you find out wanted data, you can save them to a different location and get them recovered: choose files and folders and click Recover button.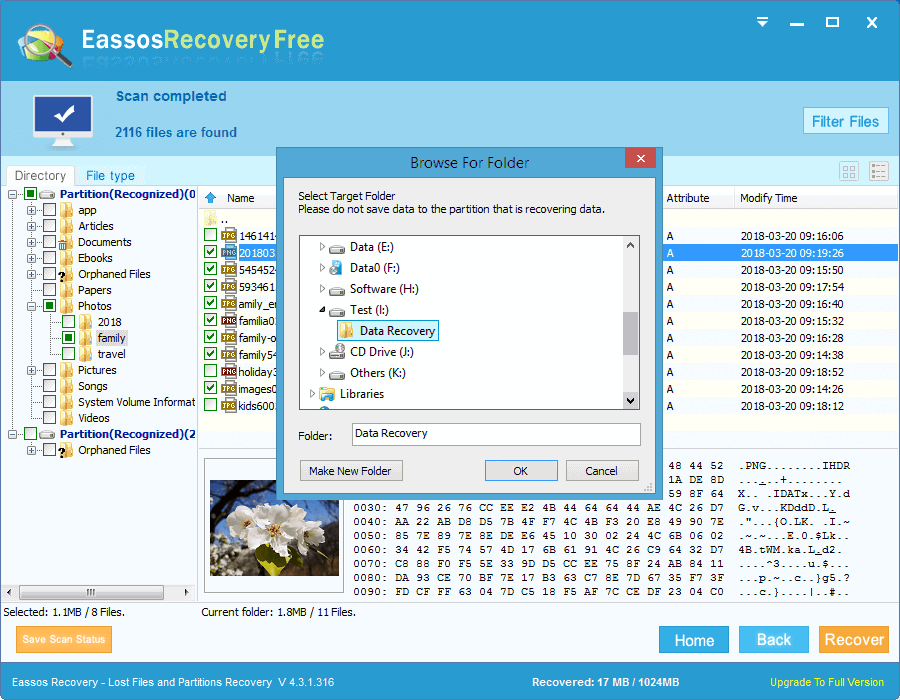 You may also be interested in:
Memory card data recovery software video guide: how to recover lost or formatted files from memory cards?
Tips to keep memory cards away from data loss issue
Nobody can guarantee that memory cards can perform flawlessly all the time. I'd like to share some tips to help you well protect memory cards against data loss issues.
Choose reliable and qualified memory cards: when purchasing a memory card, you should avoid memory cards from unknown manufacturers and non-official shops.
Turn off devices when inserting or removing memory card: Mobile phones or digital camera should be turned off before you add or remove a memory card.
Click safe removal media icon: Before unplugging a USB drive from computer, you should click safe removal media icon in taskbar, otherwise partition the device might get corrupted.
Backup important files: Files, photos, videos or other data on your memory card should be backed up in regular: you can simple copy and paste file to computer hard disk or upload cloud drives.
Format memory cards to proper file system types: file system type of memory card partition should be properly set so that files can be read or written correctly, for example, NTFS is mainly used on hard drive, and FAT32 or exFAT is more frequently used on memory cards, flash drives, etc.
Use anti-virus software: Virus is able to delete, encrypt or corrupt data, thus, you can use anti-virus software to scan your memory card every time it is connected to computer, which protects it against virus.
Conclusion
Memory card recovery software free download full version for PC is a safe and effective solution to retrieve deleted / lost photos, documents, videos, music collections, archives, etc. Apart from recovering lost data from memory card, Eassos Recovery Free also can be the tool for SD card recovery, pen drive recovery, HDD data recovery, deleted photo recovery and more. Please let us know if the software helps a bit or you have any question regarding this article.