Updated on May 13th, 2021
Accidentally deleted images from SD card, or lost image due to SD card corruption? Don't be panic. In this article, you will learn how to recover images from SD card after accidental deletion, formatting, RAW drive, etc. free of charge.
About recovering images from SD card free
"It was really an awful day! I accidentally deleted all photos from my SD card when I browse files on the digital camera. I just wanted to take a look at images taken last week, and yet I mistakenly press the delete all button. It will be a huge loss if I cannot get deleted images back. Could you please suggest a safe and workable way to recover images from SD card or camera?"
SD card and other types of memory cards are widely used on digital cameras and smartphones, and they are the carrier of your photos, videos, songs, audio clips, apps, etc. Have you ever though about these files may get lost all of a sudden? There are too many SD card image file loss situations, for example:
Delete images from SD card by mistake
SD card gets corrupted and you need to format it before using it
SD card gets formatted
Virus attack, bad sectors, etc.
How can we recover images from SD card easily and quickly? The most straightforward way is using Eassos photo recovery software when you there is not a backup. Photo deleted recovery software free download is available for all users and it does not require that users should be skilled in computers.
Guide 1: How to recover deleted/lost/formatted images from SD card using freeware?
Step 1: Connect the SD card to your PC.
The SD card can either be inserted to the laptop built-in card reader or connected via a card reader. Just make sure it can be detected by computer.
Step 2: Download, install and launch Eassos Recovery Free edition from your computer.
Do not install the software on the SD card which is waiting for image recovery.
Step 3: Select a proper recovery option from the home interface.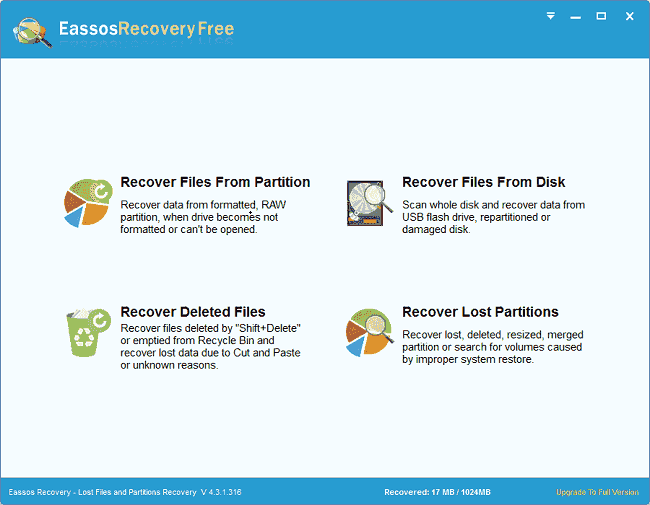 Step 4: Choose the SD card and click Next button to start scanning.
The scanning won't take long, and you will see found files during scanning.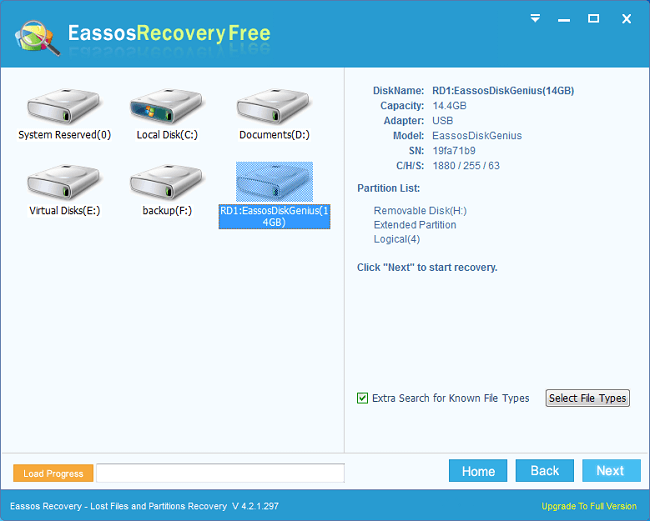 Step 5: Preview files and recover images.
After scanning, you can double-click a file to preview it. If your files such as photos, videos, documents are not damaged, you can view file content on the pop-up window.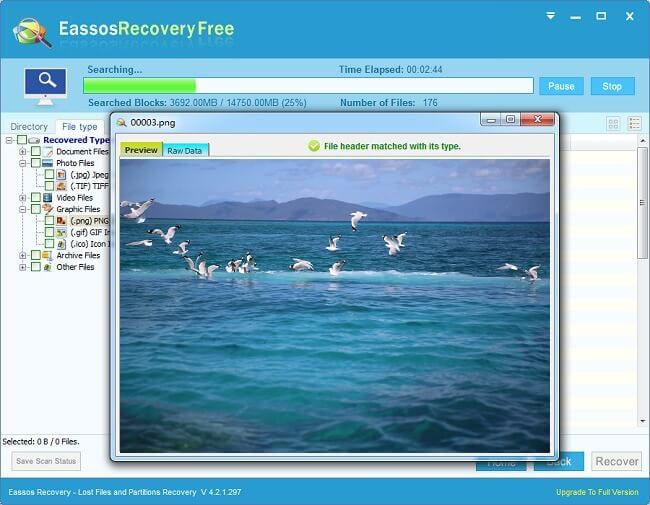 At last, select wanted files and click Recover button to copy them to your computer.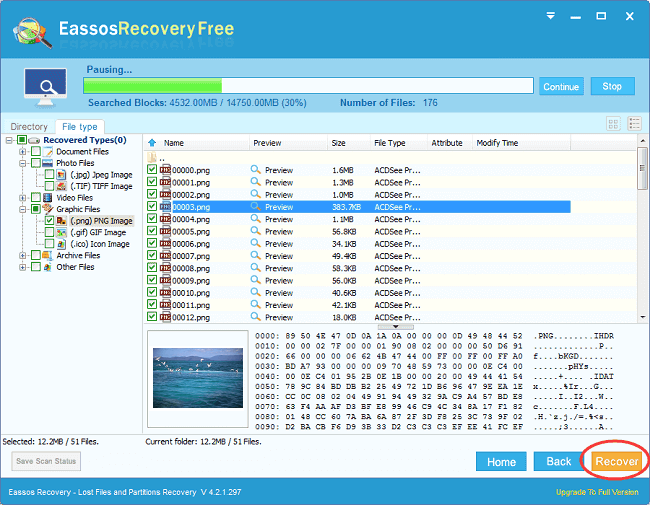 Guide 2: How to recover images from corrupted SD card?
Is it possible to recover images from corrupted SD card? How can I complete the recovery on my own? DiskGenius makes it possible to recover lost photos, pictures or images from corrupted SD card, hard disk, external HDD, USB flash drive, pen drive, thumb drive, virtual disk, etc.
Step 1: In DiskGenius, select the corrupted SD card and click File Recovery button. Then click Start button when the recover files Windows shows up.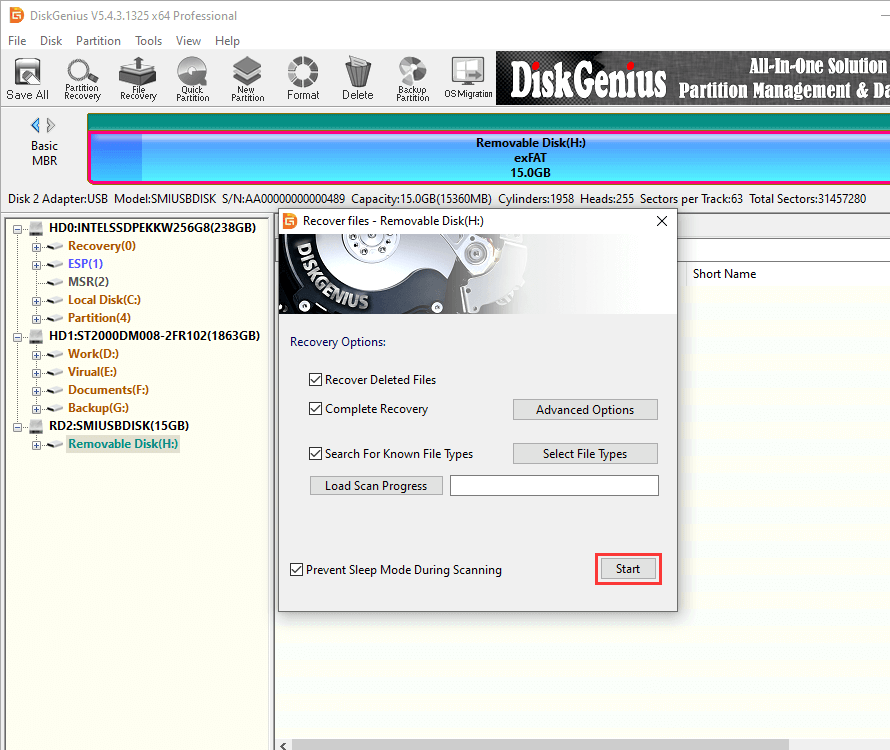 Step 2: Wait for the scanning to complete.
You can either Pause or Stop the scanning when needed files have been found by the software.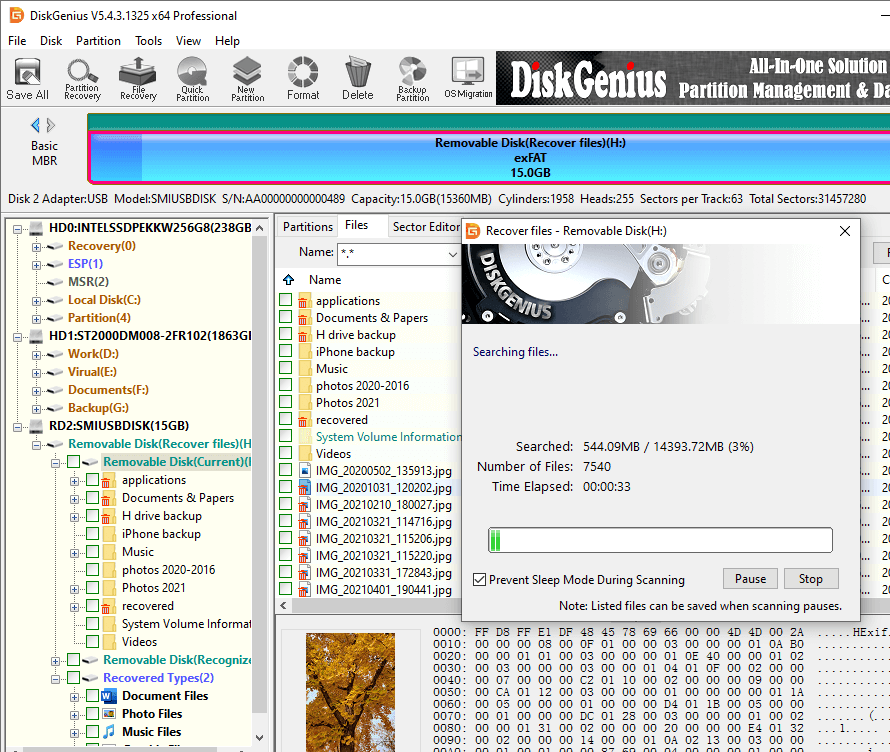 Step 3: Preview and recover wanted images and photos to a safe place.
Select photos and images you want to recover, right-click on these files and choose Copy To.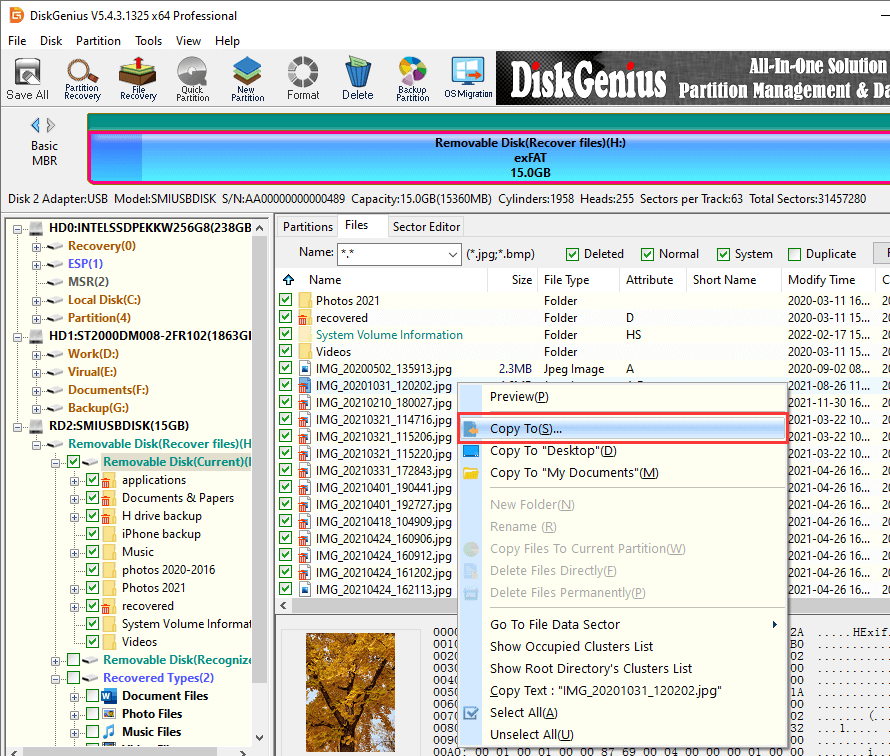 To better deal with corrupted or damaged storage devices, it provides a function to image device so that you can retrieve files from image without affecting the original device. How to create images for SD card and other devices with DiskGenius?
Note: Copy Sectors is the function only available for the Professional edition.
Step 1: Click Tools menu and select Copy Sectors.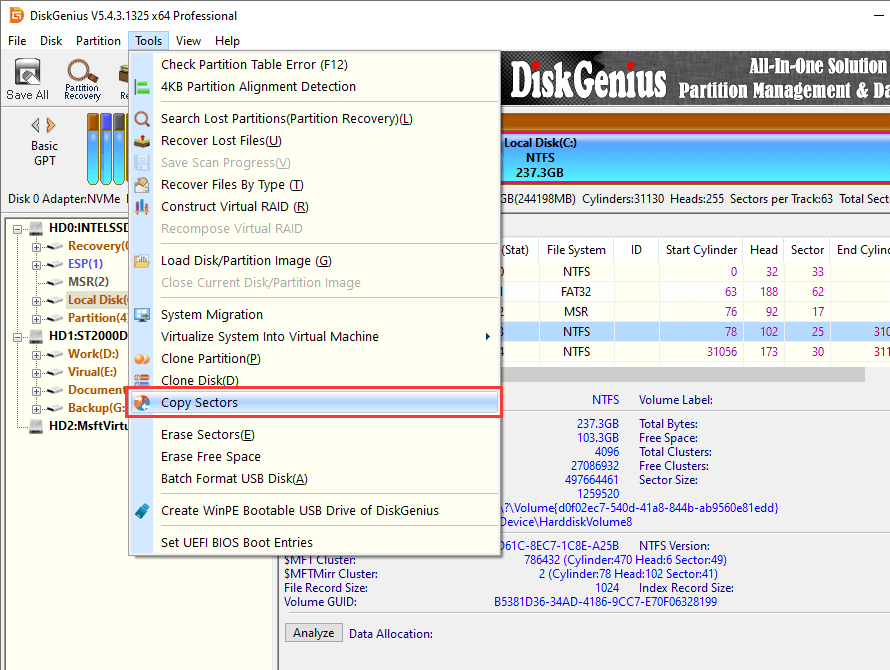 Step 2: Set source and destination disk and click Copy button.
The disk image process may take a while if the device contains bad sectors, just wait with patience.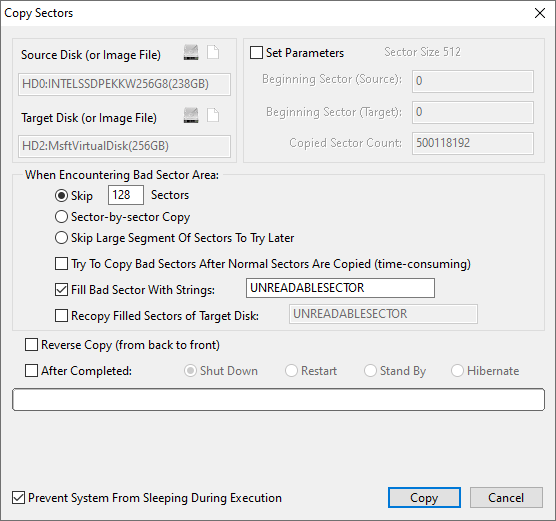 FAQs on recovering images/photos from SD card
Q1. How do I recover photos from a formatted SD card?
To recover deleted or lost photos from a formatted SD card, you can follow these steps:
Connect the SD to computer and make it can be recognized.
Free download, install and launch Eassos Recovery Free on your PC.
Scan the SD memory card with a proper recovery mode.
Preview and recover lost photos.
Q2. How do I get pictures off my damaged SD card?
Q3. How do you retrieve deleted pictures from memory card?
Eassos Recovery Free can retrieve deleted pictures and other files from memory card:
Install and launch the recovery software on your computer.
Scan the memory card using "Recover Deleted Files" function.
Preview and recover wanted pictures.
Q4. Can I recover deleted videos and photos from my memory card for free?
You can recover deleted videos and photos via these options:
Recover lost data from a recent backup.
Use Eassos Recovery Free edition to scan the memory card and copy 1GB data free of charge before upgrading to the full edition.
Conclusion
In this post, we cover two guides of recovering lost images, videos and audios from SD card. You can use Eassos Recovery Free edition to complete the task without spending a penny. If you want to recover images from smartphones, you can try Eassos Android Data Recovery. Feel free to leave a comment or email us when you have any question, doubt or suggestion.
You may also like