Need the best free program to recover deleted photos and videos from SD card, flash drive, memory stick, etc.? In this page, you can find a free tool and an easy-to-follow guide to get back deleted or lost photos from memory card.
How can I recover deleted photos from my SD card free of charge?
SD card photo recovery software is needed when you accidentally deleted important photos from memory card and there is not a recently backup available. How SD card photo recovery works? We've explained this a bit before, and here we only make a simple summary.
When you delete a photo from an SD card or other storage device, the photo is not wiped at once, which, instead, the disk space is marked as available for new data without erasing occupied data. Although you cannot see the deleted photo on the SD card, that does not mean it has been wiped. As long as you don't store new data there, it stays on the SD card. Hence, there is possibility that deleted photos can be recovered before the disk space gets reused.
Therefore, when you are aware that important photos are mistakenly deleted from an SD card, the first thing you should do is to stop using it, for example, do not take any photos/videos. Turn off the device and take the SD card out, then connect it to computer via a card reader. After that, you can free download SD card photo recovery software to start the recovery.
What is the best program to recover deleted photos from SD card?
If you are not ready to spend money on any photo recovery software, you can try free programs that supports to recover deleted photos from SD card, for example, Eassos Recovery Free edition.
Eassos Recovery Free is a free program that is worth your time and effort on it. This free edition includes the same recovery functions as the full edition, which guarantees that you will get a scanning result that is same as the paid edition. It provides the function to recover deleted files, which can be used to recover all kinds of deleted from emptied Recycle Bin, hard disk, USB flash drive, memory card, digital camera and so on.
It does not make a difference even though you are not a skilled computer user, for the entire recovery process is guided by the onscreen wizard. What you need to do is select the SD card, wait for the scanning to complete, preview files and copy wanted photos to computer. Now, let's get started.
Step-by-step guide: how to recover deleted photo from SD card using the best free recovery program?
Step 1: Free download and install the free program on your computer. Do not install the recovery software on the memory card to avoid data overwrite.
Step 2: Connect your SD card to computer.
Here are two ways of connecting an SD card: plug the SD card into a USB card reader and insert the card reader to computer's USB port; you can also put the SD card to the card slot of your laptop. Either way will be OK as long as the SD card can be recognized by computer.
Step 3: Launch Eassos Recovery Free from your PC and click Recover Deleted Files button.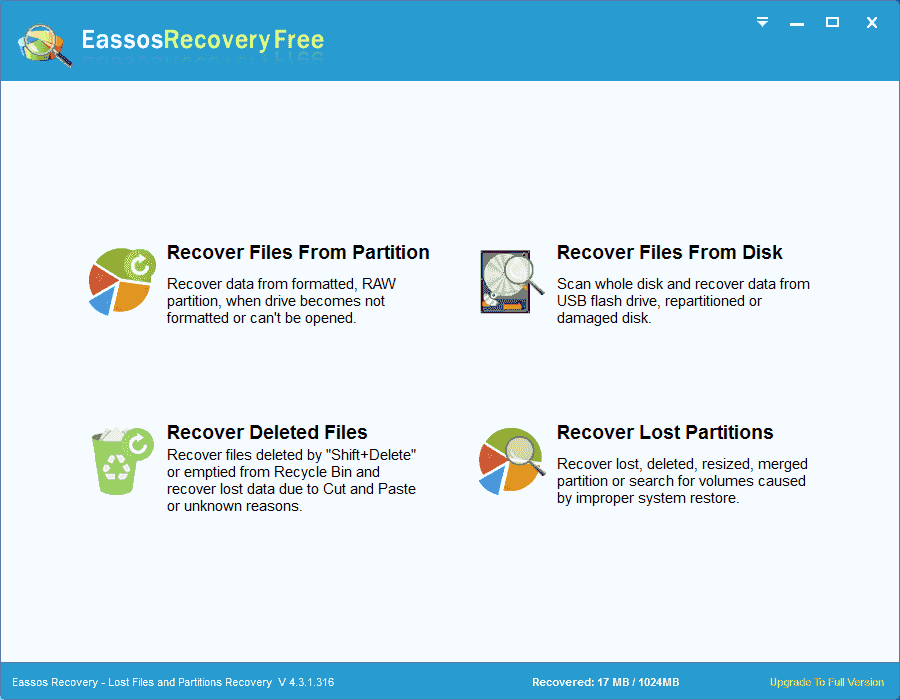 Step 4: Select the drive that represents your SD card and click Next button to trigger the scanning process.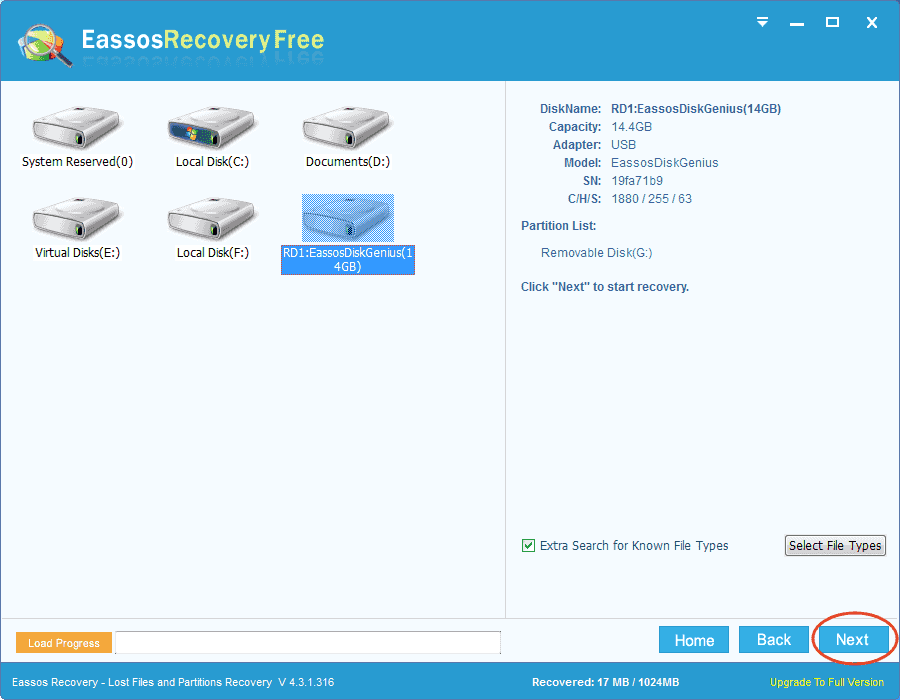 In this interface, you can see a list of drives, from which you need to choose the SD card. How to find the correct SD card? When you highlight a drive here, you can see its properties on the right pane, such ash volume name, size, file system, drive letter, etc. Thus, you can easily make out which one should be chosen.
Step 5: Wait for the scanning to complete.
Eassos Recovery Free runs the quick scanning and deep scanning at the same time, and you can just wait for a while to let the process finish.
Step 6: Preview found files to verify recovery quality.
File preview is the most recommended way of checking recovery quality, for it is able to tell if lost photos can be recovered correctly. For example, if file preview shows lost photos are not damaged/corrupted, they can be recovered correctly.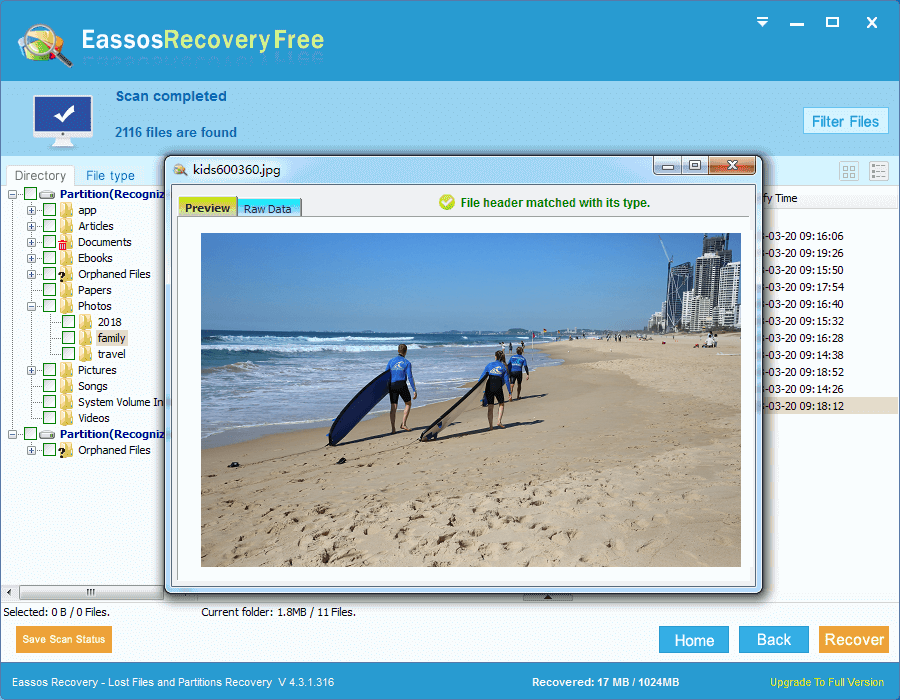 Step 7: Copy wanted photos to a safe location.
Choose lost photos you want to restore and click Recover button, and you can specify a place on your computer to store recovered data.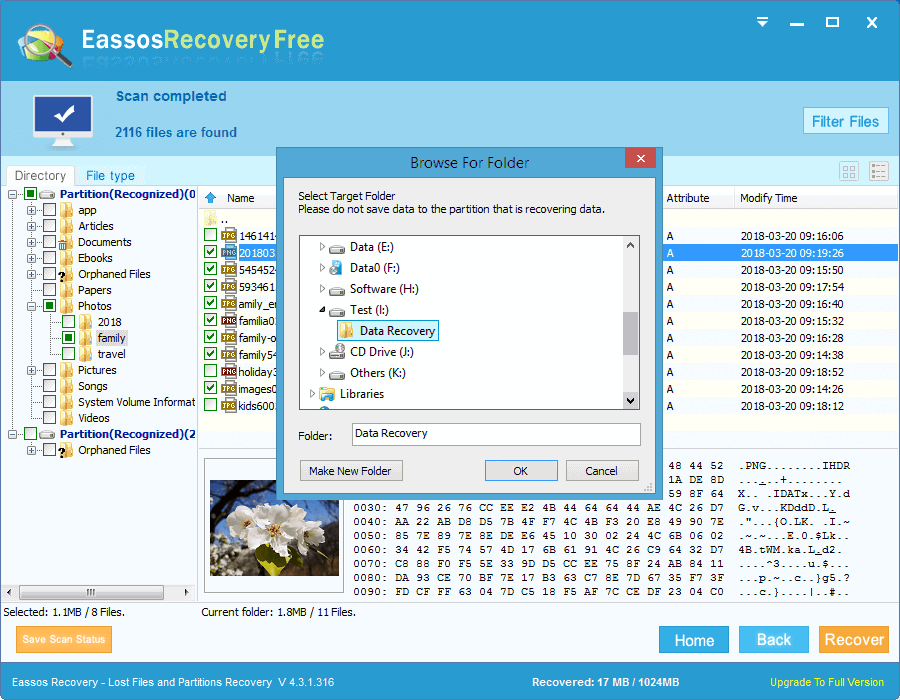 If you don't find wanted files with this free program, you can try DiskGenius to run a deep scanning.
Conclusion
Eassos Recovery Free is the best free program to recover deleted photos from SD card, and it can also be used to recover lost files, documents, videos, audios, etc. after formatting, partition drive missing, RAW drive, etc. Should you have any questions or suggestions on SD card photo recovery, feel free to email us please. In the end, photo backup should be paid more attention and effort to safeguard data security.
Related articles