Updated on May 13th, 2021
Do you have any idea on how to recover data from formatted pen drive? Most often, the formatting of pen drive does not erase data permanently, and lost data can be recovered easily. The following content will show you how to get back lost files from formatted pen drive, memory card, flash drive, etc.
Overview of recovering data from formatted pen drive
"Hello, I post the question here hoping someone can help me recover lost data from a formatted pen drive. The pen drive was not accessible after it was removed from computer. It asked me to format it. I clicked the Format button by mistake. It was stupid. I've tried recovering files from pendrive using CMD, but have no luck. What should I try to recover files from a formatted corrupted pen drive?"
Formatting partition is a great choice when you want to quickly remove everything, change a file system type (e.g. convert NTFS to FAT32), fix corrupted partition, etc. But, the result is that all files gets removed.
Does formatting pen drive wipe files permanently? Is it possible to recover formatted pen drive data? The quick answer is that formatted pen drive recovery is available. A quick formatting cannot erase data for good, and in most cases, the recovery can be done in three ways: data recovery software, pen drive data backup and recovery services.
Free download pen drive data recovery software FREE edition
Eassos Recovery Free edition is the very software we are going to use here to recover data from formatted pen drive. Apart from formatted pen drive recovery, it also applies to recover deleted files from pen drive, recover lost data from corrupted pen drive, etc. This free data recovery software works on a wide range of storage devices, both internal and external drives, including computer hard drive, external hard disk, memory card, pen drive, memory stick, USB flash drive and such kind of thing. More features that explains why Eassos Recovery Free is the best option.
Easy to use: A user-friendly interface makes the pen drive data recovery an easy task, and you will not find any difficulty in using it. The onscreen wizard guides you throughout the whole recovery thing.
100% safe: It is virus free and works in a read-only manner. Hence, you don't have to be worried whether the recovery will affect your computer or lost files.
Pen Drive Data Recovery Software Free Download Full Version is available for all users
The step-by-step guide: How to recover data from formatted pen drive?
Note: Eassos Recovery Free and Eassos Recovery Trial Edition are two different editions. Although they can get the same scanning result, the Free edition can copy 1GB amount of found data free of charge and the trial edition can copy those that are smaller than 64KB. To remove the restriction, you can purchase a license code for Eassos Recovery Full edition which can be get by registering the Free or Trial edition using a license code.
Learn how to recover data from formatted pen drive using Eassos Recovery Free edition now:
Step 1: Free download and install Eassos Recovery Free edition on a Windows PC. Plug the formatted pen drive to this computer.
Step 2: Start Eassos Recovery Free and choose a recovery option from the home interface. Recover Files From Partition is the first recommended for formatted drive; and Recover Files From Disk is also a good option to recover formatted or corrupted pen drives, SD card and flash drive.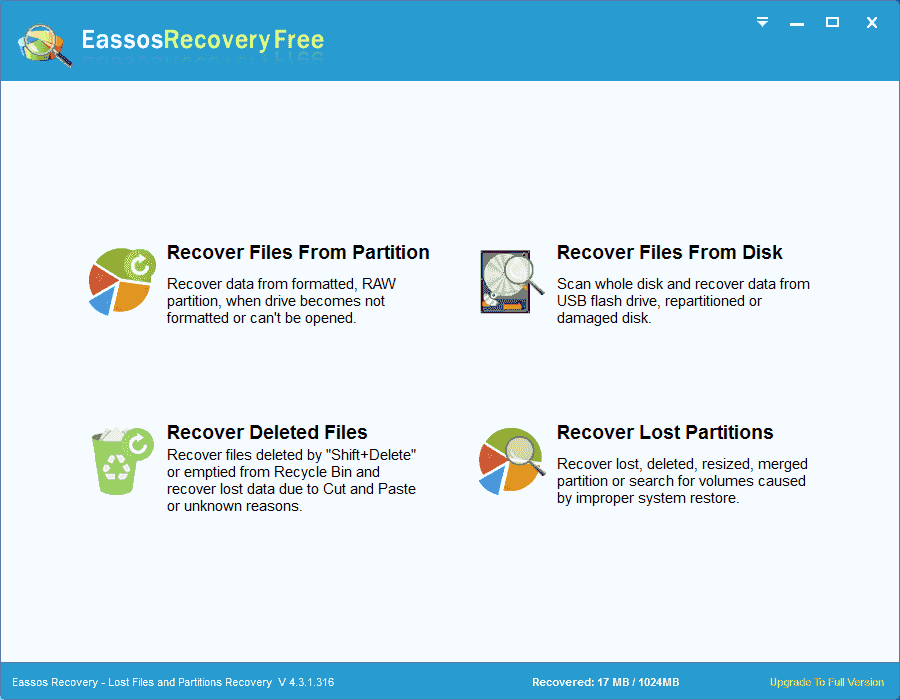 Step 3: Choose the ped drive to start scanning.
In this interface, you can see that all partitions on hard drives and removable disks are listed. Select the pen drive and click Next button, then scanning process starts.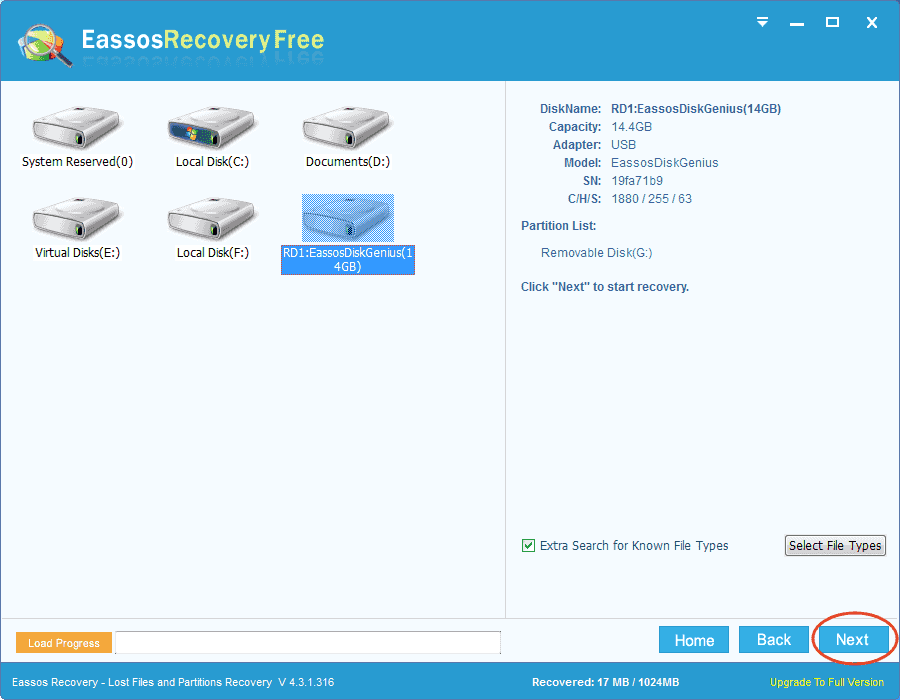 Step 4: Preview found files to check recovery quality.
File scanning gets finished quickly and found files are listed under two tabs: Directory and File type. You can click any files displayed in the software to check if it is corrupted.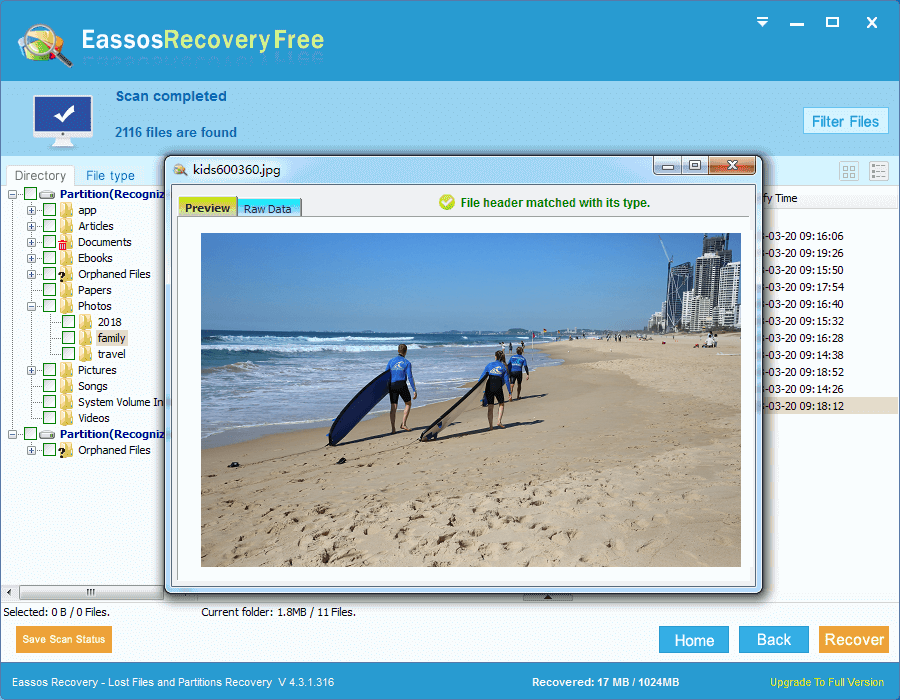 Step 5: Select all files you want to recover and click Recover button. Next, the software will ask you to choose a new place to save recover files.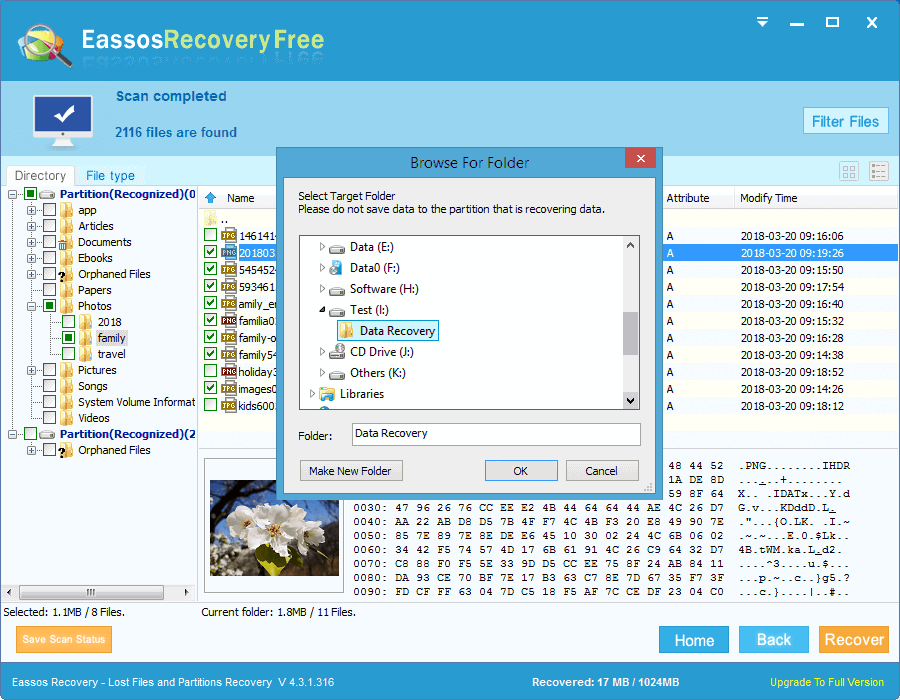 FAQs on recovering pendrive
1. How can I recover data from RAW pen drive?
Follow steps below to recover files from a pen drive that turns to RAW:
Step 1: Download and install DiskGenius on your computer. Then connect the RAW pen drive to computer as well.
Step 2: Select the RAW partition on the pen drive and click File Recovery button to run a complete scanning.
Step 3: Preview files to check if lost files are found correctly. Then copy files to another drive.
Here is a detailed step-by-step tutorial you can refer to: How to Recover Data from Corrupted Pen Drive?
2. How can I recover deleted files from my pendrive for free?
The recovery of deleted files from pendrive can be carried in 3 steps:
Step 1: Free download Eassos pen drive data recovery software free edition and install it to your PC.
Step 2: Select Recover Deleted Files button and scan your pen drive.
Step 3: Preview and recover wanted files.
3. How do I recover files from formatted hard drive free?
If you've formatted a hard drive which stored important data, you should make sure there are not reading or writing actions to the hard drive first. Then use hard drive data recovery software to search for lost data. Act as quickly as you can. Here is the detailed guide for formatted hard drive recovery: How to recover files after formatting hard drive (Free)?
4. How to recover lost or deleted files from pen drive without using software?
Two methods you can try to recover files from pen drive without using software:
Method 1: Retrieve lost pen drive from previous backups. If you have backups for pen drive files, go ahead to check backups which might be on your cloud storage drive or local disks.
Method 2: Try data recovery services to recover lost data. Data recovery companies, e.g. EASSOS provide data recovery services which can help you deal with all kinds of data loss situations, such as RAW drive, partition drive missing, unformatted drive, etc. Should you need any help, feel free to contact EASSOS data recovery experts who will give you a free diagnosis.
Conclusion
Mistakenly formatting pen drive happens occasionally, and you have three options to recover lost files from formatted drive, including pend drive data recovery, backups, and pen drive services. When you want to recover data from formatted pen drive free of charge, Eassos Recovery Free is a good choice. If you need professional recovery software, then try DiskGenius.
Related articles