In this guide, you will find an effective but simple method that shows how to recover deleted videos from Micro SD card for free? As everyone knows accidentally deleting important files is one of the most occurred issues. However, luckily, there are solutions to get back deleted or lost videos from memory card and other storage devices Free of charge. Eassos Recovery Free can be your good partner to retrieve lost data safely and quickly.
Is it possible to recover deleted videos from Micro SD card?
"I post the question here, seeking solutions to recover deleted videos and photos from SD card of a digital camera. My son deleted everything by mistake while he was browsing files. I took out the memory card from the camera, and connected it to the laptop. It contained no files. I can make sure there is not data overwrite after the deletion. How can I recover lost files without spending a penny? Lost videos and photos are important to me, and yet it is still hard for me to afford any paid software."
Micro SD card is one of the widely used storage devices by various digital products. You can find it on your mobile phone, camera, GoPro, card navigation device, notebook, mp4, etc. A Micro SD can come with different capacity to meet all kinds of requirements. Whatever the capacity and brand, it can store files, photos, videos, songs, emails, apps and so on. A Micro SD itself won't cost you too much, however, lost data does. Sometimes, files are priceless to users. Hence, it is a painful when you realize some important files get deleted by mistake.
Can I recover deleted videos from a Micro SD card? No worries. In most cases, SD card video recovery is possible! We've talked many times how a file is stored on a storage device. The file records are saved by file system, and the data itself is stored on somewhere else on the disk. A common deletion only removes file record from file system instead of wiping it from the disk sectors. Therefore, the deleted file remains the device being invisible to users. As long as, system does not store new data to that area to overwrite it, you keep the chance to recover it. Here comes a conclusion: the vital point of recovering deleted videos is preventing data overwriting in the first.
How to recover deleted videos from a Micro SD card? A free SD card video recovery program such as Eassos Recovery Free can do the job for you. The following part is the step-by-step guide.
The step-by-step guide: how to recover deleted videos from Micro SD card for free?
You must have googled the phrase "how to recover deleted videos from Micro SD card" and found out a good deal of video SD card recovery software. A majority of them are not free of charge. If you do not want to buy any software, you can try freeware in the first place. Eassos Recovery Free edition is a good option, as it supports to recover lost videos, photos, songs, documents, email, etc. from memory SD card and other devices. Here is a list of its features:
Search for lost data and preview recoverable files; copy 1GB found files free of charge.
It can be used to recover deleted files, recover formatted partition, recover data from RAW partition, search for lost partitions, etc.
User-friendly wizard helps to recover data step by step. No complicated compute skills are needed.
Step 1: Install Eassos Recovery Free on a Windows computer and connect the Micro SD card to the computer as well.
Step 2: Launch Eassos Recovery Free and choose Recover Deleted Files on the main interface.
You can see 4 recovery options on the main interface, and you need to choose the one that suits your issue.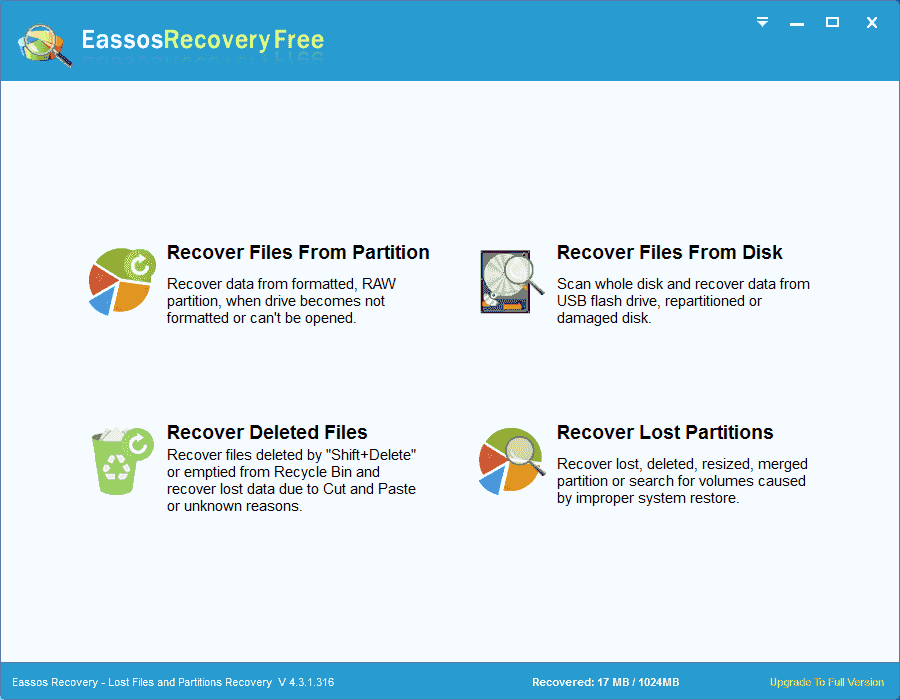 Step 3: Select the SD card from partition/disk list and click Next button to start scanning.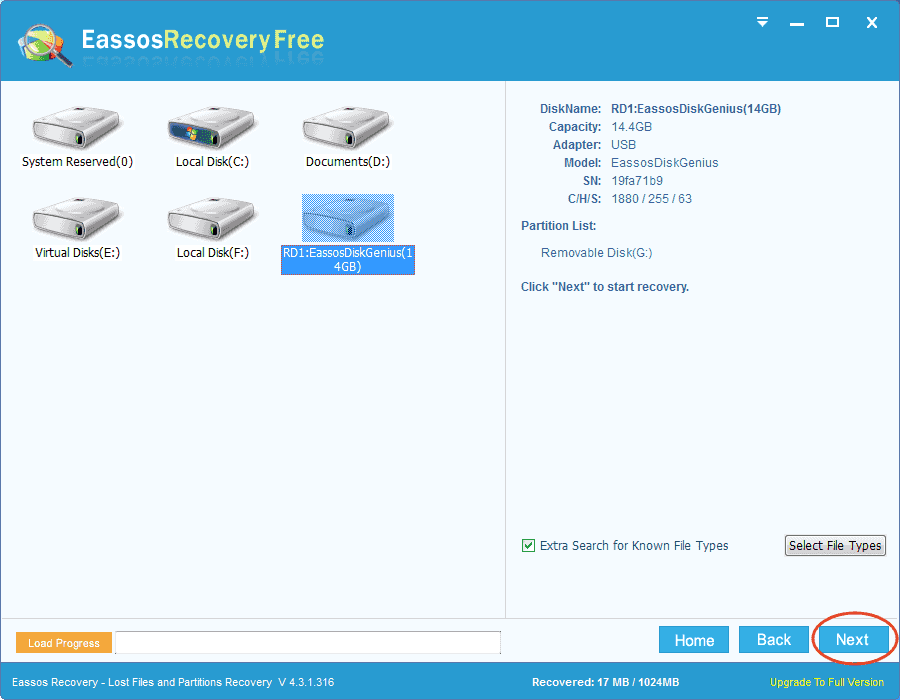 Step 4: Check recovery result and preview recoverable files.
In scanning result, you can see lost files are listed under two types: Directory and File Type. Files listed under Directory keeps original names and file listed under File Type are named with numbers and classified by type.
Double-click a file to open the file preview window, as follows. Such file preview way helps to make sure if the file is what you want and whether it is corrupted. Eassos Recovery Free supports to preview photos, videos, songs, Microsoft Office documents, Text files, etc.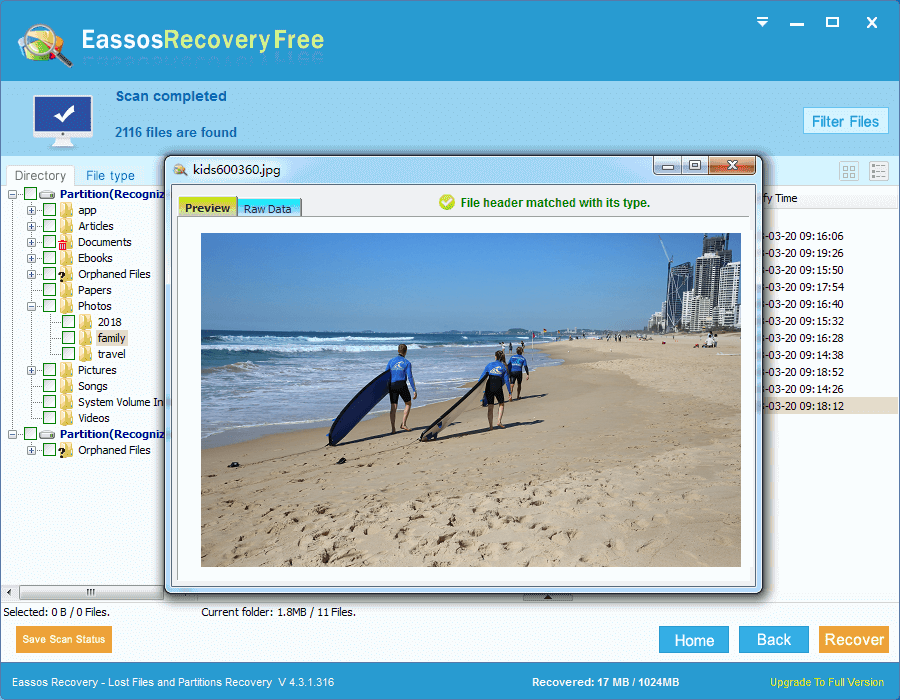 Step 5: Copy wanted files to another partition. Select videos and other files you want to recover and click Next button.
Eassos Recovery Free edition can copy 1GB data free of charge, and you can upgrade it to the Full edition to copy more files.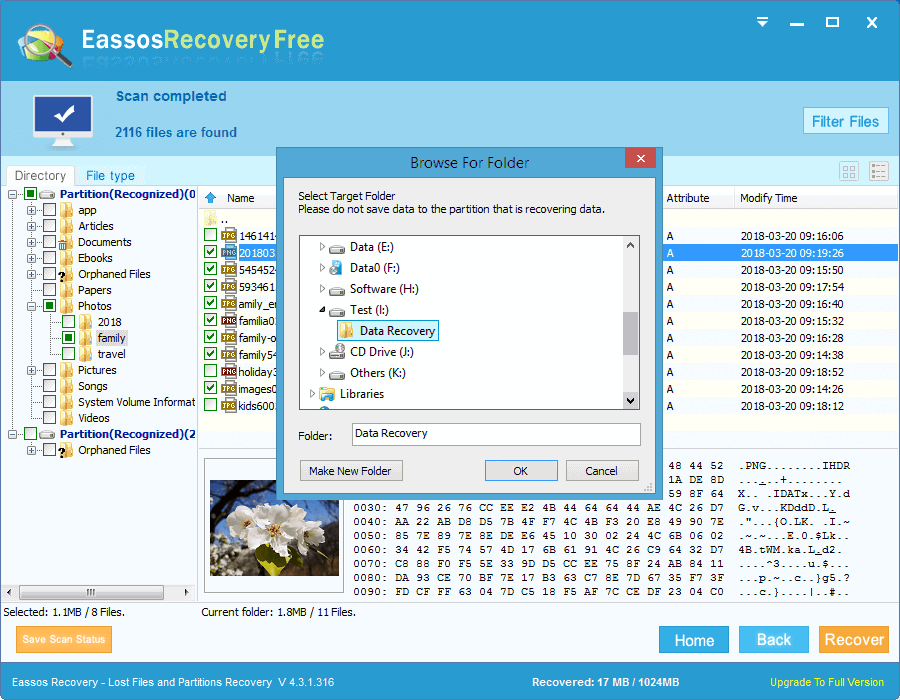 Tips to maximize the result of recovering deleted videos from Micro SD card:
Prevent any possible writing actions to the Micro SD, for example, do not taking photos/videos, store files to the memory card, view or edit files, etc.
Start to recover videos from SD card as soon as you can. The longer time you wait, the more possibility to generate write actions.
Keep the Micro SD card away from physical damages.
Do not run chkdsk or carry out formatting to the memory card even though it turns to RAW.
Conclusion
Now the guide comes to an end, hope you can deal with similar issue on your own. Free download Eassos Recovery Free edition to recover lost or deleted files from SD card in Windows 10/8/7.
Related articles