Sectors are the smallest units on the hard disk in which the data is stored. A bad sector on the hard drive is caused when that particular sector goes defunct. Bad sectors may be produced by using the hard disk for many times. Other reason for bad sectors on hard drive is physical damage. There are many types of errors that may come up on the screen due to hard drive problems. If there are errors appearing on the computer monitor, but there is no clicking or scraping noise from the hard disk, it may be a problem that can be resolved by using a software application. But if there is a certain noise coming from the hard drive, it may be a serious hardware issue which needs to be repaired by a professional PC repair shop. If your hard drive is in warranty, you can get it repaired for free. If these sectors go worse, the data is lost and becomes inaccessible. However, data on other sectors of the disk remains as it is.
PartitionGuru provides a function of verifying bad sectors as well as a limited function of repairing bad sectors. To use this function, please click menu items "Disk"- "Verify or Repair Bad Sectors", and PartitionGuru pops up the following dialog box:
Please select the disk to be verified and enter verify (cylinder) range, and then click the button "Start Verify" to start verifying tracks. PartitioGuru will display detailed information of bad sectors, as follows: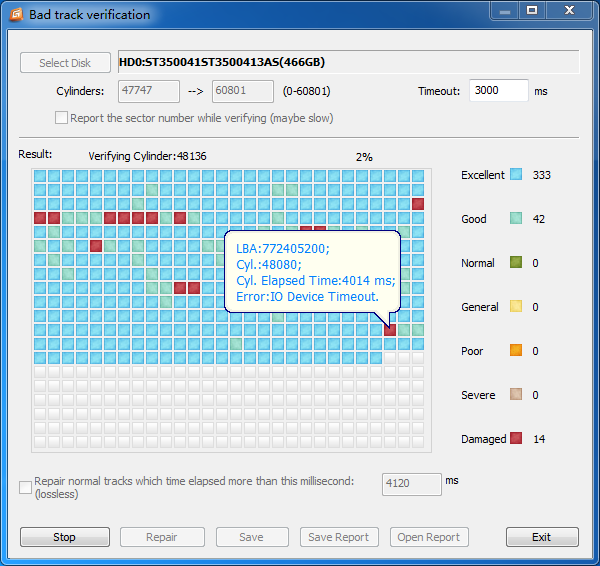 PartitionGuru slows down when it spots bad sectors. Finish verifying bad sectors, PartitionGuru will report the number of bad sectors.
You can click the button "Save" to save the report to a text file for later reference. Also, you can click "Save Report" button and save the report as a file with user-defined format. Then you can click the "Open Report" button and check the report on current interface.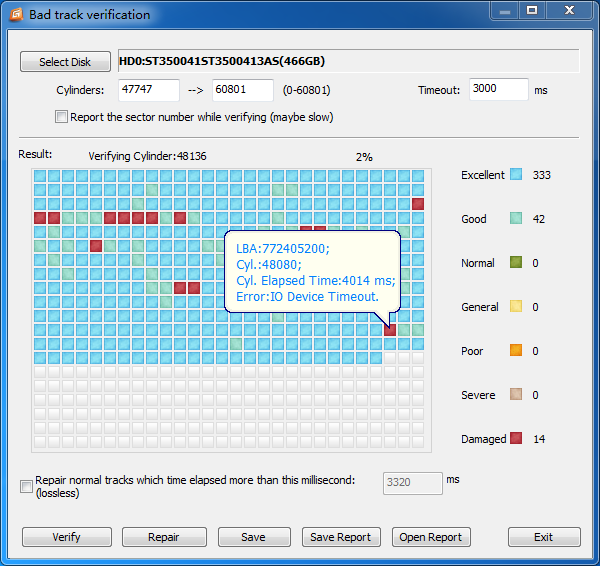 If you want to try repairing bad sectors right away, you can click "Repair", and PartitionGuru will show the following message:
Important Notice: The repair will destroy data saved on or near bad sectors! If possible, please back up data first. If there is important data on the bad sectors, do not use this function to repair bad sectors, you should send your disk to professional data recovery company. Because repairing bad sectors destroys data not recover data! Besides, you need to know, not all bad sectors can be repaired by this function.
To ensure data safety, it is not advised to use a disk with bad sectors even though it has been repaired. Do not save important data on the disk.
To save time, you can use this function to repair bad sectors directly without verifying or you have verified by using other software.
If bad sectors are successfully repaired, PartitionGuru will mark them "Repaired" in the report.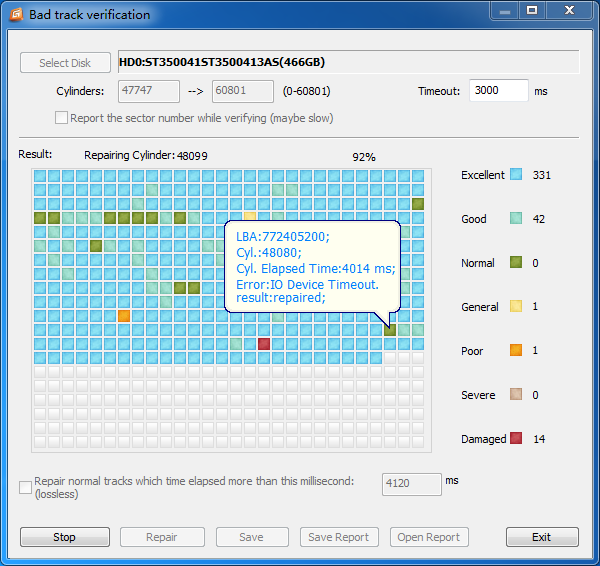 When the repair is done, PartitionGuru will report the bad sector number it repaired. Please examine the actual repair results.