Accidentally deleted files from USB flash drive? Free download Eassos USB flash drive data recovery freeware full version and learn how to recover deleted, formatted and lost files from USB flash drives, SD card, pen drive, thumb drive, etc.
About USB flash drive data loss and recovery
"How can I restore deleted files from Kingston USB flash drive? One of my USB drive contains dozens of working documents, but I deleted several files by mistake when moving files. I checked the Recycle Bin hoping they can be restored there, and yet they were deleted permanently! Could you please provide a free USB flash drive recovery tool to help me out of this? Thank you very much!"
A USB flash drive is one of the most preferred data storage devices these days, for it is compact in size, large in capacity, easy-to-use and cost-effective. Users are fond of using USB flash drives to store, carry and transfer data. However, USB flash drives are prone to data loss issues and vulnerable to damages due to the portable feature. The following part summarizes several common causes related to USB flash drive data loss issues.
Accidentally deleting files: Files deleted from USB flash drives do not go to Recycle Bin and they are deleted directly.
Formatting USB flash drive: Formatting process will rapidly remove all files from formatted partition, and thus it is a good option to free up disk space.
RAW drive: you cannot open USB flash drive in File Explore and receive error messages such as "You need to format the disk in drive before you can use it"
USB flash drive suffers from virus attack or bad sector issues.
Recovery of USB flash drive data after deletion, formatting or RAW drive becomes quite easy thanks to the great progress USB flash drive data recovery software. Let's tale a close look at how to free download USB flash drive data recovery software full version and how to get back lost files from USB drives.
USB flash drive recovery guide: how to recover deleted / formated files from USB flash drives?
Before recovery
Insert the USB flash drive to a Windows computer and make sure it can be detected properly
Install and launch Eassos Recovery Free edition on your PC.
Step 1: Choose recovery mode from Eassos Recovery Free home page.
This interface contains 4 recovery options and all of them works on USB flash drive recovery task. To achieve a better recovery result, you need to click the one that is suitable for your data loss situation. For instance, Recover Files From Partition is designed to retrieve data from formatted, unformatted, RAW or corrupted drives.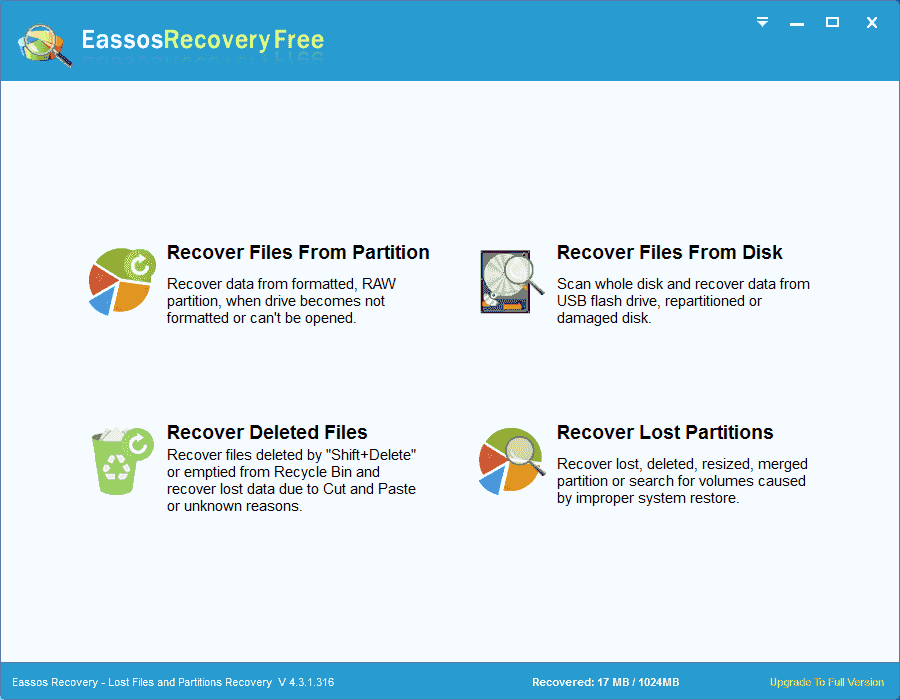 Step 2: Scan the USB flash drive.
Select the drive that present USB flash drive and click Next button to scan the drive for lost data. Make sure you are selecting the correct USB flash drive to scan, otherwise needed files won't be found.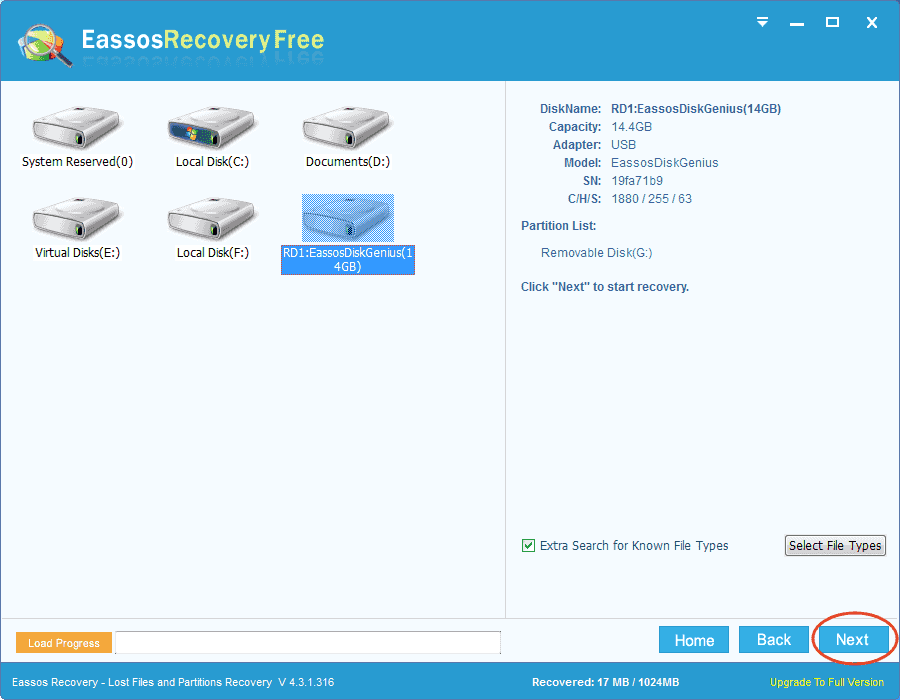 Step 3: Preview lost files in scanning result.
Once scanning process finishes, recoverable files will be placed under two tabs: Directory and File Type. You can preview all listed files to located wanted data and verify if files are damaged in advance.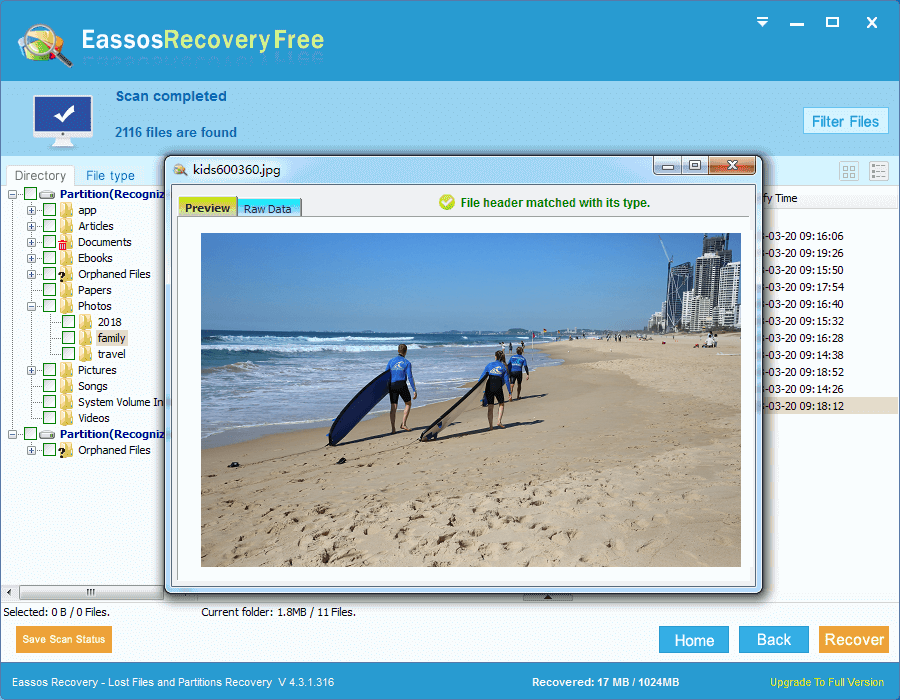 Step 4: Recover lost files from USB flash drive.
Choose files from scanning result and click Recover button to copy files to a different location, such as local hard drives on your computers.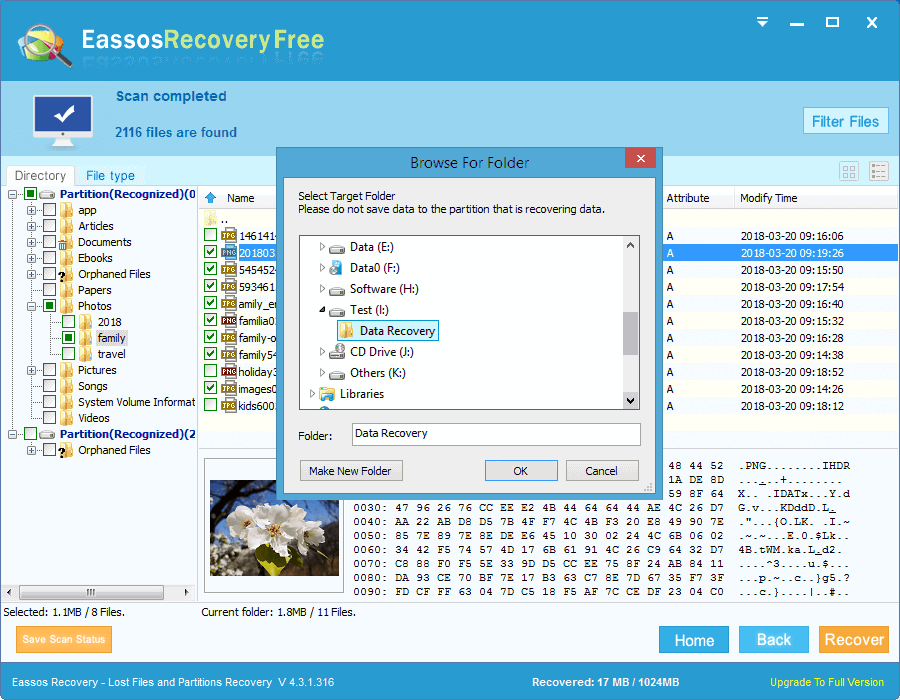 FAQs on USB flash drive data recovery software free download full version
1. How much data can be recovered by this USB flash drive data recovery freeware?
Eassos Recovery Free works the same as the registered edition when search for lost data and preview recoverable files, and yet the free edition has a 1GB size limitation to copy recovered files. If you want to remove the limitation, you can upgrade the Free edition to Full edition.
2. Is it possible to run Eassos Recovery Free on Windows PE?
Yes. Eassos data recovery software is designed in such a way that it can be used in any version of Windows system, including Windows 10/8/7/Vista/XP, Servers and Windows PE.
3. What technical skills should I need to use this software?
None. Eassos Recovery Free comes with an intuitive GUI and the onscreen wizard clears away all complicated steps. Hence, novice users can operate it with ease.
More guides on USB flash drive data recovery
Conclusion
USB flash drive data recovery software free download full version can help you retrieve USB flash drive files from deletion, formatting, partition corruption and many other data loss situations easily and quickly. When your USB flash drive loses important files and no backup files are available, you can free download Eassos Recovery Free and follow this guide to fix the issue. Should you have any doubt or need any help, please feel free to leave a comment or contact us via email.