How to recover data from Seagate external hard drive? This post provides a simple and free solution to Seagate data recovery. Free download the free Seagate data recovery software Eassos Recovery Free to recover lost files from deletion, formatting, RAW drive, partition missing, etc. data loss situations.
About recovering data from Seagate external hard drive
"I have a 2TB Seagate external hard drive. It turned to be inaccessible due to unplugging without ejecting it on safe mode. It has one partitions and contains images and videos which are taken by Canon camera and phone camera. I used a recovery application to scan the drive, but the scanning seems to take 5 days to complete. Do you have any easier and faster solution to retrieve files from corrupted external HDD? "
Seagate external hard drive is widely used these days, which makes it easy to carry terabytes of data. However, these files' safety is threatened by data loss issues if you haven't created backups for them. For instance, files may get lost due to virus, accidental deletion, formatting, partition corruption, drive partition missing, disk failure, bad sectors. What to do when data loss issue occurs? If your Seagate external hard drive gets physical damages or mechanical features, you will have to send the drive to a professional data recovery center, while if the drive just gets logical faults, you can deal with the data loss issue on your own. Next, you will find effective guides to perform file recovery and partition recovery from Seagate external hard disk.
Free data recovery software can recover data from Seagate external hard drive
Seagate hard drive recovery will be very simple if you use correct recovery tool. Here the recommended recovery software is Eassos Recovery Free. This is a user-friendly and free hard disk recovery program which helps to recover lost, deleted, formatted files as well as recover RAW drive, restore lost/deleted partitions from Seagate hard drive, external hard disk, SD card, thumb drive, USB flash drive, digital camera, etc. More features of Eassos Recovery Free:
Recover any type of lost files, including photos, pictures, videos, audios, Microsoft Office documents, PDF, text files, archives, emails and so on.
Cover all data loss situations, such as deleted file recovery, format recovery, lost partition recovery, RAW drive recovery, etc.
File preview is available, which helps users verify recovery quality easily.
Compatible with all versions of Windows: Windows 10/8.1/8/7/Vista/XP and Windows Server 2019/2016/2012/2008/2003
Seagate data recovery guide: how to recover deleted /formatted data from Seagate external hard drive?
This guide applies to recover deleted or lost files from external hard drive, hard disk, SD card, USB flash drive or thumb drives from various brands. Eassos Recovery Free can search for lost data as the registered edition and copy 1GB files free of charge.
Step 1: Connect the Seagate external hard drive to your Windows computer.
You can simply connect external hard drive via USB cable if it can be detected by computer in this way. If there is something wrong with the power, USB cable, USB port or the disk enclosure, you can take out the disk and connect it to the motherboard.
Step 2: Run Eassos Recovery Free edition on your computer and choose recovery mode.
Free download the external hard drive data recovery software and you can easily get it installed following the onscreen installer. Note: Do NOT install the software to the Seagate external hard drive where lost files were located. Launch Eassos Recovery Free once it is installed properly and select a recovery option from home interface based on data loss causes.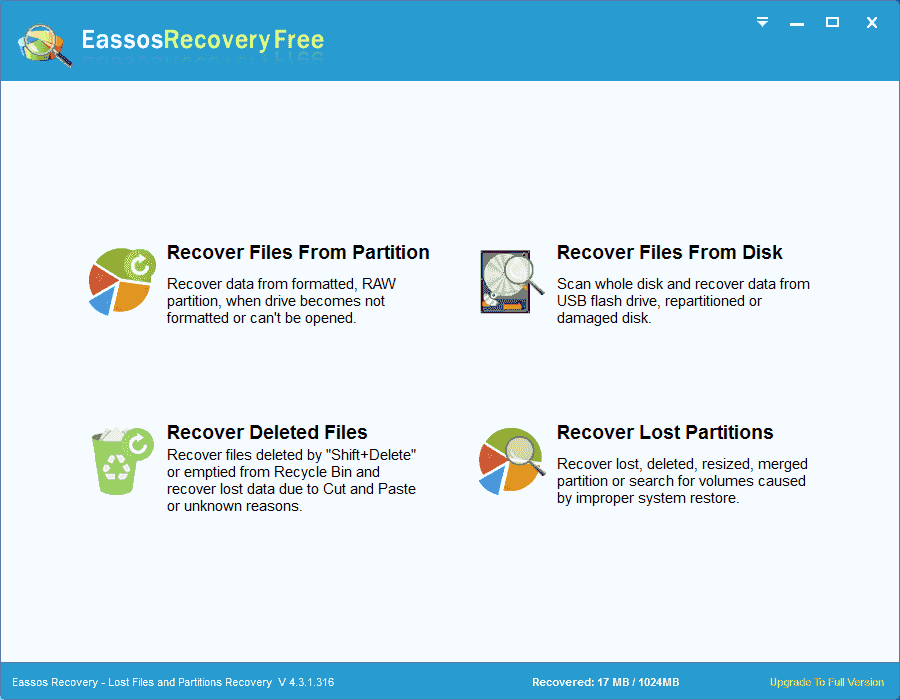 Step 3: Select the Seagate external hard drive to start scanning.
Your Seagate external hard drive show up in the drive list, and you need to locate and select it before clicking Next button. Eassos Recovery Free will deeply scan the drive and display lost files. The scanning result of the free edition is the same as the registered edition.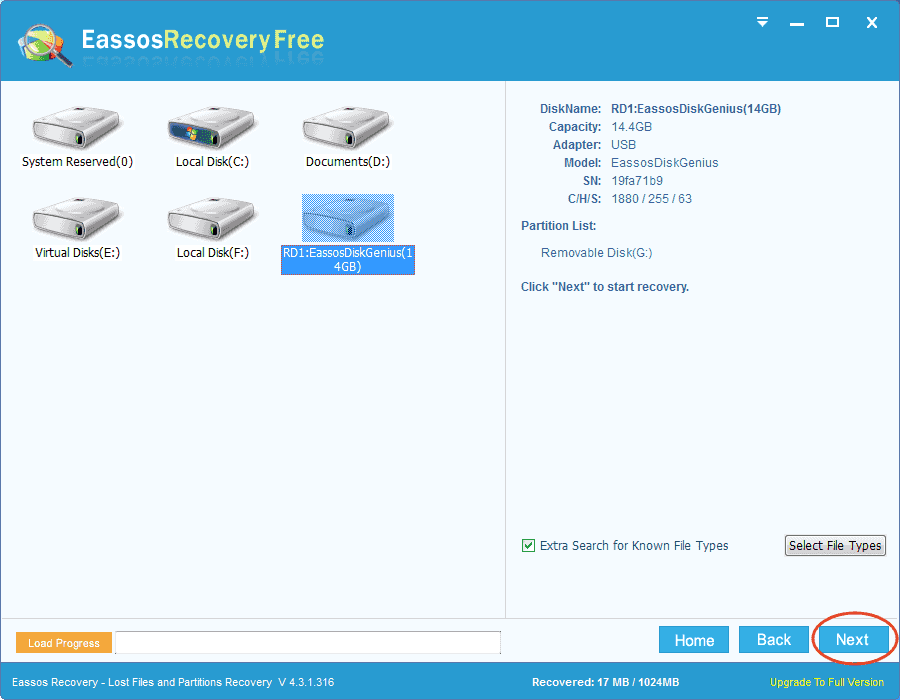 Step 4: Preview data and select files you want to restore.
All found files are listed in scanning result and you can either filter or preview recoverable files to verify recovery result and located needed data. Preview files one by one to make sure if files are damaged.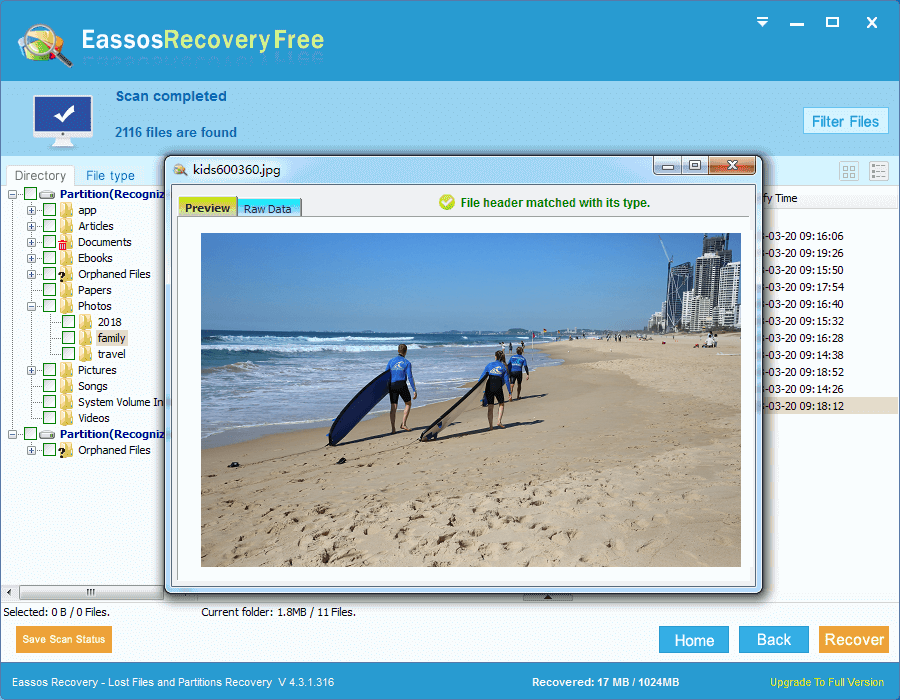 Step 5: Copy files to another drive to complete Seagate data recovery.
Choose files and folders you want to recover and click on Recover button. Then choose a location to saved recovered and wait for file copy process to complete.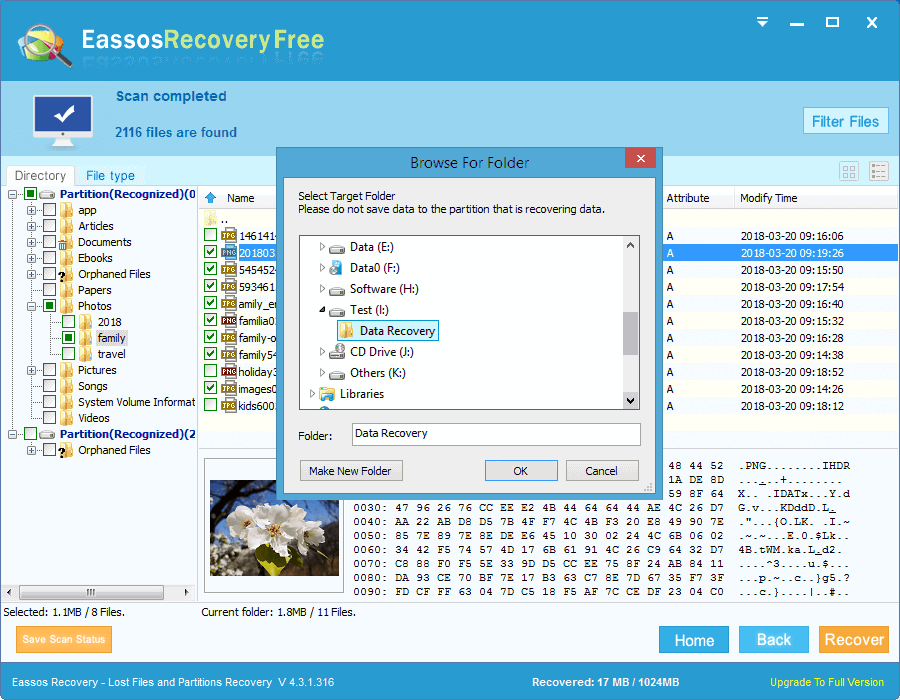 Tips for recovering data from Seagate external hard drive
After scanning finishes, you can search for files by filtering file name, extensions, date, etc. Also, you can manually save scanning progress manually, which helps to resume recovery.
When saving found files, please make the destination folder on a different drive in case of data overwrite. Moreover, you can upgrade the free edition to full edition directly by entering a license code if you want to copy more files.
Conclusion
Data loss issue can happen to various data storage devices anytime, including Seagate external hard drive, and yet many cases lost files can be recovered with the help of free data recovery software. Instruction above shows how to recover lost files from external HDD, HDD, memory card, flash drive, etc. However, never ignore the importance of data backup, which helps to prevent data loss issue. Should you need any help regarding this guide, please free to contact the technical team.
Related articles