Updated on September 3rd, 2021
This guide explains how to perform lost partition data recovery, i.e. how to recover lost or deleted partition as well as how to recover data from deleted partitions in Windows. Free download Eassos partition recovery software DiskGenius to get back lost partition data now.
Partition loss and data recovery
"Want to recover files and lost partitions from this external hard drive. The external hard drive does not show up in File Explorer, but it has only unallocated space after checking it in Disk Management. Not sure what happened to the disk. There were 3 partitions on this disk, but none is visible now! How can I restore lost partitions or files?"
Partitions created on hard drives and USB disks are logical data containers. A partition can be formatted into various file system types so as to be recognized by corresponding operating systems. Users can create, delete, format or resize partitions in Disk Management or using third-party disk partition software. All partitions except for system partition can be easily deleted or formatted in Windows.
Losing a partition (volume) means all data in the partition gets lost. In addition to deletion, there might be other causes accounting for drive partition missing issue, for instance, virus, partition corruption, disk repartitioning, bad sectors, and so on. What if you accidentally delete a partition that stores some important files? As a matter of fact, it is not quite difficult to recover lost or deleted partitions by using effective partition recovery software.
Lost partition data recovery software free download full version
I recommend you to try DiskGenius to restore lost partitions and files. DiskGenius is one of the most effective partition recovery software and it enables users to restore lost or deleted partitions in situ, which means you can restore lost partitions to their original status before they got lost.
Apart from recovering lost and deleted partitions, DiskGenius also supports to recover RAW drives, recover formatted partitions, recover corrupted partitions or recover deleted files from various storage devices.
Lost partition recovery is now available for NTFS, FAT32, exFAT, EXT2/3/4 drives.
File preview is provided to help identify if corrected partitions are found.
Supported devices: internal hard drive, external hard drive, SD card, USB flash drive, virtual disk (VHD, VDI, VMDK), RAID, etc.
Supports to create bootable USB drive to help you recover files or partitions from unbootable computers.
Lost partition data recovery guide: how to recover deleted/lost partitions in Windows 10
Step 1: Install and launch DiskGenius from Windows computer. Select the disk where lost partitions were located and click Tools > Search Lost Partition (Partition Recovery), as follows:
Step 2: Click Start button and DiskGenius starts to scan the disk and search for lost partitions.
As to scanning range, you can either follow default setting or customer cylinder range. The scanning process is read-only and does not write any data to the disk.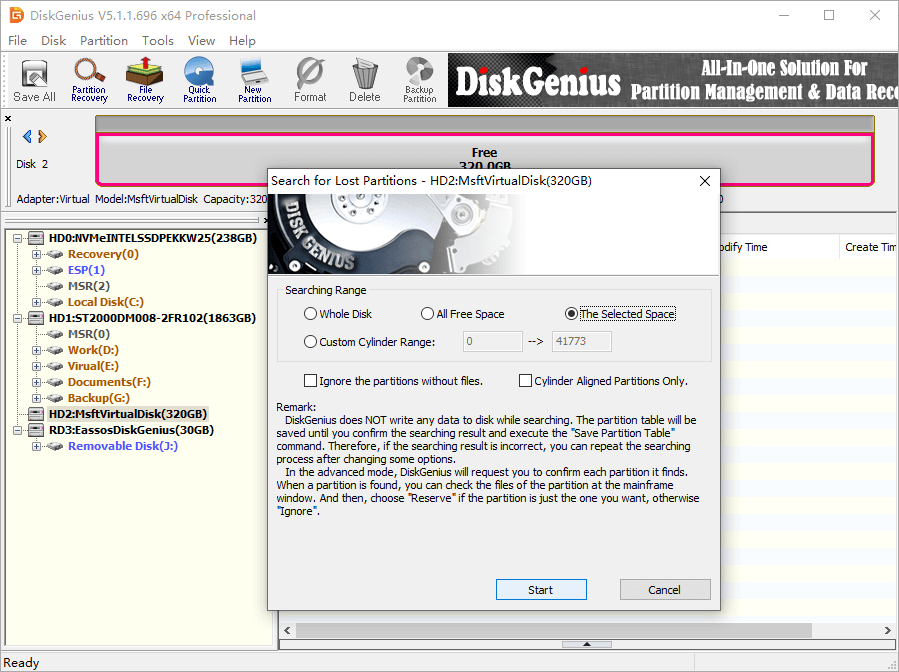 Step 3: Reserve correct partitions and Ignore wrong partitions.
You will be prompted to select Reserve or Ignore every time when DiskGenius finds out a partition. Many partitions might be found during scanning, and you should make out which one you want to recover. File preview is a good method to help you make the choice.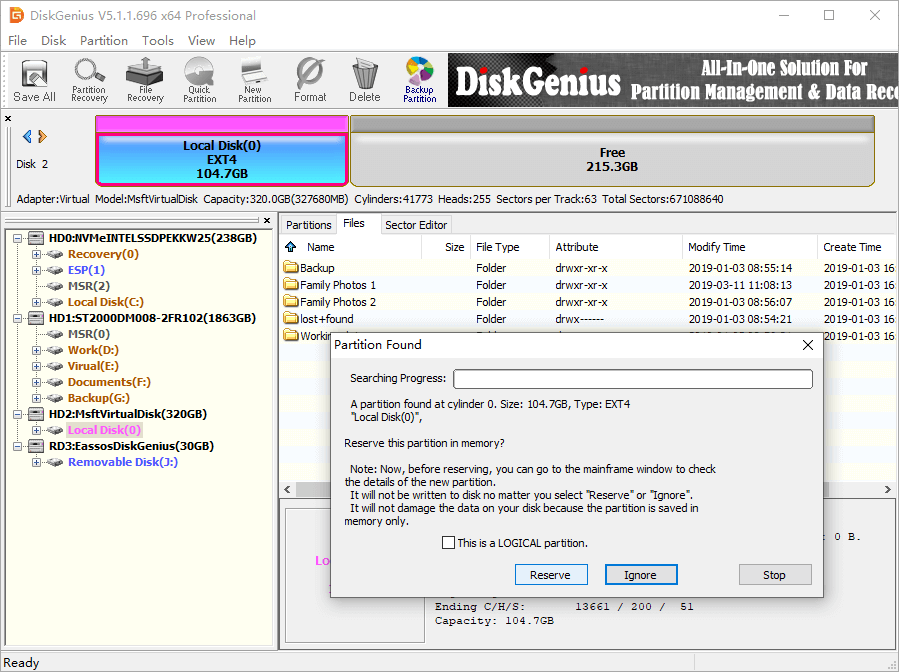 Step 4: Click OK after partition searching completes.

Step 5: Save partition table: Click Disk > Save Partition Table.
Partitions you reserved during scanning are save in memory and they are not actually recovered before writing them to current partition table. Of course, if you do not want to make changes to current partition table, you can skip this step and copy wanted files directly to another disk.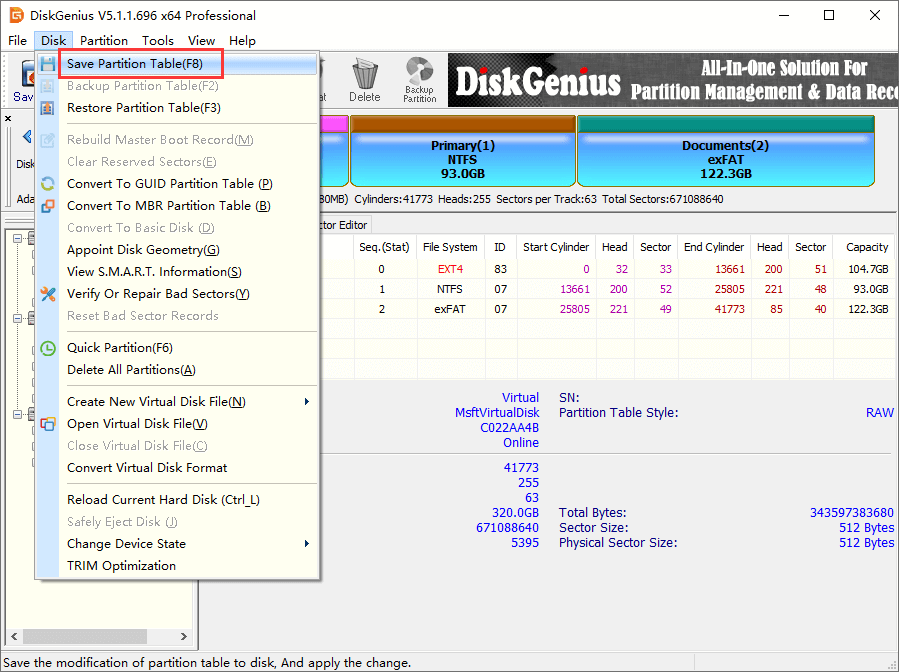 Choose partition table type between MBR and GUID and click OK. DiskGenius supports both MBR and GUID partition table type, and yet it is recommended to choose the one which was used by the disk.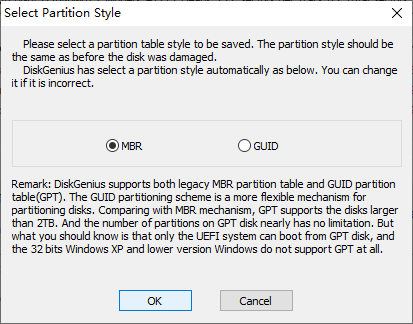 Video tutorial on lost partition data recovery
Conclusion
This guide is mainly written for those who want to restore deleted or lost partitions from HDD, external HDD, USB flash drive, SD card, virtual disk, SSD, etc. Lost partition data recovery differs from the way of recovering lost files, but it is equally easy to carry out with the help of DiskGenius. Should you need any help regarding partition recovery or file recovery, please feel free to contact the support team.
You may also like