Updated on November 6th, 2020
Accidentally deleted an important file? Lost data after system crash or formatting? No worries – open source data recovery software can help you perform file recovery & partition recovery from your Windows computer, Recycle Bin, HDD, portable HDD, SD card, etc.
Data loss issue
At some point, data loss issue may hit all of us. It just occurs no matter whether you are aware it or not. One day, you get to your office and press the power button as usual. But this time the machine does not boot to system instead of a blue screen. Sudden system failure is a kind of disaster that cannot be avoided and it always causes data loss issue. Here are some common factors causing data loss problem: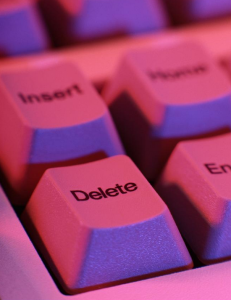 Deletion: files are deleted by Shift + Delete or emptied from Recycle Bin; data gets lost due to error occurs to Cut & Paste process; file is replaced by a new one with same name
Formatting: storage media or partition gets formatted and files will be gone.
Partition corruption: partition become RAW and inaccessible, such as a partition cannot be opened and prompts to format.
Disk repartition: hard drive or removable storage device is repartitioned, and previous partitions and files are removed
Bad sectors: bad sector can occur to any storage media, causing various issues
Virus attack: Virus may delete your files secretly or damages files on your hard drive
System reinstallation: System installation can wipe entire hard drive and many users makes incorrect choice and lose all data
System failure: operating system boot failure is common system issue, and it usually leaves a black or blue screen instead of boot to Windows
Open source data recovery software overview
Whether you like to learn data recovery skills or not, it is already a necessary task for users who are related to today's digital life. People lose data by accidental or problematic operations. No matter how your files get lost, you'll need to get them back if you do not have a backup at hand. It is understandable that people tend to look for free solutions or open source data recovery too to solve the problem. Most of us have a finite amount of budget on such staff and such open source file recovery is loved by users.
There are quite a few open source data recovery programs in the market. Open source data recovery software is free of charge and popular among users. However, most of such software cannot work effectively enough to undelete files or partitions, or recover lost / corrupted partitions as expected. Because it has limited functions, such as it can recover deleted files only, as it lacks of advanced features which guarantees successful recovery for complicated data loss issue.
Eassos open source data recovery software
Eassos Recovery Free is the best alternative to open software data recovery software. Though its source code is not open for the moment, it works better than open source apps. It is advanced, professional and free data recovery software, which is capable of doing file recovery, partition recovery, format recovery, photo recovery, SD card recovery, disk recovery, and undeleting files from emptied Recycle Bin.
This data recovery freeware also recovers lost data due to software crash, virus attach, improper operations or unknown reasons from FAT32, exFAT, FAT12, FAT16 or NTFS partitions under Windows 10/8/7/Vista/XP.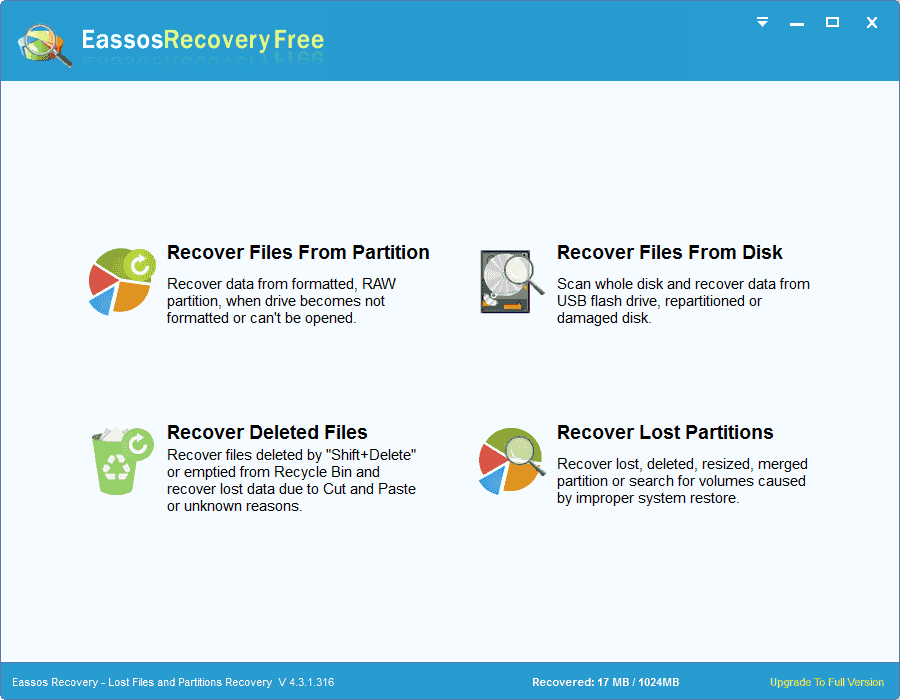 Compared with open source data recovery software, Eassos Recovery Free has following advantages:
Undelete files from Recycle Bin or removable storage device;
Recover lost files with original file name and directory structure as well as by file type;
Restore lost partitions after disk repartition, system reinstallation, partition table error, etc.
Retrieve data from RAW drive, corruption partition or chkdsk is not available for RAW drives.
Advanced scanning algorithm guarantees satisfactory recovery result
File preview feature is provided and supports previewing documents, photos, audio, video, text file, etc.
How to recover deleted / lost files using open source file recovery software?
Recovering deleted or lost files is simple task if you use efficient data recovery freeware. The following process shows how to get back deleted files using Eassos Recovery Free in a step-by-step manner.
Step 1: Install and launch Eassos data recovery software from Windows computer.
Do NOT install the software to the drive where lost files were stored.
Step 2: Select recovery mode based on actual data loss factor.
Four recovery modes are provided to deal with various data loss issue, and you should choose the one that suits your situation best.
Step 3: Select partition / drive that needs recovering data and click Next button to search for lost data.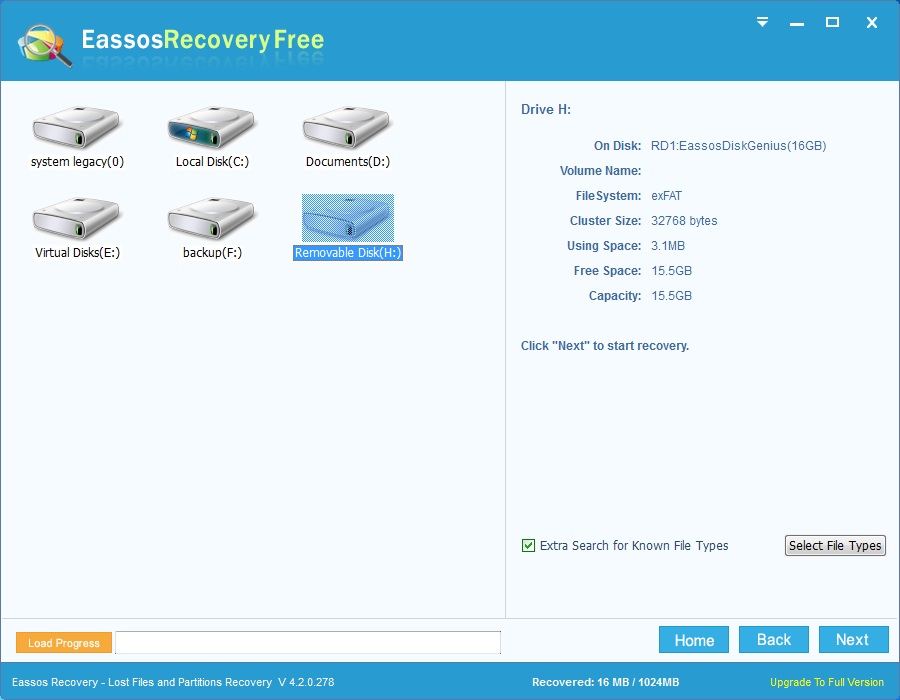 Step 4: Preview and recover files. You can preview files to locate files you want to recover and save them to a different location.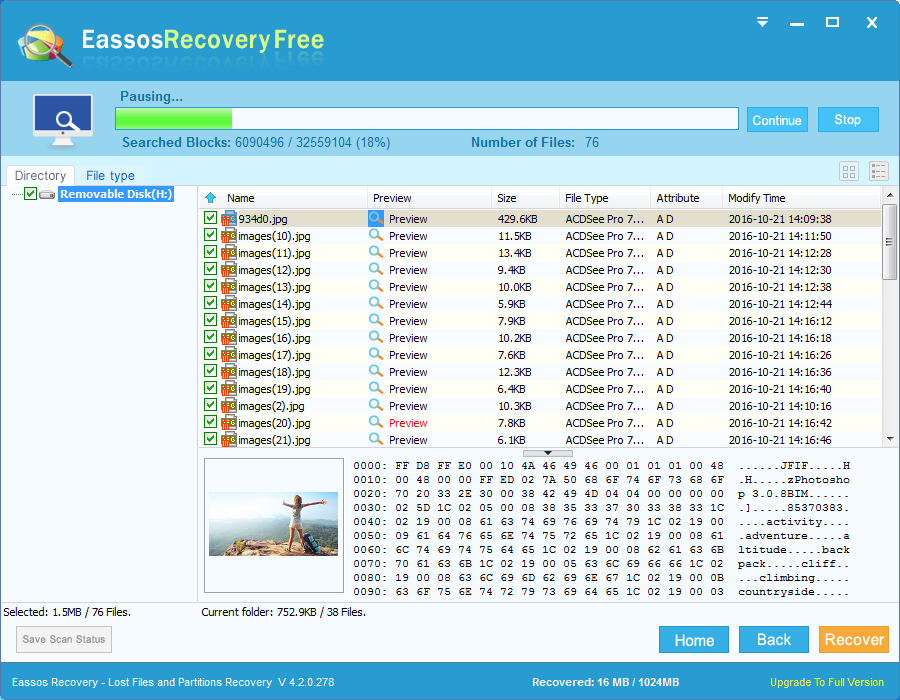 The best defense again data loss
The best measure to defense again data loss is data backup. If your latest backup file contains files you accidently deleted, you can restore data from backup easily.
Thus, you should create a backup once your data has bag changes. You can perform incremental backup on a week or month basis, or just copy important data to a different disk.
If you do not obtain a backup, the best way to fix data loss issue to prepare a reliable recovery tool. What's more, you should pay attention to avoid data overwrite once you realize data loss issue appears.
Your picks
File and partition recovery is really a challenging business in many cases, as we cannot make sure all files can be 100% recovered in all situations. You need to testing recovery apps to check its recovery ability. Maybe you'll never need recovery tools if files are backed up in time, but it's good to know data recovery free of charge is available. If you plan to recover lost files, data recovery freeware is recommended.