Updated on May 14th, 2021
Are you wondering how to recover photos and videos from corrupted SD card without formatting? The SD card in your digital camera, GoPro, mobile phone, etc. may get corrupted, leading to the loss of photos and videos. No worries. Following steps in this page, you can easily handle corrupted SD card recovery with the help of free recovery software Eassos Recovery Free.
Symptoms of a corrupted SD card
In this paperless era, everyone of us is filled with all sorts of digital storage media, such as computer, digital camera, HDD, USB flash drive, SSD, memory card, mobile phone, etc. Materials have turn to digital data on these devices, which includes photos and videos. SD card is one of the popular storage devices in our lives, and it plays an important role in storing photos, videos, music files, etc.
However, SD card may get corrupted, and many causes can lead to the corruption, for example, abrupt removable SD card from PC, sudden power failure, bad sectors, virus, poor quality, incompatible file system, etc. Once a SD card gets corrupted, you can neither open it nor access files from it. Here are some symptoms of a corrupted SD card:
SD card is not accessible. The file or directory is corrupted and unreadable.
SD card cannot be opened and prompts to format: Disk in drive is not formatted. You need to format it before you can use it. Do you want to format it now?
SD card is blank and does not have a partition.
The file system of the SD card is RAW.
The Properties of the SD card shows 0 bytes capacity, o bytes used space and 0bytes free space.
Example:
"I am a user of Canon digital camera, and I recently captured a lot of photos and videos for my trips. There was one power failure on the camera, which might be very cause of the corrupted SD card. I connected the SD card to laptop, but it cannot be opened as before, reporting it needs to be formatted before I can use it! I've never thought SD card should be so venerable. Anyway, I need your help to retrieve those photos and videos from the corrupted SD card. What's your suggestion?"
Is it possible to recover data from corrupted SD card?
The good new is that you stand a good chance to recover lost data from a corrupted SD card as long as the SD card is not physically damaged and lost files are not destroyed. When your SD card gets corrupted or damaged, files on the SD card become inaccessible, but that does not mean these files are wiped from SD card completely. Moreover, the corrupted SD card recovery is quite simple. Apart from recovering photos and videos from corrupted SD card is possible, you can also fix the corrupted error on your own. To maximize the recovery result, you should pay attention to following tips:
Stop using the SD card at once: When you are aware of data loss issue on SD card, you should stop using it to avoid any improper operations.
Do not format the corrupted SD card: Do not follow the advice given by Windows which prompts to format it, for formatting will remove all data off the SD card.
Do not carry out repair actions: you might find many guides to fix the corrupted SD, and yet do not try any of them before all photos and videos are recovered from the SD card.
How to recover photos and videos from corrupted SD card without formatting?
Free SD card recovery software
Eassos Recovery Free is the best SD card data recovery freeware. It is designed with a graphical user interface and effective functions. Even though you are a novice user, you can easily use the software to recover lost photos, videos, music, documents and other files from all types of memory card, including MicroSD card, Mini SD card, SDHC card, SDXC card, CF card, XD card, MMC and so on. It provides four recovery options which enables you to recover data when SD card gets corrupted or formatted within a couple of simple steps.
The step-by-step guide to recover photos and videos from corrupted SD card without formatting
Step 1: Connect the corrupted SD card to computer.
Remove the corrupted SD card from digital product and connect it computer via a card reader. Make sure the SD can be detected by computer.
Step 2: Free download and install Eassos Recovery Free on your computer hard drive.
Free download this SD card data recovery freeware from Eassos site and install it to your computer hard drive instead of the SD card.
Step 3: Launch Eassos Recovery Free and choose a proper option form the home interface.
Recovery Files From Partition or Recover Files From Disk can be chosen here to recover photos and videos from corrupted SD card, and you can click either to enter next step.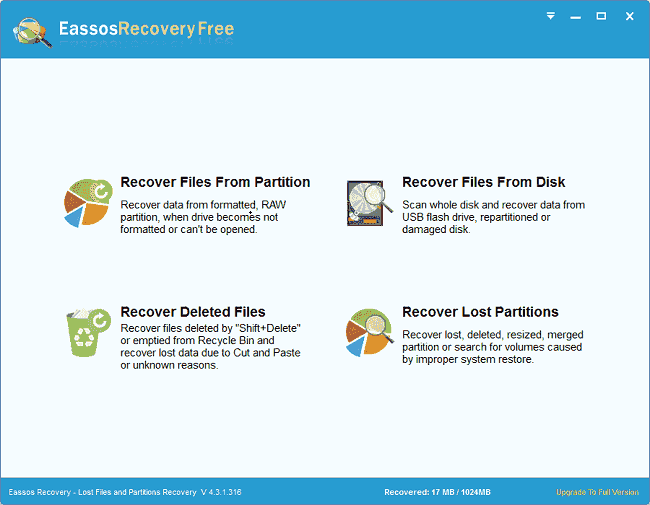 Step 4: Select the SD card and start scanning process.
Now you can see the corrupted is listed with other partitions. Select it and click Next button to scan data from it.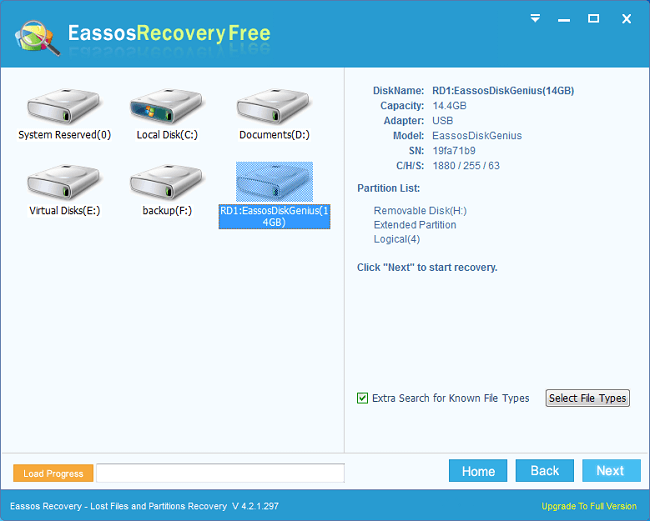 Step 5: Preview scanning result.
Once scanning finishes, you can view all listed files in the software. How to locate wanted files and check if files are recoverable? Eassos Recovery Free allows you to filter files and preview files, which makes it easy to verify recovery quality.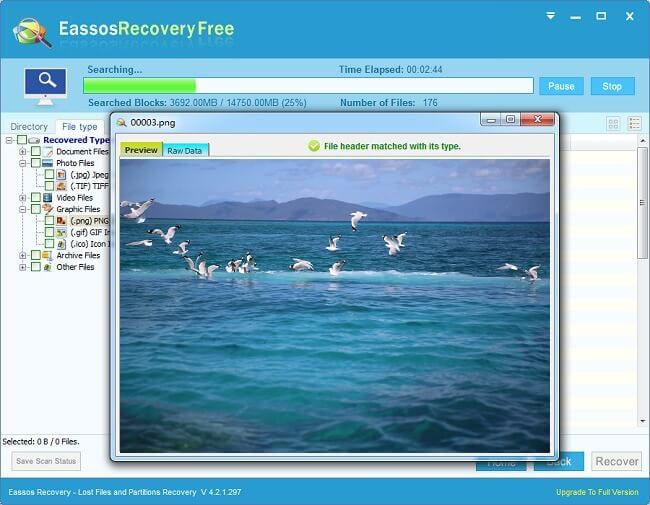 Step 6: Copy files to a secure location.
After finding photos and videos you want to recover, you can select them and click Recover button. Then set a path to save them and complete the SD card recovery task.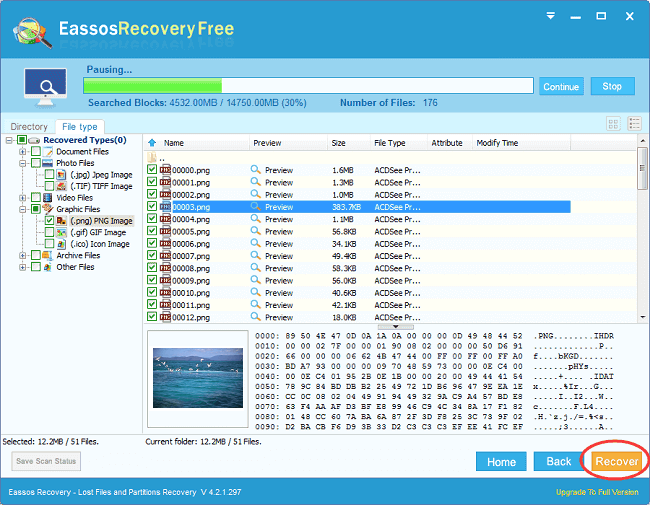 Final words
Eassos Recovery Free makes it easy to recover data from corrupted SD card without formatting, and yet nobody can guarantee a 100% recovery rate for all data loss issues, for the recovery can be affected by many factors. Thus, it is important to keep regular backups for important data.
You may also like: