Updated on May 14th, 2021
In numerous occasions we narrowly lost significant files because of sheer careless. Sometime, you just delete files by accident. If photos in our digital camera's memory card are deleted by mistake, what would you do in such a troublesome situation? Luckily, there is an easy and feasible solution to this problem. You just need to take some cautions and use related programs to recover lost photos.
It is really disturbing for most of people when valuable photos are deleted or formatted unintentionally, or get corrupted due to virus attack or memory card failure. When such disaster occurs, a majority of digital camera users just leave lost files alone and let them go for good, because they don't think they are able to do anything to rescue lost data.
Photos are taken for the purpose of being precious reminders of fun and important moments. Therefore, it can be very frustrating when you lose something as valuable as photos of a special moment from memory card or SD card from camera or cell phone. Then you are in desperate that you believe in lost files can't be recovered.
And here comes good news for you. Present data recovery technology has developed photo recovery software which is designed to recover lost photos. Eassos Recovery Free is one of such photo recovery programs, and it supports recovering lost pictures or videos from different brands of cameras and it has easy-to-use operating steps.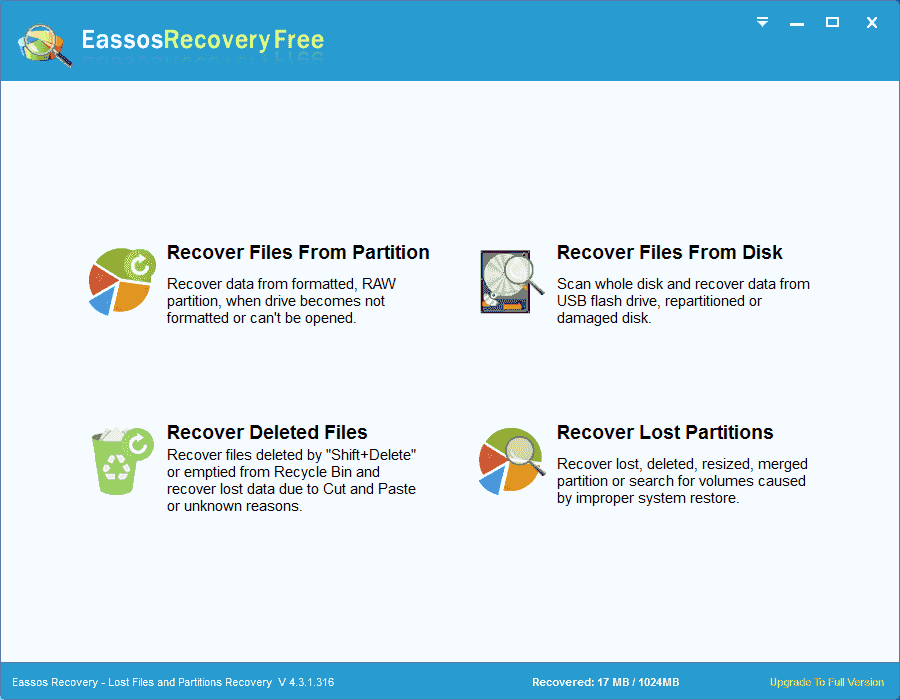 Generally, we deem that once photos or other types of files are deleted from Recycle Bin or other USB drive, and files are totally deleted. As a matter of fact, when a file is deleted, the space taken by the deleted files is not wiped complete. And the space is merely tagged as "Free" so that it can be used to store other files. Eassos Recovery offers all the possible functions that can retrieve corrupted, deleted, formatted photos.
Though photo recovery software is powerful enough to get back lost photos, you have to make sure that you stop using the memory card and do not store any data to it. Only in this way, can we avoid further damage to original data and get successful recovery.
How to recover lost photos with photo recovery software? First, take the memory card out of digital camera or cell phone and connect it to computer to via card reader, and then you'll see a removable device in My Computer; second, install Eassos Recovery to computer and then start searching for photos from the memory card. Finally, copy photos found by the program to a safe destination.