Updated on May 14th, 2021
This guide help you fix error "The disk in drive is not formatted. Do you want to format it now" without losing data. Do dot format the drive if files in it are important to you.
The disk in drive is not formatted issue overview
It is reported that many computer users have undergone the bitter experience that hard drive partition suddenly becomes inaccessible and gives error message drive is not formatted when you try to access files stored on the drive. The error message varies based on different cases, such as it can be "The disk in drive * is not formatted. Do you want to format it now?" "The parameter is incorrect" or "* is not accessible. The volume does not contain a recognized file system. Please make sure that all required file system are loaded and that the volume is not corrupted." "You need to format the disk before you can use it."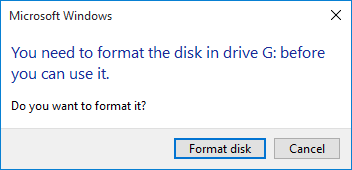 As a matter of fact, users will see these information when opening a hard drive partition if the drive has been damaged. You should bear in mind that you are not permitted to format the drive before everything is recovered if there are important files in it. Though it asks you to format it, you can't click "OK". You should close the message box and look for way of recovering data from inaccessible drive. You must doubt me now, because formatting is a good way to make a problem drive normal again. But, the fact is that all file will be erased after formatting and formatting won't help in retrieving data.
Partition or drive corruption is common data loss issue, but it brings troubles or miserable result provided that missing files and folders are vital business documents or valuable family photos. Hence, it is necessary to learn reasons of unformatted error and method to restore missing files.
Why does hard drive get "unformatted error"?
Why "drive is not formatted" problem happens? There are a bunch of reasons account for the error. Such as users computer might have been attacked by Trojan, then some partition can be damaged without known by users. Another typical example is that external drives like USB flash drive or external hard drive should be connected with computer via USB port before transferring data. Improper operations can lead to partition corruption.
Whatever the reason is, you have to come up with solution to save precious data. Do not just pray for it, as files won't come back by themselves. We should find them with the aid of hard drive recovery software. Eassos Recovery is useful recovery software that can recover lost files from damaged or inaccessible hard drive and partition.
How to recover data from hard drive that is not formatted?
Install and launch Eassos Recovery as soon as possible to a partition or drive that doesn't need data recovery.
Select the first recovery mode and partition in question, then start scanning.
Preview listed files and save needed data.