How to recover deleted files from PC? What's the best free data recovery software for PC? Want to recover lost data from PC hard drive or USB disk? Please refer to this article which focuses on data recovery software for PC free download and a step-by-step guide to recover deleted files from PC.
About recovering deleted files from PC
It is not possible to avert the issue of accidently deletion of important files and folders, that's why operating system provides a Recycle Bin. When a file gets deleted, it will be moved into Recycle Bin and it can be restored as long as it is not deleted from Recycle Bin. However, oftentimes, Recycle Bin cannot prevent all data loss problem, such as Recycle Bin gets emptied, files are deleted via Shift + Delete keys, etc. When this happens, are you prepared to recover deleted files from PC?
It seems that recovering files which have not been backed up can be a tough task, and yet the actual situation is that there is effective software to recover deleted or lost files from PC. You might be wondering why deleted files are still recoverable. To put it simply, files are stored on hard drives which are divided into very small units called sectors. Once a file is saved on hard disk, it will be written into one or multiple sectors according to file size and a file pointer will be created and stored in system. When the file gets deleted, only the pointer is removed, and file data still stays on the disk. Since operating system locates the file via reading information of the pointer, system cannot find the file without the pointer, and the file is missing. Disk sectors that contain the deleted file become available again for storing new data. Therefore, we can restore deleted files from PC before those sectors are reused to store other data. Hence, with the best free recovery software and simple operations, you can get a good chance of restoring lost or deleted PC data.
The best free recovery software to recover deleted files for PC free download
Which is the best free recovery software to recover deleted files from PC? Try out Eassos Recovery Free to do the job for you. Eassos Recovery Free is a popular data recovery freeware that enables users to recover all sorts of deleted data from various storage devices, including hard disk, external HDD, USB flash drive, memory card, pen drive, etc. The free PC data recovery software can help you recover lost or deleted photos, documents, videos, music, email and other files. Here are more reasons to choose Eassos free data recovery software for PC.
Permanently deleted file recovery: recover files that are deleted by Shift + Delete or deleted from Recycle Bin & USB disks.
Formatted / RAW partition recovery: Retrieve lost files from RAW, corrupted, damaged or formatted partition.
Recover deleted/lost partition: Search for and locate lost partitions on disk and restore them to partition table, so that lost partitions can be mounted as normal partition.
Preview lost files prior to saving data: Previewing of lost data listed in scanning result helps quickly find out needed files and check recovery quality in advance.
Flexible file scanning: During scanning, you can pause, continue or stop scanning at any time. Plus, you can preview files as long as the software lists data.
Supported file system types: NTFS, FAT(FAT16/FAT32), and exFAT file system.
Step-by-step guide: how to recover deleted files from PC?
There is not guarantee that the recovery guide work on all data loss issue, for example, damaged or overwritten files cannot be recovered. Thus, we should follow some rules in order to achieve the best recovery result. First and foremost, you should try best to protect lost data against data overwriting, for example, close all programs that are using the drive, stop storing data to the disk, etc. Then you should act quickly. The sooner the recovery is carried out, the more likely to recover data. After finding out the best software to recover deleted files from PC, we can start the recovery task. The follow content is a step-by-step guide to recover deleted files from PC.
Step 1: Recover deleted files from PC Recycle Bin.
Open Recycle Bin > Look for files you want to restore > Select and right-click files to choose Restore. After that deleted files will be restored to the original location when they got deleted.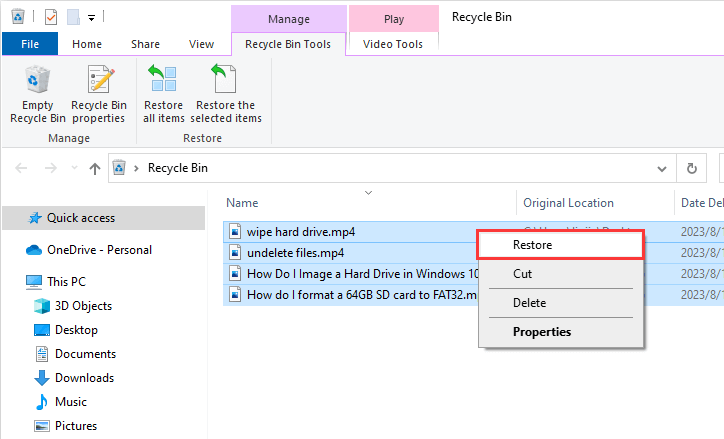 Step 2: Recover lost or deleted files from backup.
If you have backed up files, you can easily restore them from backup without trying any other recovery methods. Backing up data can be an easy work, for example, copy and paste important data to a different drive. Also, you can use backup software such as DiskGenius to create backup images or restore points, clone disk, copy partition, etc. If there is not backup available, you can try next step to get back lost data.
Step 3: Recover deleted files from PC using free data recovery software.
Eassos Recovery Free is effective, user-friendly and free data recovery software to retrieve deleted or lost files from PC and we'll show you how to use this tool recover lost data.
1. Install and run Eassos Recovery Free and click recovery option from the main interface.
In this example, we want to restore deleted data, and the "Recover Deleted Files" is the proper option.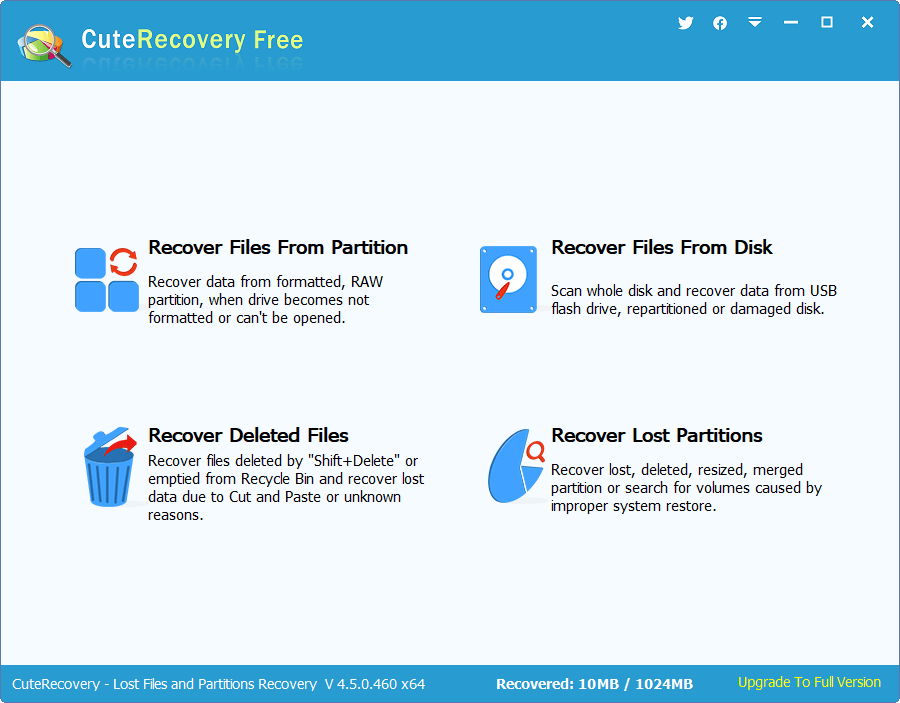 2. Select a drive to scan.
You need to choose the correct partition where you want to restore deleted files and click Next button.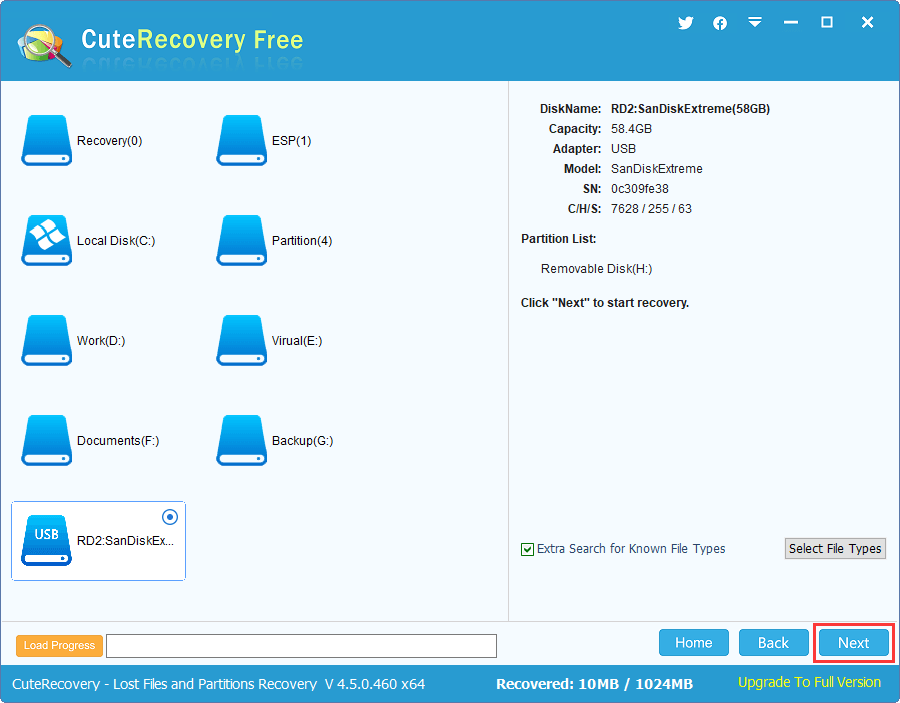 3. Preview and Recover.
Eassos Recovery Free provides the function to preview files before actual recovery, by which you can check recovery result easily.
Choose files you want to restore and click Recover button. Then you can select a location or create a folder to save recovered data.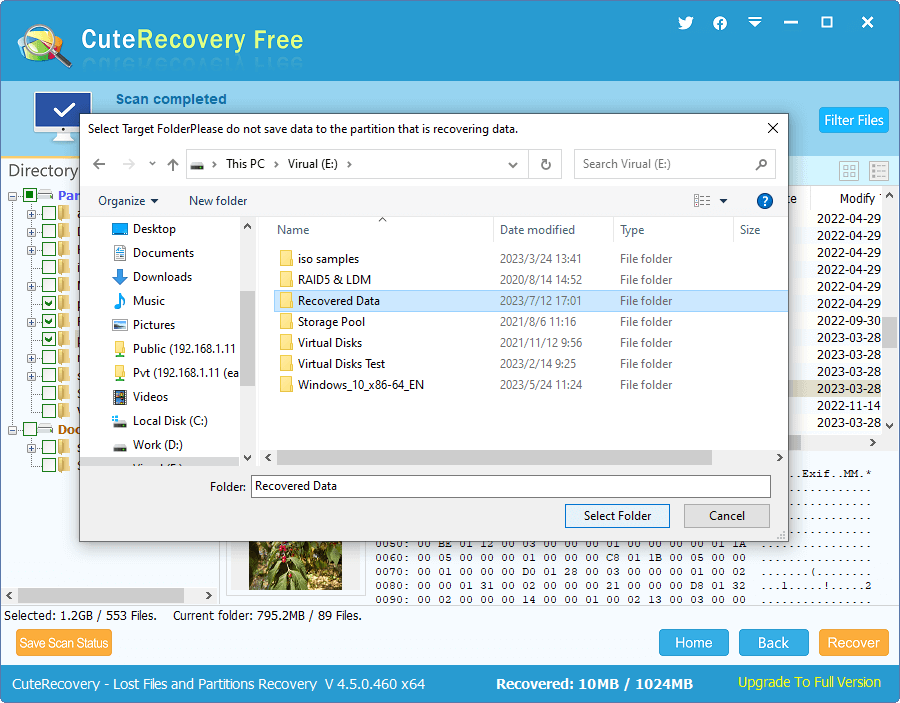 Conclusion
Eassos data recovery software makes it easy to restore deleted files from PC, hard drive, USB disk, and other devices. In this post, you can find a free PC data recovery program and an effective tutorial to restore deleted data for PC. One important thing you need to note is performing regular backup, which can help you avoid many data loss issues. If you want to learn more about deleted file recovery and data backup, please visit Eassos' official site.
Related Articles
Top 5 Data Recovery Software for PC Free Download
How to Recover My Deleted Photos?
How to Recover Deleted Videos?
Recover Deleted or Lost Files with The Best File Recovery Software