This post will show you how to recover lost, deleted or formatted files with free & easy data recovery software via simple clicks. You can free download this easy to use data recovery software and follow the guide below to get back missing or deleted pictures, videos, music, documents and other data in Windows 10/8/7.
Why do you need easy data recovery software?
It is a sure bet that whether you are a computer experts, average user or novice, you must have encountered data loss issue once or twice. Do you have an effective solution to solve data loss problem? Have you ever bought data recovery services? Are you troubled by the complicated steps of some recovery software? Your privacy might be leaked if you send your disk to some data recovery service suppliers. When you decide to do the recovery task on you own, you might be afraid that you are not qualified for the job.
Fortunately, a free and easy data recovery program can just help you get out of the data loss trouble. It is free and effective data recovery software for Windows users, and it is capable of handling various data recovery tasks. It is very easy to use and meanwhile it works as efficiently as those expensive data recovery services. Therefore, such data recovery tool is really needed.
Free download easy-to-use data recovery software – Eassos Recovery Free
Free and easy data recovery software – Eassos Recovery Free can be free downloaded from Eassos' official site. This software can help you recover files that are deleted from Recycle Bin, or retrieve files from formatted partition, damaged disk or crashed computers. Besides, it can also restore deleted or missing partitions so that lost partitions can be mounted by system again. Here are more features of Eassos data recovery freeware:
Complete data recovery functions: file recovery and partition recovery are available, which enables users to recover lost, formatted or deleted files & partitions from HDD, external HDD, flash drive, pen stick, SD card, etc.
Easy and user-friendly interface: The software is designed with an easy and user-friendly interface which can guide you through the recovery step by step.
Effective and easy recovery: the recovery software searches for lost files or partitions with high speed and guarantees an excellent recovery quality.
Supported file system: NTFS, exFAT, FAT32, FAT16, FAT12.
Video tutorial: recover lost or deleted data with easy file recovery software
This is a tutorial to restore lost data and you can download Eassos easy and free data recovery software and refer to this guide to restore lost data:
Easy file recovery guide: how to recover deleted or lost data using easy data recovery freeware?
Eassos Recovery Free is the free edition of Eassos hard drive data recovery software and the free edition can recover 1GB data free of charge and it can recover unlimited data after being upgraded to the full edition. It is the best free and easy data recovery software. It recovers lost files or partitions via very simple steps: Select recovery option > Scan the device > Preview and recover data. Let's take a look at these steps in detail:
Step 1: Select recovery option.
Eassos data recovery software provides four recovery options and you can make the choice easily with the help of prompt on the interface.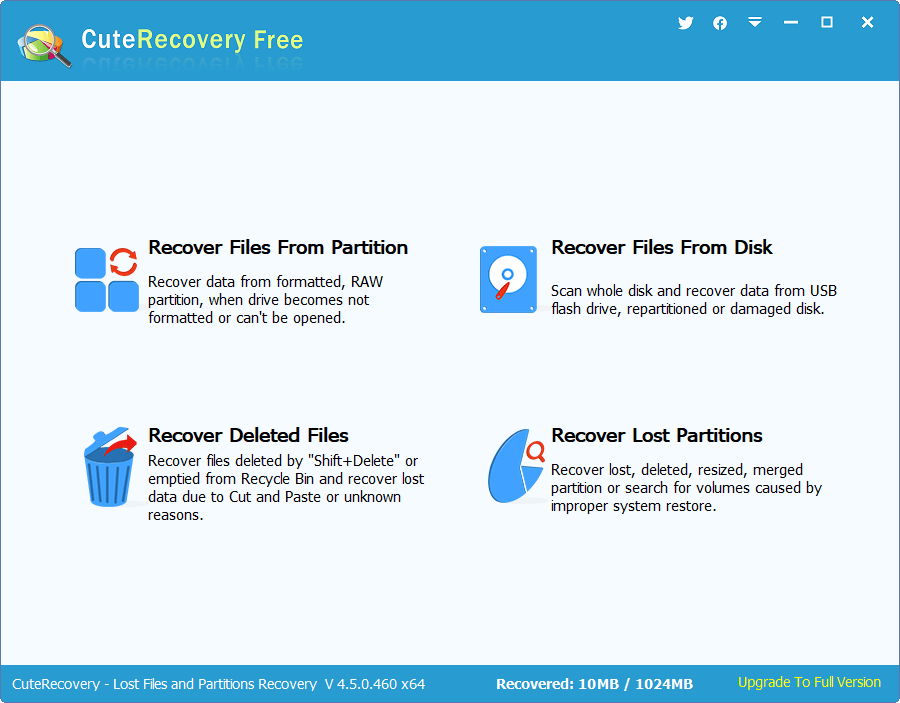 Step 2: Scan the device.
Choose the location where your lost files were stored before they were lost. Then click Next button to scan the device.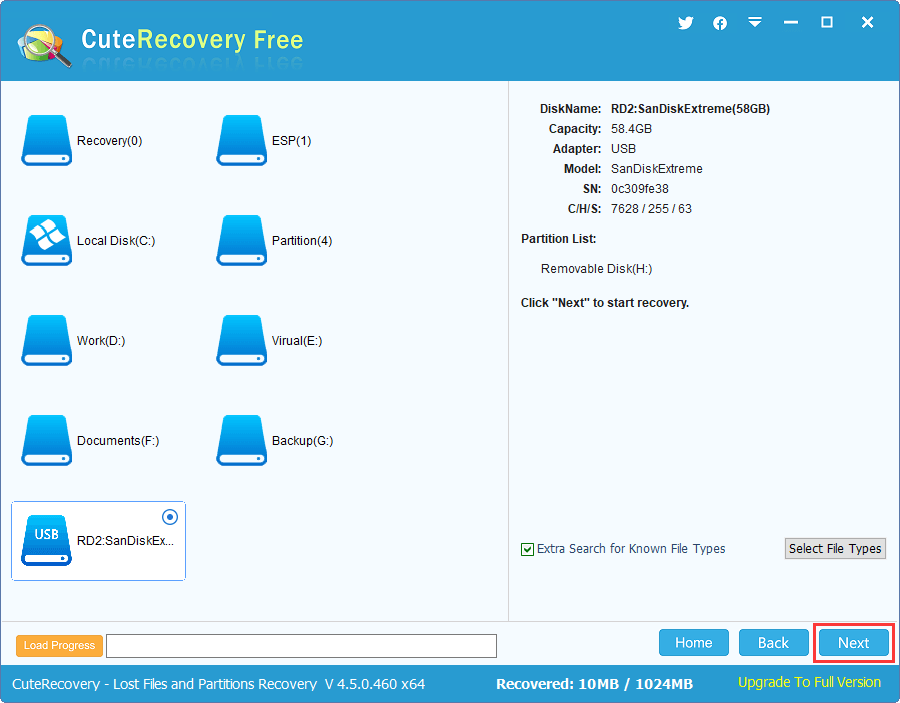 Step 3: Preview and recover data.
You can preview files when scanning displays data: select a file and you can view the thumbnail from the lower part and double click the file you can view the enlarged data content. In this way, you can locate what you want to restore.
Select files and folders you want to restore and click Recover button. Now you can choose a location to save these recovered files. Do not save data to the drive which needs recovering data.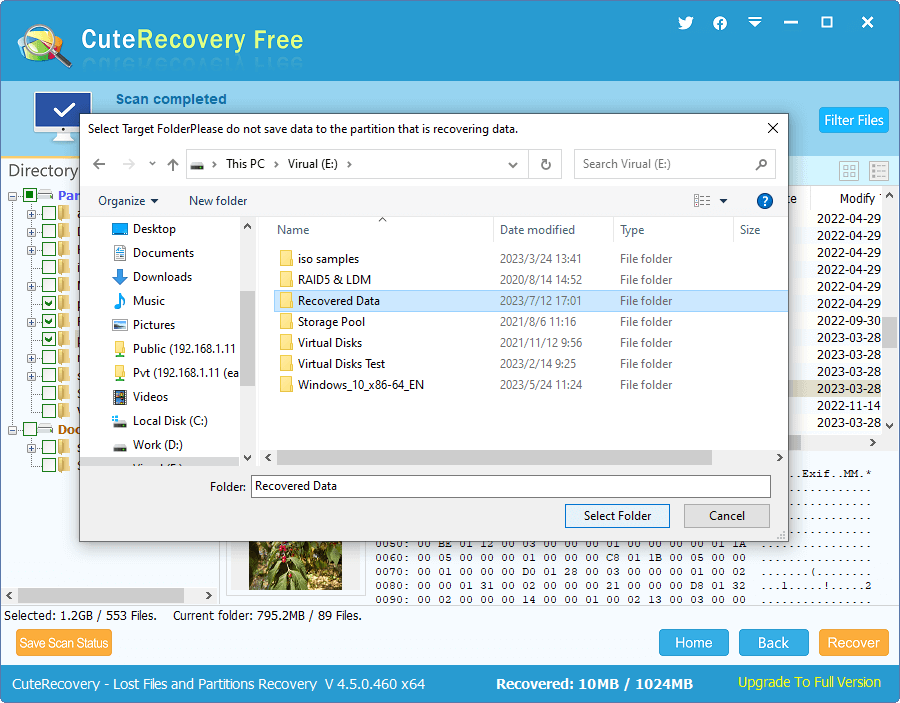 Free and easy-to use data recovery is helpful to retrieve data, and yet we cannot ignore the importance of data backup. Oftentimes, a recent data backup can protect data against damage or loss. How to create backup for important data? Here are some methods you can try:
Method 1: Copy & paste important files to a different disk and keep at least two copies of backup.
Method 2: Back up data using DiskGenius. DiskGenius provides multiple ways to backup data.
Backup partition to image files: Create image for any partition including system drive. It supports full backup, incremental backup and hot backup.
Clone partition: Copy content of one partition on the disk to another partition, and the destination partition will be loaded with same data as the source partition.
Clone disk: Copy all partitions and data from one disk to another.
Method 3: Upload files to cloud disk, such as OneDrive, Dropbox, etc.
Conclusion
We talked about easy-to-use & free data recovery software and shared a guide to recover lost or deleted files from PC, hard disk or USB drives. Data loss can be one of the most terrible problems we can encounter, and it is important to choose the right tool to recover lost data. You may get hundreds of outcomes if you search data recovery software free download on the Internet and it can be a headache to test these programs one by one. We've done the screening job for you and you can refer to this guide to get back lost data with ease.
If you have any problem, doubt or suggestion regarding easy data recovery freeware, please do not hesitate to let us know.
Related articles:
Photo deleted recovery software free download
Free Software to Recover Deleted Files From PC
How to recover deleted videos?