Updated on November 24th, 2020
Overview of flash drive data loss
Flash drive is also called pen drive, key drive, USB drive, etc., which is a kind of data storage device and contains flash memory with an integrated universal serial bus (USB) interface. It is movable and can be connected to computer via USB port.
Flash drive or flash disk has become one of the most important devices, which allows users to store files and folders and transfer data between computer and other storage media. Flash drives are also compatible with various types of media including PCs and servers. Their capacity increases immensely these days in order to meet users' demand better.
Due to its popularity, flash drive recovery is widely needed around the globe. Flash drive is easy and handy to use, and it can be plugged in USB port of computers without installing additional drive to make it work. Flash drive facilities work in all expects, for instance, users do not need to bring laptops or hard drive to transfer data. With one tiny flash drive, they can transfer and exchange data among various storage devices easily. Moreover, flash drive comes in various types and designs, and its read and write speed improves as the popularization of USB3.0 technology.
Like other storage devices, flash drive can't escape from certain problems. For some situations, flash drive also goes wrong. Counting on computer, some flash drives are not capable of normally running or turn inaccessible. Connecting to the Internet also increases the possibility of getting damaged, because the amount of virus and malware online grows year by year and flash drives are exposed to them frequently. Though it seems that data loss happens all the time, we have solution to fix the problem. Flash drive recovery is easy to achieve with the help of proper recovery software and steps.
Free flash drive data recovery software
Eassos Recovery Free offers the function to effectively recover files from flash drive for free. It can recover deleted, formatted and corrupted files and recover files from damaged or inaccessible drives by way of taking a couple of steps. And you don't have to make so many settings or options and don't need to have much experience either. Eassos Recovery Free makes flash drive recovery so easy to perform. And you can install it to computer in order that you can carry out recovery process as soon as possible, which can guarantee a better recovery result.
Steps to recover lost data from flash drives
Step 1: Download and install Eassos Recovery Free.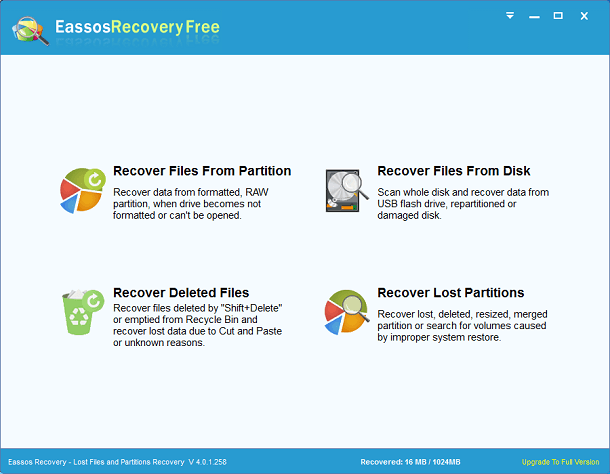 Step 2: Connect flash drive to computer and search for lost files.

After flash drive is connected, you should make sure it can be detected. Then run the program to choose its drive letter before starting scanning.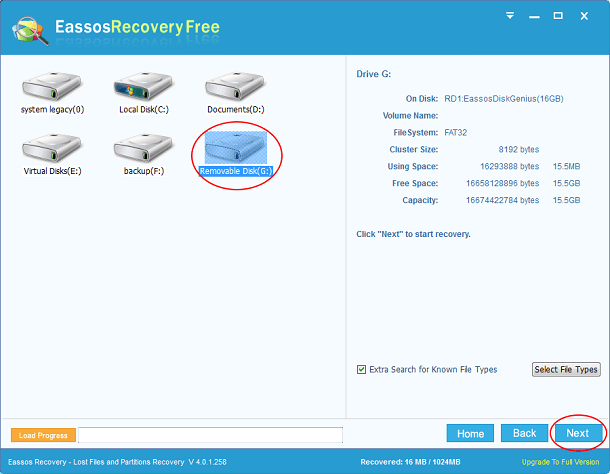 Step 3: Preview and recover lost files from flash drive.
After file scanning is done, all recoverable files will be displayed and you can preview and select files you want to recovery. And then copy these file to other locations.