Updated on March 15th, 2023
This article talks about DiskGenius (old name PartitionGuru) Professional Full crack 5.5 with serial key, including whether it is safe to use DiskGenius Pro crack version, how to get DiskGenius Pro with crack license code and how to use DiskGenius Pro to recover lost data.
Download DiskGenius Professional Cracked 5.5 (free trial version)
DiskGenius 5.5 is currently the newest version and it is the preferred option for users who want to recover lost data from all kinds of storage devices. It supports to recover lost files or partitions from computer internal hard drive, external HDD, memory cards, USB flash drives, pen drives, memory sticks, virtual disks, Windows Storage Spaces, RAID, dynamic disks, BitLocker drives and so on. The excellent data recovery result draws people's attention.
Are you looking for DiskGenius Professional Edition crack with license code (serial key, keygen)? You can free download it via two methods: one is to free download the official Free edition of this program. Click the link here to download it for free. The other method is purchasing an official license code (serial key) with half price. Continue reading to get the full version.
Free Download DiskGenius Pro Free Trial Edition (Portable Version)
50% OFF – Get official DiskGenius Pro license code
The Free trail edition of DiskGenius Professional 5.5 includes various basic features to manage partition, disk and recover lost files for both home and commercial users. DiskGenius Professional Full edition covers more advanced features such as load partition intelligently, read/write ext4 partition data, recover BitLocker drive, edit hex data, copy sectors, recover data from Windows Storage Spaces, etc. You can upgrade the free edition to Pro via entering a license code (serial key or keygen). Here comes the big promotion: now you can get the official license code for DiskGenius Professional Edition with half price.
With an official license code, you can use all functions and recover lost data securely. Moreover, you can enjoy more benefits:
30-day money back guarantee
Free lifetime technical support
Free lifetime version upgrade
A license code to register up to 2 computers

How to activate DiskGenius Pro with license code?
Since you've got the official license for DiskGenius Professional crack, you can activate the software on up to 2 computers. The license code does not expire. Here is how to register it online.
Step 1: Run DiskGenius on your computer, click Help > Register.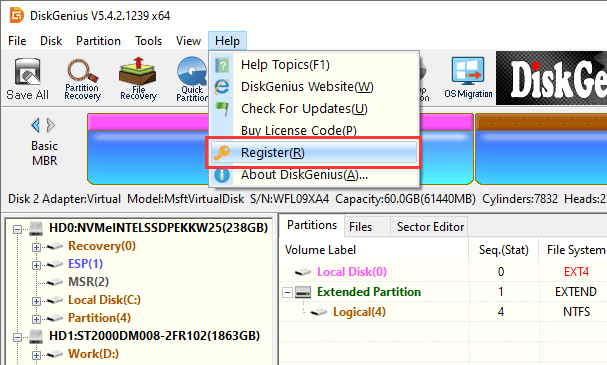 Step 2: Enter license code (serial key), license email and license name, and click Online Register.
In case that your computer cannot connect to the Internet, you can try Offline Register.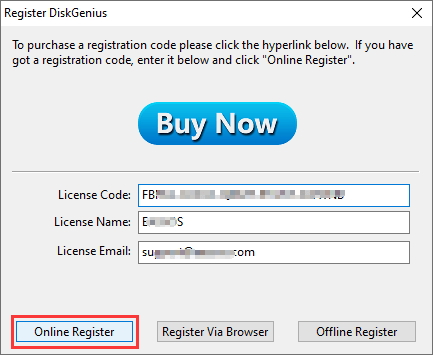 How to recover data with DiskGenius 5.5 Pro full version?
DiskGenius Pro is a good first choice for tasks of recover data from Windows computer, internal hard drive, removable storage devices, virtual disk, etc. The recovery process does not require complicated techniques so that users can achieve high success rate of data recovery easily. Here is the step-by-step guide of recovering deleted/lost/formatted files using DiskGenius Pro.
Step 1: Select the partition where your lost files were stored and click File Recovery button.
Start DiskGenius on your computer, and you can view disks and partitions on the main interface. Locate and select the partition that needs recovering data.
Step 2: Click Start button to run a complete and deep scanning. Wait for the scanning to complete and you can view recoverable files in the software.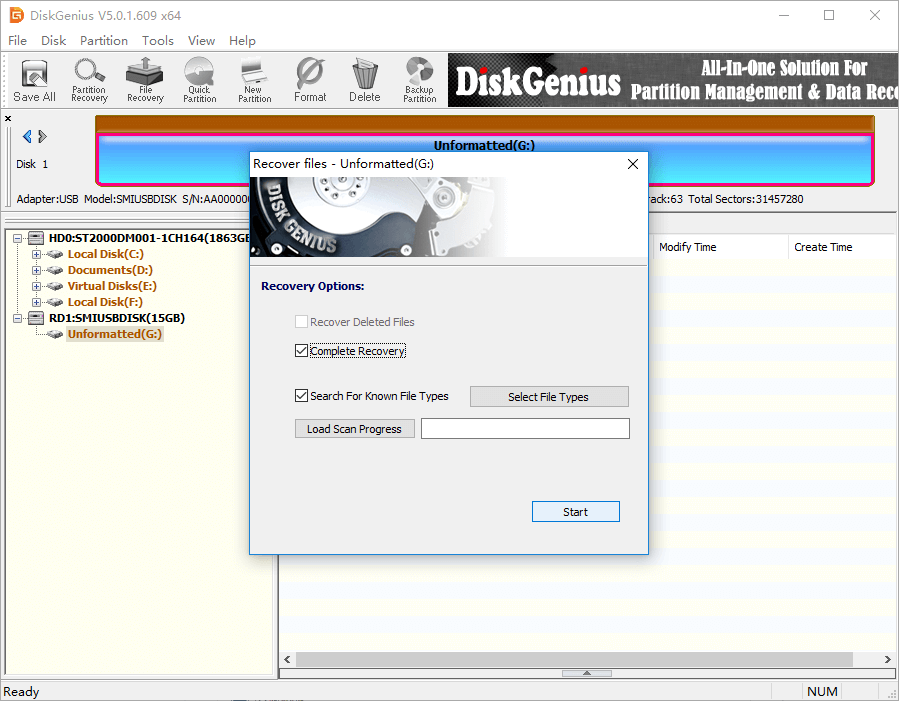 Step 3: Preview files found by DiskGenius and check if they are correct.
After scanning finishes you can view found files and check whether wanted files are corrupted: double-click a file to check file content such as: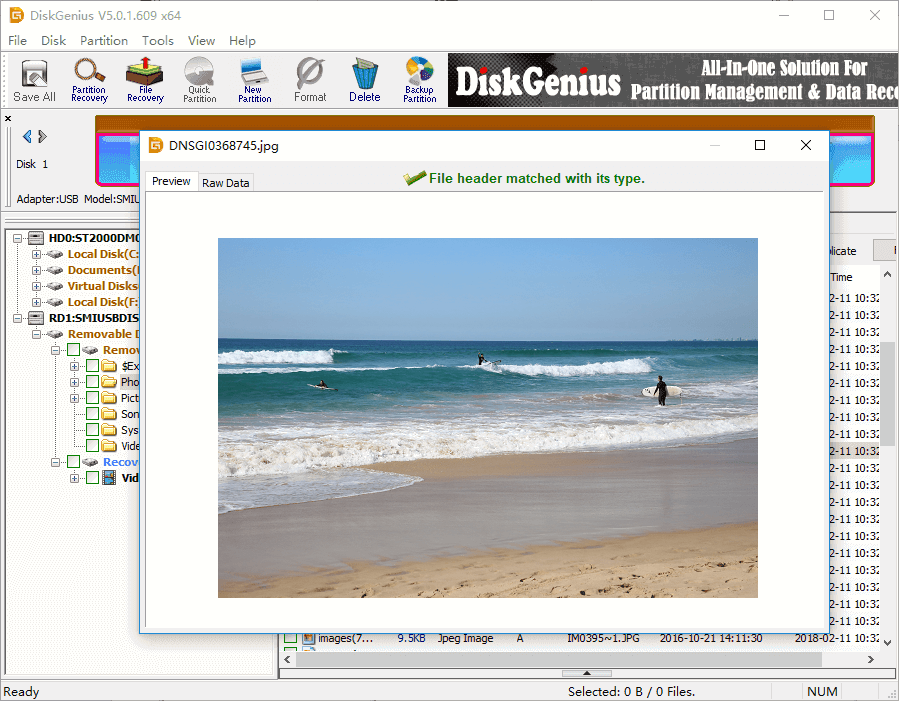 Step 4: Copy files and get them recovered.
Select files or folders you want to restore, right-click selected data and choose Copy To option. After this, you can choose a location to get them recovered. Now that, you've registered the software to Pro edition, you can copy all found files to specified location.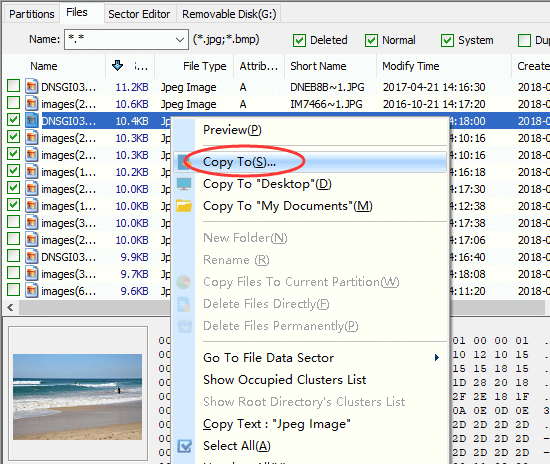 What's new in DiskGenius 5.5 Pro version with serial key?
DiskGenius 5.5 is released with new features and bug fixes, and here are some highlights:
Support to operate Windows Storage Spaces and recover data from it.
System migration function supports to migrate OS to unallocated space of target disk.
Improve partition resizing function on MBR disk.
Improve data recovery quality for NTFS partition and FAT32 partition.
For more information about DiskGenius Pro 5.5, free download it.
Frequently asked questions regarding DiskGenius keygen
1. Is it safe to use cracked software with keygen?
It is not safe to use any cracked software with keygen, especially data recovery software and disk manager software. With cracked DiskGenius Pro, you could not recover data correctly in most cases. Instead, important files might be damaged due to instability or virus hidden in cracked software. Hence, it is suggested to get an official one.
2. How to get DiskGenius Professional 5.5 crack?
It takes two steps to get DiskGenius Pro 5.5 crack:
Step 1: Free download DiskGenius Pro trial version 5.5
Step 2: Get official DiskGenius license code for Pro edition with half price.
3. Is DiskGenius cracked version safe?
The cracked version of DiskGenius Pro is not safe. The cracked edition is very unstable, and it is likely to contains virus which may destroy, steal or encrypt your data. Therefore, if you do not use functions that are available for the Pro edition, you can simple use the official Free edition.
Conclusion
So much about DiskGenius pro 5.5 crack with license code free download. Should you have any question regarding hard drive recovery, SD card recovery, photo recovery, resizing partition, reading/writing ext4 partition in Windows11, Windows 10, clone disk and more, feel free to leave a comment or email us.
You may also like
Data Recovery Software for Windows 10 64 Bit Free Download
Photo Deleted Recovery Software Free Download for PC and SD Card
Deleted File Recovery Software Free Download Full Version
Partition Recovery Software Free Download Full Version in Windows 11/10