Updated on May 13th, 2021
Data loss issues
Computer users save a great number of files and folders on computer or laptops each day; important files, documents, photos, projects, videos, etc. And for most users, computer might be the only place to store these precious family pictures and own made videos, working files. Thus, once hard drive goes wrong, or files get deleted or formatted, users cannot access these files any more.
If you have experienced the annoying problem of data loss, you fully understand how significant file recovery programs can be. A majority of users who come cross the bad luck may try downloading and installing the first program they find from the searching results. Such behavior can be a vital mistake, because different programs provide various recovery results. Using or buying an improper application costs your cash as well as your precious data.
Trying file recovery software
When considering buying this kind of program, you should be aware that there are many options before making the final choice. Price is an important element to many users and yet it is not the decisive factor. High price does not mean it is the most efficient software. Furthermore, there are many free programs that work as well as those expensive applications, for instance, Eassos Recovery Free.
Effectivity of recovery software
It'll be a waste of time of the file recovery software you are trying cannot retrieve lost files successfully. Therefore, before trying any application, you are supposed to search as much advice as you can. Always make out that the program is effective and easy to use. All of such information can be found on specialized software forums and reviews, from which you can get general and comprehensive knowledge of the software.
What features a qualified program should possess?
Qualified software is able to retrieve files that get lost for various reasons. As different programs have their own specific features, it is necessary to take efforts to choose the most suitable one. Eassos Recovery Free is a professional and free tool for quickly recovering lost, corrupted, deleted, formatted files due to accidental deletion, malware, virus attack, unintentional formatting, system crash, hard drive failure, etc. This software works with all computers that run Windows, including Windows XP, vista, 7, 8, 2000, 2003, 2012, and it also supports virtual disks that are generated by VMware, Virtual PC, Virtual BOX, Qemu, etc.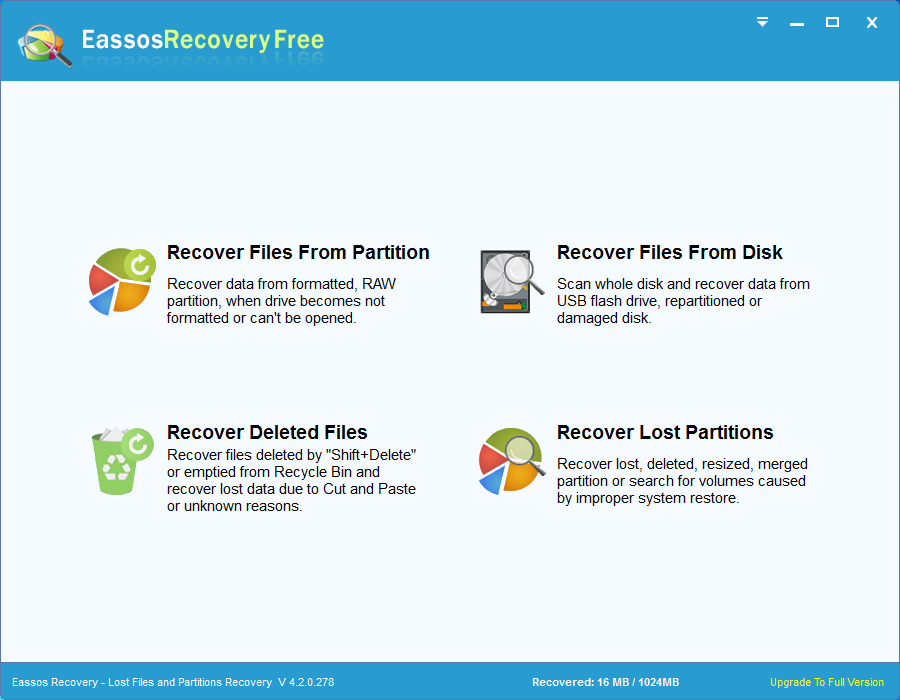 Eassos Recovery Free recovers files mainly depending on its built-in unique and advanced file searching technology which can make thorough and complete scanning of hard drive or other data storage devices. This technology guarantees fast recovery process and better recovery results.