Updated on November 24th, 2020
Recycle Bin is a useful application on desktop or laptop offered by Windows operating system. It stores all deleted files from local disk and files in it can be restored to original location where they were deleted. Recycle Bin comes to rescue when you delete something important by mistake. Questions rises: if you have emptied Recycle Bin how to restore deleted data from emptied Recycle Bin? The answer is positive. We can undelete Recycle Bin which has been emptied under Windows by following certain operations and using effective Recycle Bin Recovery program and application. Recovering emptied Recycle Bin is not as hard as you've imaged if you follow specified actions and choose correct recovery software.
It is understandable that people may delete important files by mistake, because we have too many files to access and work with, and deletion operation is so common and frequently used. Thus, it is hard drive promise all operations are correct. Human make mistakes. Deletion of wrong data awakes people that undeleting Recycle Bin is necessary. Computer users all over the world are looking for ways to undelete data from Recycle Bin for Windows computer. What relieves is that effective Recycle Bin Recovery software can help restore deleted files safely and entirely.
When we delete a file from computer, it is put into Recycle Bin, but do you know what happens to the file when it gets further deletion from Recycle Bin? File recovery software turns to be the desired tool for the moment. Recovering deleted files might be one of the easiest job to finish since it only involves simples steps along with Recycle Bin Recovery application. The process to undelete Recycle Bin or recover emptied Recycle Bin restores all deleted data and files from local hard drive (external hard drive doesn't have Recycle Bin). The recovery software you find for Windows computer data recovery should be compatible with the exact Windows version, otherwise program won't work as expected.
Eassos Recovery is able to work under all Windows systems and it also supports recovery of emptied Recycle Bin. What's more, it is capable of undeleting data from all types of storage media including local/USB drive, virtual disk, SD card, phone, etc. Let's view the step-by-step recovery proves.
Step 1: Install Eassos Recovery to computer or USB drive according to actual situation.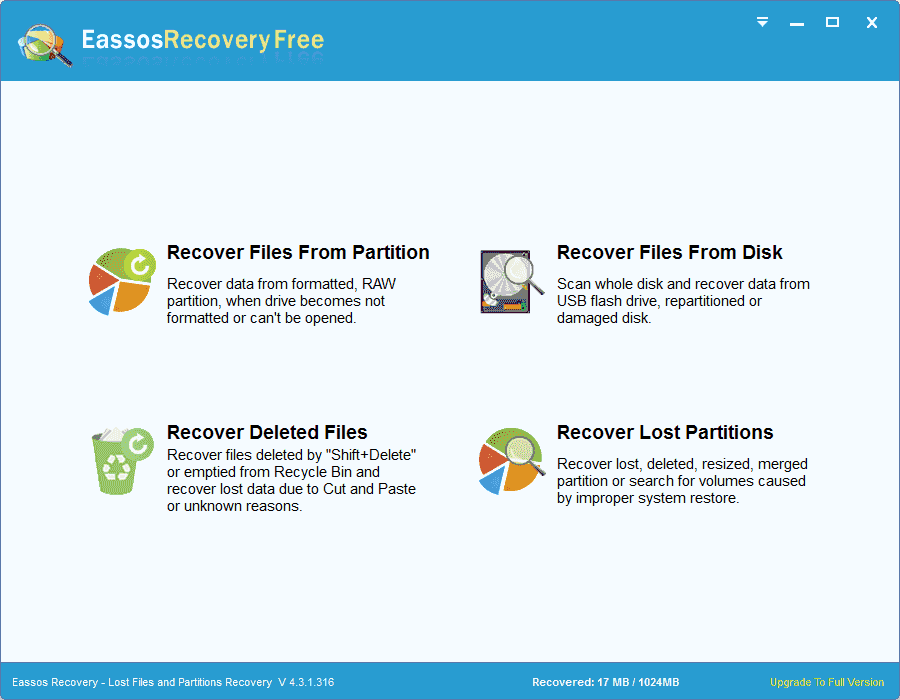 Step 2: Select recovery mode for deleted files.
Step 3: Select drive for which you want to undelete data and click "Next" to scan files.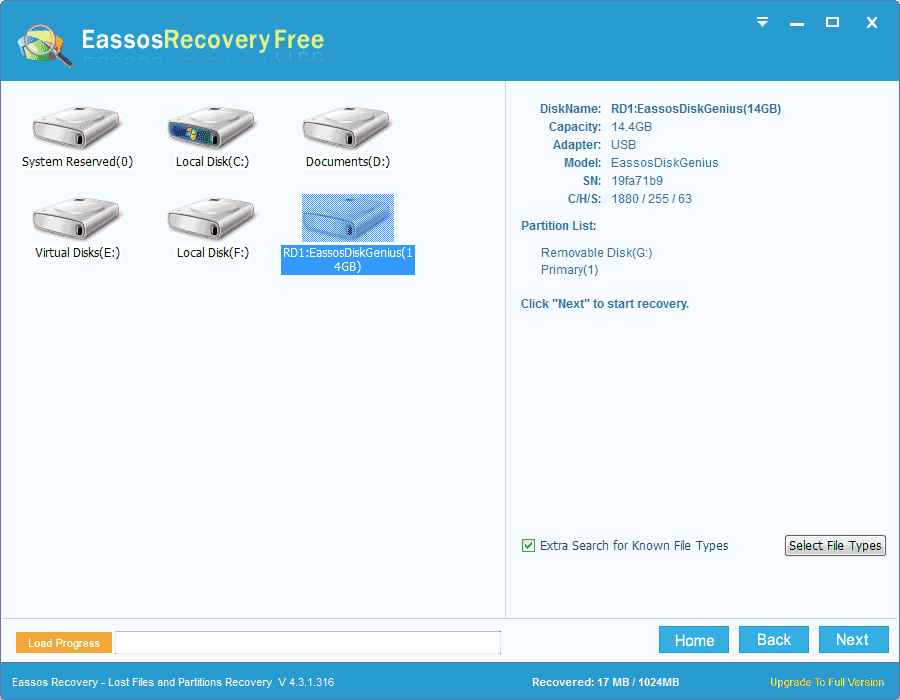 Step 4: Preview and save deleted files.