Updated on May 14th, 2021
Most computer users are too familiar with Windows system, but quite a few do not know how to deal with system problem like system crash, sudden blue screen, virus attack, etc. The best solution to these system problems is restoring system from previous backup, which is much better than reinstalling system. As it's known to all that system reinstallation removes all files of system partition, including files on desktop, Recycle Bin and those installed programs.
Many users deem that system backup or restore is worked as the last resort especially when there are no other solution to fix the problem, as traditional ways of restoring system is far from satisfactory and feasible to common users. Sometimes, that cannot make sure that all files and folders can be kept after restoration, as there is no updated backup files or restore time points. Besides, traditional way of system backup and restore is way too much complicated and many users have no idea how to perform by self. At present, users mainly adopts two ways to restore system, Windows System Restore and third-party restore programs.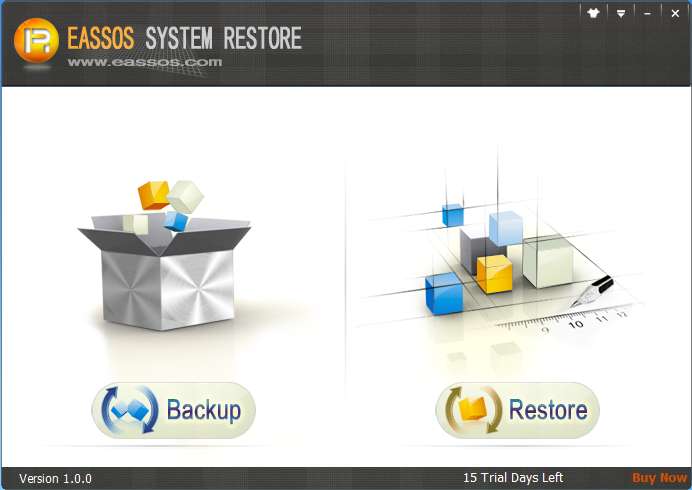 Though Windows provides function for system backup, only free users know how to use it. You can click Start-Programs-Accessories-System Tools-System Restore to reach it. Different system version may differ a bit. Such way of backup aims to create restore points for different state of system. These time points usually can be kept for three months, and they take too much disk space. Also users can create restore points manually, and these time points will be deleted when using space limit is reached. The major reason that most users don't choose it is that it is too space-consuming.
If you search online, you'll find many third-party programs that offer better features for system restore or repair. Some of them are the right option to your operating system, for instance Eassos System Restore. This program makes backup files in the way of compressed files and image files. The image file includes all files of the system and it can be permanently stored to a secure location. Users can use it to create a integrate image of system and even make incremental backup, so that different restore points are available. Provided that the backup file is not disturbed, system restore can be performed at any time. Moreover, the backup file takes little disk space.
The most remarkable feature if that Eassos System Restore is quite easy to use. Users do have to go the booting menu before logging in Windows. Backup or restore can start under Windows and it'll perform the rest tasks automatically. All users need to do it clicking several times of "Next" button. Therefore, all users, professionals or beginners, can carry out system restore with ease.