Updated on May 13th, 2021
This post explains how exFAT partition gets lost and provides step-by-step solutions to recover exFAT partition.
exFAT partition data loss overview
"I'm trying to recover a 64GB memory card with exFAT file system. There is only one partition on this memory card which became inaccessible after it was removed from digital camera without powering off the machine. It contains photos and videos which haven't been backed up to my computer. I need to get files back from this damaged exFAT drive as soon as possible. What's your suggestion?"
Due to the well compatibility with different operating systems and high speed in data exchange for flash drives, exFAT file system is widely used by many storage devices such as USB flash drives, external hard drive, memory card, etc. Partition using exFAT can easily store files whose single size is bigger than 4GB. However, data in exFAT hard drive can still get lost because of all kinds of causes.
Here are some reasons behind exFAT partition data loss.
File system error: partition tends to be damaged if the storage device is removed from computer directly instead of safe removal or computer shuts down unexpectedly during data transferring. File system damage finally lead to partition corruption and your exFAT partition won't be accessible.
File deletion: files are deleted from exFAT drive without being aware of importance of deleted file; Recycle Bin gets emptied or files are deleted by Shift + Delete.
exFAT partition formatting: when you tend to format a drive but format wrong partition. When partition becomes inaccessible, it'll ask users to format it and some users choose to format it.
Virus assault: virus or malware infection can bring extreme damage to data or file system. Data may get damages or deleted due to virus attack. Thus it is necessary to install anti-virus software and scan your computer regularly.
Re-partition exFAT partition: hard drive repartition wipe all current partition and data and creates new partition. The repartition process formats hard drive and causes data loss. Resize exFAT partition can be done without losing data though, files will get lost once the resizing process fails to complete.
Free download exFAT data recovery software to restore lost data
Eassos data recovery software, DiskGenius (old name PartitionGuru), is such a tool that helps you to recover lost, deleted, formatted or corrupted files from exFAT partition or drive. It's able to create/ format/ resize/ split/ extend/ shrink/ clone/ image/ recover exFAT partition. Some features of exFAT data recovery software:
It supports data recovery from partitions and various hard drives such as SATA, SCSI, IDE and hard drive brands like Seagate, Hitachi, West Digital, etc.
It is also able to retrieve data from other storage devices for example external HDD, flash drive, USB drive, thumb drive, virtual disk, etc.
This exFAT recovery software supports not just exFAT partition recovery; it also supports FAT16, FAT32, NTFS, EXT4, EXT3, and EXT2 partitions.
Free trial version is available for all users, and recovered files can be previewed before actual recovery.
Recovery progress can be saved to a file so that you can resume recovery later instead of scanning from beginning.
How to perform exFAT partition recovery with PartitionGuru?
Step 1: Install and run DiskGenius (old name PartitionGuru)on your computer.
You can download the trial version from our site for free and install it easily following the installer wizard. Please note that the software shouldn't be stored or installed to the exFAT partition where you want to recover data.
Step 2: Scan your exFAT partition
Select partition which is suffering from data loss and click "File Recovery" button on the tool bar. The you should select "Complete Recovery" and "Search For Known File Types" option and click "Start" button.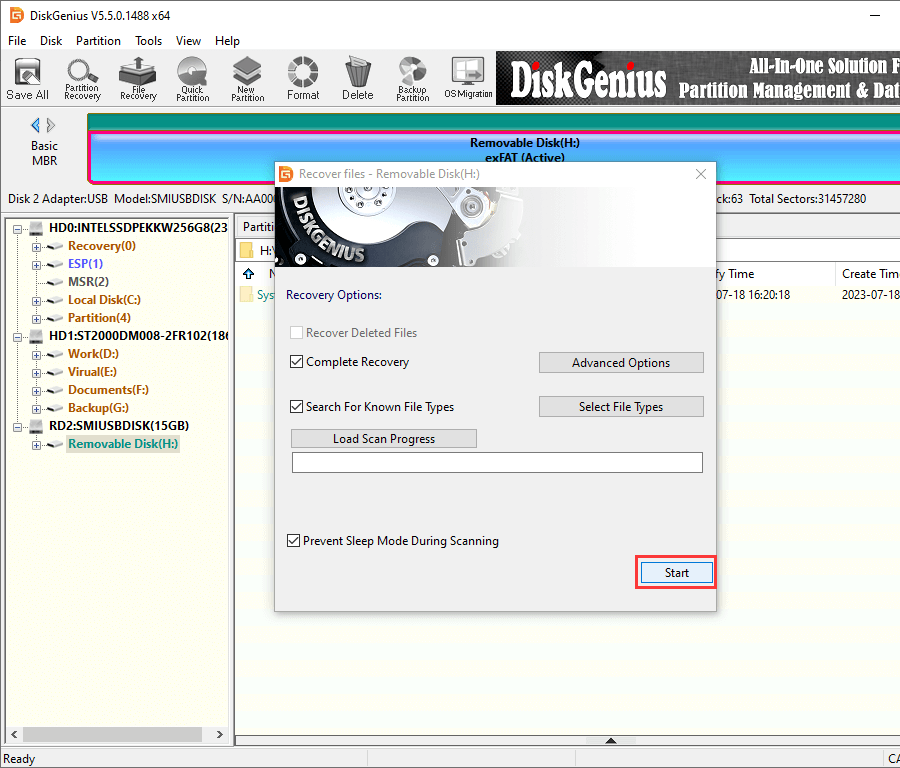 Step 3: Recover data from exFAT drive
Recoverable files are listed in the scanning result and you can preview files to check file quality before actual recovery. To get files recovered, you need to select files you want recover and right-click mouse button to select "Copy to". After that you can save files to safe location on your computer.