Updated on October 23rd, 2020
This article aims to help you recover deleted files and folders from virtual disk. It is possible to perform virtual disk recovery with proper tools.
Virtual disk data loss case
"I'm using a virtual machine (.vmdk) hosted on windows 7. The virtual disk runs windows 8.1 64bit. It contains two partitions: system partition and data partition. The first volume holds s folder which contains hundreds of photos. After installing junk file cleaner and antivirus software, I ran it to clear useless files to speed up system. But I can't access the folder after that cleaning completes. I created a snap shot last night, so I tried to restore the snapshot so that I can regain lost photos. Unfortunately, the snapshot is corrupt and I can no longer access data from it. I've shut down the virtual machine, as I was told that lost files can be overwritten if I continue using it. Can anyone help me recover lost data from vmdk disk?"
Is it possible to recover deleted files from virtual disk?
It is known that deleted files can be recovered from hard drive before lost files get overwritten. Virtual disk stores files in the same way as hard drives. Operating system keeps track of files stored on hard drive via file system, or specifically pointers. Each file has a pointer informing system where it is located.
When you delete a file from virtual disk, operating system deletes file information from pointer and marks sectors occupied by the file as available. In the point view of Windows, the file is no longer available for read or write actions, as it is has been deleted. However, in fact, the deleted file is still recoverable before new data overwrites sectors containing deleted data.
How to recover deleted files from virtual disk?
If you've deleted important files and want to get them back, the following things you should note:
Recover files as soon as possible especially when lost files were stored on system partition. That's because operating system continues writing data to hard drive while it is working, such as temporary files, cache. Overwriting actions reduces chances of successful recovery. Therefore, you should perform recovery as soon as possible once you are aware of data loss.
You should try not to use the disk before files are recovered. To avoid data overwrite, the best reaction to data loss is using the disk as little as possible. If lost data was on system partition, you can shut down computer and plug the disk to another computer to start recovery.
Method 1: Recover deleted files from Recycle Bin
Deleted file recovery can be started from Recycle Bin, because files deleted from a virtual disk will be moved to Recycle Bin first. Thus the first thing you can do is opening Recycle Bin and look for deleted files. If you can find files from there, you can restore them directly. If files have been further deleted or Recycle Bin has been emptied, then you need to try the following steps to recover deleted files from virtual disk.
Method 2: Recover deleted files from virtual disk using data recovery software
To start deleted file recovery from virtual disk, you need to use data recovery software that supports virtual disk recovery. PartitionGuru shall become the best choice. It is able to load virtual disk without running VMWare and recover lost files or partitions from the loaded virtual disk. There is no need to worry about file overwrite since operating system on virtual disk won't boot. After downloading and installing PartitionGuru, you can follow this step by step guide to get back deleted files.
Step 1: Click "Disk" from menu and select "Open Virtual Disk File" item. Then find the virtual disk where you want to recover data and open it.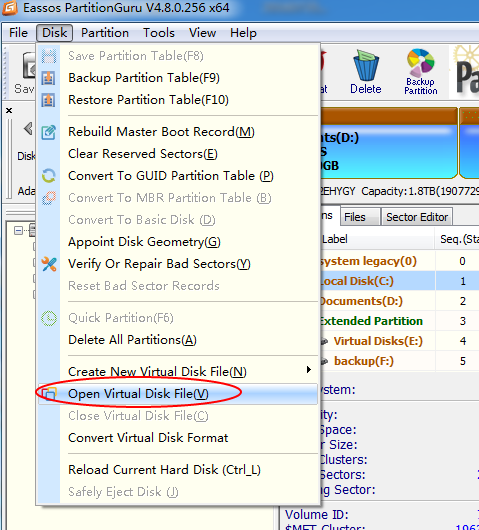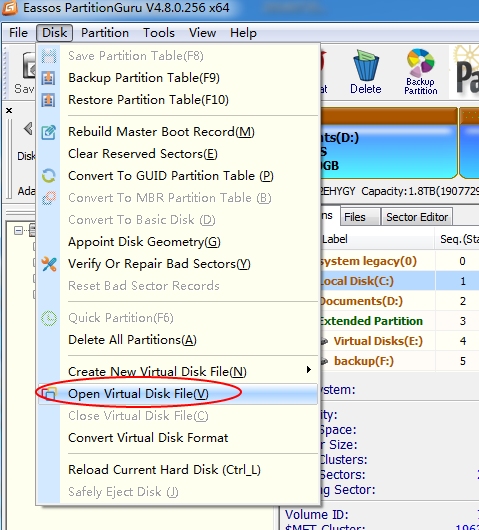 Step 2: Select the partition on the virtual disk and click "File Recovery" button. On the pop-up window select "Recover Deleted Files Only" and click "Start" button to search for deleted files.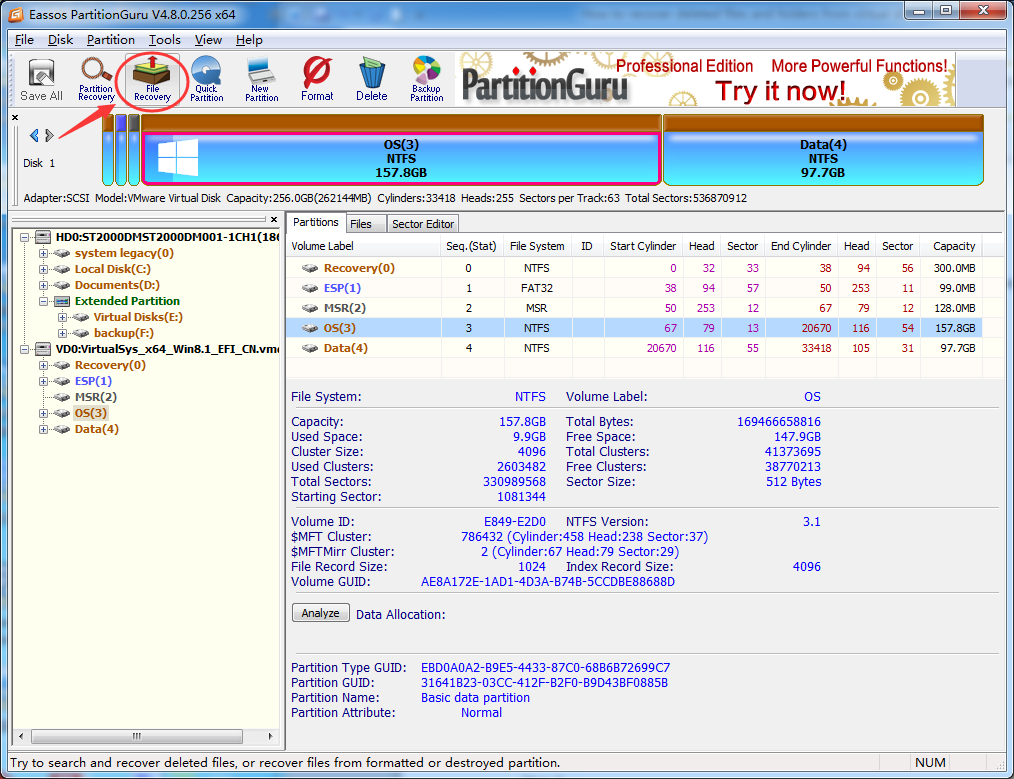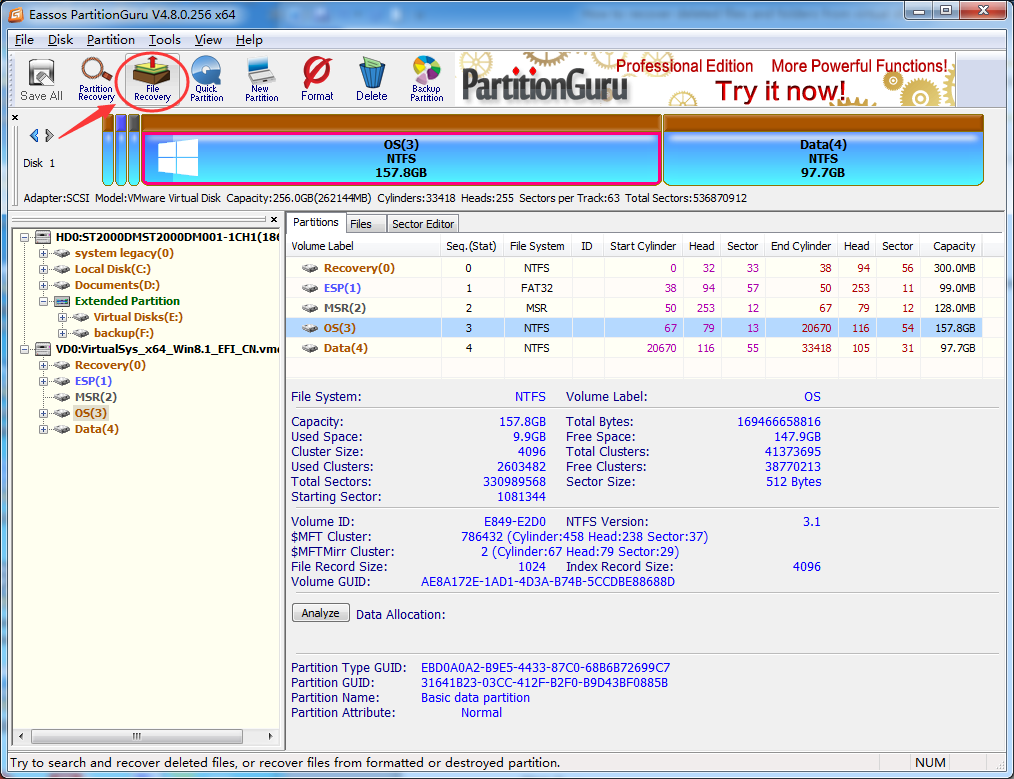 Step 3: After scanning completes, you can preview and recover files. Select files you need and right-click mouse to select "Copy to"; then you can set a location to save recovered data.