Updated on November 24th, 2020
Overview of docx files
Microsoft created docx files for new Office Word programs. This file formatted was started to use since Microsoft Office 2007, and above versions of Microsoft Office Word such as 2010 and 2013 still use this file format by default. Also, these updated versions still supports doc files and they are able to save files as doc format. Word is important MS office function, and it is one of the most useful word processors that can be used in almost all working locations all over the word. For the moment, docx are widely accepted and used by millions of users. Thus its importance can never be neglected.
Docx file corruption
Program or file corruption happens to all software, and that is true of MS office. Docx file corruption can be caused by various reasons and some are even unpredictable:
Sudden system shutdown while you are working on a docx file
Virus attack is one common cause of docx file corruption
Docx gets affected badly due to unexpected closing of other programs
Docx files stops responding for now reason
More severe problem may happen
Although docx may be corrupted due to so many reasons, MS office has built-in repair function to repair corrupted files and users can restore docx files from previous auto-saved temporary files. Thus, it is not too difficult to deal with that problem. More severe trouble can happen to docx files, which should be paid attention. Here the problem is docx file loss, which can't be restored by MS office itself. Docx can be deleted or formatted from computer by users, also hard drive that stores docx files may go wrong and turns to be RAW drive or unallocated drive. In this case, docx file recovery should be performed.
How to save and recover lost docx files?
Free docx file recovery software is needed to fulfill this task. Eassos Recovery not only supports recovering docx files for MS office 2007, 2010 and 2013, but also supports recovery of doc, ppt, pptx, xls, xlsx, etc. files. The recovery process does harm any data nor devices. Let's see the docx recovery steps.
Step 1: Install Eassos Recovery to your computer or USB drive that doesn't need recovering files.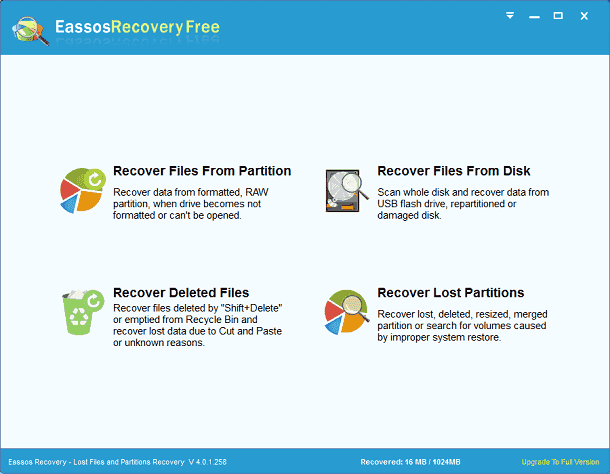 Step 2: Run the recovery tool and choose recovery function for lost docx files.
Step 3: Select storage devices that used to store missing docx files, and click "Next".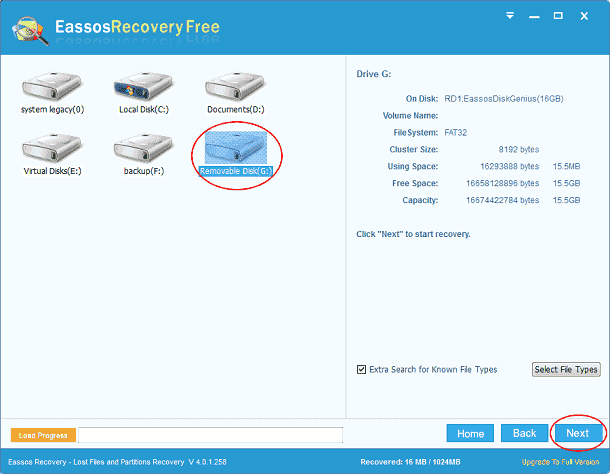 Step 4: Preview and store wanted docx files.