Updated on May 14th, 2021
This post will explain the easiest way to recover lost files that are deleted by accident, emptied from Recycle Bin, removed from USB drive, etc.
Deletion and file loss
Computer is one of the most important partners in many people's lives and work. And computer is definitely the vital machine in many office, business, organizations and most takes can't be carried out without assistance of computer.
Besides, computer has already become an inalienable part of each family throughout the work. Schools, non-profit organization, government, etc. use computer which is able to organize, manage, store and process all kinds of projects or files.
During the process of using computer, probably, each computer user encounters the annoying problem of data loss. Quite often, we may delete files by mistake, and it is impossible to restore them after Recycle Bin is emptied without the help of special skills.
Is it possible to recover deleted files?
Are you wondering ways of recovering deleted files? Software which is able to recover deleted files is the optimal choice to solve the problem, for such software makes recovery process easy and fast.
There are numerous scenarios that files are deleted by accident. Files get deleted may due to careless deletion, system crash, software corruption, virus or malware infestation and so on and so forth.
However, you can stop being anxious about how to recover deleted files with efficient data recovery at hand. Such software allows you to restore deleted files that have been emptied from Recycle Bin or deleted by keys Shift + Delete, including documents, music, movies, photos, zip files, applications, emails, etc.
Software to recover deleted files
Eassos Recovery is one of such deleted recovery software, whose algorithm designed typically for searching for deleted files with original name and directory structure. Deleted files can be completely recovered before they are overwritten by newly stored contents. It also supports recovering deleted files by file type, which goes for the situation that lost files are partly overwritten.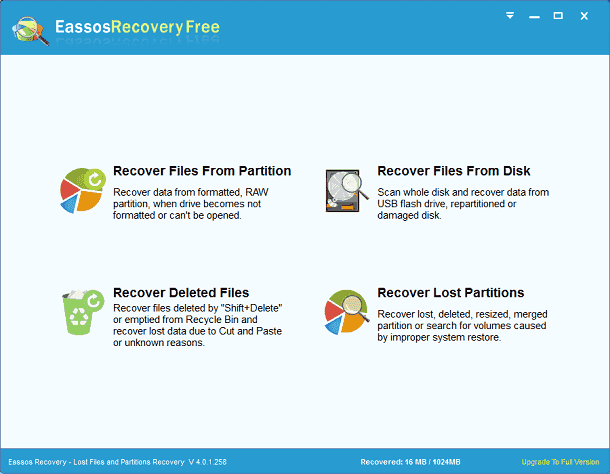 What is great is that Eassos Recovery is not only available at a reason cost but also it has a free version which allows users to recover 1GB deleted files for free. Furthermore, even the full version can be tried for free so that users can make out whether files can be recovered successfully before payment, which is the added advantage to consumers.
Eassos Recovery is the easiest and wisest method to recover lost files. This program takes up small disk space on operating system. And it offers wizard interface for the entire process of installation and recovery. Moreover, it owns simple options and steps to deal with all types of data loss situations. For the recovery of deleted files, Eassos Recovery provides special recovery mode "Recover Deleted Files" which realizes recovery via five steps.
Steps to recover deleted files with Eassos data recovery software
Run Eassos Recovery after it is installed, and select 'Recover Deleted Files' button.
Choose the partition where deleted files were stored and click "Next" button to start scanning process.
Scanning process allows to preview files so that you can check whether they are correct.
When scanning pauses or stops, you can select files you want to recover and click "Recover" button to get files finally recovered.