Updated on November 24th, 2020
Whether data loss happens by accident or not, there must be a period of time you are looking for a file on computer or laptop but that there is nowhere to find it. If the file you can't find is very important to you, you'll be seized by a sense of panic or anxiety as you try to figure out what you should do. Some thinks there is no easy solution to recreate the files once again, or some people just don't have enough time or information to do it on their own. Therefore, it is necessary that all computer users be aware of skills that can undelete files and get back deleted files.
Quite a lot users consider that it is not possible to retrieve deleted data and files. And it has long been believed that once a file is deleted or emptied from Recycle Bin, nobody can get it back. However, as time goes by, computer technology keeps improving and IT technicians have found that deleted files can be recovered and they have made this skill popular by developing certain program. Thus common users are also able to undelete files with such software, such as Eassos Recovery.
It matters that you pay attention to all actions after data loss, because certain operation may cause permanent damage. Each file takes some space on hard drive and file information that can be called entry was saved separated from file data. When a file gets deleted, hard drive space will be tagged as Free space, so that operating system can store new data there. Once the Free space is occupied by new data, then the deleted file will not be recovered.
What you should do is looking for a program that is able to recover deleted files on the Internet. There are indeed free software available that can recover deleted files and also you can get some software which is much effective than freeware only by small cost. Even though some software costs process, it is worthwhile to get one as lost files are of great valuable. Always make sure that files can't be stored to the partition where lost files are located.
Eassos Recovery is one of those cost-effective and powerful file recovery programs that can undelete files from computer and portable drives by way of easy steps. This software is compatible with all available versions of Windows operating systems and its user-friendly interface makes recovery so easy that beginners can complete it within a couple of minutes.
How to recover deleted or missing data with data recovery freeware?
First and foremost you need to download Eassos Recovery and install it to a partition which isn't suffering from data loss.
Step 1: Get Eassos Recovery started and select proper recovery mode, and then move to next step.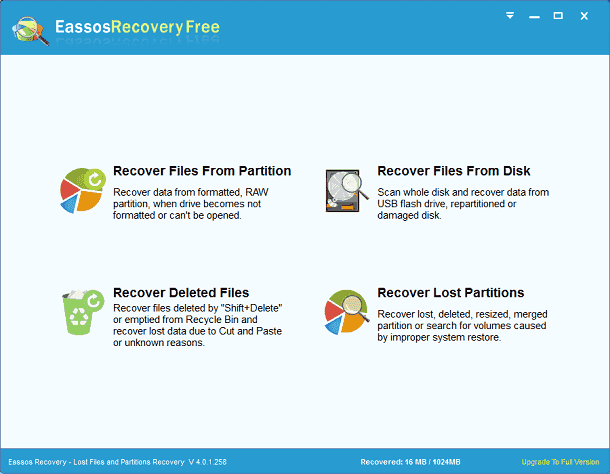 Step 2: Select the partition where lost files were stored and click "Next" button, the software will start to search for deleted files.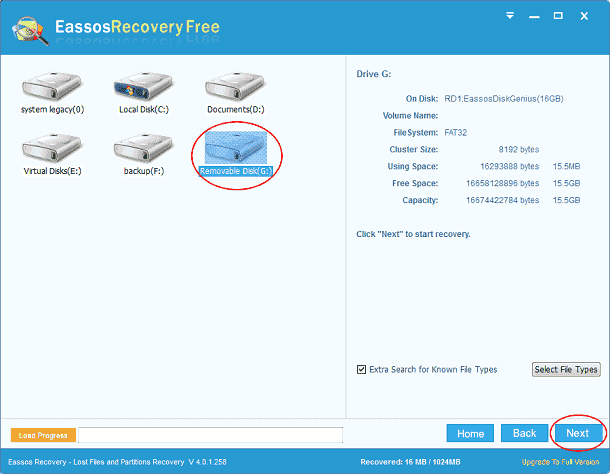 Step 3: After file scanning, you can preview all listed files one by one and select those you need. Then click "Next" button to get then recovered.