Updated on May 14th, 2021
In this post, you can learn an easy way to get back deleted or lost files from Android devices. All you need is a simple Android data recovery program.
Android data loss is common
Android users are all over the world. Android phones and tablets offer users convenient solution to enjoy modern technical. People can play games, shop online, browse webpages, communicate with friends, etc. It'll be definitely terrible to lose important files which were stored on phone, as they can be photos, contacts, messages, videos, etc. Here is one of the story:
"My phone is Android smartphone. Due to some kind of accident I deleted many photos off my phone. Most of them were taken during family travel and they are important to me. It is Samsung galaxy s5. Do you guys know any kinds of solution or software that can recover the data? I've tried several recovery applications, but none of them can detect my phone. Am I out of luck? Can you help?"
Data loss often happens to phone users who use their phones as digital cameras and photo storage devices. Users are fond of taking photos whey there is something new or interesting in daily life and sharing photos to social network. Cellphone is no longer a simple tool for calls or texts. It's an integral part of life.
Possible causes of data loss from Android device
Carry out a phone reset or restore everything to factory defaults
Files get lost due to errors occurs during data transfer between phone and computer
Damaged or corrupted removable devices such as SD card, CF card are placed in cellphone, causing system or storage abnormal
Files are deleted or formatted by accident or improper operations. Some users delete files without making sure whether there is backup.
System on cellphone crashes and users have to refresh and reinstall system.
Virus or malware attack. Cellphones are able to connect to the Internet and allow users to browse information online or download files. These operations provides good channel for virus infection. Virus damages system and data and even deletes files.
How to recover lost data from Android devices?
When you inadvertently delete important files from internal memory or SD card of your Android phone, you can use Eassos Android Data Recovery software to perform Android recovery. This tool works well with all Windows computers and it is capable of identifying both memory card and built-in memory. Besides, it is compatible with almost all popular Android phones from Samsung, LG, HTC, Sony, ZTE, Huawei, etc. After install Eassos Android Data Recovery software, you can follow the guide below to recover lost data:
Step 1: Connect your Android phone to computer via USB cable and start Eassos Android Data Recovery. Click "Refresh Device" button to make the software recognize and connect your phone.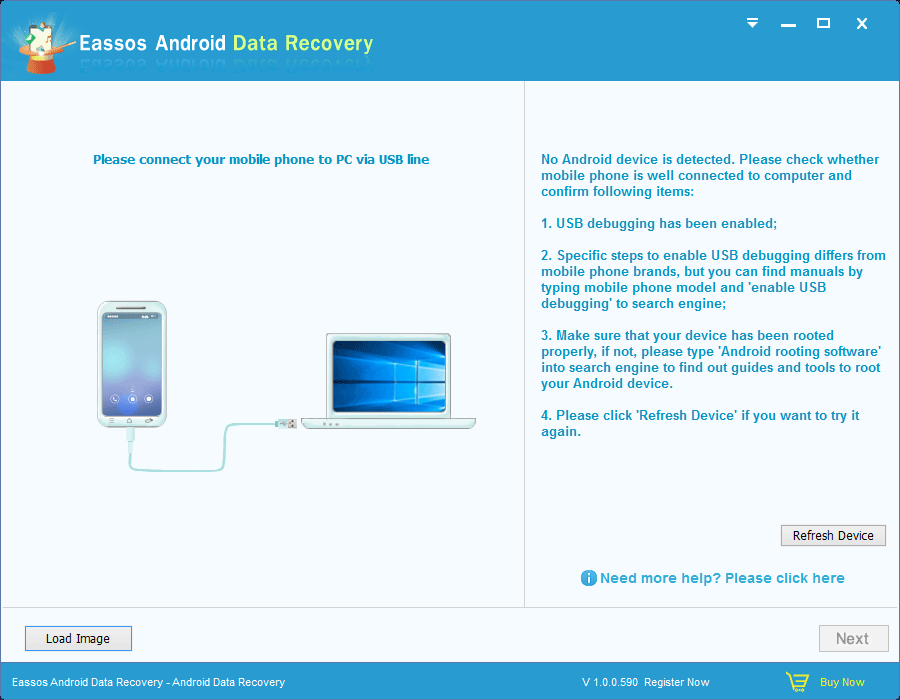 Note: Please make sure your phone has been rooted before recovering data, because recovery software can only access rooted Android devices.
Step 2: Select storage device where lost files were stored and click "Next" to scan lost data. The software scans lost data quickly and displays files during scanning. Then you'll be able to preview listed files.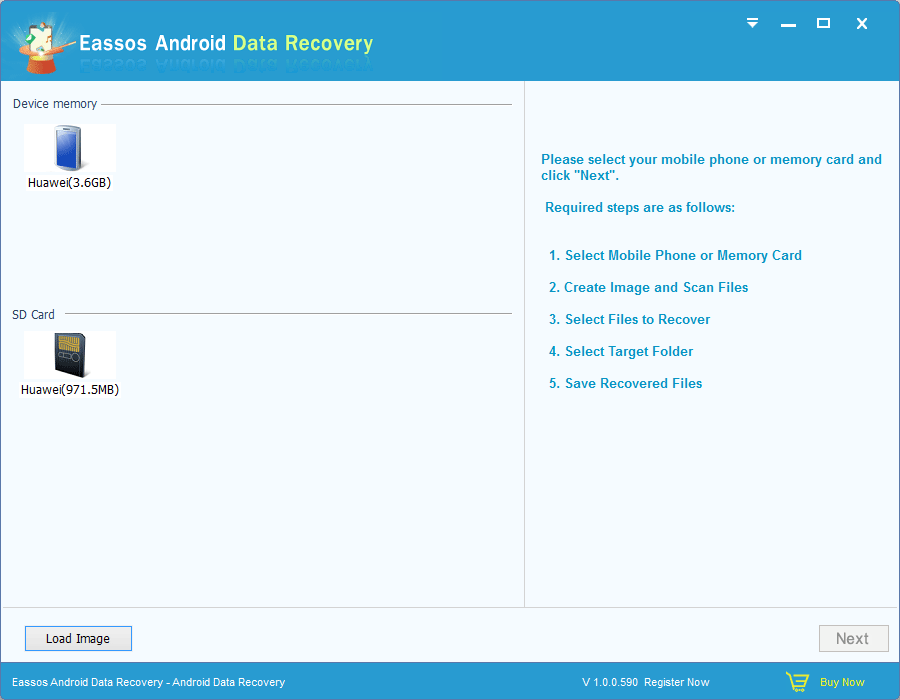 Step 3: Preview and recover data. File preview can help users find files easily. Select files you want to recover and click "Recover" button to get selected files restored.